Started pre-wiring some of the gauges I had, rest should be in tomorrow...
Mounted one of the red bus bars on the inside of the firewall, up as high as I could so its not obvious. Im using this as a source for 12v switched with fuse; for Volt-Oil Press (mech)-Water-Tranny and Fuel gauges.
Im adding a black bus bar on the firewall just above the battery and will use this for all my grounds, using the existing hole/grommet for the QT vac lines....It will then be grounded to the battery and the tub...and covered as well.
Plan is to put Volt and Oil Press in OE locations. Use Auto-Meter 3 gauge mount: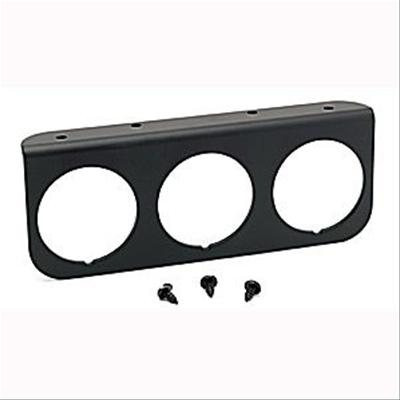 ...affixed to the dash, centered on the OE radio. This will house Water-Fuel-Tranny gauges. I am just gong to leave the OE Water-Fuel gauges hooked up so Ill actually have 2ea.
Tach, Auto-Meter 3 3/8" will be mounted in the dash to the left of the steering column and wired seperately from the rest. I dont have a speaker cut out there and essentially thats the only spot where it will fit.
Clock, Auto-Meter 2 5/8" will be mounted above the OE Volt-Oil Press. My reasoning here is that even though I need to drill a hole in the dash fo it, if at any point I or anybody else doesnt want it there a new overlay will cover the hole and because I will be able to have all my gauges consolicated down to one focal point.
I dont necessarily count the tach as a gauge I need to constantly monitor while driving, more of a tuning instrument.