Registered User
Join Date: Aug 2012
Location: Florida
Posts: 502
Quote:
tell me more about that oil pump, you mentioned the 258 pickup, do you just buy a Mellings HV 4.0 pump, and replace the pickup tube? or? I have also got that "TICK".. have to go into it and find it .. figured on changing the oil pump also, so... and valve cover gasket leaks at the back, so.... and....
From O'Reilly Auto Parts...
Mellings HV oil pump M167HVS $86.99
and comes with a pickup tube and screen, but the tube and screen are shaped a little bit different, and will not fit properly, without some refit effort. I opted to get the pickup from the 4.2 part #
Mellings 81-AS3 $18.99
which is the correct tube and screen, and fit perfectly with NO effort or refitting. The tube just presses in, and is indexed off the pump bolt.
I also used the Fel-Pro 1 piece oil pan gasket part # OS34308R $19.99 to button it back up. Very nice gasket, lined up perfect, required NO sealant, and has NO leaks.
This was done on my 1983 CJ7 just this past weekend, so it is current info.
Hope the sheds some light, and helps someone.
Registered User
Join Date: Jun 2010
Location: Marysville, WA
Posts: 5,513
On my 304, I had (still have on a couple) of the rockers with some slight ticking. I pulled the passenger side valve cover off and found that #4 rocker arm was "loose". When the valve was closed, there was a lot of slop. I removed the rocker arm and found the end that hits the top of the valve was worn. (these were used arms.) To remove some slop, I removed the rocker arm, chucked up the pivot in the mill, and took off .020 and put it back together. The removal of the material on the pivot allowed the arm to tighten up to within specs. This got rid of my noise.
I am going to replace all of the rockers with roller rockers. I got lucky and the heads on my 304 are from a 1972 and already have studs in them. Rocker arms are a bolt on.
My rocker arm style is like this.
Where most are like this.
---
Beat it to fit, paint it to match!

Wheel, Wrench, Repeat.
Web Wheeler
Join Date: May 2011
Location: Elbert
Posts: 19,234
Find the Hammer's write-up on rebuilding the oil pump. It's the easiest way to re-gain some oil pressure, other than dumping thicker oil in it.

Matt
---
To view links or images in signatures your post count must be 10 or greater. You currently have 0 posts.
To view links or images in signatures your post count must be 10 or greater. You currently have 0 posts.
To view links or images in signatures your post count must be 10 or greater. You currently have 0 posts.
Registered User
Join Date: May 2011
Location: norfolk
Posts: 2,640
Quote:
My jeep has had a small tick coming from the valve train since I bought it. I changed the oil in my jeep for the first time since I have owned it this last weekend and the tick has gotten noticably louder now. I am running 10W-30 with some Marvel Mystery in it, I can only assume the PO was running heavier oil to help mask how loud the tick was.
This coming weekend I am going to pull the valve cover off and scrape off all the blue RTV that was used (no gasket) and check out the rockers. I know there is a long list of things to look as to what can be causing the tick, especially when taking over some persons previous project. I am just looking for a few of the normal culprits to check for. I am hoping it is just a worn pivot (seems fairly common when I searched) or something easy and cheap to fix.
We are also going to install the HEI, new plugs, check the compression and set the timing. Any and all advice is appreciated. Thanks in advance!
Make sure your rocker arm(includes rocker arm bridge) bolts are tight or torqued to spec.
---
1984 jeep cj7, 258 I6, rebuilt T176,rebuilt Dana 300, amc 20 , dana 30, 4.10's Trac-lok in rear , 4.10's detroit soft locker in dana 30, 2.5 inch bds suspension lift, 1 inch polyurethan body mount lift. Line ex. weber carburetor. factory tach. factory clock ,oem replacement speedomter cluster, and oil pressure gauge, factory volt gauge.
Registered User
Join Date: Aug 2010
Posts: 164
Registered User
Join Date: Aug 2012
Location: Florida
Posts: 502
Torque on my '83 258 rockers is 19 ft/lbs
Registered User
Join Date: Mar 2013
Location: Chesapeake
Posts: 120
Pulled the valve cover and it was horribly dirty.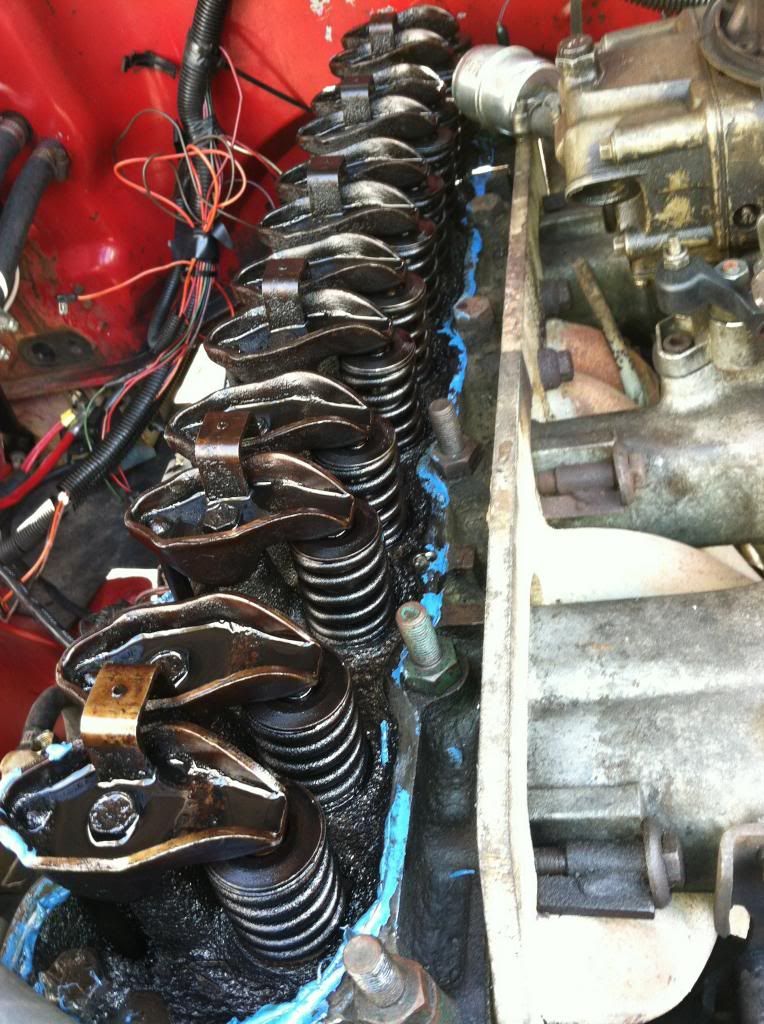 We pulled all of the rockers and cleaned them up as best we could. None of them were out of spec. I think they are just old and worn and need to be replaced.
I still have a tick but it isn't bad. I am going to wait as long as I can and just replace the cam/lifters/rockers/push rods all in one shot. I changed the oil from the 10W-30 to Rotella 15W-40 and that helped a little bit, just keeping the noise down. Jeep is running good though.
After we cleaned up the valve cover I noticed this scoring on the inside. The guy helping me said that isnt coming from my engine, that has to be from a previous engine because the noise mine is making is nowhere near what would be required to be doing this. What do you guys think caused this?
Either way, I am just ready to drive this thing. Just started leaking a little from the RMS, hopefully it isnt too bad and it can just go with it for a bit.
Currently Active Users Viewing This Thread: 1

(0 members and 1 guests)
Posting Rules

You may post new threads

You may post replies

You may not post attachments

You may not edit your posts

---

HTML code is Off

---