OK guys, I too have the Alum. Valve Cover and think the oil cap sucks big time and have read the complaints on this forum and others about the oil leakage that seams to happen with these push in type rubber plugs. So, in order to prevent an upcoming oil leak on my nicely powder coated valve cover and engine, I decided to do a little R&D work to fix this problem before it starts.
Some of the submitted ideas on previous threads are on the right track but I decided to clean them up a bit and keep cost to a minimum. We basically need two items to purchase to solve this leaking problem around the oil fill hole and two suppliers have what we need on the cheap. First, head on out to your local
Ace Hardware
store and get yourself a rubber plug stopper from the nuts and bolt aisle.
Cost: $3.75 and it is for a 1-1/4" hole
Next, go online to
McMaster-Carr.com
and purchase a threaded knob with a 5/16-18 threaded hole. I picked out five that will work and are ideal for gripping but the choice is up to you. Here's some pics of what I have picked and the part numbers are located on each drawing in the lower right-hand side.
Cost: Anywhere from $1.00 to $4.00 + shipping.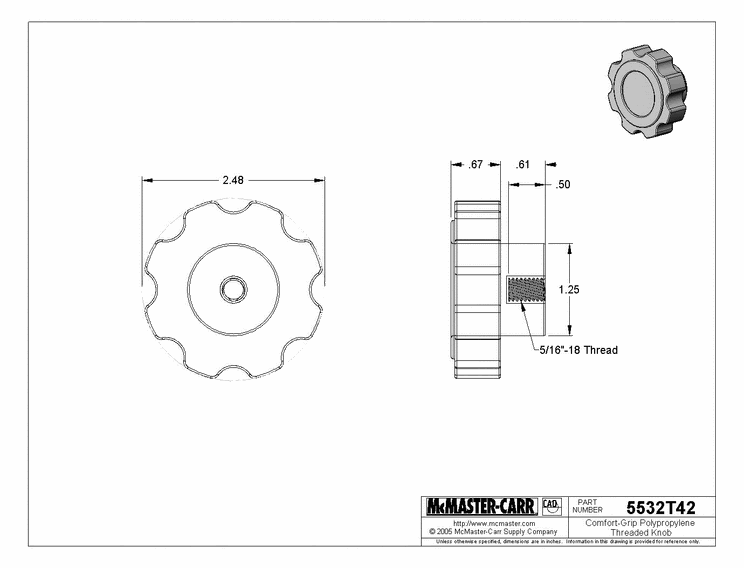 Most of the knobs shown, if not all of them, have a temperature range from -15° to 200°F. I chose the first one pictured but probably will try the second one and last one pictured as they look more like something you would find under the hood and they have a larger diameter for gripping. Will post later on with pics when I receive them.
We now have our two products and no modifications are need except to remove the 5/16" nut from the rubber plug and use one of the knobs in its place.
Now the new plug is ready to install and the top washer prevents it from falling inside the valve cover. I think it would be a good idea to actually glue the washer onto the rubber so in case you loosen the knob to much, the rubber won't fall below the rim of the valve cover. The threaded stud through the rubber piece has a long square shank like a carriage bolt and doesn't fall out unless you push on it so I don't think that would be a problem. Plus, there is an o-ring at the bottom bolt so no leaks can come from there either.
Here's a pic or two of it installed.
That's it and as always, comments are welcome, both pro and con. Hopefully we can get this problem resolved as I cannot give a review if this works or not as my Jeep is still under construction. But tightening that knob by hand until it stopped sure beats the hell out of popping in a cheesy rubber thingy. I tried to pull it out without loosening and it didn't move at all....that's a good thing.