Advice on paint
---
I'm doing a full body off restoration job on a '77 CJ. The tub was pretty well shot, and debated about just buying a new one, but didn't want to part with the bones to get one. And since I'm handy with a welder I am tackling the job myself. Its been an interesting process, but I'm getting closer to the painting part of it.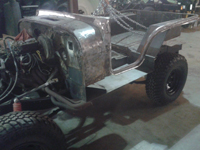 This isn't going to be a showroom jeep, its will be a trail-runner so I don't care about glossing or flawless finishes. Practicality trumps appearance.
Does rhino lining under the tub work good? This jeep will be almost exclusively driven on dirt and gravel roads. I want to paint it to look like a Humvee, with the flat sand/tan color. I've done some reading on the CARC that they paint Humvees with and it looks like something that I wouldn't want to do in my shop. Can you paint over rhino lining? because I'd like to rhino line my floor too, but don't want my floors black.
I have an air compressor and simple paint gun, so I could just buy a couple of gallons of flat tan Rust-o-leum, any other options?
If I took it to a paint shop how much does that CARC cost? will it break the bank, or is it reasonable.