I agree with Mike, jfwireless, olivegreenCJ
Quote:
Originally Posted by
kmm
Was thinking on adding an additional fuel filter set up. This is on a stock 1979, 304 engine. Was wondering about placing a filter between tank and fuel pump. Currently has stock filter after fuel pump between carb. I guess there is also something in tank?(stock 15 gal.)
Is there any benefits or downfalls to doing this? If beneficial can anyone recommend a type of filter for this? Is inline ok or a cannister type better?
Also has anyone else done this? Any pictures of set-ups?
Thanks
I too was thinking that the filter was letting stuff get into my carb so I cut it open to see what magic goes on in that metal cylinder. Looks very substantial to me.
Just in case, I added this separator before the fuel pump. We will see how it works out.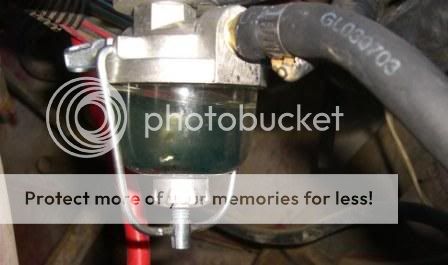 I also put a clear plastic fuel filter between the carb vent line and the charcoal canister. Just in case any charcoal was coming in the back way.
As you can see, I put filters in all of the lines.