Registered User
Join Date: Jan 2010
Location: Kansas City
Posts: 2,478
Yeah Id like to see what youre doing so I can get some ideas.
Thanks
Registered User
Join Date: Feb 2011
Location: Muskegon
Posts: 2,047
Its a tight fit with parts from a salvaged GM unit. I also converted to a plastic line used on a lot of new cars;with quick disconnects at the sending unit and filter. A little spendy,but easy to run,and most of all.....won't rust. That's a big deal here.

Dave in Muskegon using JeepForum
Registered User
Join Date: Apr 2012
Location: Nanwalek
Posts: 204
fuel pump build (incomplete)
---
Here is the start to my fuel pump build. I have a 80 cj5 with stock steel tank. I bought the stock sender off Amazon for under 30 bucks.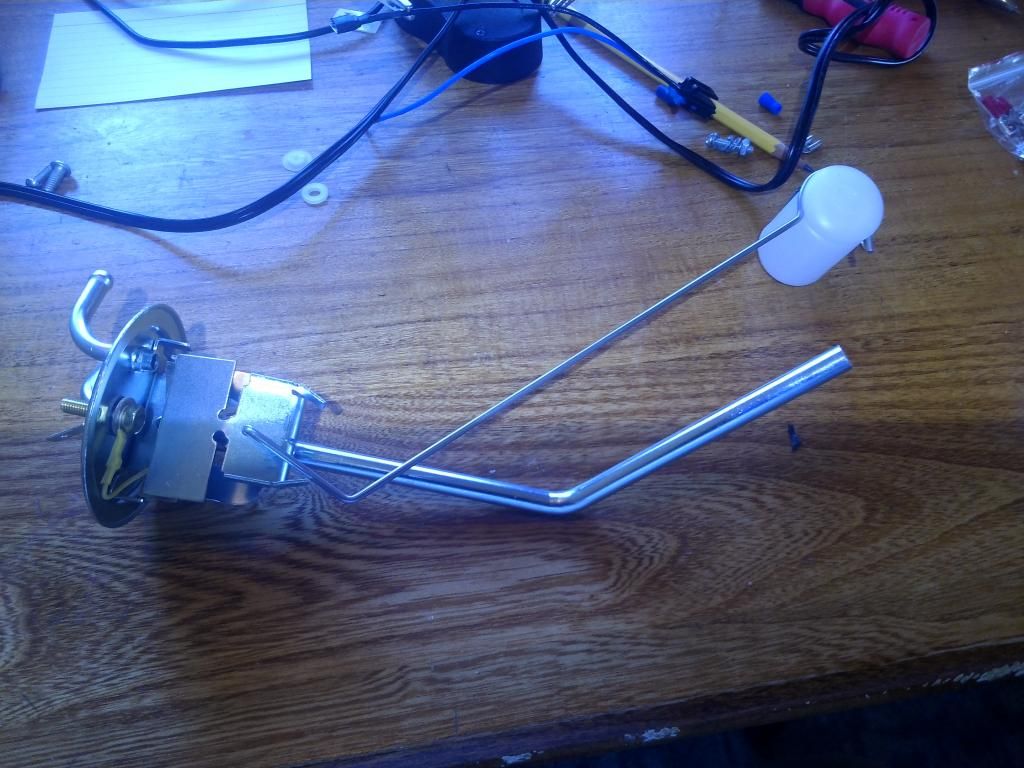 The stock unit has a bent tube that needs to be cut off. I measured the length of the tube and it's about 8 inches. I simply laid out the fuel pump with attached hose and marked the tube. I live in a remote area of Alaska and so I'm waiting on a tube cutter and flairing kit to arrive. Before I cut anything though I'm going to measure the previous fuel sender and make the cut match.
I also ordered a new Dephi EF0114 fuel pump, it exceeds the psi requirements of the 5.3 vortec and is a commonly found pump in GM cars/trucks. The cost of Amazon is about 65 bucks.
I also bought an assorted pack of heatshrink, a 175 piece solderless terminal set ( I am going to solder everything) and I bought a box of nylon and fiber washers.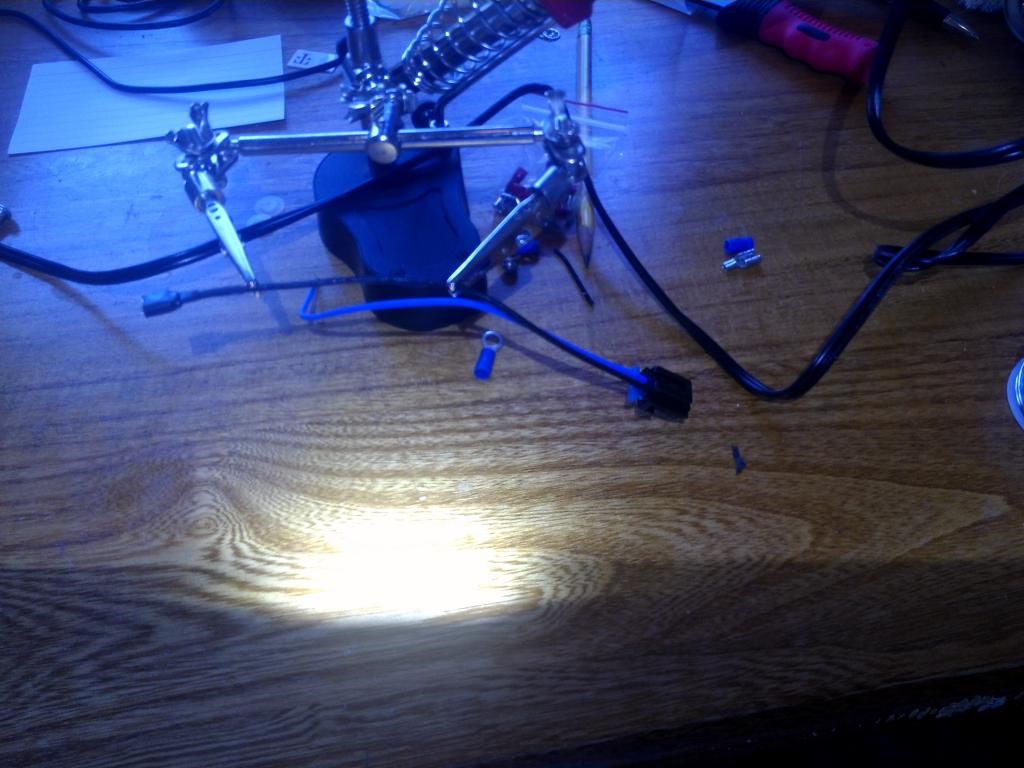 The electrical connector for the fuel pump is AC Delco part # PT2352, gm # 88862271, also ordered from Amazon.
The problem I had with my NOVAK pump is the fiber washers desintigrated and the screw started touching the sender and shorting out, also the wire connector in my opinion was poorly constructed. The ground wire kept sleeping off the blade on the sender and the shrink tubing was bunching up exposing the power wire which began rubbing against the inside of the tank.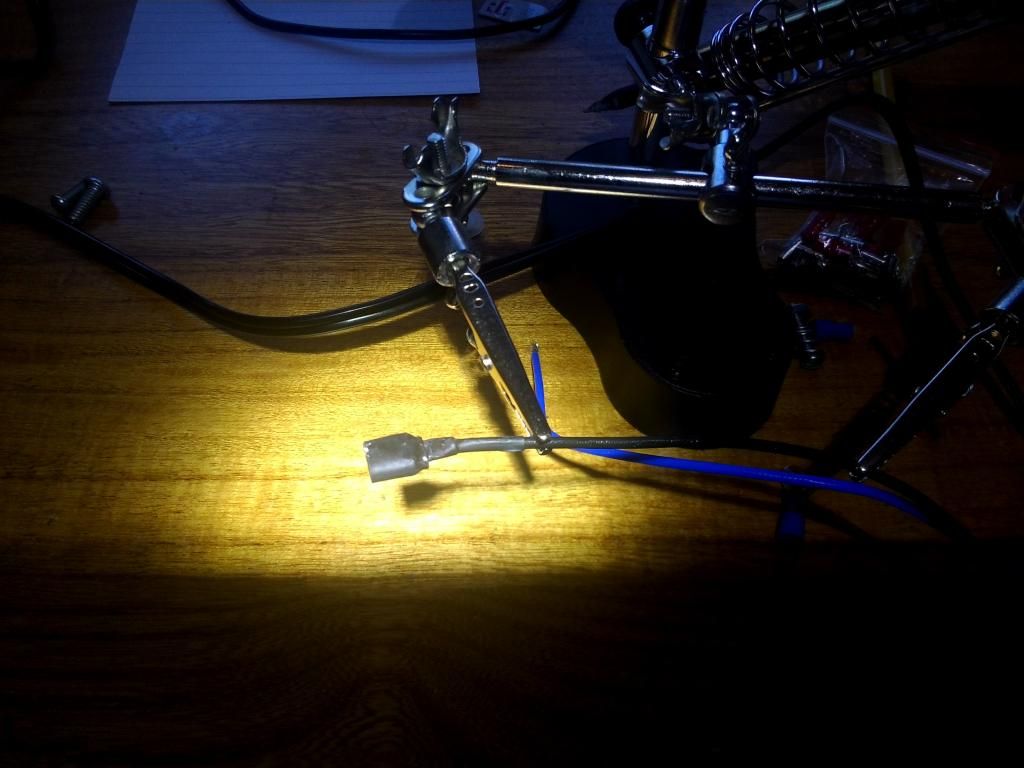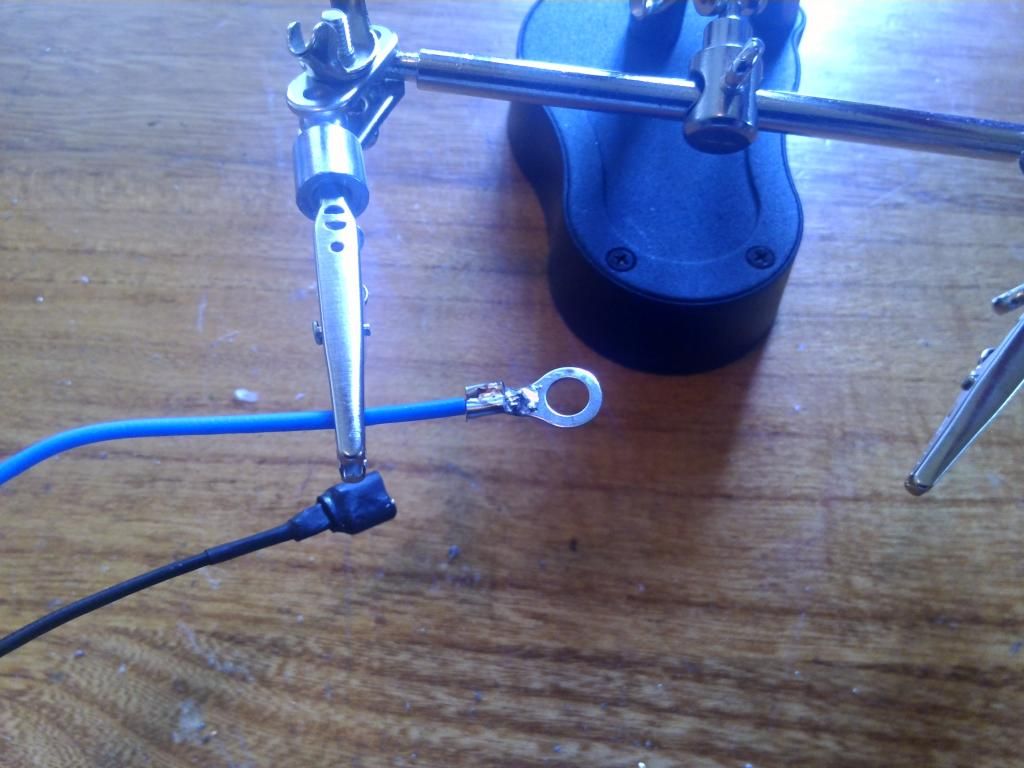 I soldered the wire into the blade clamp, made sure it was a very tight fit on the sender blade, and double heat shrunk the connector.
Next I had to make a hole in the sender for the power supply. I think I used a 17/64 bit. I chose the spot I drilled through simply based on space available and I noticed small spot welds that I wanted to avoid.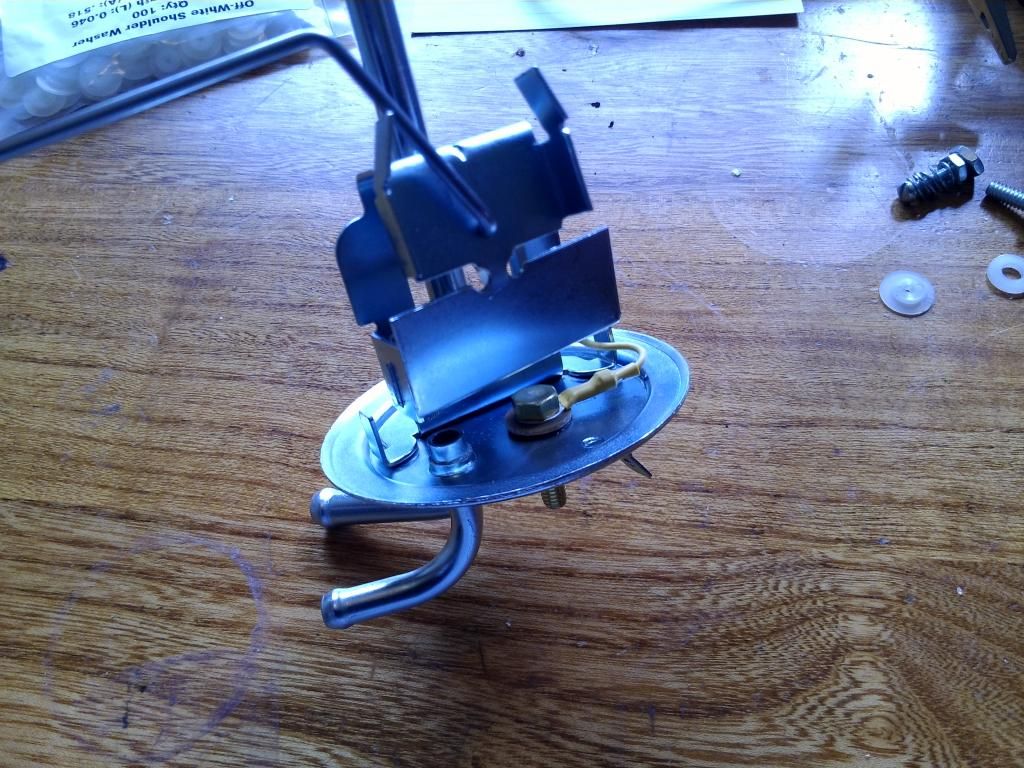 I looked all over for nylong shoulder washers and found these, I'm not an expert on sizing so you can tell the inside hole is way toooooo small for my 3/16 bolt, so I pull out my drill and used a 3/16 bit to drill the hole bigger. I lucked out and found this scrap piece of still which held my small washer in place while I drilled. I made about a half dozen of these so I'd have spares.
These nylon washers are Off-White Shoulder Washer Shoulder Lenght 0.046, shoulder dia. .518 Thk .031 OD .305 ID .080. I ordered these off Amazon too.
The washer turned out to have a wee bit of an interference fit and kinda snapped into my drilled hole which was perfect.
In the pics I'm using a 3/16 screw when I fly to town in a week I'll buy a 3/16 bolt and lock nut. I also have a box of fiber washers which just came in the fiber washers will also be used. I plan on actually doing a write up of this pump build but hope this would help you with yours. The total cost was under a hundred bucks and that included buying a soldering iron and a few other tools.
Registered User
Join Date: May 2009
Location: Wyoming
Posts: 1,279
Quote:
I'm making a new fuel pump also for 80 cj5. On my cross country trip recently, the intank pump assembly I bought from NOVAK failed electrically in the middle of nowhere. So I bought the same fuel sending unit as NOVAK uses, which just happens to be the stock sending unit. Like you I'm cutting off the tube and replacing with fuel pump. I'm using a delphi fe0114 pump pumps somewhere in the neighborhood of 66 psi. I drilled a small hole through the top of the fuel sending unit I think the hole is 17/64. I did research and ordered fiber and nylon washers off Amazon. The washers are shouldered washers. For the delphi fuel pump there is a oem connector, I forget the part number but if you buy the pump on amazon, it'll suggest the connector. The problem with the fuel pump I bought from Novak was the 12v power supply bolt was loose and the washers they used desintigrated and caused an electrical short. I have pics to post but am waiting on the day I pull the old pump out and replace with the new pump. What I plan on doing is using gasket sealant on the hole I drilled and then inserting the nylon shouldered washer then fiber washer and then bolt it together. I will post pics later tonight if you want to see what I've done so far.
There is no gasket sealant that will work. Gas eats em all up. I did find some stuff called "Seal All" at HD.. It is gas resistant .. $3.99 or so. That's what I used after the silicon gasket stuff disintegrated.. Read the labels..
I suspect epoxy may work too..
---
Pull my finger
Registered User
Join Date: Feb 2011
Location: Muskegon
Posts: 2,047
That very similar to what I went through. Like I said I added quick change couplers mine; but now is the time to do whatever mods that will make your life easier down the road. Sit back with a cold one,and take a good look while you're waiting for your parts to come in.

Good luck. Mine has worked flawlessly since the build.

Dave in Muskegon using JeepForum
Registered User
Join Date: Apr 2012
Location: Nanwalek
Posts: 204
I agree gasket sealant will be eaten up for sure. I found some yamaha brand stuff I used on a motorcycle engine rebuild once. Also there are shoulder washers with some sort of sealant material manufactured onto the washer itself. I believe it's what is on my new fuel sender where the fuel level bolt goes through the sender. I'm certain that the combination of fiber washers and nylon washers I should have a tight/sealed fit. I do like the seal all idea and will look into that for sure.
Currently Active Users Viewing This Thread: 1

(0 members and 1 guests)
Posting Rules

You may post new threads

You may post replies

You may not post attachments

You may not edit your posts

---

HTML code is Off

---