Jimnut's long over due 86 CJ-7 Build Thread, Project RustBucket *Lots of Pictures*
---
Decided to finally do a build thread for my project 86 CJ. It has come a pretty long way in the short time that I have owned it. I wasn't the best at taking pictures at all of the different stages so bare with me. The Jeep was EXTREMELY rusty. Rear frame was pretty much gone as well as the entire tub. My goal for the Jeep is NOT to restore it back to a nice and shiny Jeep that I'm scared to put a few scratches/dents into but rather a respectable trail machine that gets the job done. Eventually I'll be doing a decent paint job on it but for now a rattle can job will do as I focus on the drive train and getting the Jeep to be mechanically where I want it be. I also do not have tons of money to throw at it either. All of the work was done by myself with the help of a few friends. This is definitely a budget build. As of right now I have just over 2k total into this Jeep. Alright enough talk, its time for some pictures. I will do my best to recall everything i have done but I'm sure I will be forgetting some things. For those that just want to see a before and after here you go:
The day I brought the beast home:
What the CJ looks like currently (this picture was taken in early August
Now onto the build.
You can see the rust problems with the tub. This is actually probably one of the better areas. The previous owner really liked spray foam and used it EVERYWHERE. If there was a hole he filled it with foam.
The more I looked into the tub the worse it got.
I started looking for a replacement tub and found one that was in much better shape but still far from perfect (which means CHEAP haha). I almost used a YJ tub but found this CJ one that I decided to go with instead.
Started working on some patch panels to repair the new tub.
After all of the patch panels were in place and welded and sanded down I filled it in with some fiberglass reinforced bondo and called it good. I'm hoping this winter to do a decent paint job on it (thinking dark silver or gun metal gray at the moment)
Not quite finished sanding in this pic but you get the idea
It was finally time to tear the Jeep apart now that I had the replacement tub ready to go on and start repairing the frame. Called over a few buddy's to help me lift the tub off but discovered it was easier to just pull the tub apart. By pulling apart I mean we literally just pulled it apart. haha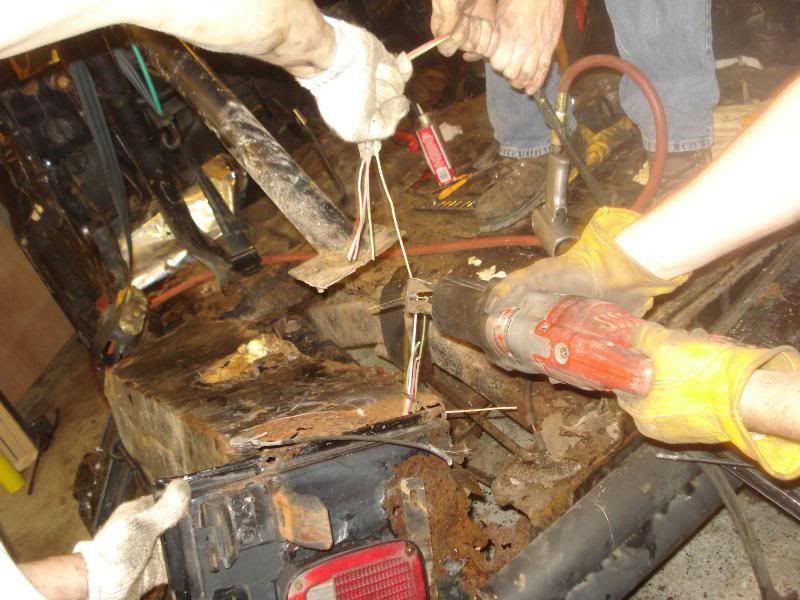 An hour or so later we had this:
---
Build it, Wheel it, Break it, Fix it and Repeat!