Registered User
Join Date: Nov 2010
Location: forest
Posts: 95
`70 CJ5 transfer case shifter position?
---
I am getting my `70 CJ5 back on the road (only drove it a few miles before the carb was all gunked up since it sat in a garage since `07). It was a recent purchase and I knew it needed a small amount of work to get it running well. The previous owner last drove it in 4WD. It does have a 3 speed manual and I know those gear positions, but I don't know the Transfer Case positions nor does it have a sticker or "grooves" to indicate the 4H, 4L, N, 2H, 2L position.
1.) What are the model numbers for my stock/original equipped transmission and transfer case?
2.) What are the transfer case shifter positions.
3.) No matter what position I had the transfer case in, it always "peeled wheels." The clutch was either all or nothing and never a smooth transition from stop to go. I do know I have 4.1 gears and 31" BFG MT. Is it the gearing, clutch, or a tremendous amount of power coming from the Dauntless V6 225? Or a combination of all?
4.) Considering #3 and the BFG MTs, will I lose traction when using it for commutes in snow?
Thanks for any help...........................
Here is a link to some pics of my CJs x2.
Registered User
Join Date: Aug 2002
Location: Colorado
Posts: 16,126
Stock transmission should be the T14 and the transfer case would be the Dana 18.
Here's what the original sticker would have looked like: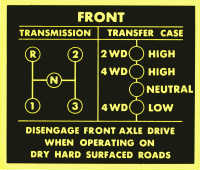 It's available here:
http://www.bearcreeksurvey.com/NOSRepro.htm
Sounds like you have clutch issues or possibly crap built up on the flywheel making the clutch chatter.
Registered User
Join Date: Nov 2010
Location: forest
Posts: 95
Great reply, thank you very much.

I am not losing my mind when I say that there aren't any "grooves" for the positions am I? Is this normal or a problem? Maybe I am just used to my`83 Dana 300 getting stuck and hard to get out of 4WD?

Is there a manufacturing company that produces this label? <-- Oops, nevermind, just check out the link.
Registered User
Join Date: Aug 2002
Location: Colorado
Posts: 16,126
With enough slop from wear and tear over the years it can be tough to distinguish one position from another.
Currently Active Users Viewing This Thread: 1

(0 members and 1 guests)
Posting Rules

You may post new threads

You may post replies

You may not post attachments

You may not edit your posts

---

HTML code is Off

---