Registered User
Join Date: Dec 2008
Location: az
Posts: 9
4.2 carbs?
---
whats seems to be reliable and carbs that are working?
Just put together a 4.2 with a comp cam and fuel injection is out of the question at this point.
this looks like a reasonable deal on ebay.
Real Jeeps have dents
Join Date: Apr 2002
Location: out in the garage - Minneapolis
Posts: 25,860
Weber carbs are expensive. They are good for street driven Jeeps but they suffer from float bowl fuel spillover that will stall the engine on steep trail inclines. Webers can difficult to set-up and tune properly.

The Ford 2100 or 2150 is a much more trail friendly carb, and costs much less. They are very common at the junkyard on 302 V-8's and rebuild kits are available everywhere.
---
.
A recent Gallup public opinion poll shows the NRA, at 58% approval, has a higher approval rating than either Hillary Clinton or Barack Obama.

Progressive Liberalism: Bringing you new Healthcare ideas so wonderful, they have to include mandatory participation ...
Originally Posted by Ronald W. Reagan: Government is not the solution to our problems; Government is the problem.

Registered User
Join Date: Jun 2009
Location: Rimersburg, PA
Posts: 21
x2 on the MC2100/2150. great carbs. got one on my 4.2, love it off road. 200% better than the old carter BDD that cjs got from the factory
---
'86 CJ7-258-T5-D300 - D44/D30 4.56's w/ Truetracs F/R
and a few other doodads and geegaws
Registered User
Join Date: Dec 2009
Location: Pensacola,FL
Posts: 305
I have had great luck with my weber since I rebuilt it and added a holley fpr.The po of my jeep did not know what he was doing when he set up the weber.
Registered User
Join Date: Jan 2009
Location: MN
Posts: 28
Motor craft 2100 is definitely the way to go with a 258/4.2 L. You can eliminate almost all of the vacuum lines that the old weber carb needed and you can buy totally rebuild and ready to slap on the engine. Auto or manual choke are available. MC 2100 will not disappoint.
Registered User
Join Date: Nov 2007
Location: Off the Grid in Chester Grant
Posts: 18,083
If you are saving up for FI, then why not just blow $20.00 on a carb kit for the Carter BBD carb? They can just purr when kitted and have a pretty good punch for power. If you take your time, the kits go in easy and come with good directions.
---
Mike
86/00 CJ7 Laredo, 33x9.5 BFG AT's, 'glass nose to tail in '00, 'New' frame,wires and plumbing in '09. Carter BBD Carbed 4.0 HO in '10.
89 YJ Renegade. BBD Carbed 4.0 HO. Locked front and rear with 33x9.5 BFG AT's
Some Canadian Bush Jeep Runs and Build Photos:
To view links or images in signatures your post count must be 10 or greater. You currently have 0 posts.
(10 new albums added Sept 16/10)
Web Wheeler
Join Date: Dec 2007
Location: Burnsville, MN
Posts: 2,812
The weber carbs work just fine. Mine works well enough not sure if FI help me that much more. Great mileage and no hick ups offroad. The price has also dropped about $100 they used to push $400 and are now under $300 for a kit. I would recommend the Weber34 or Weber32/36 they are both progressive means the first barrel opens first and then the second with more throttle. I hardly ever even hit the second barrel unless I am getting on it. The 2100 and BBD will also work but then you have a used situation. They all work well.
If you use this link, follow all the links that it has you will not have any issues setting up a weber... its pretty easy if you can use a time light and your cj motor is sound.
http://www.jeepforum.com/forum/f8/we...-258-a-631105/
The only hick up I see.... when you have a new motor its nice to have a carb that is already running well for the first start up and first break in period
Registered User
Join Date: Sep 2008
Location: El Centro, CA
Posts: 789
I run a Rochester 2GC, I'm more familiar with Chevy parts. No problems on hills or inclines. Easy to set up after you make the adapter plate. Only $89 for a really good rebuildt carb set up for a 283.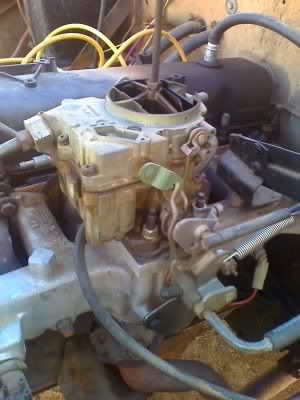 Registered User
Join Date: Jun 2007
Location: Colorado, USA
Posts: 2,398
Jeesh! Just put a rebuild kit in it (good for around 50,000 miles, then repeat) and do some junk yard injection after this temporary fix.
Carbs always have been a maintenance hassle and always will be; do yourself a favor and get rid of that problematic bug sprayer technology.

Enjoy!
---
'06 TJ Rubicon; seemed like a good idea at the time; had many CJs...
Web Wheeler
Join Date: May 2008
Location: N.E. Alabama
Posts: 2,649
The carb you have shown us is the RGM. It was produced some years back to fill the void left as a result of the Weber labor strike.

I spoke to the Redline support staff about a year or so back when another user was considering it. The report said that it was a good carb but is no longer produced and no longer has any support.
---
Last edited by mcmud; 01-19-2010 at

11:42 AM

.
Currently Active Users Viewing This Thread: 1

(0 members and 1 guests)
Similar Threads
Thread
Thread Starter
Jeep Forums
Replies
Last Post
Shocks and Carbs

chevyguy76

Jeep CJ Forum

7

01-05-2016

05:50 PM

360 Carbs?

tahoe wheelers

Jeep CJ Forum

6

12-04-2006

11:06 PM

favorite carbs

my77cj5levi

Jeep CJ Forum

3

12-27-2005

08:54 PM

Weber Carbs

solitudetree

Jeep CJ Forum

8

11-18-2005

01:20 AM

carbs

thenubsterman

Jeep CJ Forum

2

08-06-2004

07:48 PM
Posting Rules

You may post new threads

You may post replies

You may not post attachments

You may not edit your posts

---

HTML code is Off

---