Here's a link of the backstory behind this Jeep. It was my father's. He died in 1991, the Jeep was sold, I found it and bought it back.
http://www.jeepforum.com/forum/f8/go...p-cj7-1431976/
Now it's time to get it running again, enjoying the old memories & making some new ones. When I went to look at it, it would not start. We figured it was either the battery, solenoid or the starter. I started with the battery. I took it to O'Reilly Auto Parts for a test. It was reading 8 volts and would not charge... dead. Already spending money on it haha. Just Empty Every Pocket.
I bought a new battery, brought it home & installed it. Took a few tries, but she fired up. I got so excited haha. Felt like a caveman making fire, and all I had done was replace the battery. Can't imagine the accomplishment you guys doing full rebuilds must feel. Kudos.
On to the next problem. It will not idle. The PO (feels so good to finally be able to call him that haha) told me that the carburetor needed to be rebuilt and that it would quit anytime you idled. I bought a rebuild kit form O'Reilly Auto Parts $16 plus tax. I've been reading an Instructable online about how to get it running without a full rebuild and without having to remove and fully disassemble the carb. I'm going to try this first, before i dive right into a full rebuild. I'm super nervous about doing that, but I think I can handle this Instructable.
Here's the link to the Instructable:
http://www.instructables.com/id/Fix-...eep-cj-7-or-w/
Here's some pictures of the engine before I replaced the battery, and before I've worked on the carb.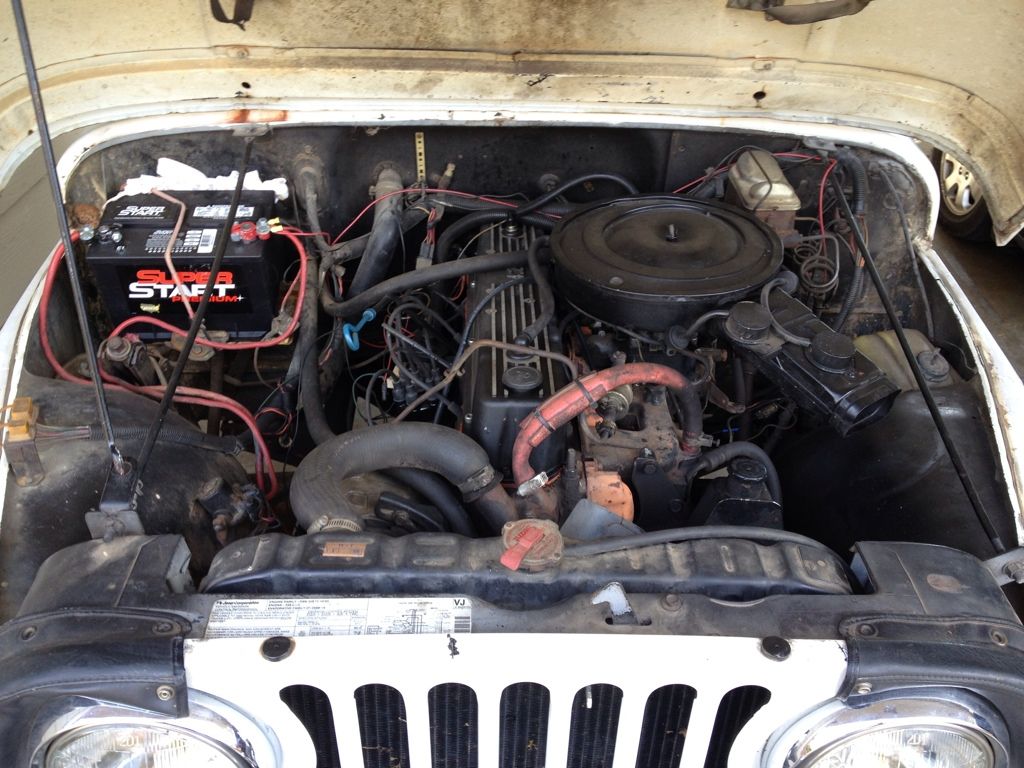 This is my first time owning a Jeep, and I have done a little bit of engine work on my F150. Can anyone tell me any details about my engine by looking at it? All I know right now is that I have a 258 4.2L Straight 6, & I'm pretty sure the carburetor is a Carter BBD double barrel. Not really sure about what else I've got going on in there, or what's been removed or added.
Also, any thoughts on the Instructable?
Here is my plan for this Jeep:
Phase 1: Get the engine running, change all the fluids, replace the shocks (the front driver's side shock can be shaken by grabbing & moving it side to side... not sure why, but I know it's not good & Chris said I'll need to replace it), figure out how to attach the hard top that came with it (has no hardware & hasn't been used by the PO), & get it registered & insured. This should get me driving it... can't wait for that!!!
Phase 2: Do any affordable upgrades that will improve the reliability of the Jeep. I plan to drive it often. Not my DD, but frequently. I'm not sure what all these upgrades would include, but I've been trying to read around on the forum to get ideas. One thing the PO mentioned was that the ball joints will need to be replaced and that he could see the front driver's side tire shimmying when braking. What do you guys think would be the simplest, cheapest things to do that would accomplish this?
Phase 3: Begin working on the body. I have no idea how to do this, but my friend Chris is a body shop guy so I'm sure he can help there. I want to get rid of every single bit of rust on the body. I want this Jeep to last for as long as possible. When we looked closely at some of the bad spots, we noticed that the Jeep has been painted white twice over an original color of either dark green or black. We could also faintly see the letter N on the side of the hood. It doesn't have a tachometer, so I'm pretty sure that makes this a Renegade, right? When talking to my cousin (he was very close with my dad), he said dad is the one that painted it white when he bought it used in 1985 and that the next owner painted it white again. That's the way that I always remember seeing the Jeep... white. Therefore, I plan to keep it white in color and not restore it to its original color or markings.
Thanks for the help this far, and I'm looking forward to continuing to share this experience with y'all.
Matt B (not to be confused with Matt from Matt1981CJ7 haha)