guess I'll vote for the minority... I say clean-up/touch up what you've got.
my '83 looked fabulously craptastic with it's dirty/faded/chipped paint when I brought it home. I knew a paint job wasn't in the budget, and time would keep me from even a home job.
witness: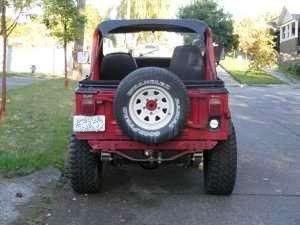 granted, it was
fairly
straight, but there were chips down to the primer and metal EVERYWHERE! the paint on the hood had 0% shine to it, even after cleaning. the above photo's REALLY made it look good compared to real life. (the stickers on both sides of the tub, covered up some 4+" scratches, and peeled even more paint when I removed them)
my thought was, I have nothing to loose but perhaps a bit of time and a few bucks, so...
I brought a paint sample in to match (took the rear tire stop for the swing away carier- which had been repainted) into a local auto body supply shop. two days later, they mixed me up a quart of cheap paint that was a dead-on (enough) match (they said is difficult with red
)
a little touch-up here and there, some elbow grease, some polishing (not rubbing) compound, and I ended up with pretty good results,
IMHO
:
it wasn't show quality, obviuosly, but it had just enough
patina
that I wasn't afraid to use it, but it still didn't look abused.
as for repainting, I think a blended-in small area (such as your fender) is better than trying to do an entire panel 9like the whole fender. I'd try touching up the smalled area possible. THEN I'd add original sticker right over the top of the prep work... it would give you that well used but original look that is so hard to find!
hope whatever route you choose works well for you!
Hoss