Registered User
Join Date: Mar 2010
Location: Clarksville, TN
Posts: 88
1971 Jeep CJ5
---
Just dragged home a 1971 Jeep CJ5. it seems to be in decent shape but was told the motor is seized. from talking to the PO, it seems that he threw a rod or something in the #4 cylinder.
it is a factory 4 cyl, 3 speed. im pretty sure its a T90 trans but am unsure of the axles and transfer case as of now.
right now, im planning on a full tear down and rebuild. im not sure if i will just rebuild the original motor or if it is even worth it. i have been drooling over the thought of a sbc v8 swap, sm465 and still not sure of the transfer case. im not much for modding 4x4s yet. of course, i could go with a 4.3L chevy v6 if i find a good deal on a blazer or whatever. it will really depend on if this is worth rebuilding or whatever deal seem to fall into my lap when im looking.
this will be a decent project and take some time. im more of a muscle car guy but have had my share of prebuilt 4x4 trucks and lightly modified jeeps of most types. this will be my second resto project, the first being a 66 mustang.
anyway, im open to all ideas and any info you guys wish to share. i just got done cleaning out my garage to make room for the CJ. waiting on a check im owed to get a new air compressor and a sand blaster. im hoping to do 100% of the work on this myself with the random help of a friend when i need it.
Registered User
Join Date: May 2011
Location: Elizabethtown
Posts: 245
I definately would toss the motor. The only way I'd ever keep a four in a jeep is if it was an old willys. Ive heard from people that have had a four in their jeeps that it isnt really enough power. The rest really depends on what you want and what you want to do with it. the sky is the limit
Registered User
Join Date: Oct 2009
Location: worcester
Posts: 2,265
I had a 71 CJ5 it had a Buick 225 V6 from the factory 65-71 I blow up the 225 and swapped in a Buick 231. I would go with a V6.
---
Rubicon Rich ,05 TJ Rubicon: PatriotJeepers.com
86 CJ7 258,T18,Scout Dana300,twin sticks,Dana44's,4W Disc, locked,35's,YORK OBA,Warn 8274,fullcage.
51 M100 1/4 ton Jeep trailer
Registered User
Join Date: Jan 2002
Location: Eagle Point
Posts: 7,283
The V6 option is the best. Simply because it gives both more than enough power, as well as fitting in the engine compartment without any cutting.
I prefer the Buick mill, especially the 225 because of it's heavy flywheel. However, these are getting rare and parts will eventually run out. The 231/3.8 and later power plants are still easy to find and can be had with the turbo option.
The Vortec 4.3 is another good option. Powerful and plentiful. Since it is a Chevy, bellhousings and adapters are easy to find.
Actually any newer engine would be an upgrade, so you have some options, even newer fours will work better then the old 134.
I prefer to stay away from V8's. They don't fit well and are generally overpowered for these applications.

ECJ5's have a standard laundry list of upgrades to make them safer and better.

Brakes: The stock 9" brakes are adequate at best. 11" Wagoneer brakes are virtually a bolt on swap. Disk brakes are another option, either a junk yard swap or a pre-assembled kit.

Steering: The stock Ross system is sloppy and will not last with larger tires. A swap over to either manual or power steering is a huge improvement. Given a newer motor with a pre existing power steering pump, a swap to a Saginaw box would be a vast improvement.

Having a flanged axle D44 in the rear gives you a lot of options for traction differentials.

Front axle: The D27A up front is limited to Powr Lok's and is getting obsolete. Be sure you have oil in the knuckles of the kingpin bearings will go dry and you will be replacing them. Servicing is easy, and the seals are easy to remove if you need to replace them. The standard fare is a 50/50 mix of 90wt and grease. This keeps the lube thin enough to flow into the bearings, but thick enough to stay in the knuckle. A common upgrade is to a later D30, preferably with disks.

Your Jeep came with a stock rear tank. You can install a 10 gallon saddle tank under the drivers seat, giving you added range.

Insure you inspect the frame around the spring hangers. They are prone to cracking. You can weld them up, buth the fix is to box the area around the mounts, keeping the C channels from flexing.

Rear body mounts are prone to breaking. This is especially prevalent on rigs with the rear spare tire carrier.

The stock T90 trans will hold up to most motors, but if you want to wheel and still have peace of mind, an upgrade is a good option. If you go with the Chevy/Buick mill, an SM is a good option, with you having to purchase the adapter. Since I was changing over to a reverse shackle frame, I spaced the drivetrain 3/4 of an inch forward, thereby eliminating the need to modify my drivelines. This is a good technique and i would recommend that you do some research on your trans swap length to see if you can adjust your new motor/trans combo to save some time and cash.

The D18 t case is plenty strong and, if sound, should give many years of service.

Heaters: If the stock unit works, congrats, Otherwise an upgrade works here as well. I wound up using an early Bronco unit under the dash.
what is the easiest\cheapest way to get discs on the front? either on the d27 or a d30 swap? is there an option of the same width? was thinking about full drivetrain swap but the more im around it, the more i like it as is. its all factory original on 31" ATs. they are narrow enough to fit inside the fenders with no flares.

looking for a classic looking cruiser with some mild offroad ability. will be street driven 90% of the time but i will also be taking it hunting and camping but no crazy offroading.
GROUND POUNDER
Join Date: Nov 2002
Location: Newport News, VA
Posts: 12,283
I swapped a SBC into my old 71 short nose. It was a tight fit. I had to use an electric fan, run the short water pump setup, and scoot the radiator forward until it hit the headlight buckets. Even then, the HEI was rubbing the spark plug wire boots against the firewall.

For front disks, I think I'd just swap in a later NT D30. They're relatively cheap and easy to come across. Do the Saginaw Power Steering swap at the same time..
---
'80 CJ5 w/AMC360, T176, D44 w/Detroit 4.56, RE 4" YJ lift and 35s..



To view links or images in signatures your post count must be 10 or greater. You currently have 0 posts.



To view links or images in signatures your post count must be 10 or greater. You currently have 0 posts.



To view links or images in signatures your post count must be 10 or greater. You currently have 0 posts.



To view links or images in signatures your post count must be 10 or greater. You currently have 0 posts.



To view links or images in signatures your post count must be 10 or greater. You currently have 0 posts.



To view links or images in signatures your post count must be 10 or greater. You currently have 0 posts.



To view links or images in signatures your post count must be 10 or greater. You currently have 0 posts.

Registered User
Join Date: Jan 2002
Location: Eagle Point
Posts: 7,283
As I stated earlier, if you can find a Waggy in the local u pick yard, you can upgrade to 11" drums for next to nothing. This is the set up I run and the braking is significantly improved. It is also a virtual bolt on operation, really needing only the original Waggy soft lines for the front cylinders.
Disks can be had either as a kit or as a junk yard upgrade using GM calipers and mounts. earlycj5.net has a couple of good writeups on what you need and how to install them.
If you go with a 30, insure you get one with the same gear ratio, or you will be spending a lot more on a R+P swap.
Registered User
Join Date: Jul 2010
Location: Central
Posts: 631
Swap in a nice little Isuzu Diesel.
MPG,and run forever.
I know of more than a few at 400K+ miles.
spent about 5 hours tearing it down today. found out there is no heater in this jeep
got the front clip torn down and the interior gutted. only thing left to pull the tub off is the pedals, shifter and steering column.
if anyone is building or repairing a factory 4 cylinder, im pretty sure a rod got thrown in cylinder 4 on mine but havent cracked it open. i do have the boltons if anyone needs them, head, carb, starter, exhaust manifold etc... just let me know if you need a part.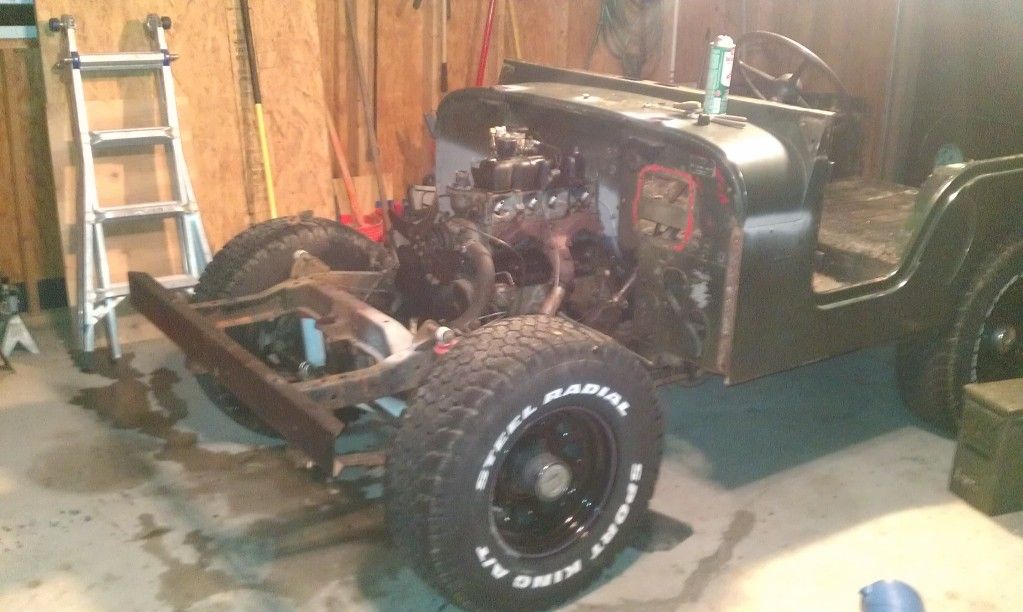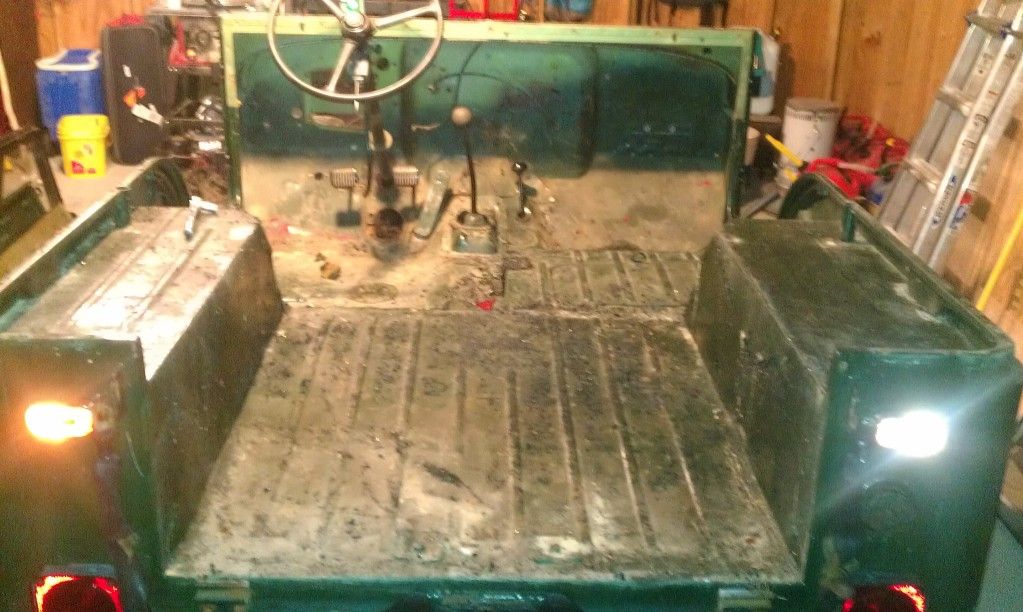 anyone know how many body mounts there should be on each side? i see 2 under the passenger side between the wheels and 1 behind. on the drivers side, there is just 1 under the drivers seat and one behind that wheel. doesnt look like there is a hole where the middle one ever was. there are also a couple under teh taillights which are an "L" bracket looking piece and the rear crossmember has 2 bolts in the center as well.
as it sits right now, there is only the 1 body mount on the drivers side under the taillight thats actually holding the body on the drivers side. the passenger side is all holding on but it has been replaced sometime in the past. the body mounts have chunks of old tire as bushings
the drivers side is sitting on the bare frame.
finally got the tub pulled today. got a few new tools recently that makes this alot easier, like a new foor jack, 2 ton hoist, and a bunch of other stuff.
i guess i will keep updating this thread as a build thread. found alot of rot in the floor boards. seems the original floors are trashed and the new floor was a patch panel that was screwed in with sheet metal screws and then had a layer of fiberglass thick enough to cover the screw heads. gonna be quite the effort to repair the tub but im in for it...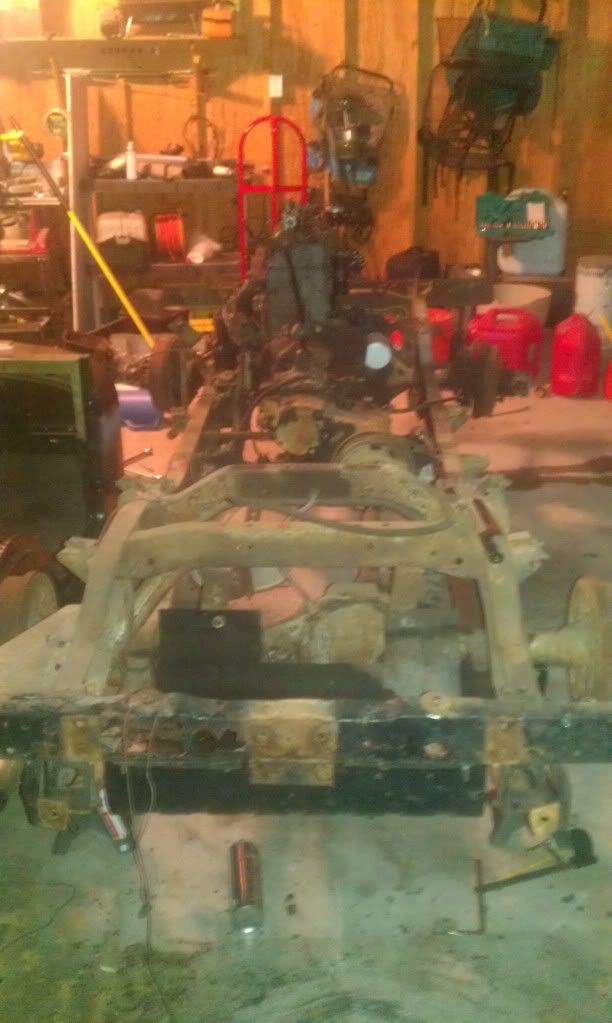 Currently Active Users Viewing This Thread: 1

(0 members and 1 guests)
Posting Rules

You may post new threads

You may post replies

You may not post attachments

You may not edit your posts

---

HTML code is Off

---