Howdy,
I think this is the third or fourth '49 Jeep truck build I've seen here recently. Gaining popularity perhaps?
Anyways, I was bored, so I thought I'd share my experiences with this truck.
I bought it Oct. 29th 2009 in Springfield, New Brunswick, about an hour from my house. It's a rust bucket with potential. My grandfather did all the driving to and from and also quite a bit later on. I don't have my license yet (I'm 16).
Brought it back to my place via flatbed, later moved it into my grandfather's garage and tore-it down.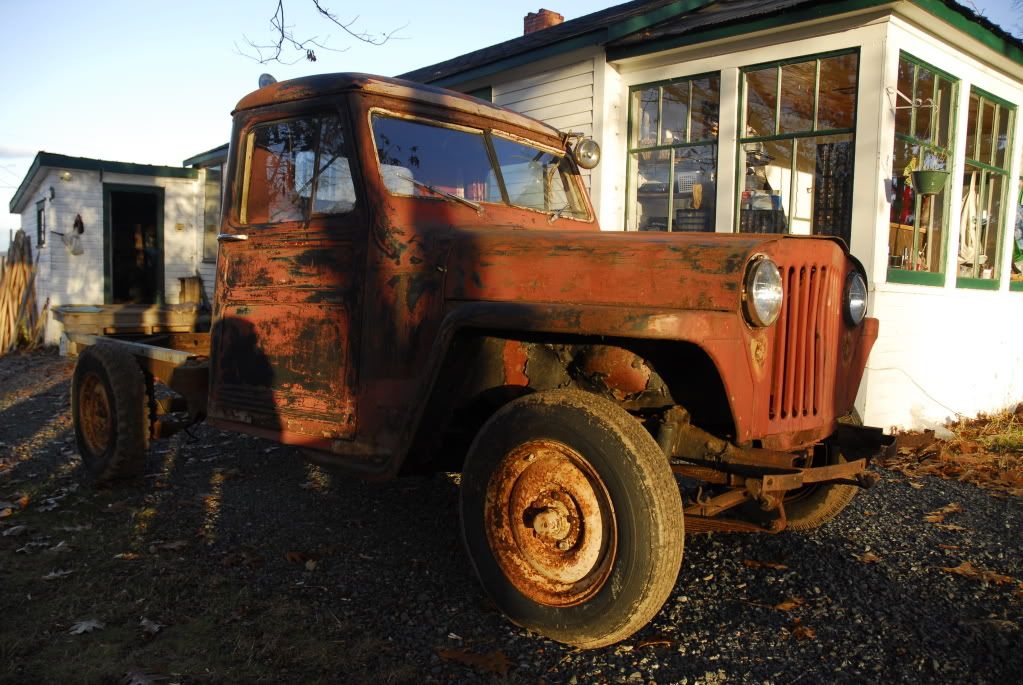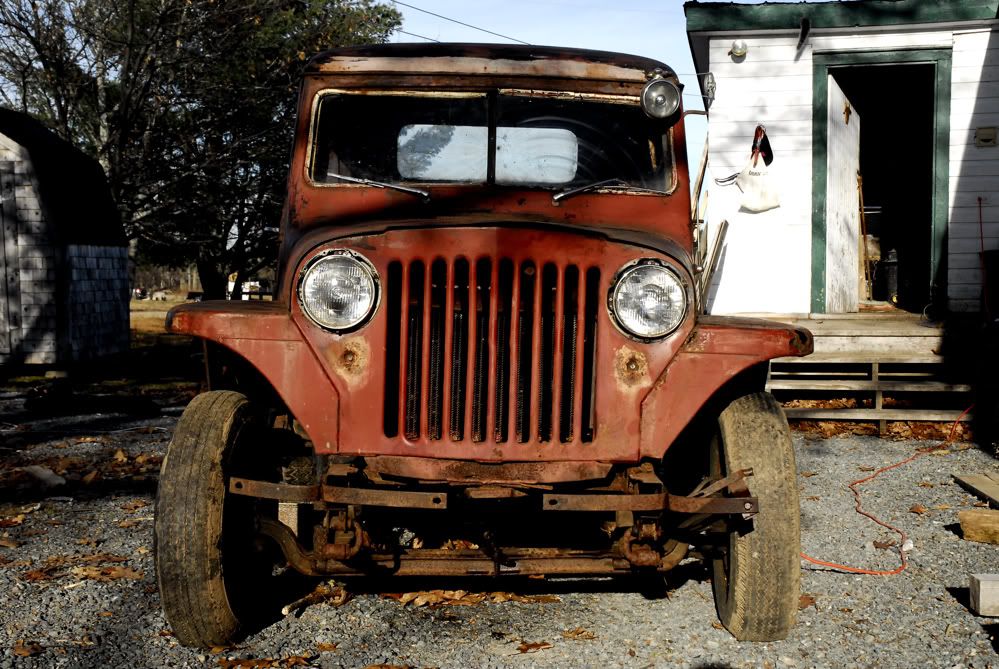 The teardown took awhile ('till around a few weeks ago), but was complete (bare frame, bare cab, engine and tranny taken apart etc.) Would have left the wheels and suspension on the frame if the front brakes weren't so seized up.
My frame was totally junk anywhere the box was. The box is long since gone. My cab floor is also junk, and my roof has big rust holes in it. My fenders weren't great either.
Note that when I bought the truck, it only turned over. We fiddled with it for days and only got coughing. I kinda sorta had it running for about 10 or 15 seconds before I took it all apart. Figured, since I had little compression (20-30lbs), lots of dirt and rust on the motor, I was gonna need to take the truck apart anyways, so having it running wasn't really worth all the time.
Getting the cab off wasn't easy. It took me days to get the cab bolts off with a grinder, bolt cutter and cold-chisels. I also needed to remove the steering column. I had a little puller that I tried to get the wheel off with, but no luck. I was kinda stuck...but what I ended up doing was dragging the steering gear box up through the cab, thus no need to remove the wheel.
Since the steering gear is longer than the pedal/column hole in the cab floor, there was only one angle to get it out. It took awhile and I was just about to give up when I finally found the right way and it came up no problem. My steering worked fine so I'm just leaving it as it is, with a paint-job. If it ain't broke, don't fix it, as my grampy tells me.
We built a hoist with 4x4s, 2x6s and 2x4s using a 2-ton come-along as a puller, to remove the engine and transmission. Worked like a charm. Getting the tranny off the engine was a chore as they were seized together pretty good. Once I got them apart (took about 6 cold-chisels, 4 wedges, 2 screwdrivers and a hammer going at the same time to brake the tranny free...) it took around a day and a half to take the motor apart (note that I removed all the stuff from around the engine earlier: generator, starter, water pump, carb, manifolds etc. So I just had a short block to take apart).
Here's the engine on the table: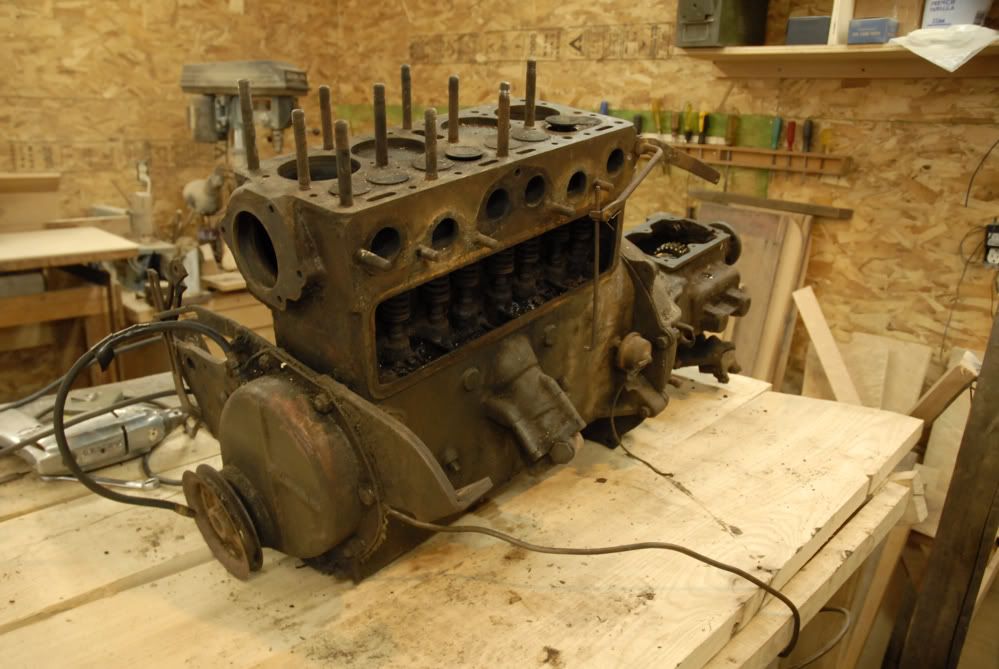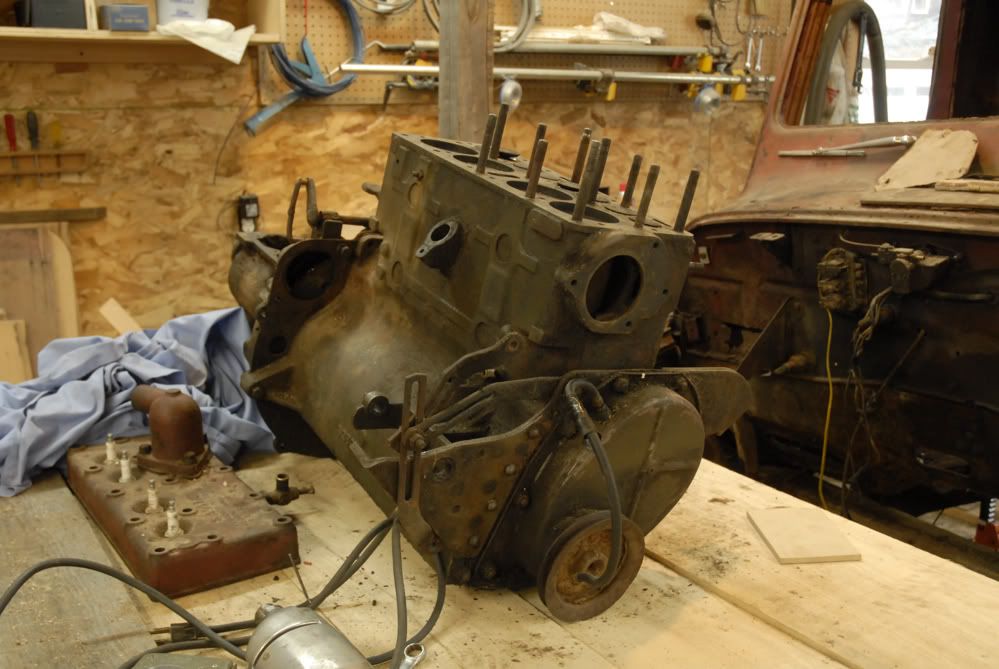 Grampy and I threw the frame on his utility trailer, along with my Timken axle which had seized drums. We took that down to a welding outfit in Saint John and the guy there had it done in like, two days, with a completely new rear frame section. I painted the frame with a good coat of POR-15 (still have a little more to do). Man is that stuff durable! Haven't gotten a photo of the finished frame yet. Here's the trailer load: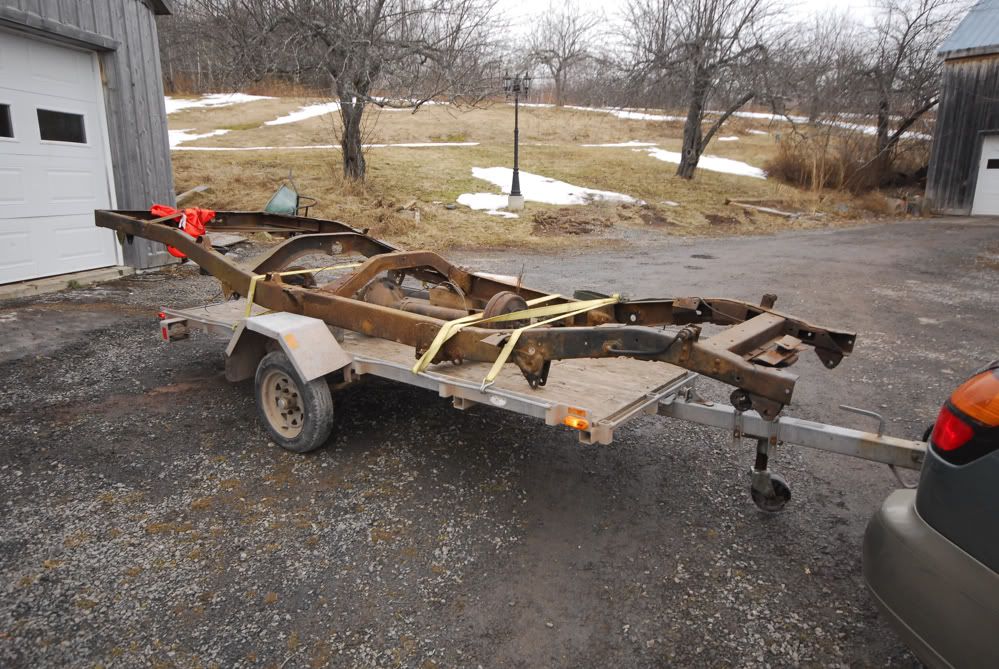 That day I also dropped off my engine block at an engine shop. They will re-bore my cylinders, do a total valve-job (everything new from the tappets up), grind my crankshaft, and give it a good cleaning. Also I will get new bearings, pistons and rings. I will put it back together. Picking it up tomorrow, hopefully.
I've finished about 3/4 of the suspension (need some new parts), I would like to buy new springs but I can't afford it as of now. Gotta focus on more demanding things first.
As for body-work, I love it. I don't know why. Perhaps it's because I don't really care too much about how the truck looks. Basically, as long as the holes are patched, I just throw some bondo at it with a quickie coat of rust-paint. Works for me and passes a 20 or 30 foot test.
D-side door, before: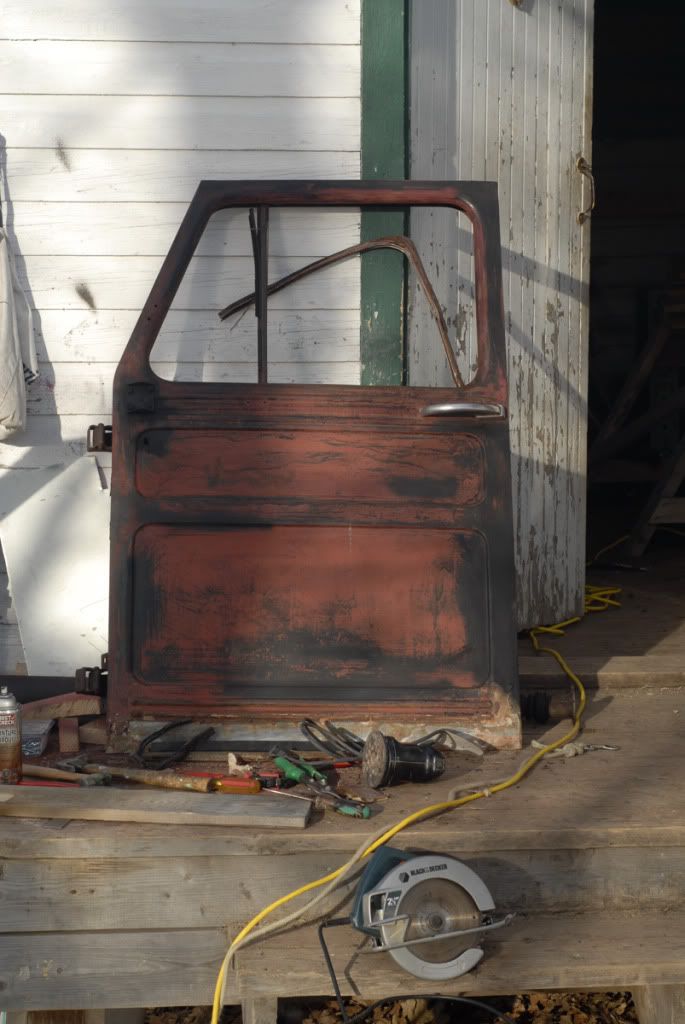 After: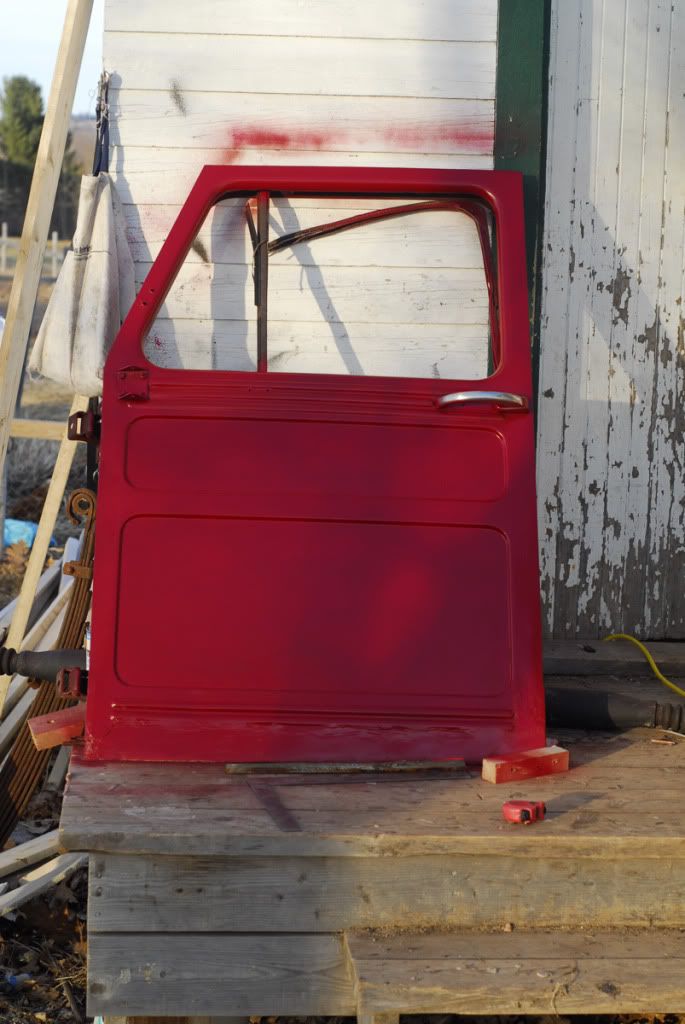 And here's my grille, looking purdy, to me at least. The colour is International Red, BTW.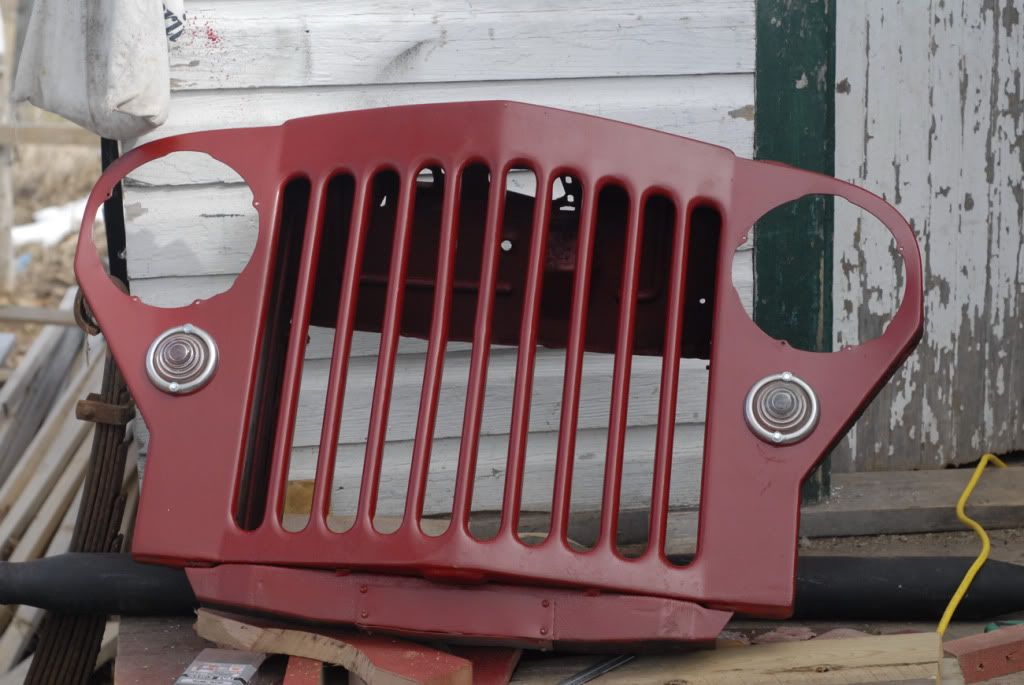 Got the fenders done in the loosest sense of the word (I'll get new ones one day, hopefully), and the hood. Haven't done much with the cab yet. Needs a floor and some other patches. I don't know how to weld yet, but I hope to learn one day. Maybe I'll weld-up my cab floor.
This is my first time working around cars. My grandfather owns a '29 Olds which I've helped out a tiny bit with. I don't know why I'm interested, but I am! This is, obviously, my first vehicle. A bit of a step of from my bike...
My truck details:
1949 Willys Jeep truck, 1-ton 2wd (you rarely see the 2wd versions). L4-134 engine, T90E-1, Timken 51540 w/ 5.38 gears, basically everything is original but in rough shape (was repaired many, many times by the old farmer who had it.) I think that 4 out of my 5 tires are original, though I'm not positive. Tires do last a long time here in our humid climate, but man is the humidity ever hard on metal...
I would love, one day, to convert it to 4x4. For this, I'd need a front axle and driveshafts. I already have the tranny and transfer case (got one cheap). I'd really like to hook up a PTO for a front winch, and maybe even do a rear dump bed. For now I'll just do a simple flatbed. I think, for the 4x4 thing, I might be able to use my old DS with a little modification. But I'll probably do that down the road. Does anybody have a front driveshaft they're looking to get rid of?
I'll update as the project comes along. I've got one badly stuck brake drum (got 3 of 4 off). The stupid thing won't come off. Gotta get me an oxy-acetylene torch methinks, lol.
Any advice or suggestions would be appreciated. I don't really know my mechanicals that well so bear with me.
Anyways, that's my story for now. This will be my driver. I'm keeping it mostly original but I would like to do a 12v upgrade w/alternator, get one of them fancy hi-torque starters and put in a Solex carb. Would also like to get a high-compression head for a bit more power. All to come.
Kier