Well it was Saturday night when Me, My Brother, and a few other friends took our 3 jeeps to our favorite place. Upon arrival we come to find that the normal entrance has 4-5 foot holes dug out all around so we cant get in...Luckily one of my friends lives close by, so I call him up and ask him if there is another way in, 2 minutes later hes there taking us down a little path that is meant for fourwheelers.
So once in the place we do our offroad thing, climb a few hills, go threw mud, and make a bonfire.
So we all leave and two of my friends say their gonna stay for about an hour. Thats fine blah blah...I take these girls home and I go back out to my friends house.
I get a call at about 12:00 AM and its my brother telling me that my friends got the Jeep Wrangler stuck and hes gonna try to pull him out, so I figure ok they'll be home in a few minutes...I get a call at about 12:30 and they tell me that my brother is now stuck and they need MY help.
So I go to the rescue thinking I'll have them both out in a matter of minutes, I pulled my brother out no problem( by the way I have a Cherokee and so does my brother).
Once I finally get a look at the Wrangler it comes to my surprise that it is COMPLETELY striaght up and down in one of the holes that was dug out.
So I hook up to it to see what I'm up against and I give it a light tug from my Jeep, It didn't buge.
I luckily had some machetie's in the back of my Jeep so it made digging a little easier, we finally got alot dug out from under it and I pull it and it didn't move. So I tell my brother to back off and Im about to yank the Jeep(we're using a chain that's why I told him to back off)
I pull and He moves about a foot and 2 back wheels are still in the air, then we dig some more, and I get 3 wheels on the ground.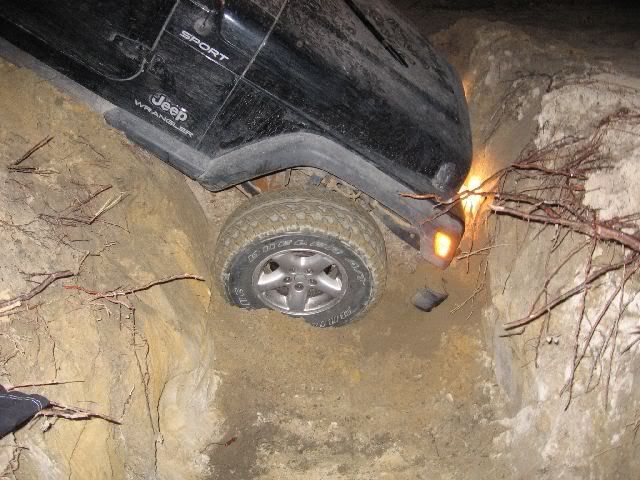 Then we dig somemore and all wheels are on the ground. But he is sitting frame onto the ground.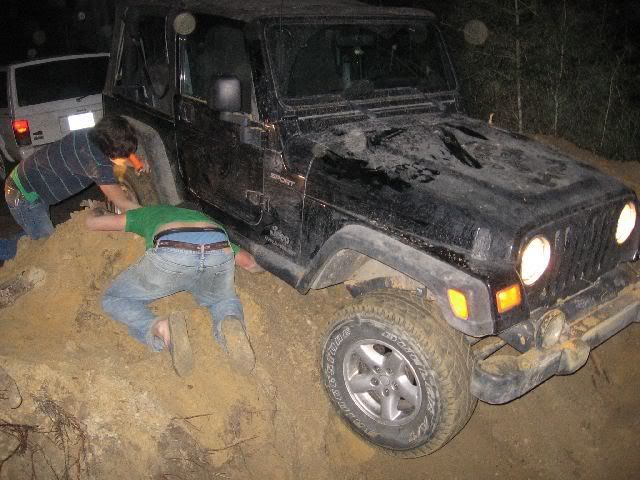 We dig out the dirt and I have to yank his jeep 3-4 more times before we break him out of the hole completely.
And through all this all thats messed up is the left plastive peice of his bumper which you can barely see.
Then I jumped in my jeep and looked at the clock and it said 4:30...Yes 4:30 AM.
We all went home and just went to sleep, didnt even take showers.