Registered User
Join Date: Jul 2011
Location: Fort Leonard Wood
Posts: 22
Fishin Pole Holder??????
---
Would like to know if anyone knows where to buy a lockable pole holder for Jeeps or have ideas on how to make one?
I hardly ever leave home with out atleast one pole. The other day I caught someone trying to steal my poles, with the top still on. The weather here is getting to the point of going topless and do not want my gear stolen.
I would like to keep my poles inside the Jeep.
RIP one good jeeper
Join Date: Aug 2009
Location: Ripon
Posts: 20,368
You could always do something like this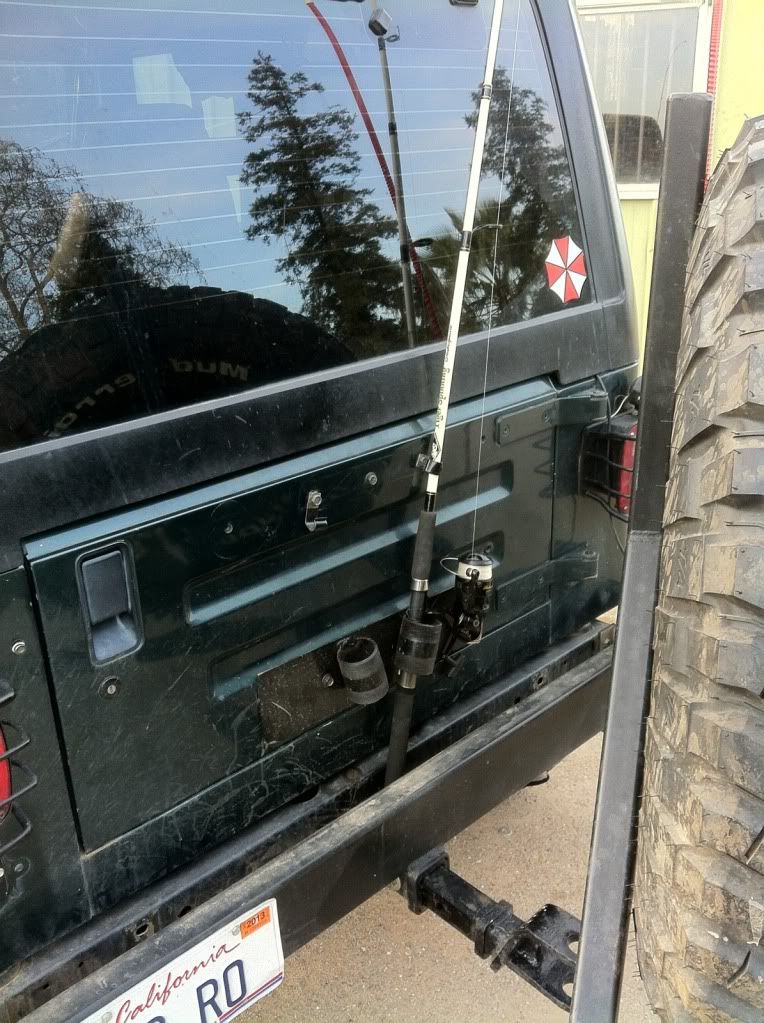 My tire carrier locks them in there so they can't be removed. If worse comes to worse you could wrap a free gun lock around the tip of the baler and around the holder so it can't be removed. It would lock both rod and feel together with the holder.
---
Luck Favours The Prepared
Registered User
Join Date: Jan 2009
Location: Temple
Posts: 732
Had a thought on this...what about a heavy plastic (PVC perhaps) rod holder and drill a horizontal hole where you can put a solid bar or cable through above the reel so the rod is secure in the holder. One of those long tounge locks for a trailer would work for a single. Obviously not theft proof but prevents anyone from just walking by and easily snagging it off the back.
Registered User
Join Date: May 2012
Location: Raleigh
Posts: 41
You could build something along the lines of the box pictured below. I don't know exactly how much room you've got to work with in the back, but something like this with a PVC rod holder mounted to the back would keep your rods and, depending on the amount of room, some tackle locked up and covered. Only problem is it might be limited to top off use, unless you have 2 piece rods.
---
2004 WJ 4.7L - stock for now
Currently Active Users Viewing This Thread: 1

(0 members and 1 guests)
Posting Rules

You may post new threads

You may post replies

You may not post attachments

You may not edit your posts

---

HTML code is Off

---