I have been wanting step bars for quite some time...well my wife has. I wanted some rock rails. Not necessarily for function but more for sturdiness that step bars will never provide and also for the look. Well step bars are more affordable but wasn't gonna wast money on something that I would eventually take off anyway so I started scouring craigslist and I ran across these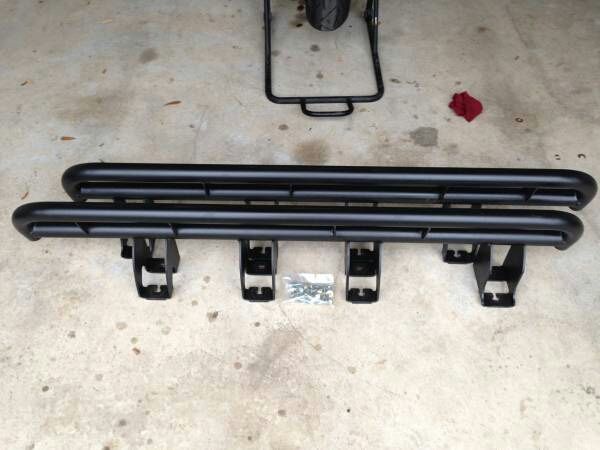 they are oem rock rails off a Toyota fj. I got measurements from the guy and turns out the tubes from end to end will line up about the same way the tubes on the steel armadillo super slider do and he only wanted 150 for them so I jumped on them. I don't know how to weld very well so I had my friend help me and we dabbed up some mounts and supports and 2 days later we had it all figured out and mounted.
Now keep in mind I am on the low end of middle class income with a wife and 3 kids so everything done to my jeep is done myself or with the help of a friend. No fancy stuff just some driveway mechanics so when your welding under a vehicle with flip flops and swimming trunks and laying on cardboard the slap tends to get between you and the cardboard and burns you lol. So this was the home remedy to prevent that haha
with the steps all mounted here is a full body pic and a pic of how far they stick out.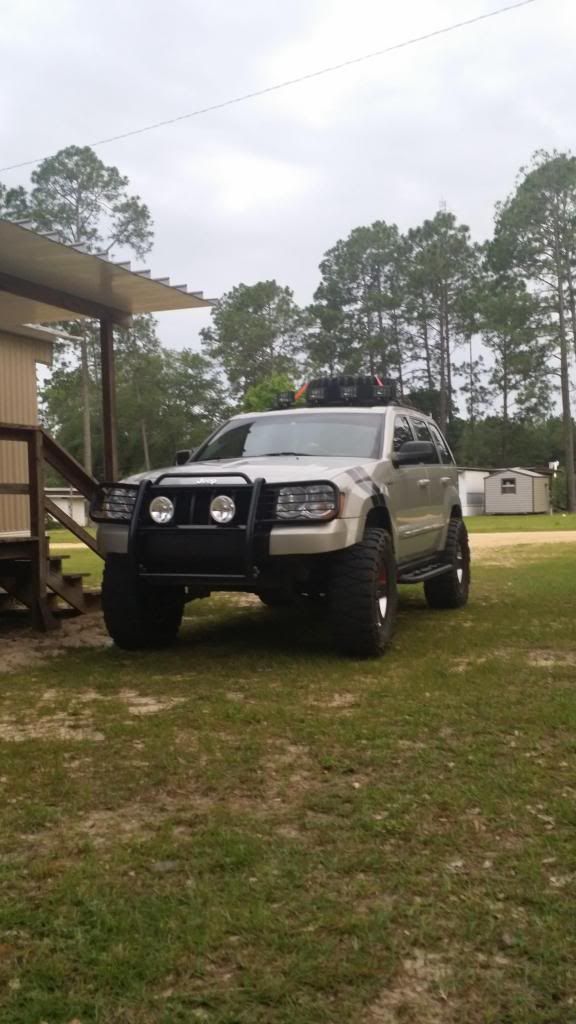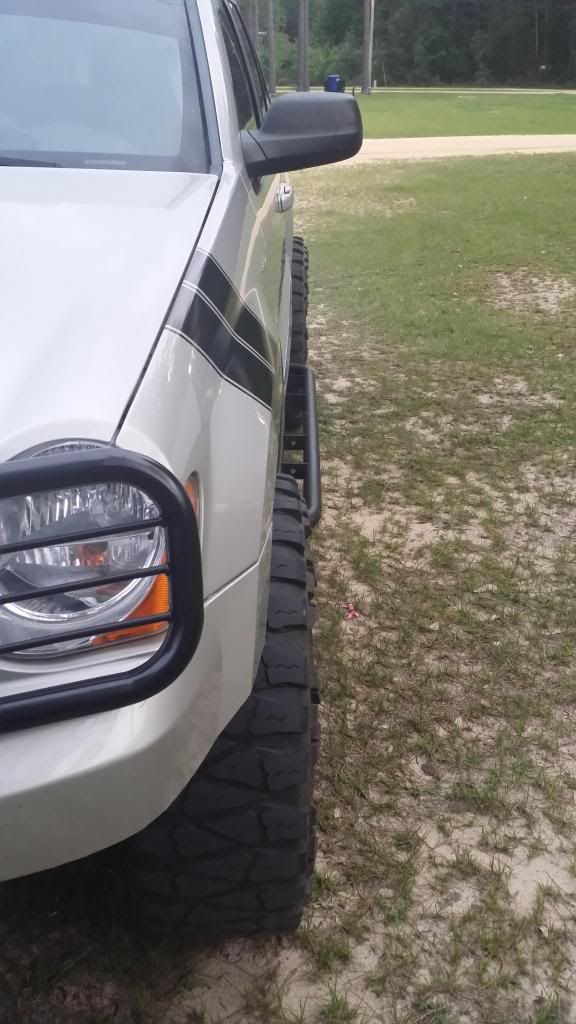 and voilà that is my wk currently. I am very happy with it but now I need more power cause this 3.7 is not liking the 35s. But I do so it will deal with it u til power comes it's way.
A little run down of current mods...
Suspension:
Rear- rc spacer with f150 Munroe load levelers
front- ome hd and jba strut spacer
Jba upper control arms and stock sway bar links painted red
Tires and wheels:
255/75/17 BFGoodrich km mts on rockstars, then on stock rims painted black with 1 1/2" rc wheel spacers
295/70/17 toyo mt's on stock wheels black
285/70/17 cooper stts mts on stock wheels
And finally 35x12.50x17 nitto mud grapplers on custom painted jk wheels
Apparent mods:
Vinyl stripes
Brush guard
Custom fitted rock rails
Srt8 decals
Lights:
Hella 500ff fogs on brush guard
Pilot navigators on roof
Performance:
Super 44 and glass pack
Custom pvc intake lol
To come....headers, K&n intake, hypertech programmer and hopefully 4:10 gears.
I think I got everything