Time for the wiring! Since I already had 5 switches in the dash all I had to do was extend them up into the overhead and add a couple wires for the additional switch. Time consuming, but easy! The only real complication was the fact that I decided to switch up the order and orientation of the switches. I started by pulling off the side panel on the dash, under dash panel, and the pillar panel. I did not want to run the 9 wires that were going up there one be one so I went to Lowe's to see what I could find. I came home with the best thing they had to do the job . . . a 40' extension cord that was on sale for $10
It was made of 3 strands of 16 GA. Not the best thing, but I did not want to drive around looking for something better. So this way I only had to run 3 wires!
I ran a wire hanger from the sunroof to the top of the pillar and looped it through the extension cord's jacket.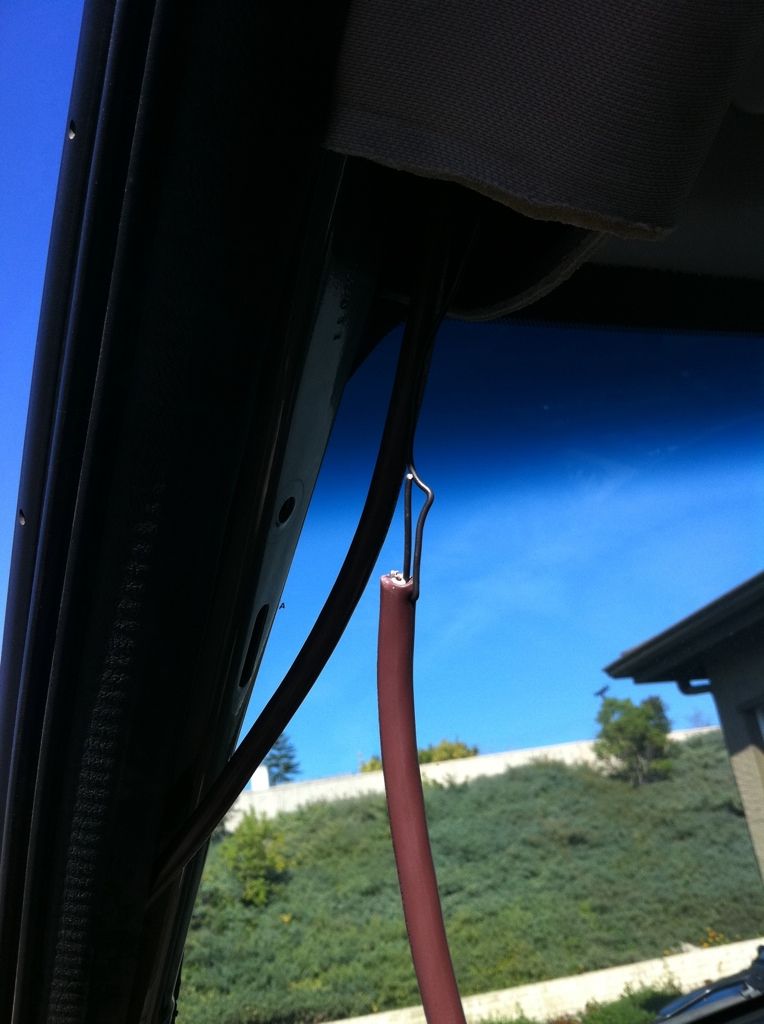 Then pulled it up through the ceiling.
After running 3 pieces I clipped the ends of the wires to be extended. What a mess!
I soldered the old wires to the new extensions, sealed everything up, and secured them in a tidy fashion. Then I moved up top. I reconnected the wires to their applicable extensions and modified the ones that needed it.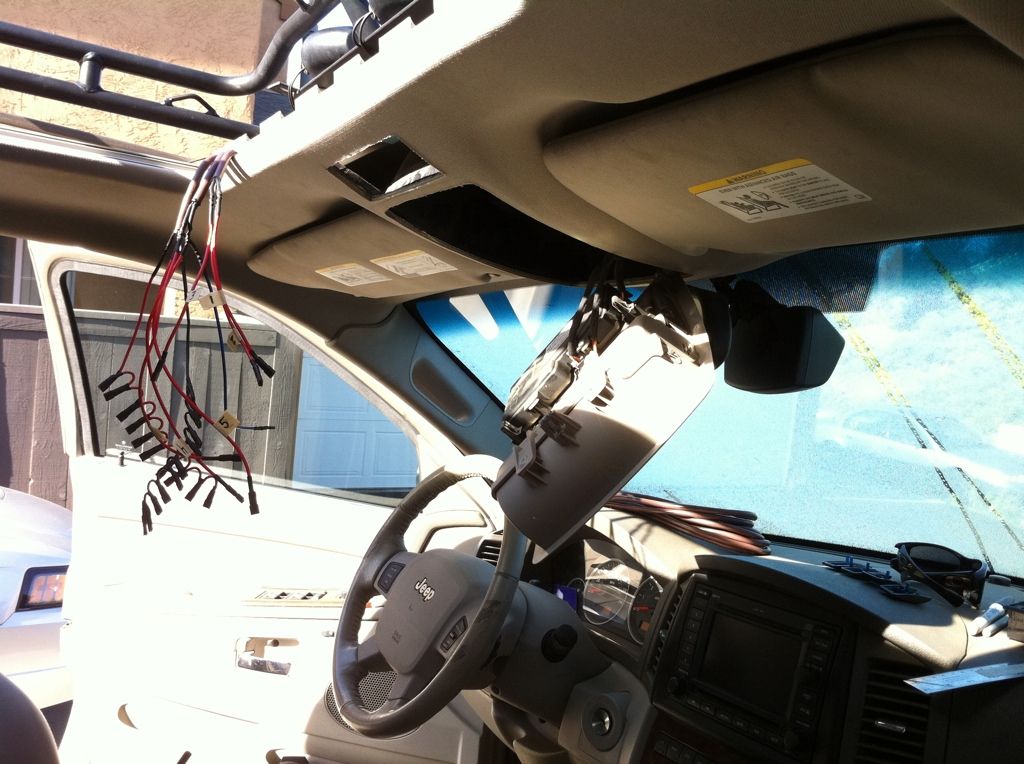 Then I tucked the wires into the overhead and ran the ends out through the new hole.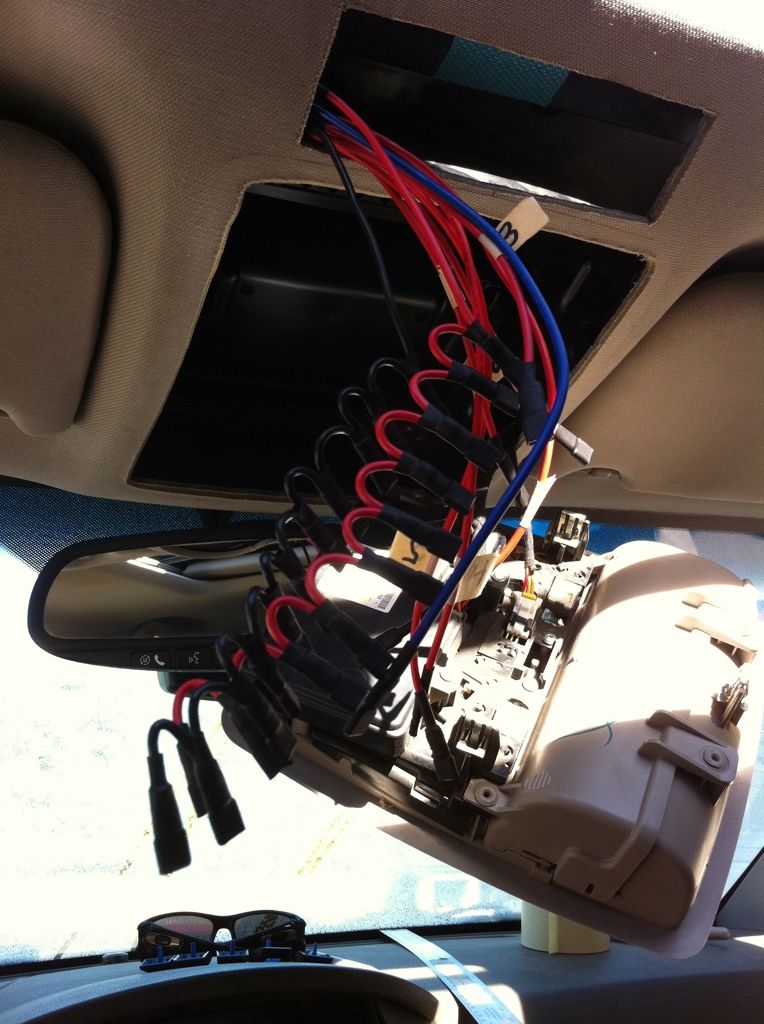 Now that the wires were in place I popped the switches into the new panel in their proper orientation and connected the wires.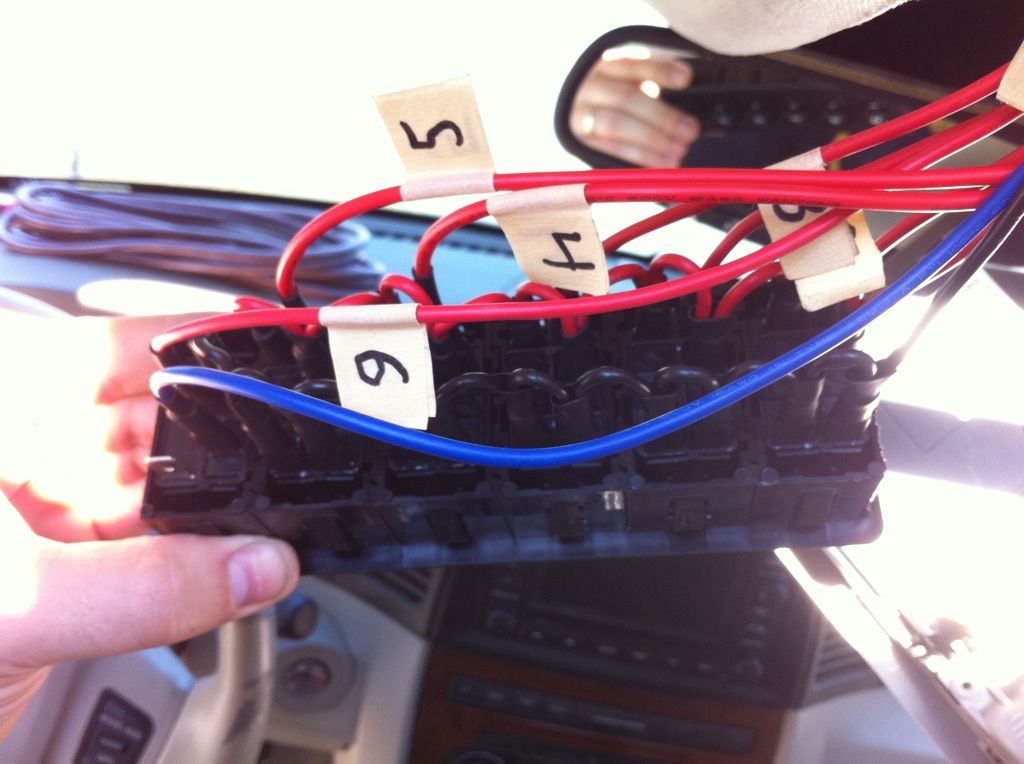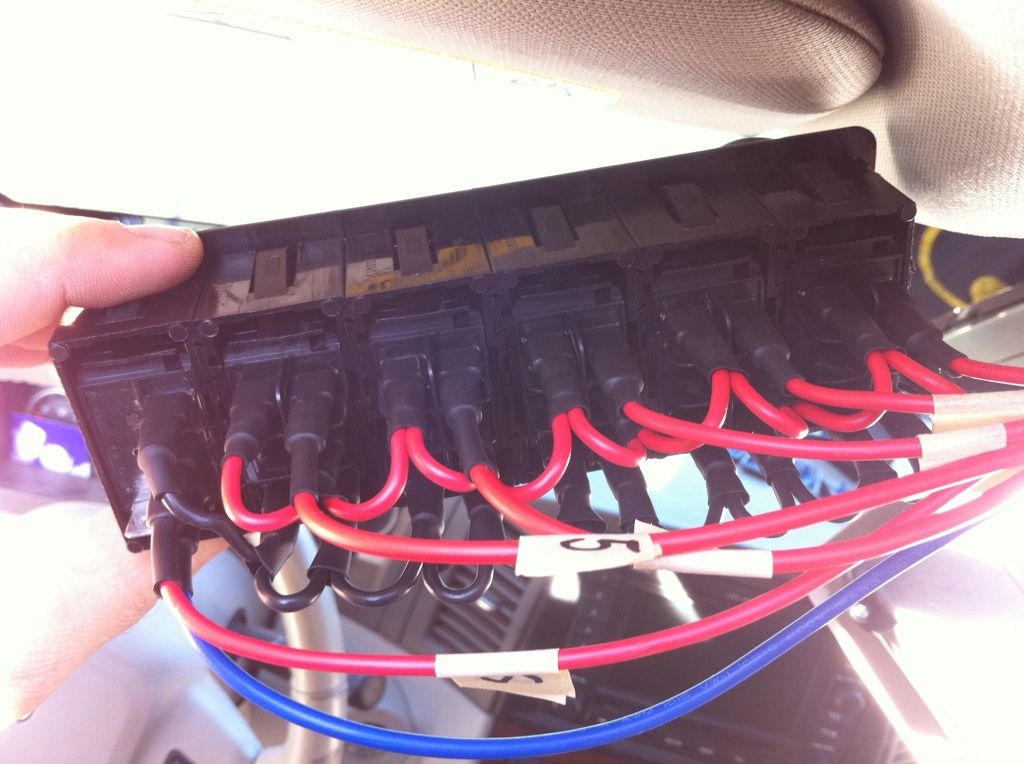 Now for the tight part. As you can see there is not much space between the sunroof drain and the console.
The wires have to squeeze right up into that void. And as you can see, that is a tight fit!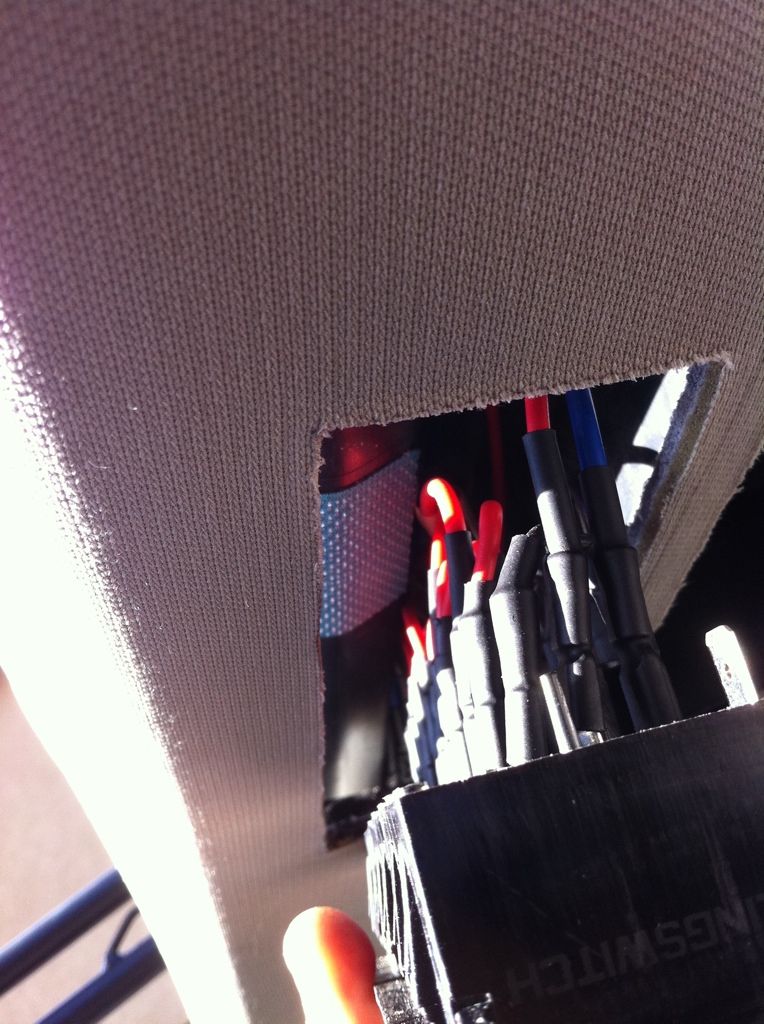 After some gentle prying using the proper amount of leverage it went in!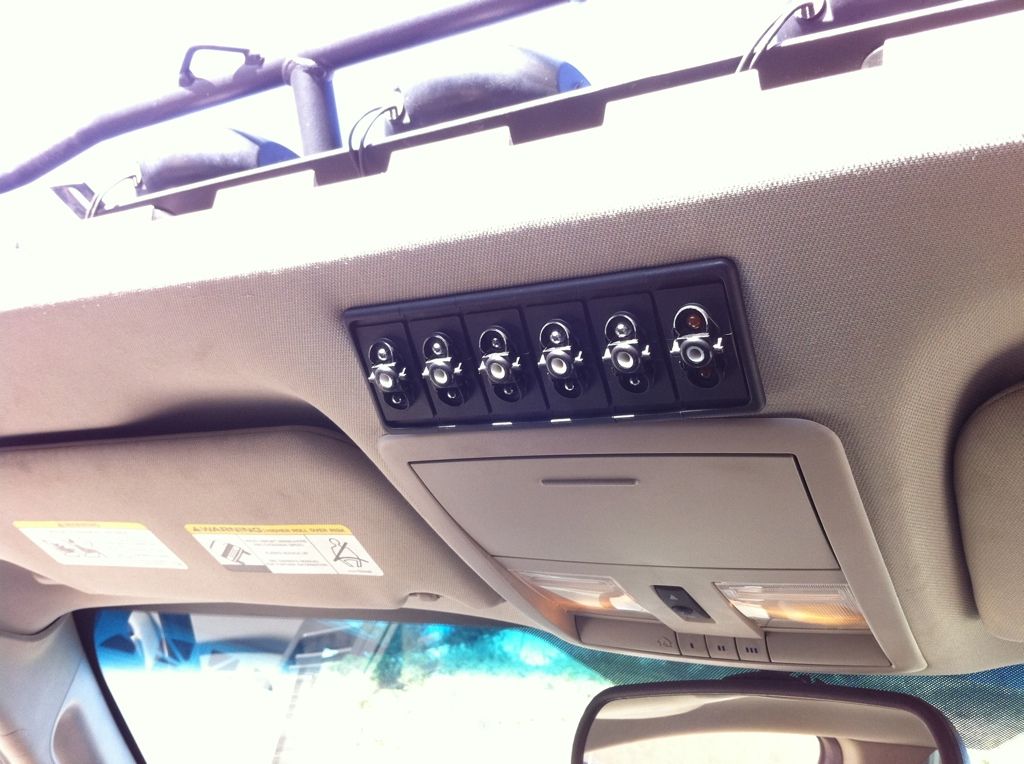 The fit isn't perfect, but it works and doesn't look bad. Plus with it this tight it wont be going anywhere when I go bouncing around off road.
Once I got the covers on their applicable switches it looked even better!
I mentioned before that I was changing the orientation of the switches. Now the larger window with the picture is illuminated when it has power and the bottom smaller window is illuminated when the switch is activated instead of the other way around like I had it before.
Now: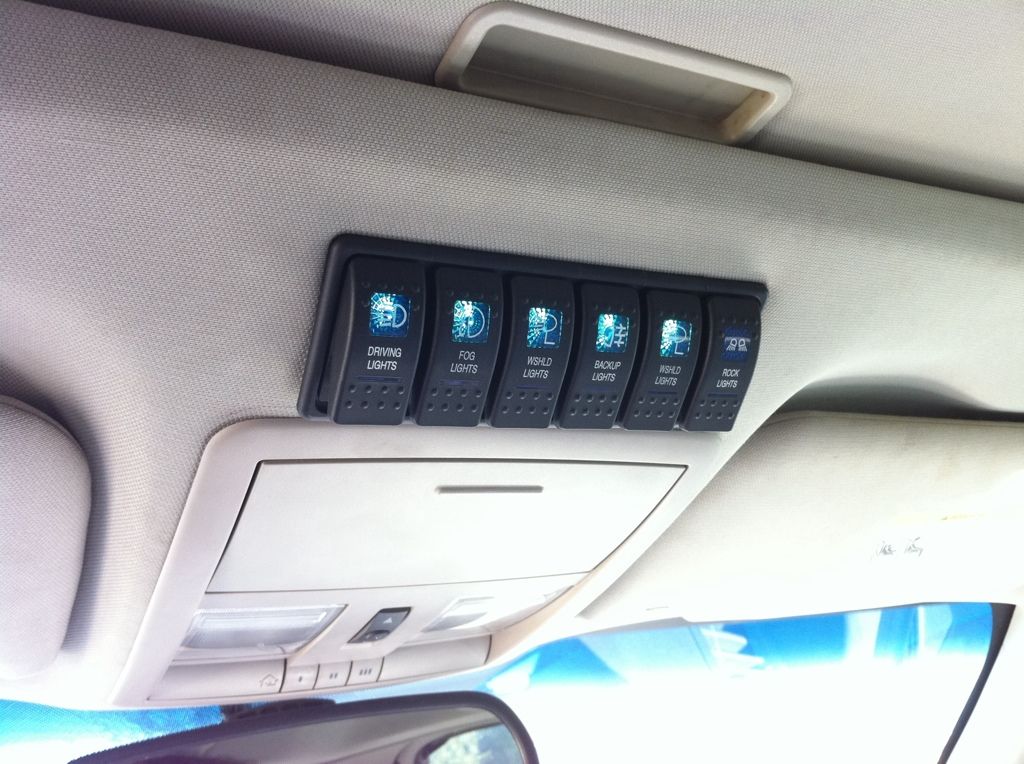 Before:
I am liking this set up a lot better than before! No more whacking the a switch and breaking a cover off! No more having to look around the steering wheel to activate a switch or count which one I need with my fingers! And now I have a cubby hole back!
I hope this helps anyone else wanting to find a better place to mount their switches