So I have been wanting to do a type of side exit exhaust for some time now. I have been thinking up different ideas and seeing what others have done (mostly Baja/PreRunner rigs) trying to figure out exactly what and how I wanted to accomplish it. The main benefit to doing this is to move the tailpipe from under the bumper where I keep smashing it into the bumper every time I go wheeling. The other reasons are because I think it would look and work awesome and I haven't seen any one do it yet on a WK let along most Jeeps. I really liked how the Zone Comanche in the Ultimate Adventure turned out (I have always wanted to build one and I love what they did with this one) so my plan was to do something similar.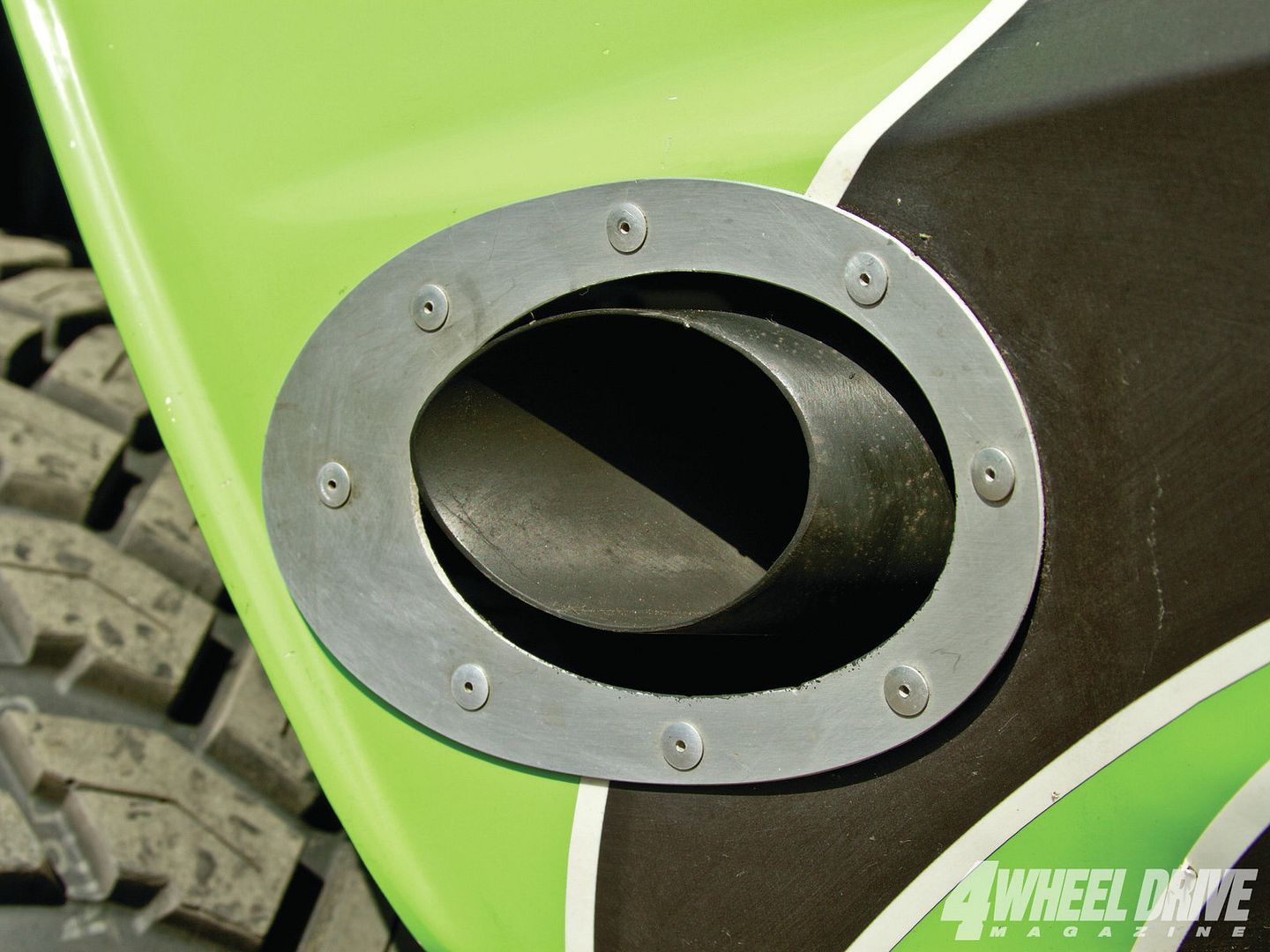 I also wanted to get a new longer resonator installed. So I figured I would swap out my old 3" x 8" reso for a new 3" x 12" reso while I was at it. First thing to do was to cut out the old one and get the new one in and see what kind of space I was dealing with.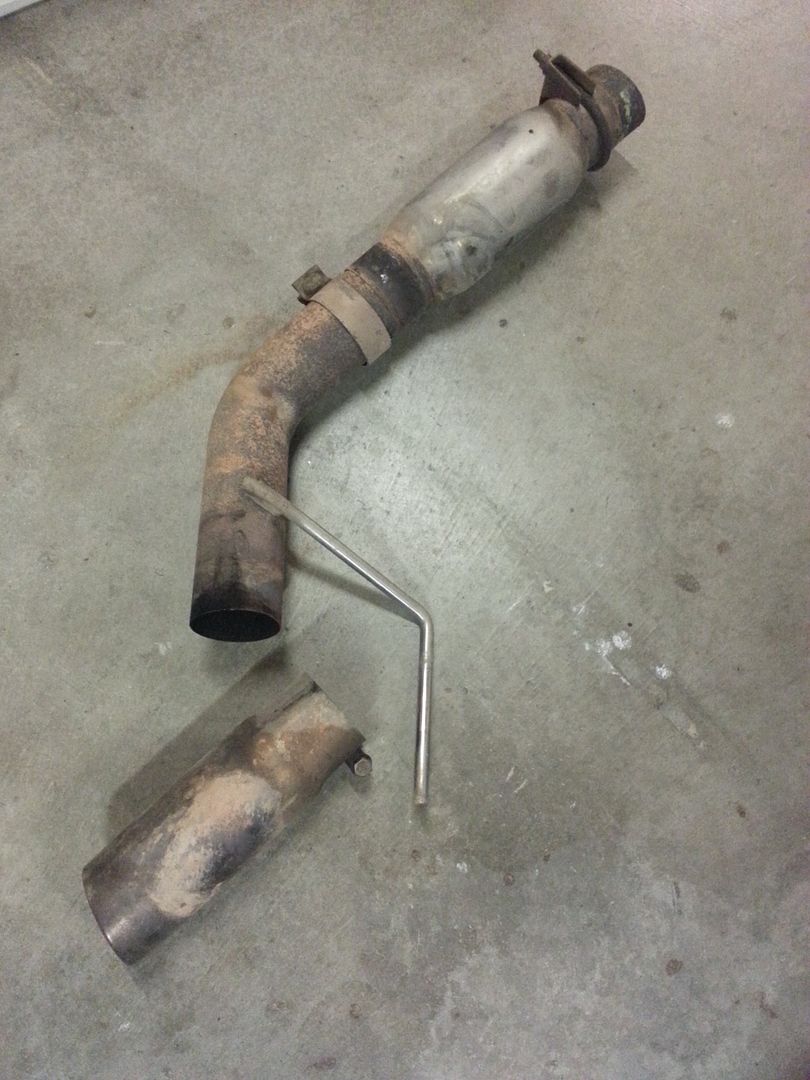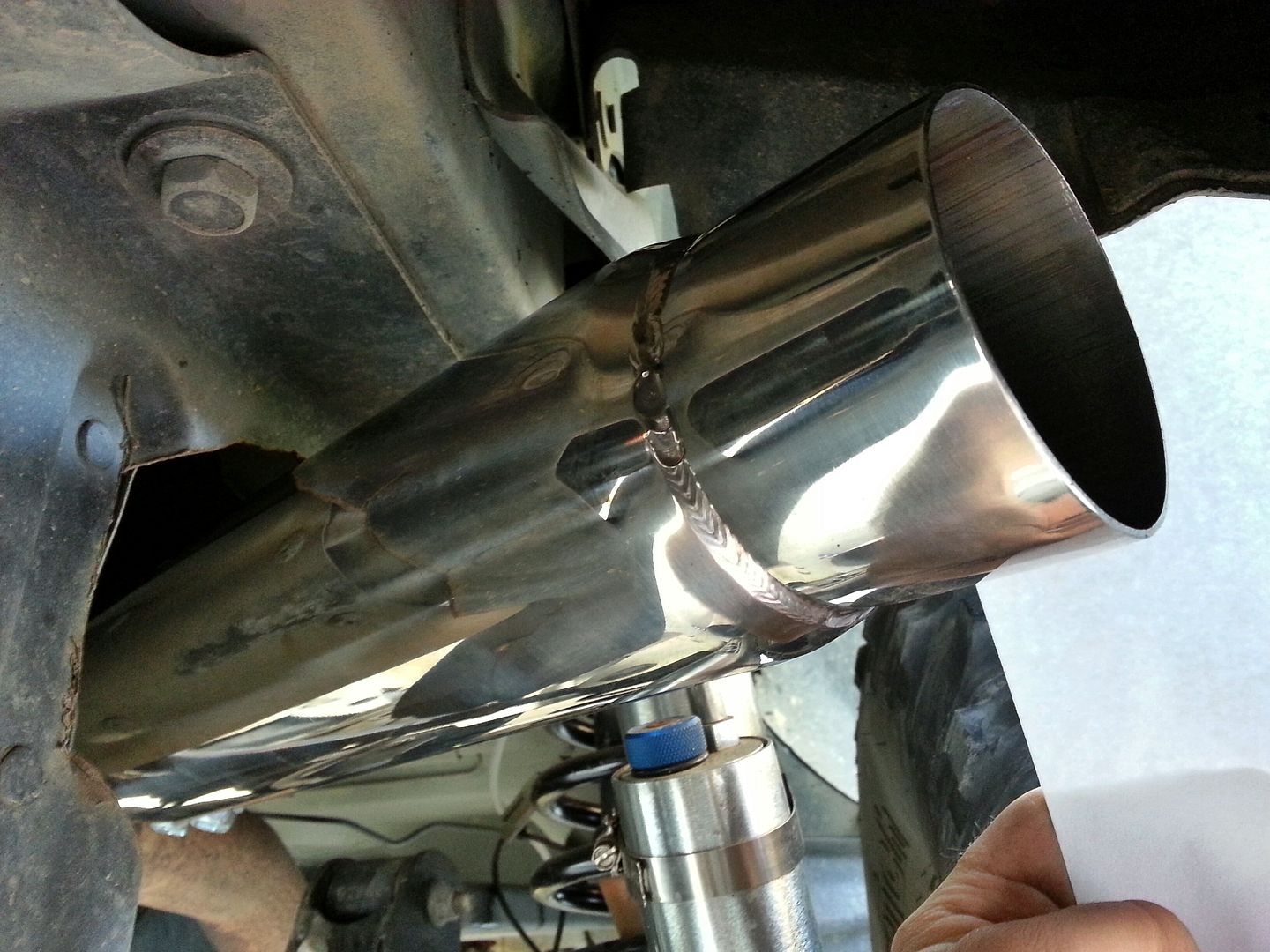 The plan was to get it as high up as possible to accommodate further bumper mods later on. There is a pinch weld back there that I decided to cut and fold up to create more room and also a mounting point.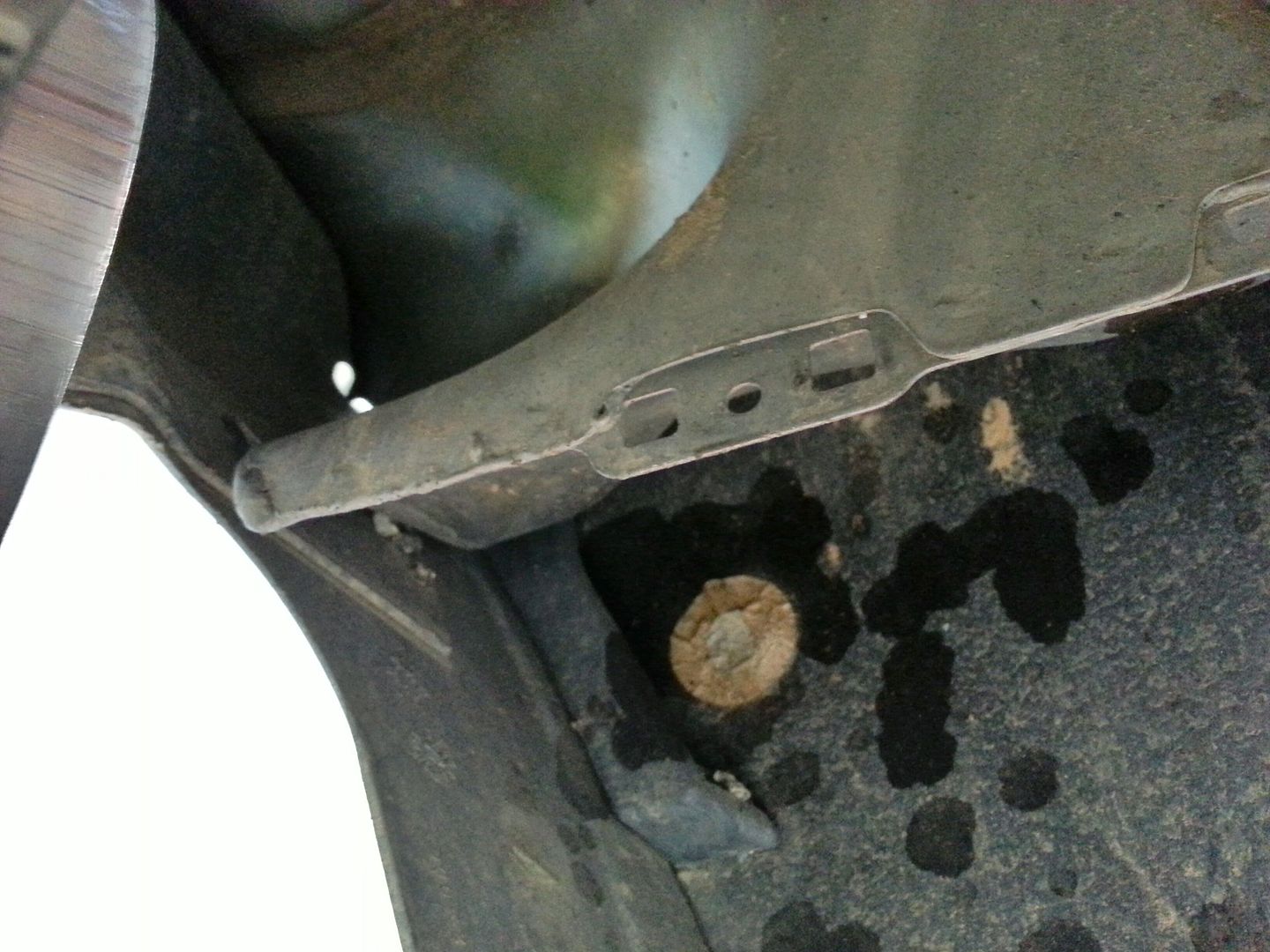 Now for the fun part! I had to figure out exactly where the pipe was going to be coming out at. Once I figured that out I masked the area off and found the center. Then I brought out the drill and the massive hole saw again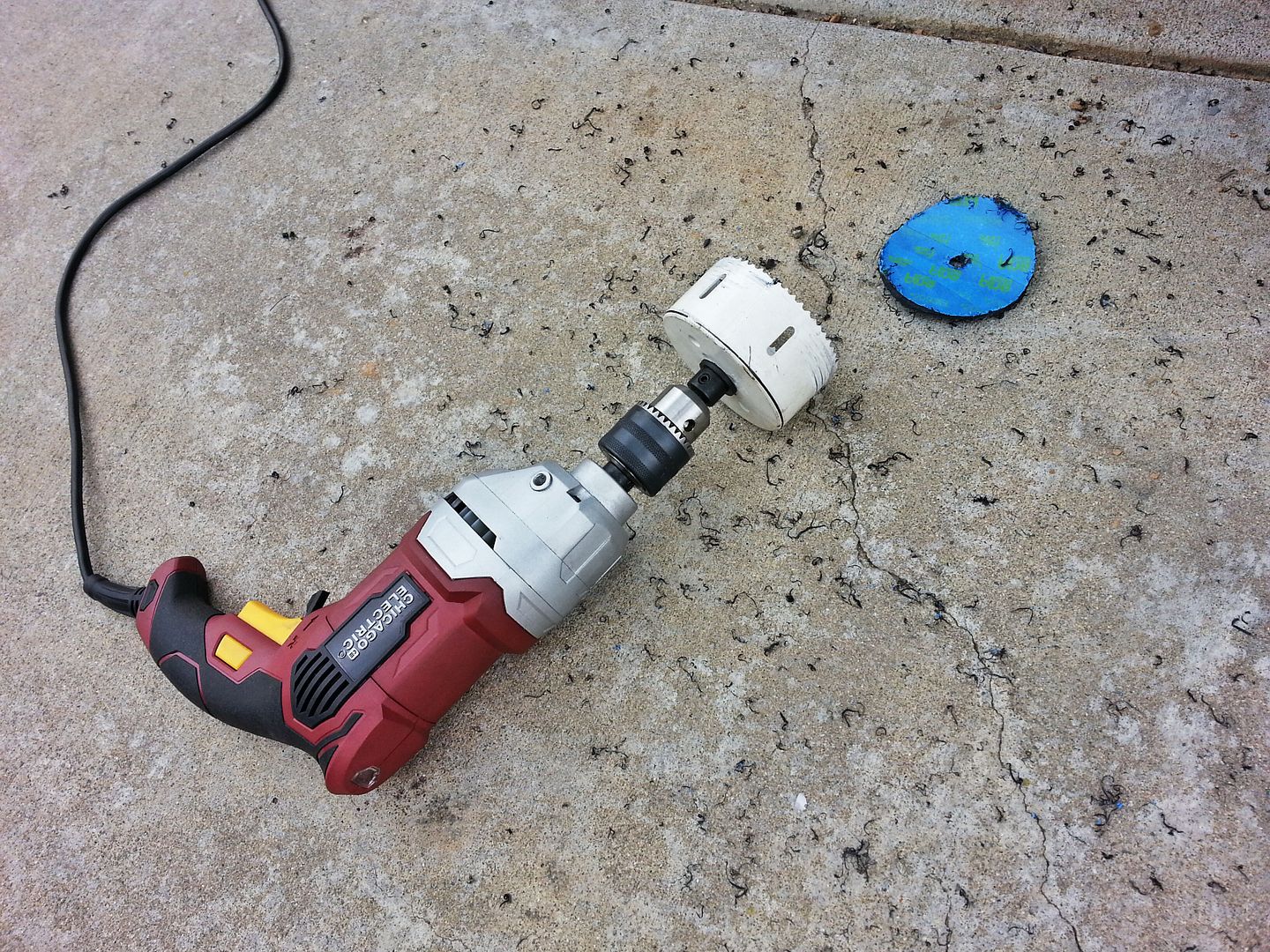 Oh boy! This time I used a 3.5" hole, figuring I was going to use a 3" pipe this would give me some wiggle room.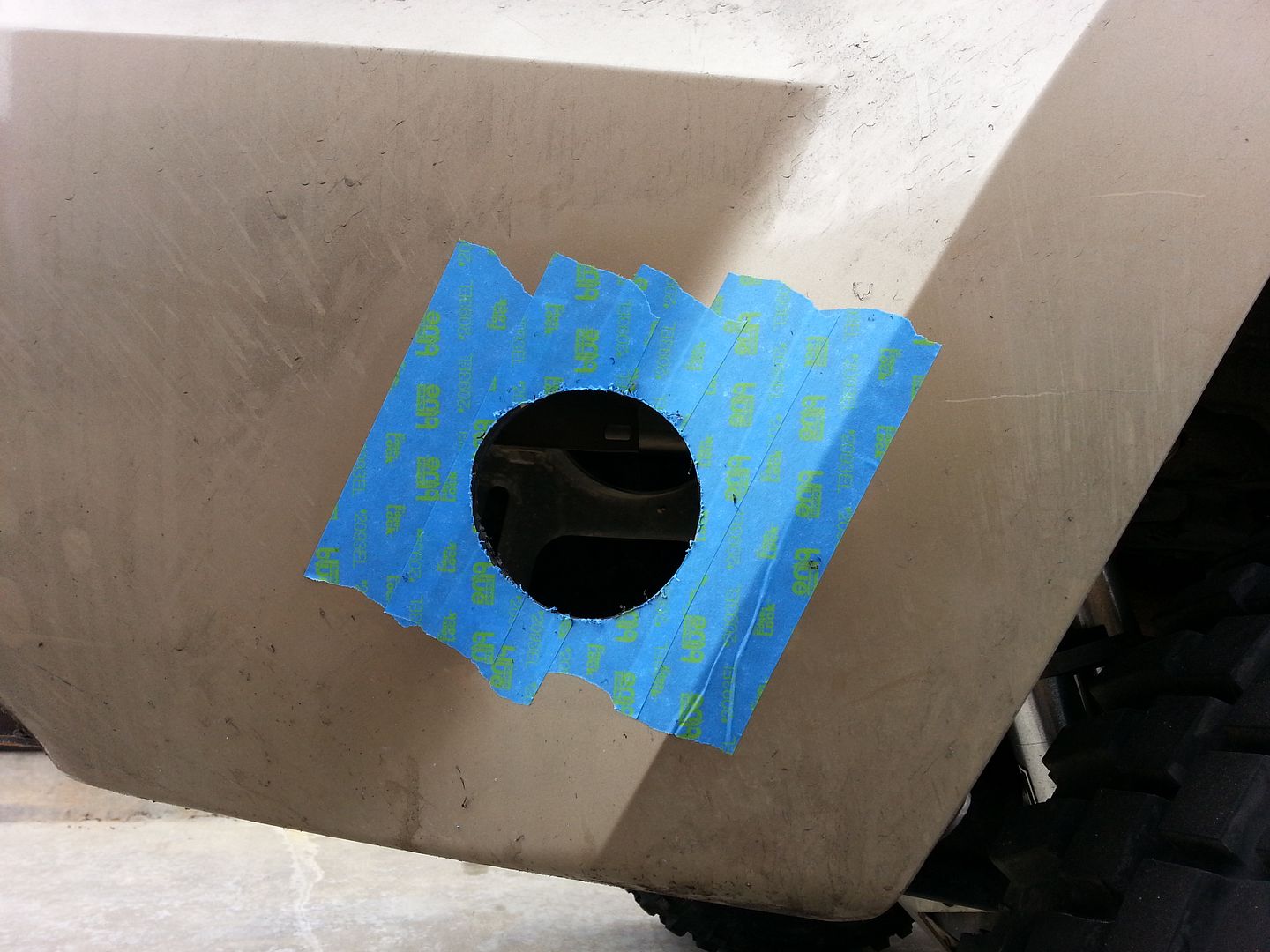 Oh look, the reso!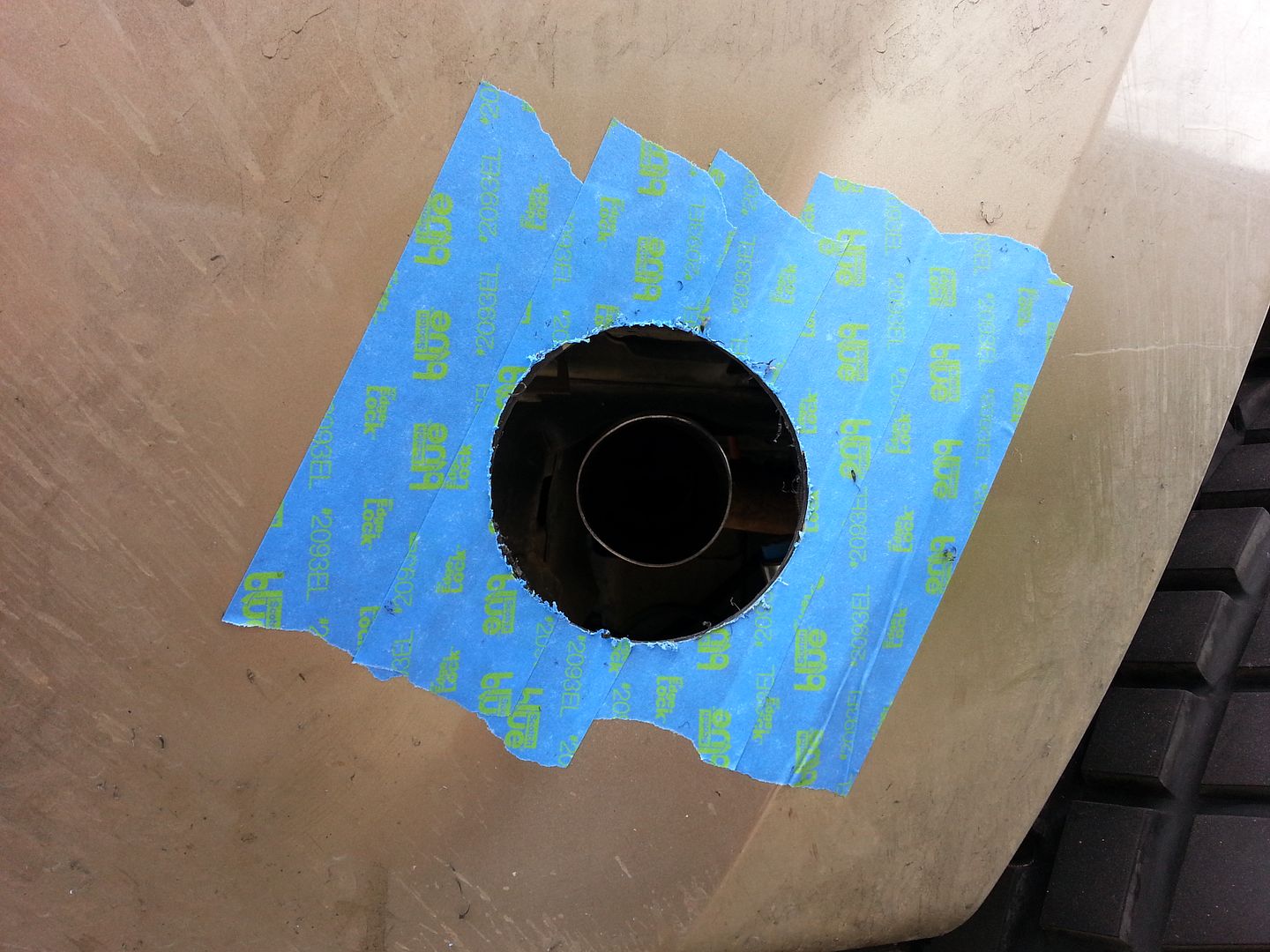 Now that I had the hole cut I needed a bezel. I used some aluminum I had laying around and cut the center hole using the same 3.5" saw, then made another circle 1" out from there at 5.5" and cut it with a jigsaw.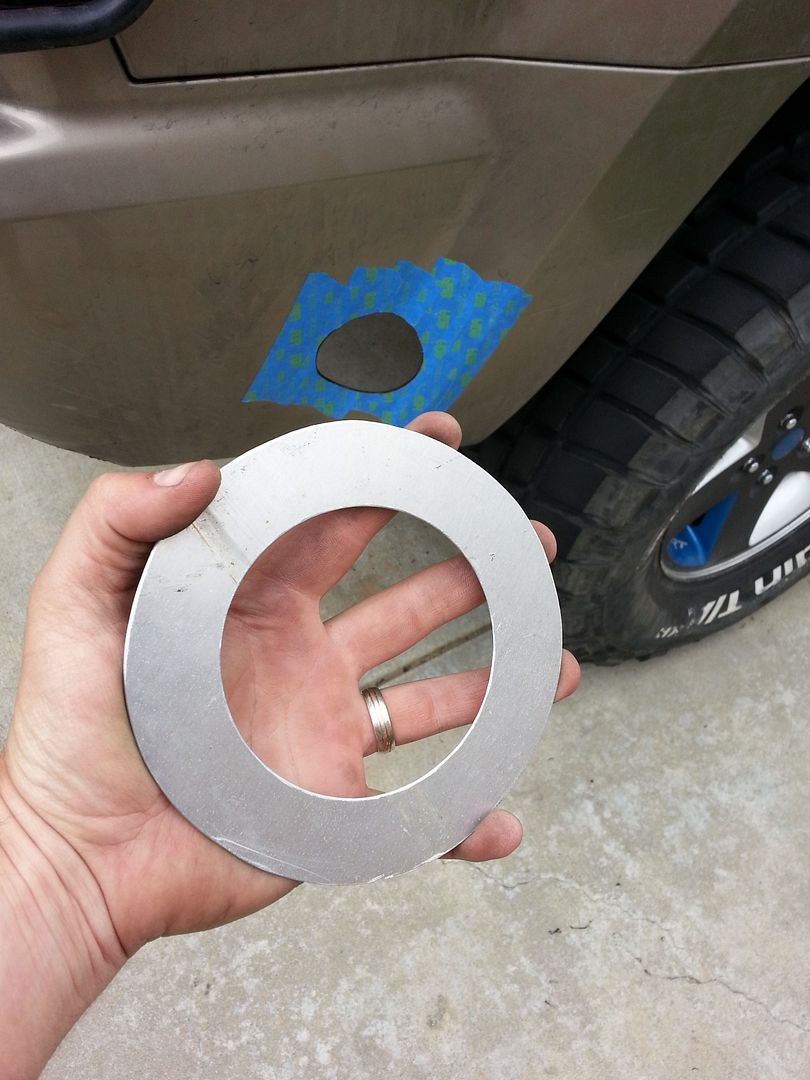 If you noticed the pipe will be coming out of the bumper along a crease, so I had to bend the bezel to match. I didn't want to just use my hands and bend it in half because the crease isn't a sharp angle, it's more of a gradual bend. So I decided to place the bezel between to 4x4s, grab one of my sledges, and using the wider side of the handle push down creating a gradual bend. After a couple of tries slowly bending it more and more, it was perfect and matched the crease in the bumper very nicely!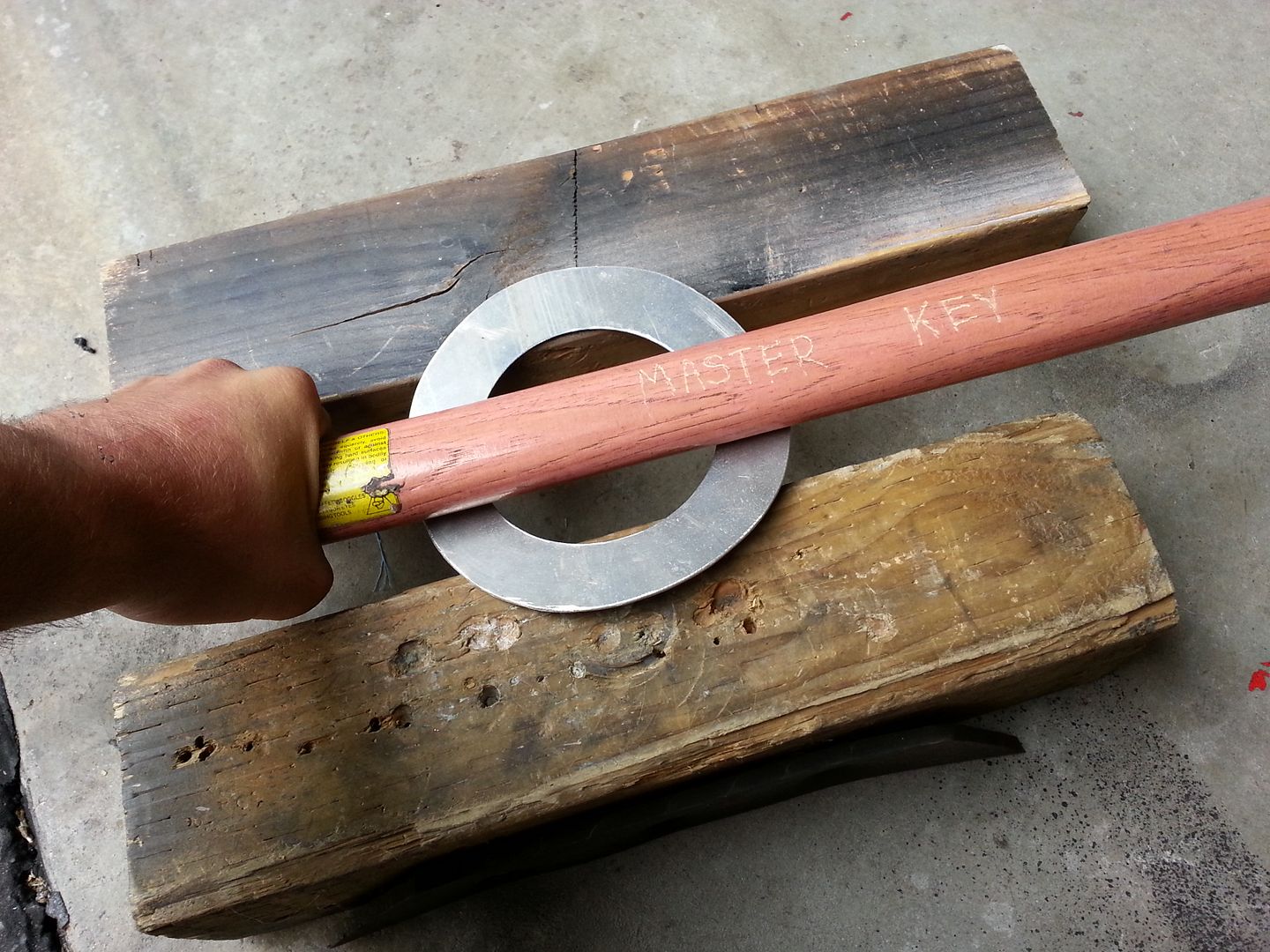 For the tip I used a section of 3" pipe that was made with a slip on end. The pipe it's self is 3" but one of the ends is about 3.25". So I decided to use the wider end as the tip. That would still give me a little room around the outside between the bezel. It would be tight but I didn't want a huge gap. Then because it would eventually turn black anyways, I painted to tip flat black.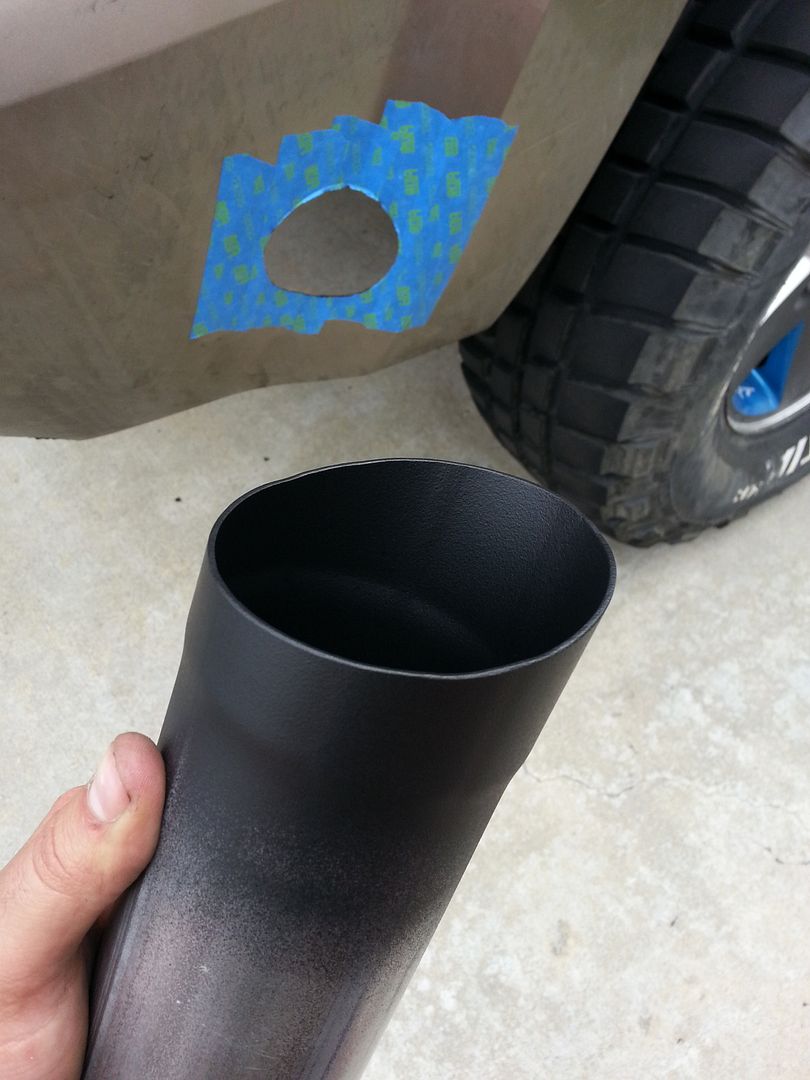 Next up was to figure out the mount. I didn't want the tip wiggling around inside of the hole so I planned to use the pinch weld and bolt the tip to it for stability. I planned to use a type of band clamp to couple the tip ti the reso, so all I needed to do was to make a mount to go from the clamp to the PW.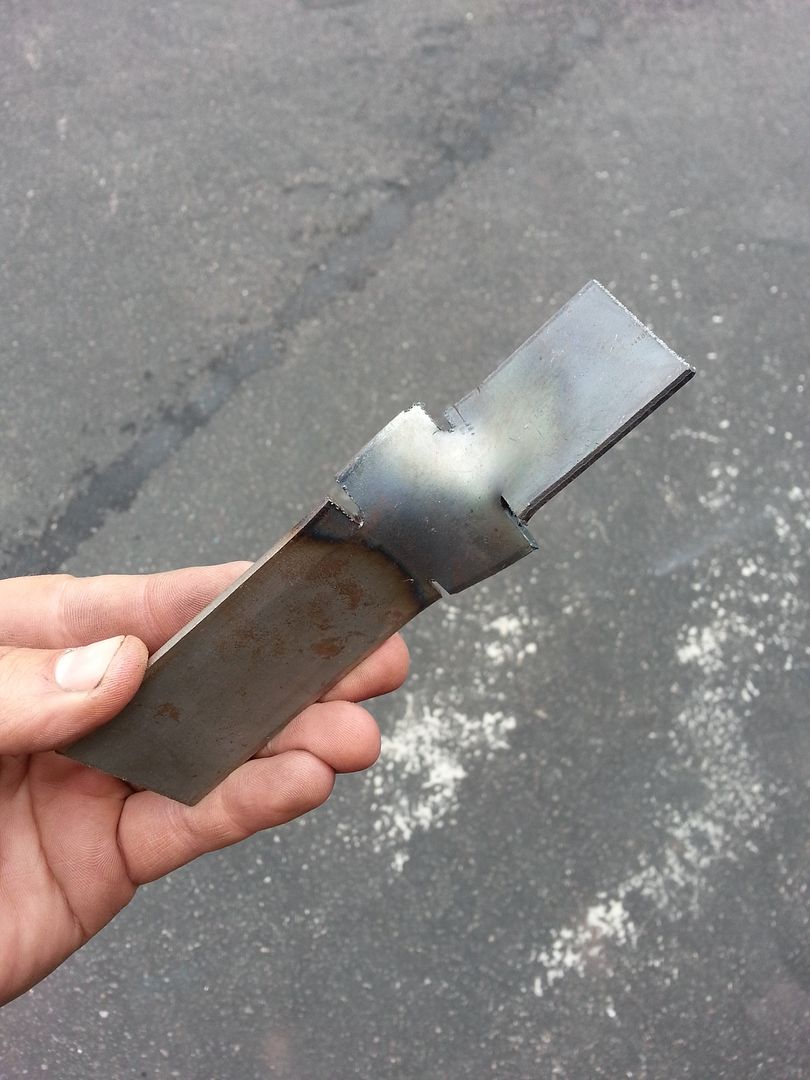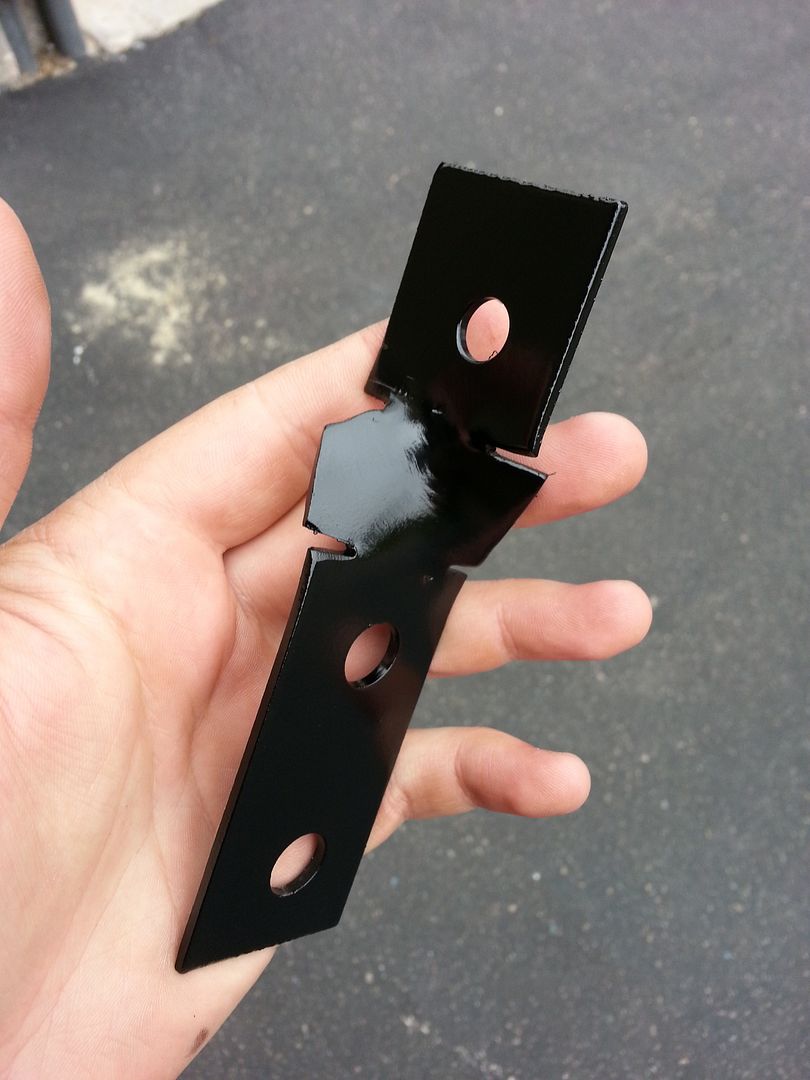 Once the paint dried I mounted it up. Then all it needed was some fine tuning once the bezel was in place.