Ok enough teasing
Even though I don't live in a wet area or do any river fording, there are other benefits to snorkels that most don't think of when you think "snorkel". They are also great for keeping your intake filter cleaner. Particularly on those trail runs when you are behind other Jeeps who are kicking up clouds of dust. Not having your intake pulling in the air from your grill or fender well and instead pulling from roof height makes a big difference! Of course there is also the other reason... THEY LOOK AWESOME!!! Now we all know about the
Airflow
snorkel that has been out for a while: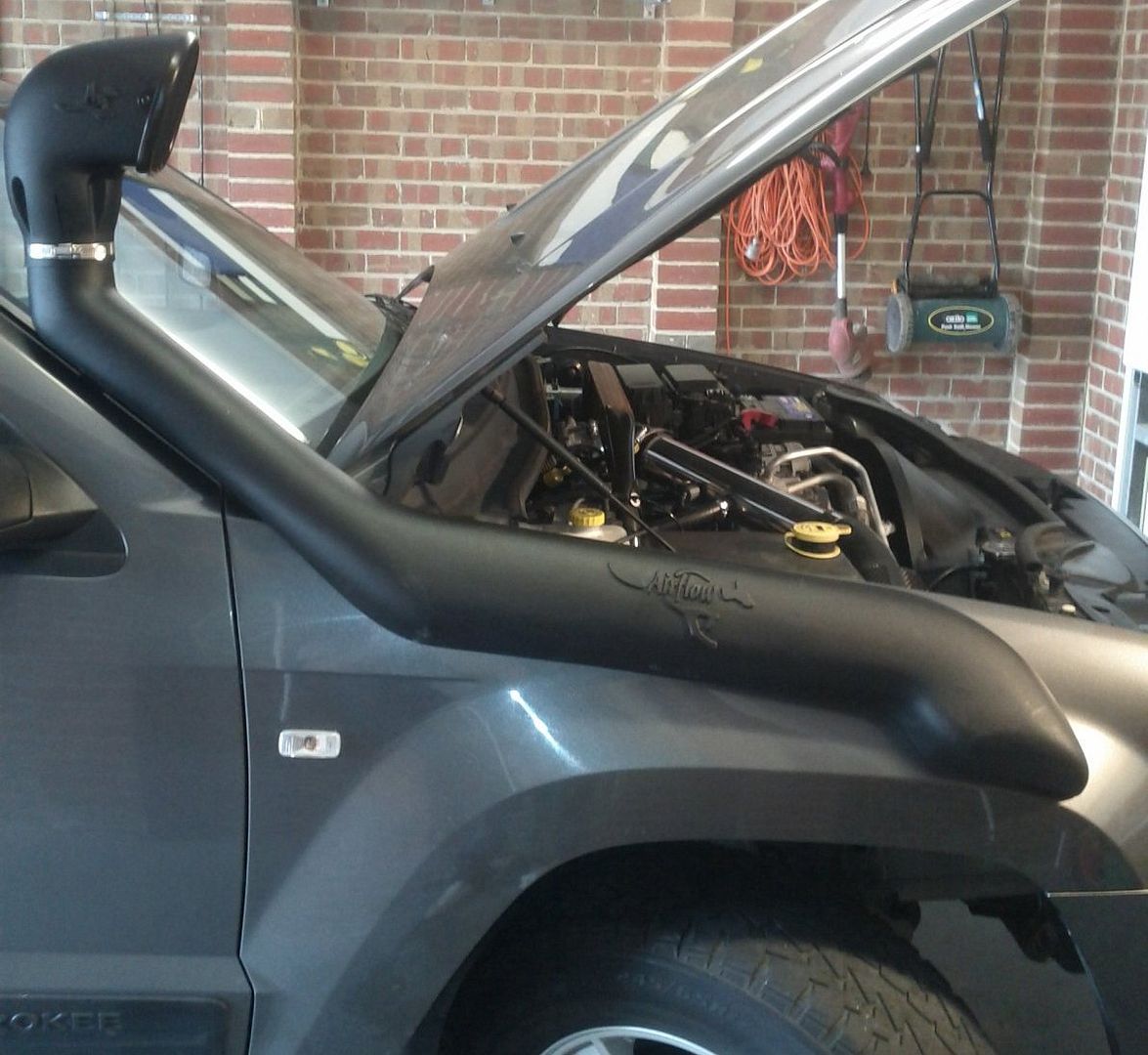 Well no offense to anyone, but personally I think they look like a big turd or growth on the side of the Jeep! Not only that, but until repentantly they were about $600 (they are now around $500). So even though I have wanted a snorkel for some time now 1. there was no way I was ging to shell out $600 for that hideous thing 2. the wife refused to allow it on the Jeep (not that I was even trying to talk her into it) 3. I just didn't NEED one that bad.
I had decided that I would get creative with fiberglass at some point after completing a few more of my big projects of the Jeep I had been planning. That is until I found a guy on FB in Venezuela (I think) who was using something different. I tried to get as much info out of him as I could, which in the end wasn't much
He said he used a Safari SS165-HF for an ISUZU D-MAX, but that his was fiberglass or something
After looking at some not so clear FB pics and checking out Safari's site I wasn't so sure. I started looking at other models that Safari made and thought the SS160-HF for a diesel Rodeo actually looked better. SO I contacted our awesome bud Nick Kolak and he was about to really hook me up on one up in WA
A few days later I picked it up from UPS just in time for the weekend!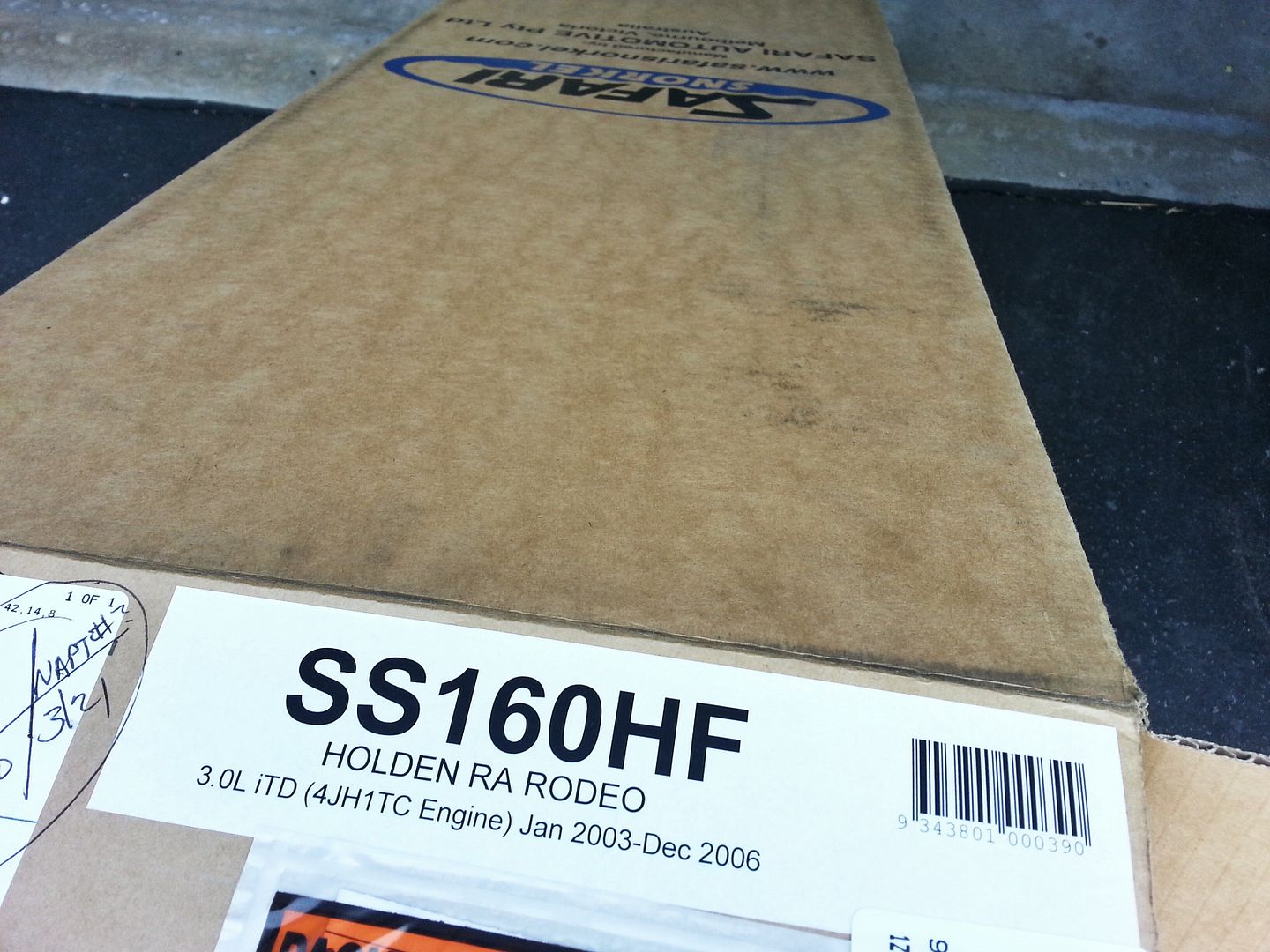 Time to see what I was dealing with.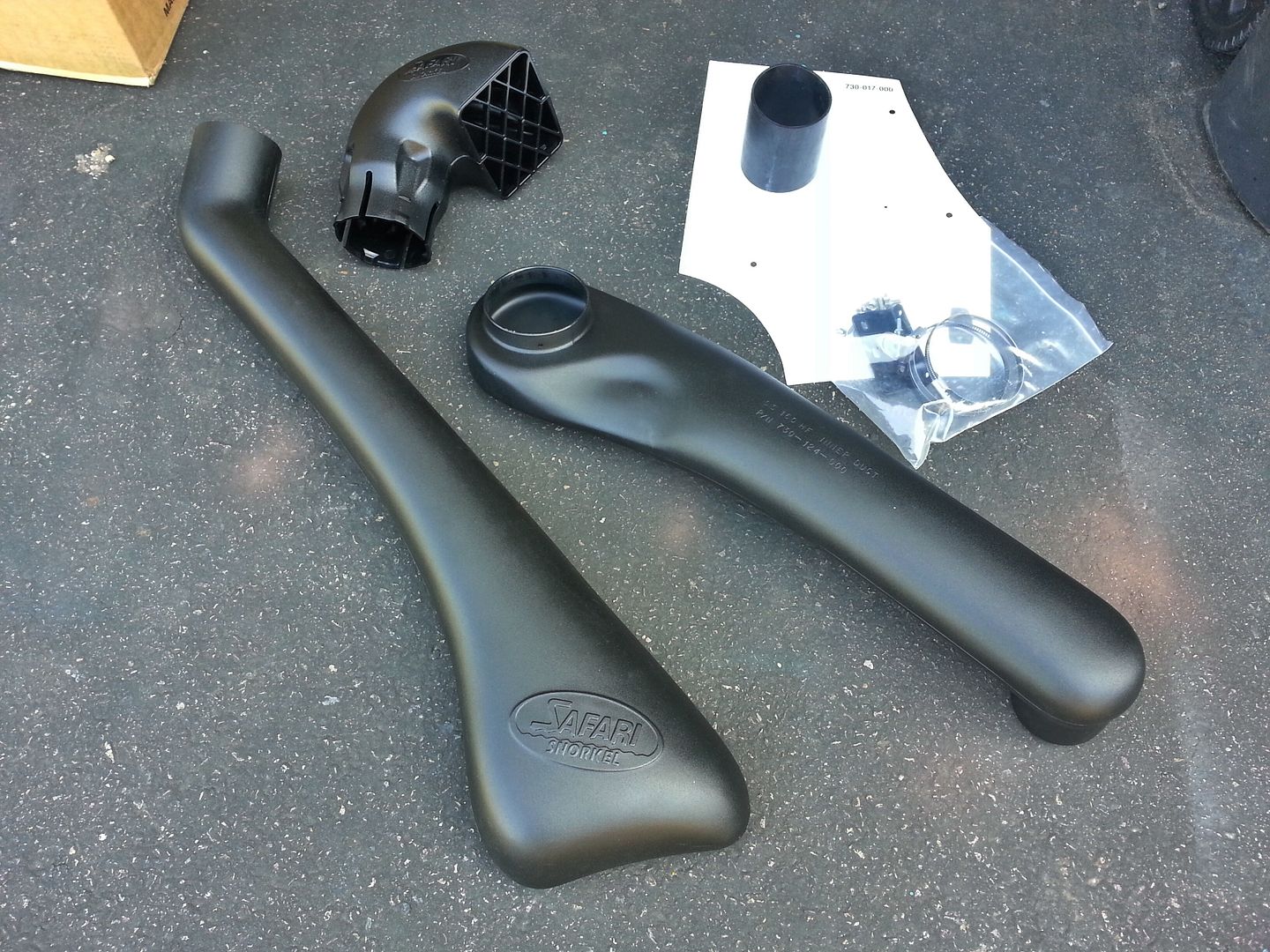 Originally I figured I would mount the actual snorkel and then use 4" pipe inside the fender to connect it to the filter box. After seeing just how much room I had to deal with in there, I might need to try and use the included inner piece. For now I turned all my attention to first seeing if this was even going to mount and line up right, and second making sure I wasn't going to butcher the fender and/or the snorkel in the process.
I started by removing the ORT8 badge and stripe on the passenger side. Then cleaned off all the goo and applied a layer of painters tape. I also removed the antenna.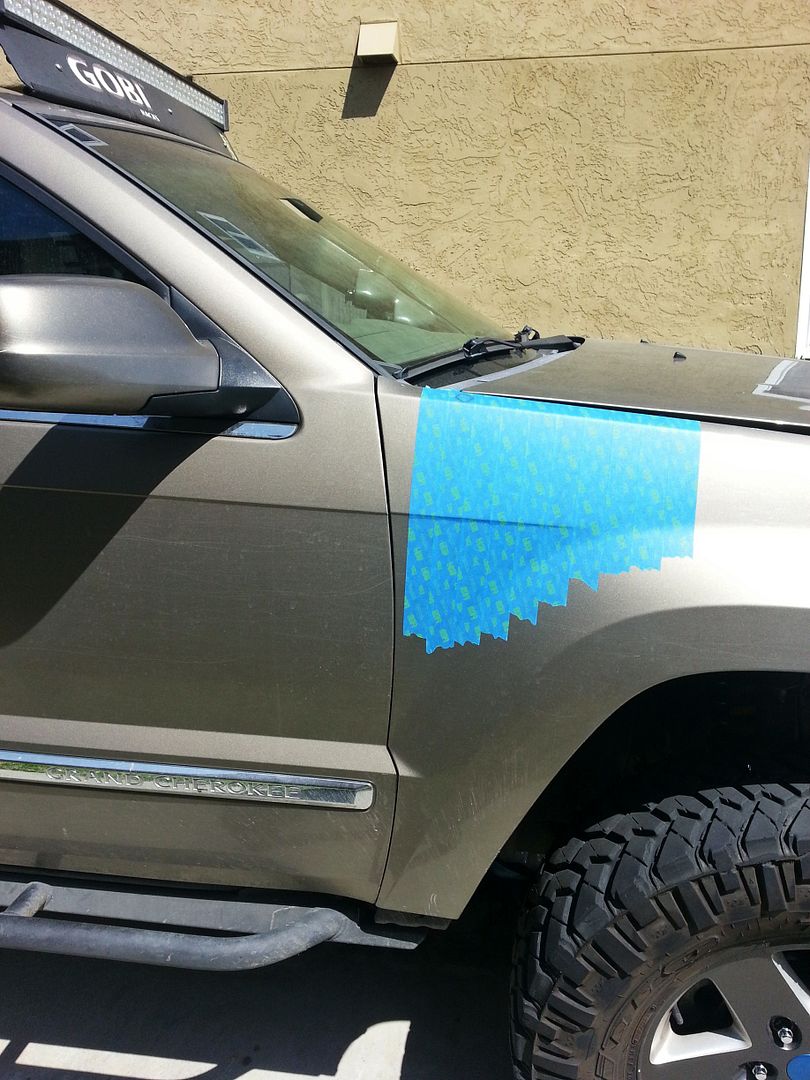 The included template was a little too rigid for the curved fender of the WK, so I grabbed a piece of paper and made my own. Then I cut out the 4" hole so I could lay it flat against the back side of the snorkel and trace the edges of the snorkel on the paper. That way I could hold the snorkel right where I thought I wanted it and then tape the paper in place on the fender while visually lining up the edges. This insured me that the holes I needed to drill would be in the correct place. This also helped to see where I was going to be drilling on the fender so I could keep an eye on the lines and curves.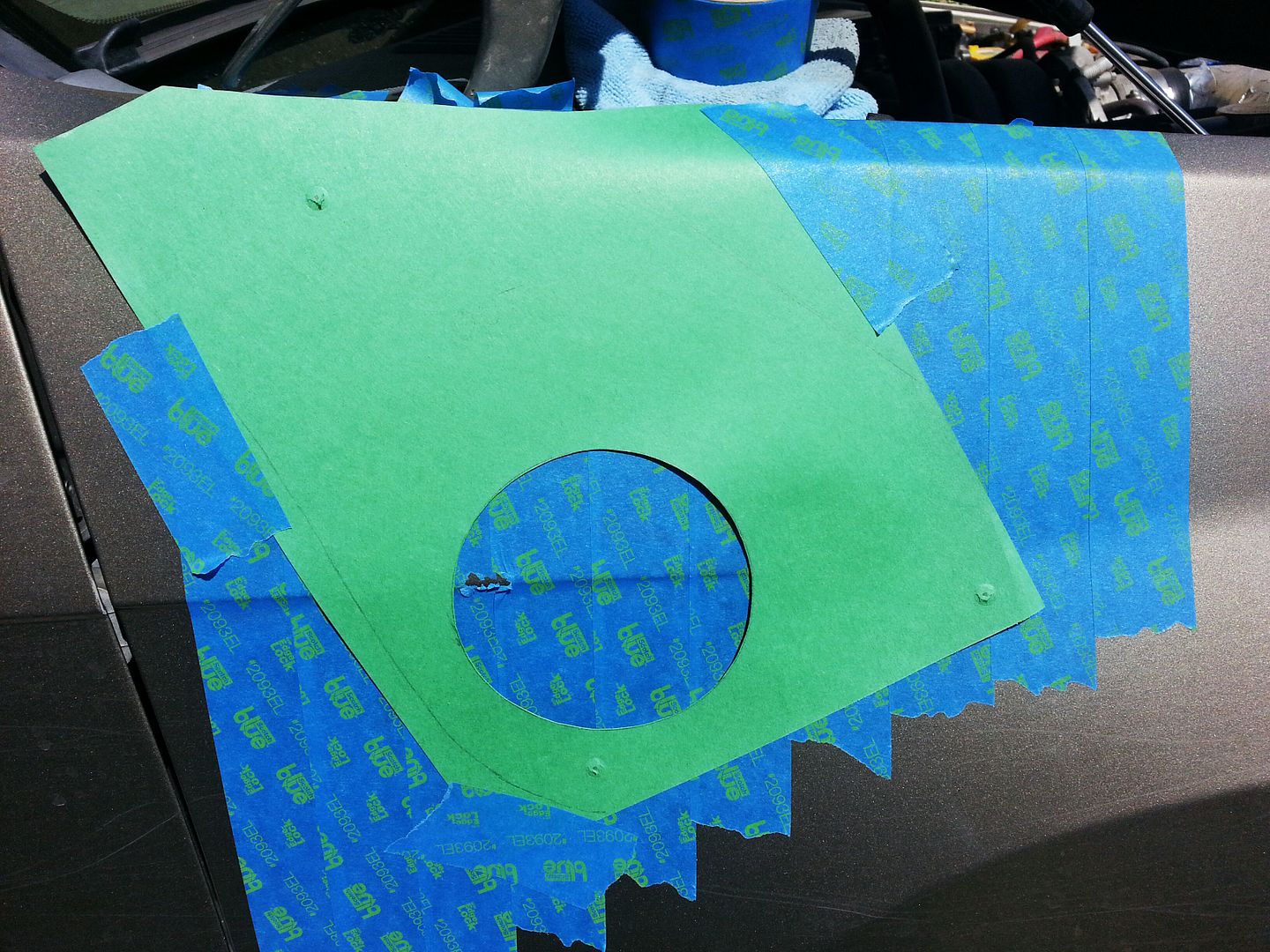 I had contemplated the idea of buying a fender off eBay to bolt on and use an a first draft, but ended up decided I didn't want to wait and if I took my time, then it should be fine. The big issue was that the snorkel has a 4" tube coming off the back of it that is an inch or two in length. This made it very difficult to properly see where and how the snorkel was actually going to lay on the fender and A-pillar. After adjusting the template many times. Standing back and looking. Re-adjusting and looking some more. Having the wife weigh in with her thoughts. Then looking at it some more. I finally decided to get the drill and do it already!
This took a bit of a gut check, but it needed to be done in order to really see how it was going to fit. I figured that if needed I still had some room to play with moving the snorkel around before you could see a hole sticking out the side of it
THERE I DID IT!!! Now the snorkel can lay flat and I can really see how she was going to fit. Before drilling the three mounting bolt holes I needed to make sure it was going to fit tight against the fender while also hitting the A-pillar correctly to bolt on. So I loosely mounted the included bracket to the snorkel and lined it up, only to find that the bracket wasn't going to work (not that I was surprised). So I pulled the weather stripping off the pillar and took some measurements. I first made a bracket out of cardboard then used a spare piece of aluminum.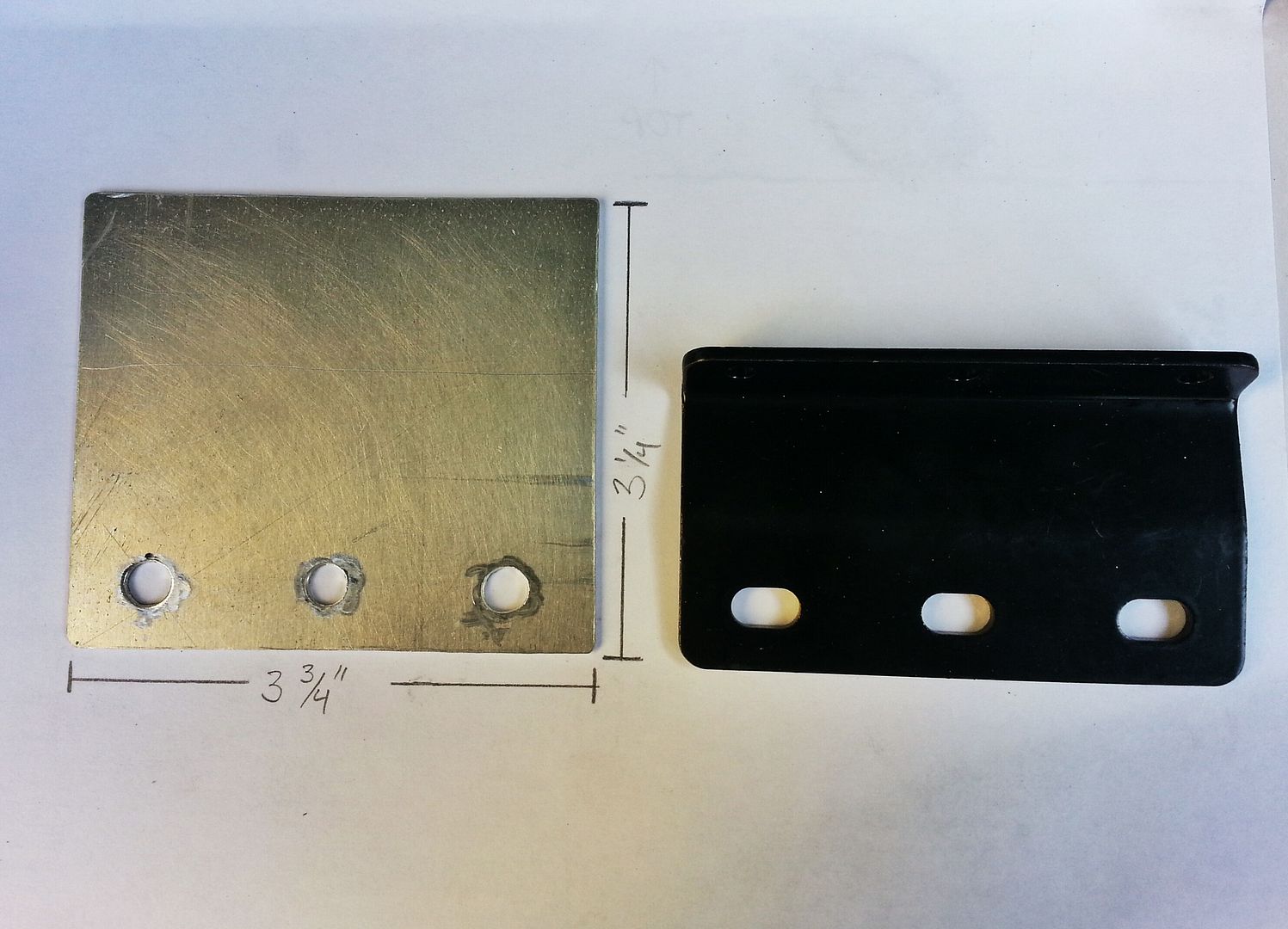 After a few times holding it in place, pulling the bracket off to bend it, then holding it back up. I had this at the end.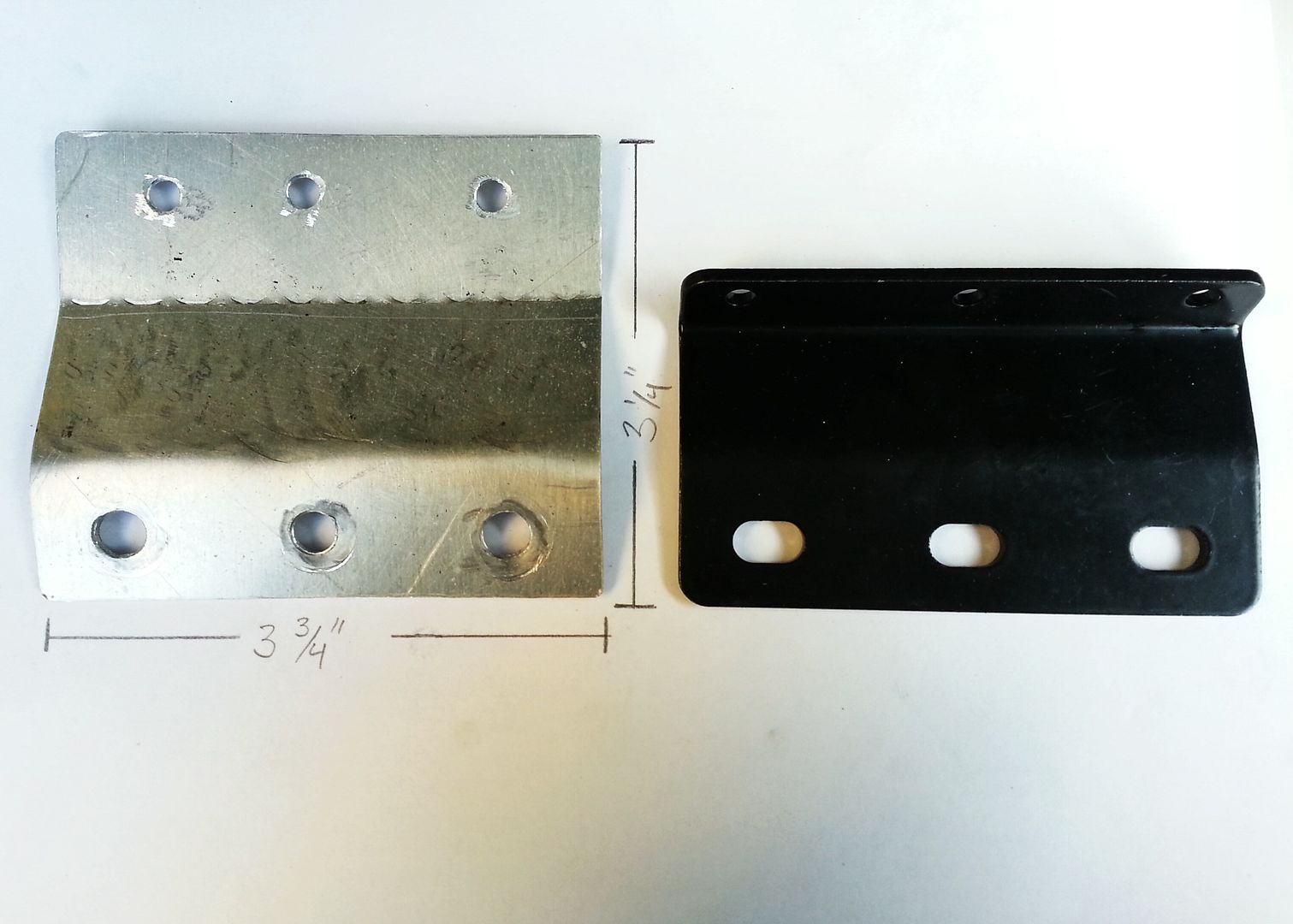 The bracket happened to line up with one of the small screws holding the weather strip on. However the plastic needed to be modified slightly for a tight fit.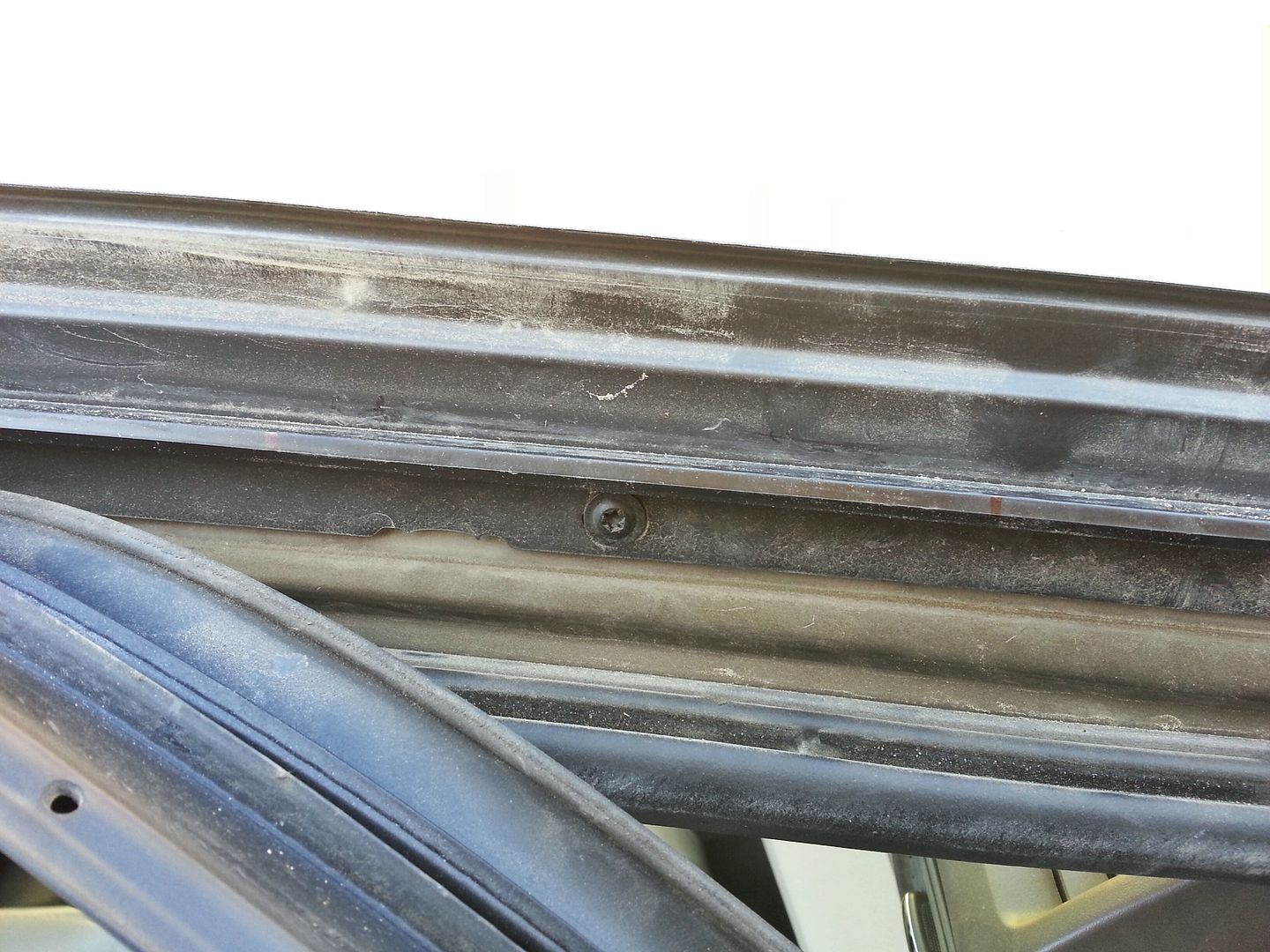 After being very careful with the dremel I ended up with this.
Now that I had the bracket finished I could continue fitting the snorkel. I replaced the small screw with a larger self tapping one. I will use two more later one so there will be three screws holding it in later, but for now I just needed the one to hold it in place. This was the first time I could mount it and stand back to see how it looked!