I have looked threw the forum and i have not seen anything on changing spark plugs on a WK. Well it was time to change them on my Jeep and i took some pictures and going to attempt to explain how i did it. I am going to try to keep this as noob as possible. oh don't mind my screw driver in under the air box lol i was making a reference point. i am not responsible for any damages. do this at your own risk.
tools that you will need
* a socket wrench and a socket wrench extender ( about 2 standard ones or about 9 inches long
* the socket you need is a 10mm socket and a spark plug socket
* need about 2 flat head screw drivers one long one with a medium head and a medium size one
* a hex (star) driver i forgot the size is pretty big.
* a pair of needle nose pliers
* optional a spark plug spacer checker i don't know what its really called
1. thing you do is you disconnect your battery. (you dont have to but its wise)
just unscrew the negative end of the battery.
2. you have to take off the intake hose that runs to the air box and the air filter box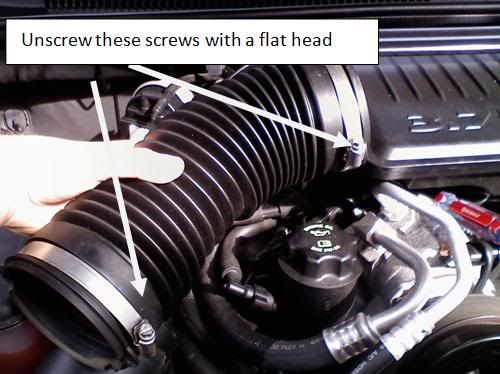 3. you have to take the air box off the carb and there are 2 hex screws and and clamp you need to take off. make sure you have to o2 sensor unplugged be for removing the air box.
4. once all that is done clean off the area from dirt and dust so it wont get inside the engine block. that would be very catastrophic.
5. take off the nut with the 10 mm socket and pull the tube out of the block. be careful when you pull it out it has O rings around it and if they get damage good luck trying to find replacements for them.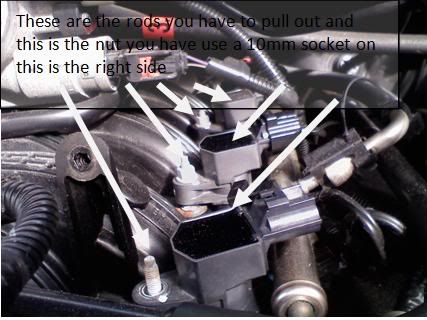 6. once you get it off get your spark plug socket and socket extender and take out the socket down inside the engine block.
7. once the spark plug is out get a clean cloth and wipe around the block to clean the excess dirt and grim that is on it
8. to prep the plug make sure the plug is spaced to the recommended spacing with the spacer tool. you can pick them up for about .25 cents.
9. once that take the plug and stick it into the spark plug socket and then stick the into the block. take the ratchet off the extender and thread the plug backwards to make sure the threads are level and slowly turn the spark plug in the threads. make sure your not cross threading cause if you do you just bought yourself a new engine block.
10. do that for all the plugs.
11. reassemble everything and turn on your car if you get any waring light consult your manual.
if anything is wrong or i forgot to add anything to it please tell me and i will fix it. hope this help the forum. next one im going to do is for the K&N filter setup and installation
deltaspecops99