this is my first build/mod thread so be patient
I saw a picture of a jeep some time some place and it looked like it had an grille like this (not the overland grille). so i had this crazy idea to make this happen.
Supplies:
Drill with drill bits, something to cut plastic and metal with (wire cutters are perfect), loctite (recommended but optional), 8 carriage bolts (about 2 inches long) with matching standard nuts, a flat head screw driver, and large enough washers to stop the nut from slipping through the expanded sheet.
first i bought 2 "sheets" if you will of expanded sheet metal from Lowes for about $20 per sheet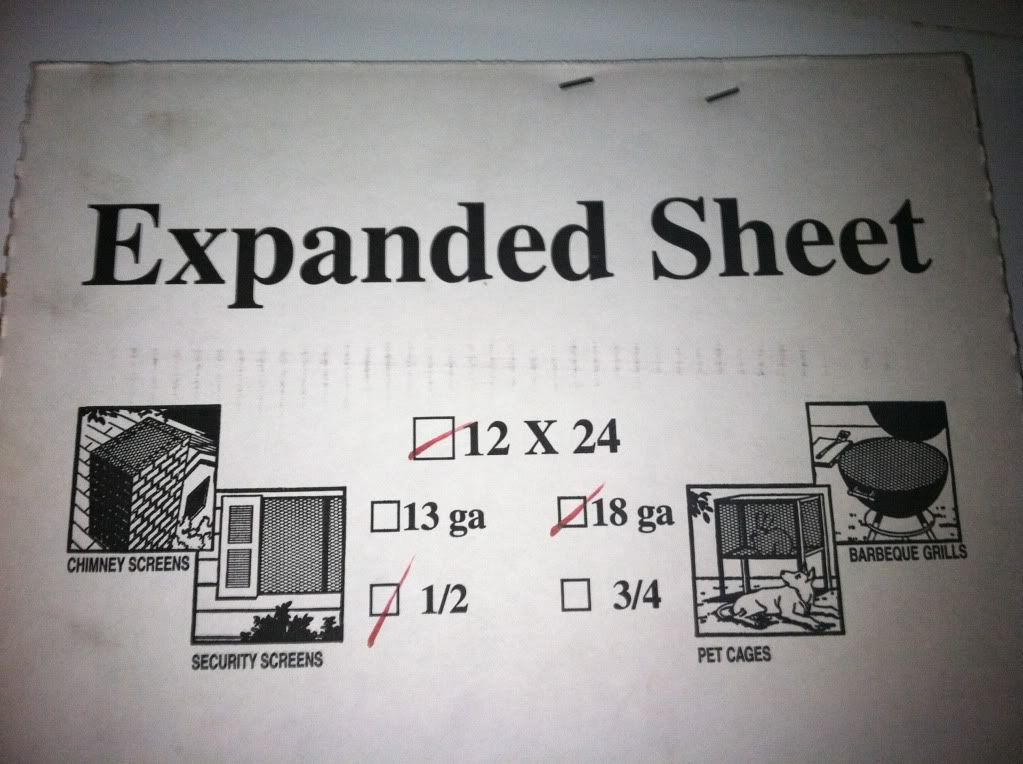 to be specific
first after buying i decided a black finish will look better and stop it from rusting (yes it rusts). so i found some old all purpose black gloss spray paint, i believe it was rust oleum.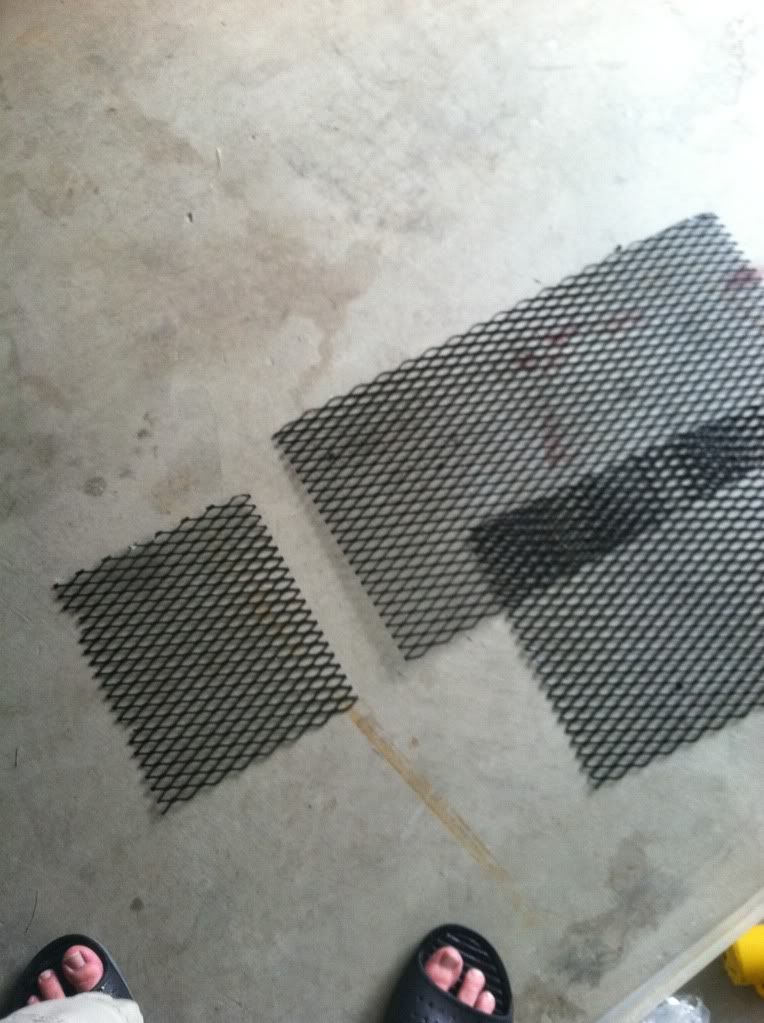 (i partly cut it already, enjoy the feet in pic too
)
first remove the grille from the jeep by taking out all of those pushpin things and it should just come right off.
now you must take the grille cover (the painted part) off the grille to get to the "inserts". There are several little snap things that hold the cover to the grille, and a flat head screw driver does the best to separate the cover from the grille. I believe there is about 1 per side on the inside of the slots and 4 or 5 on the edges of the grille.
(no pic but easy to figure out if you look at the grille)
after separating the cover from the back you now start cutting (yes cutting) the "inserts" out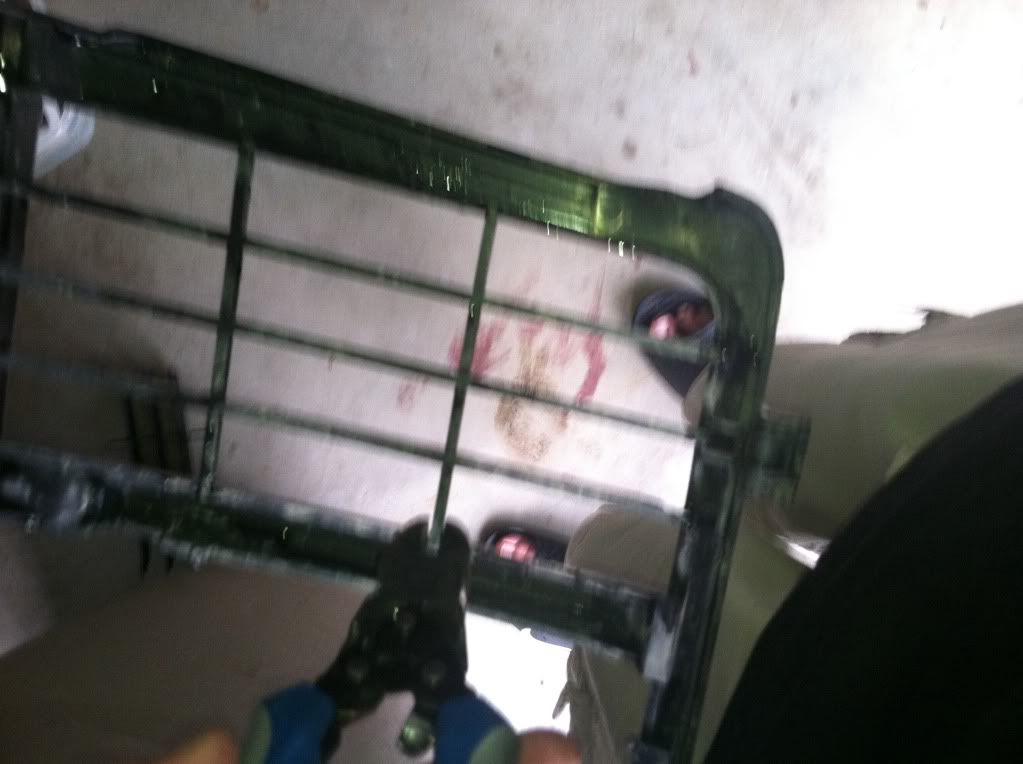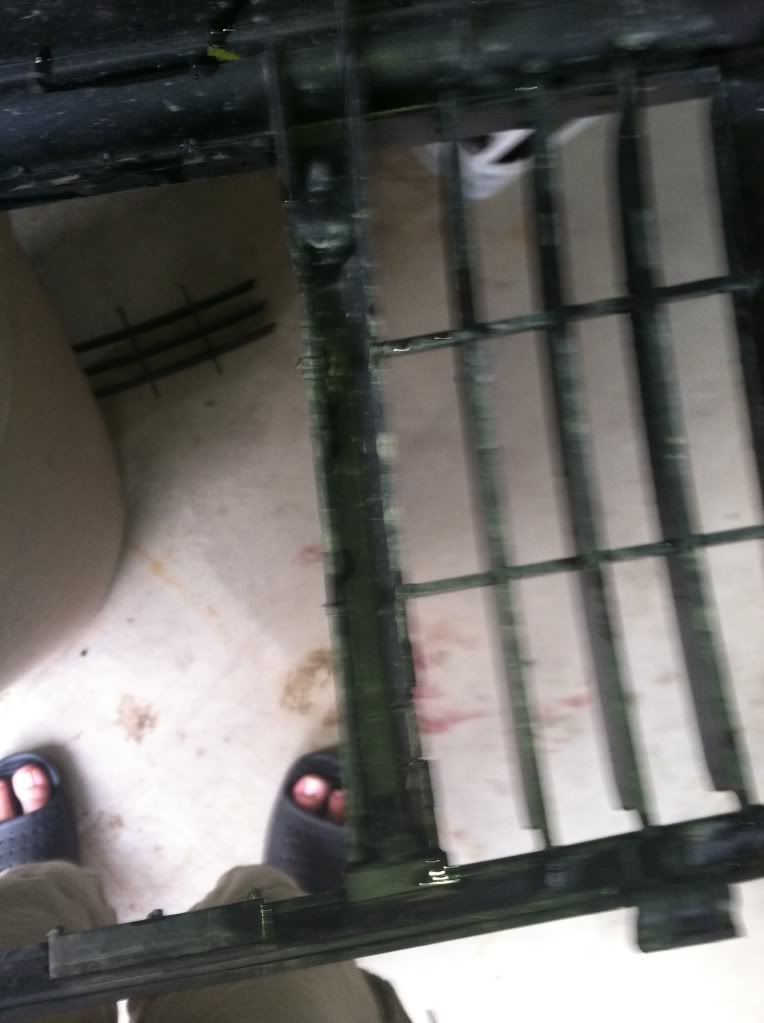 (sorry blurry)
and it's not very noticeable if you do or don't cut or sand the little nubs down from the grille so i just cut as much as i could without trying too hard.
after cutting all of the inserts out, now you must align the sheet metal and make measurements to find the right spots to cut. Leave enough room so one hole in the expanded sheet will be in the middle of the pillar (between slots), and i personally cut it so 1 sheet covers 2 slots on the grille. now if your good at math and know that the grille is a 7 slotted grille, then you must know that 2 will never go into 7. so what you do is you cut out 3 sheets that cover 2 slots (2X3=6) and 1 sheet that covers 1 slot (2X3+1=7 YAY
) make sure to cut it so all the pieces overlap.
now that you have all the expanded sheet cut, you may now start drilling holes in the grille. Using a drill bit that matches your bolts (they don't need to be threaded into the plastic grille) drill one hole while holding the expanded sheet down as a reference for where the sheet should go. After drilling 1 hole, bolt down the expanded sheet using the carriage bolt, washer, and nut so you can then move the expanded sheet accordingly for the next hole. Tighten said bolt enough so that the expanded sheet is flush with the grill, too much will bend it weird and too little wont look good. Repeat for the rest of the grille and you will get something like this. Don't forget to Loctite the bolts down so they don't loosen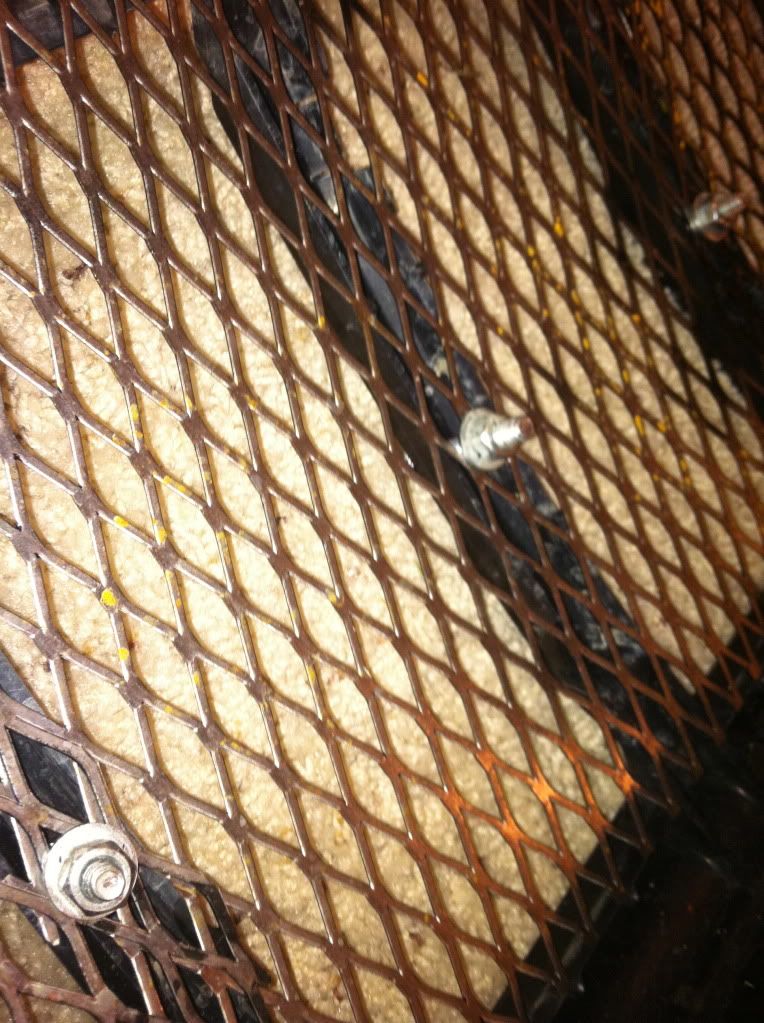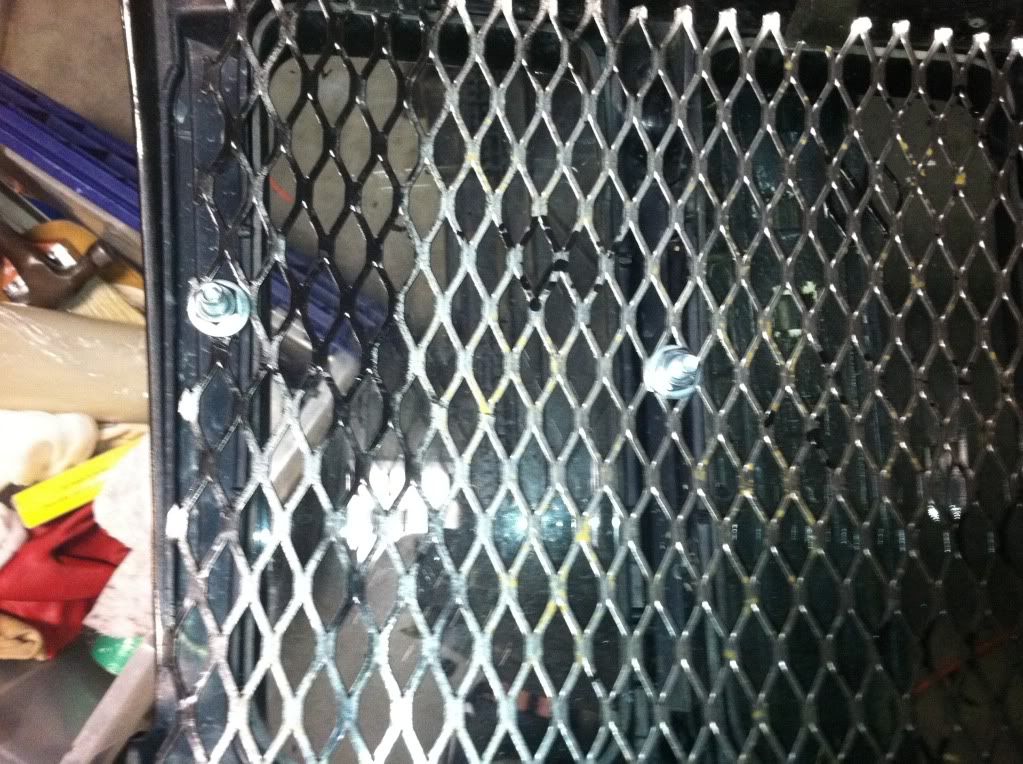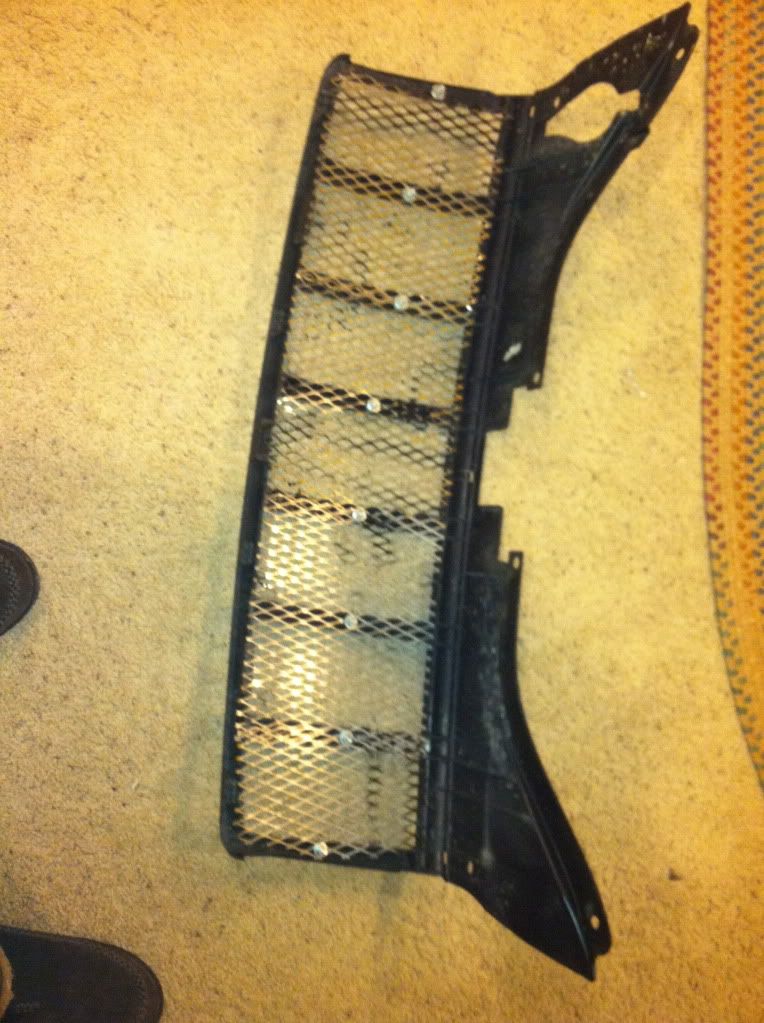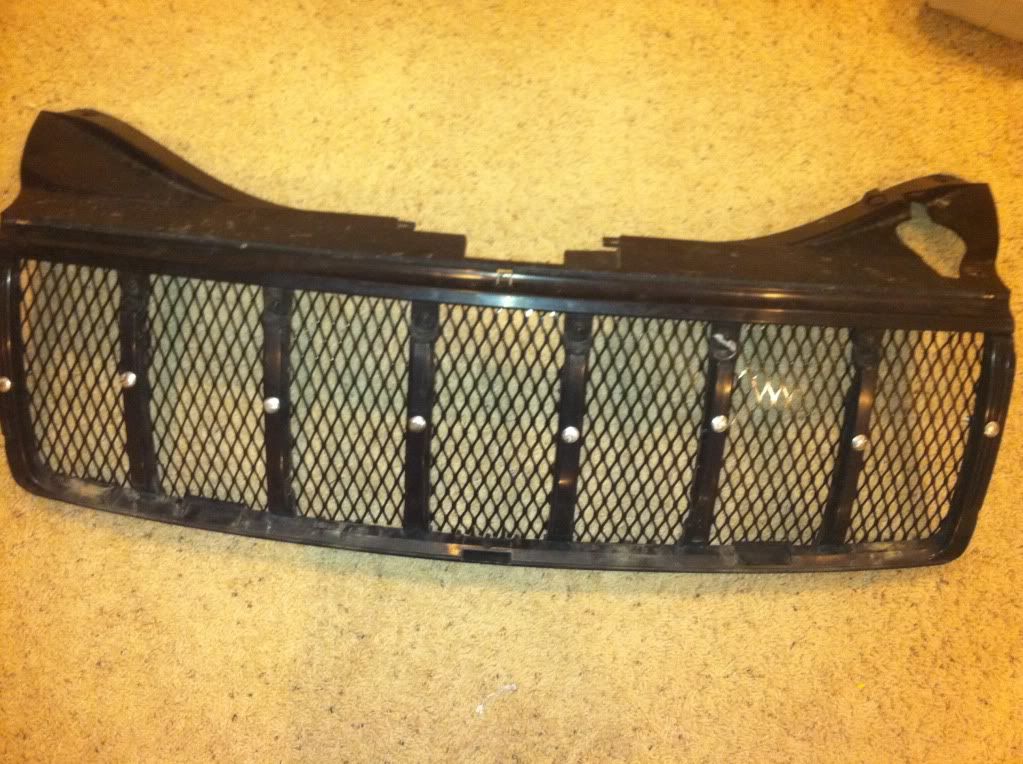 (sorry i dont have any pics of the drilling of the holes)
Now that everything is bolted in, it is time to start to put the cover back on. You will notice there are little tabs that will interfere with you expanded sheet, use those wire cutters to cut away the expanded sheet for them to fit through. And snap as much back into place as possible but it doesn't matter much if not all snaps in. once your grille is one piece it is time to put it back on the jeep, just align the holes and put you push pin snap whatever they are called things back into place
and the finished product (with a plastidip finish on the cover for me
)