This is a simple write up just to give people a glimpse at how easy it is to change your rear shocks. I installed
Monroe 58643 Sensa-Trac Load Adjusting Shock Absorbers
which are meant for a F150. However the procedure is pretty much the same for any shock, these are just a little more work.
Lets get started!
First you want to put your car in park, engage the parking brake, chock the front wheels, lift your vehicle onto jack stands and remove the rear tires. Make sure you lift from the frame away from anything that would interfere with the lower control arms from dropping down.
Next remove the lower shock bolt using a 15mm socket and breaker bar or ratchet. It may help if you spray the bolt down with PB Blaster before, but that isn't totally necessary. Take your time, the bolt is pretty long. Also be prepared for the axle to drop a bit once you remove the bolt. Inspect the threads and bolt for rust and replace if needed.
Now you can remove the top bolt. This one tends to be pretty easy, just make sure you take your time and inspect the bolt. The shock will usually drop out, but sometimes needs a little help from a pry bar.
You will probably be left with crappy worn out stock shocks that can be compressed by hand. Now throw those out or keep them if you are a pack rat!
I mostly took this picture so that I had proof my shocks needed replacing. Not that my wife was too upset at me buying 2 shocks for about $90. That is a great deal!
Removing the shock gives you plenty of room to cut the plastic wheel well that rubs on the 643's coil spring. I used a cut off disc on my dremel, but you could use tin snips or a utility knife.
The Monroe 58643's top bushing is narrower than the stock OE replacement, so you have two choices. You can either tighten the bolt down hard and bend the sheet metal on the top mount. Or you can just add washers to make up for the extra space. I went with 3 1/2" washers to keep my mounts true to spec. Start the bolt but do not tighten completely yet.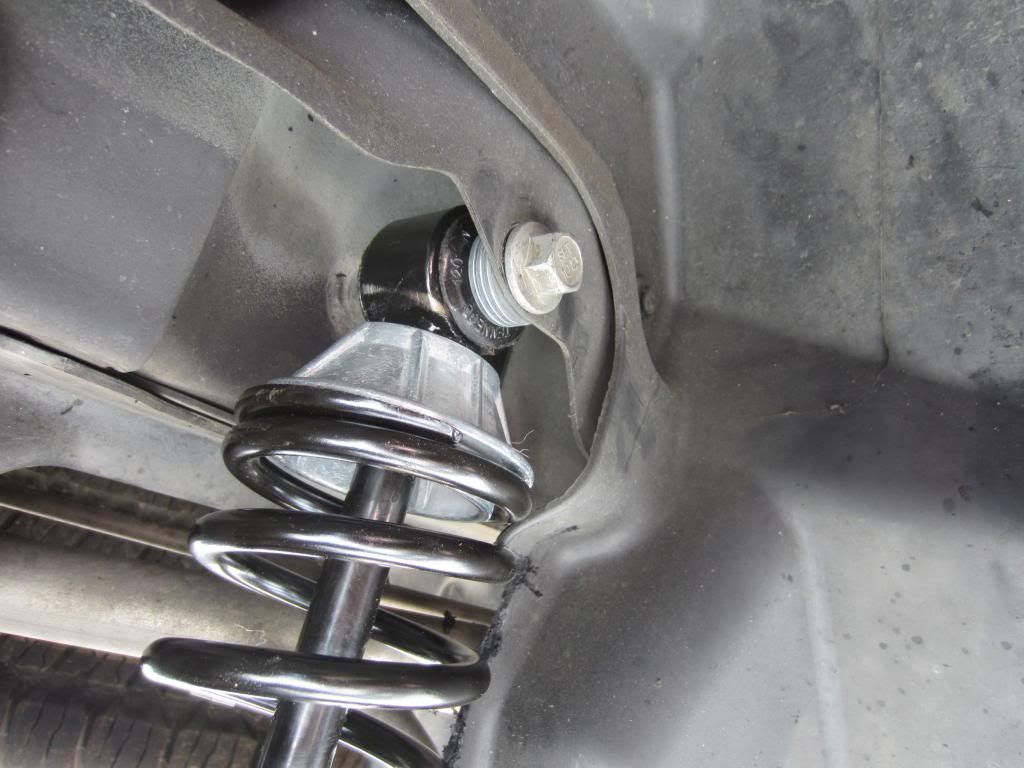 It helps to have an extra pair of hands for the lower mount, but it can be done alone if you are like me and have no friends.
This step is much easier to do with a stock length shock as you do not need to compress it to have it slide into place. I used my little scissor jack to start it off and give me a base on which to pry off of. I used 2 bars to get things lined up. The lower one is to lift and move the the bushing forward. The upper bar is to move the bushing down and back. I used my leg to pry the bottom while keeping an eye at the bolt lining up. Snug the bolt down but not to tight.
Now go back and torque your top bolt to 70 Lbs and then move to your bottom bolt and tighten it to 85 Lbs.
You then are pretty much set. All you have to do is put your wheels back on torquing our lug nuts to about 95/100 ft/lbs and lowering your jeep off the jacks. Test them out and recheck the torque after a few miles to help put the wife at ease.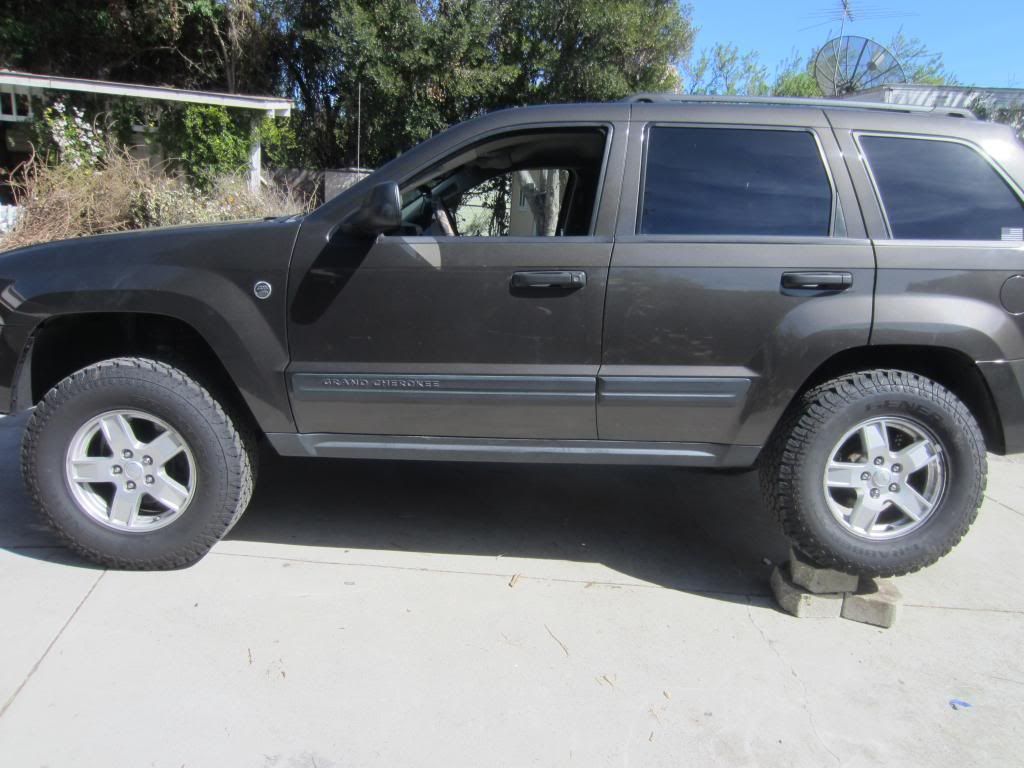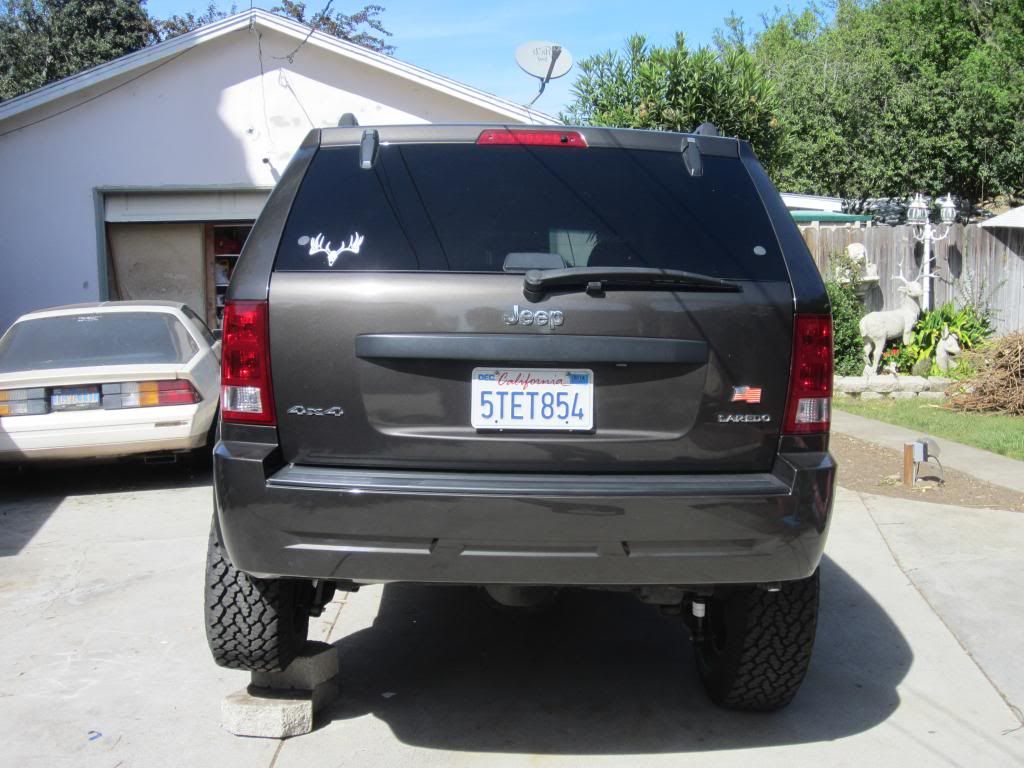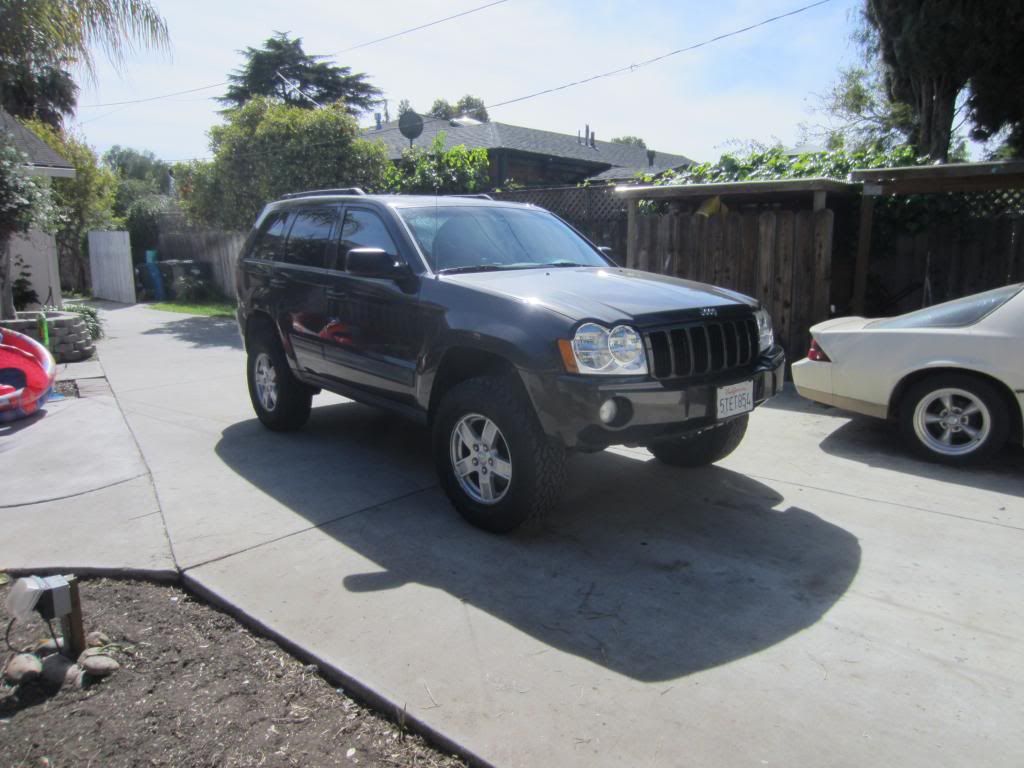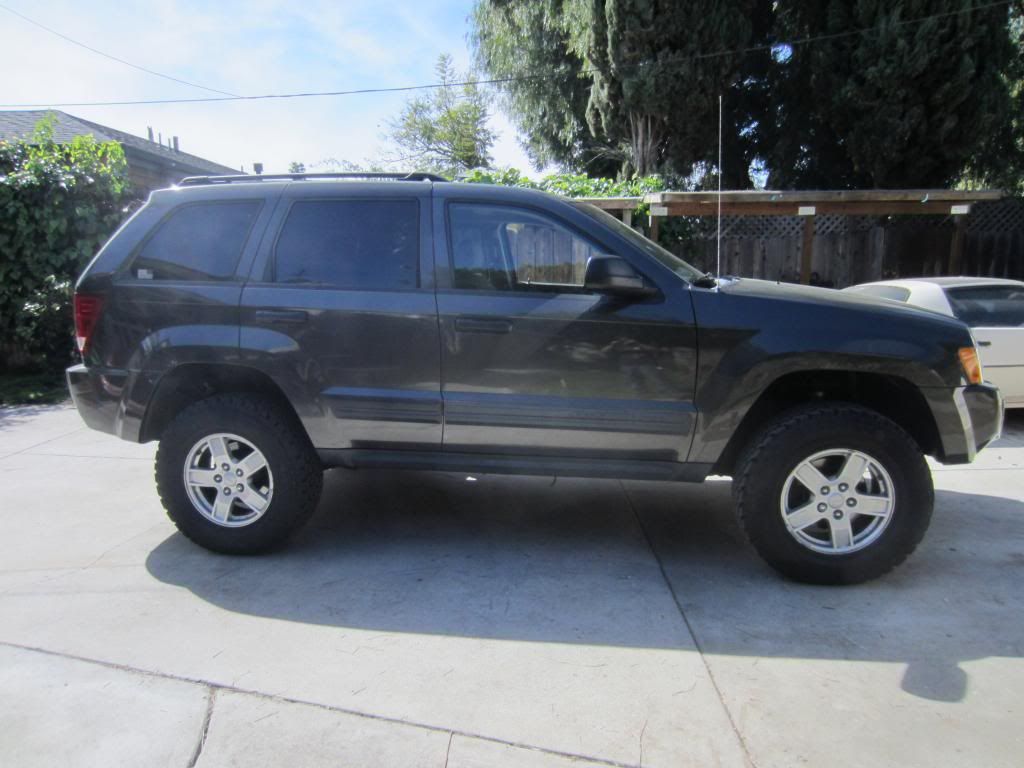 That's how it turned out with my 265/70/17 AT2's and Rough Country Budget Lift. The difference in ride quality is night and day! Not harsh at all! Turns feel secure and the marshmallow ride is gone!
Thanks for checking my thread out! There is no reason that rear shocks should intimidate you, but always have a competent mechanic check your work if you aren't confident!
TheCaliforniaKid!