Hey guys, my best friend has an '05 Limited WK and in some weird twisted act of fate he backed into a snow banking yesterday and the rear bumper cover decided to form a BIG crack. He keeps his Jeep in pristine mint condition and he was ready to cry when he saw the damage. Bumper was cracked under the right taillight from the midpoint to the bottom. Heres what I did.
Just putting epoxy on it probably wouldn't work too well as the bumper is a hard pressed plastic mold and they wouldn't bond to well, so I said to myself, why don't we try and bond the crack back together with its own material. So with a bit of duct tape on the front and my friend holding it perfectly in place. I went back there. We cleaned it off totally and completely with some windex and I went in there with a flat blade soldering iron. While he held a heat gun going over the front of the bumper (this was only necessary because it was 18 degrees outside and I didn't want the molecules in the bumper to be frozen) I crawled under where I had access to the backside of the bumper.
I taped the wiring harness than was hanging down up to the metal framing of the body so it wasn't in my way. Anyways, using that flat blade soldering iron, I went down the crack from the back slowly but evenly, essentially smearing the plastic together as it melted. I'm sorry, I'm sorry, I didn't take any pics but if I get under his bumper again I will definately take some. Don't do it too hard, or else you will break through to the other side and it will look like crap from the front. This is also where having my friend on the other side helped, as he would tell me if I started to get too far/if he saw anything breaking through. After giving it a minute to dry, we let go and pulled off the small strip of tape. What do ya know, it was perfectly held back together and VERY sturdy. Great success!
Here is a picture I took after the fix was done. Would you ever be able to tell that this bumper cover had cracked and was hanging down? Nope, this is 100% fixed, it looks great!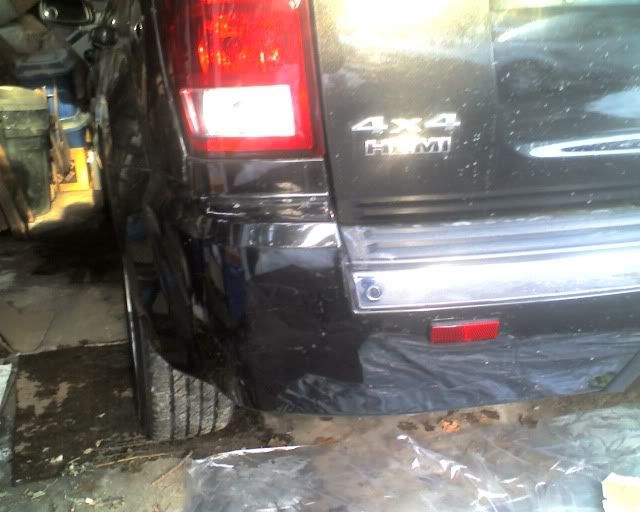 To re-inforce it even further, we went to autyzone and bought the Bondo bumper repair kit for $8 (yes I know I said for free but still the first part cost you $0 so just suck up the $8 for some extra re-inforcement haha). It included some mesh, a spreader, and some black epoxy. We mixed that up, smeared some on the back where I had made the melting repair, popped the mesh on, and smeared more epoxy over the mesh again so it was covered and laid into the epoxy. It looked VERY professional I must say. Give it a couple hours to dry and it'll be indestreuctible!
Take note, we did not do any melting or epoxy at all to the outside for cosmetic purposes. However, in the end the crack was only visible to the naked eye within inches, and a hell of a lot cheaper than buying a whole new bumper cover and getting it repainted, yadda yadda yadda.