2006 Jeep WK.
I bought a Mopar Kit on Ebay for less than $50.
It included the instructions, filter, housing, and push connectors.
Installation was very easy and took about 30 min. It is NOT NECESSARY to remove the wiper arm.
Remove rubber trim, lift pass. side valence, place something in opening to hold up valence, I used a paint can.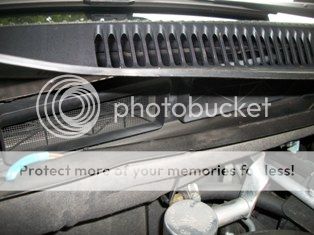 Reach inside and pull out original plastic housing. It pops out easily.
I broke off the center rosettes, they will not be needed again.
Insert new (empty) housing slightly toward driver side.
Slide housing to pass. side so clip on back of housing engages sheet metal opening at far pass. side. Center holes will now line up.
Insert plastic rivets/connectors from kit. They push in to place.
Insert filter, and filter cover. three slots at bottom of housing engage tabs on bottom of cover.
Top of cover openings engage clips on top of housing.
They fit together somewhat loosely. I taped date sticker onto top of housing and cover to keep it together tighter.
Replace valence and rubber trim, and you're finished. Very easy.
I'll change the filter yearly.
(Changed daughters cabin air filter in her Subaru after 4 years, what a terrible sickening mess.
We didn't realize it was an easy job. I suggest you check your cars too.)