Registered User
Join Date: Nov 2013
Location: MESA
Posts: 41
After decades of wanting a Jeep...
---
I finally bought one!
The wife and I traded her Saturn, my 83 Honda 250r 3-wheeler, and a bit-o-cash for what I think is a pretty sweet 1994 4-banger YJ. In the Phoenix area, the 113k miles it has on it are low. I swore I'd never get a square headlight Jeep, but once I saw it, I forgot about that.
I'm new to the Jeep world, except for having a J-20 which is an entirely different beast. I'm not sure of a lot of things about the new Wrangler, but I would imagine the gurus will be able to eyeball it and give me some good info. I'll post pics as I'm able to get them of certain parts. It is rainy today so can't get any right now, but I'll use the ones I have so far.
The engine runs nice and smooth, no additional noises. The 5 speed is a nice improvement over some of the 3 and 4 speed CJs that I've driven, although being a bit underpowered and running 33s, 5th gear is somewhat rare.
My main complaint is a loud body-flex popping noise coming from the body which has some cracks/breakage at the mount below the passenger's feet. I'll need to get that welded up and fixed so I don't go bat **** crazy.
We bought it this past Sunday, and drove the 120 miles home with no issues. The next day, we called in sick
and decided to do some wheelin'. We opted to go over the Four Peaks Trail, along Roosevelt Lake, and back toward home using Apache Trail, all in all about a 130 mile trip. The Jeep did great and 4 low will climb a freakin' wall! Here's the trip report, and if you haven't seen the EveryTrail app, check it out!
http://www.everytrail.com/view_trip....e374f80220c9ba
Here's the new-to-me 94 YJ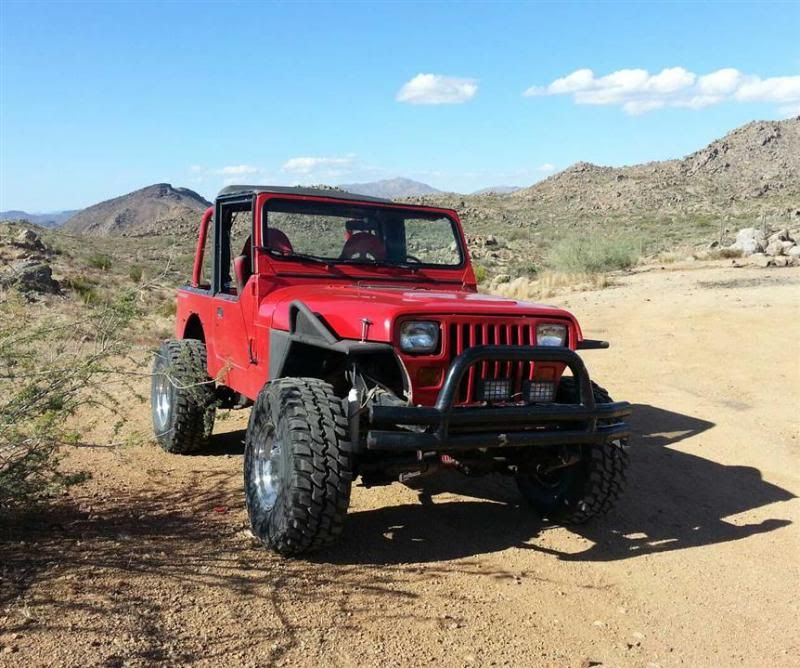 This is my previous 73 J-20 that I had about 10 years ago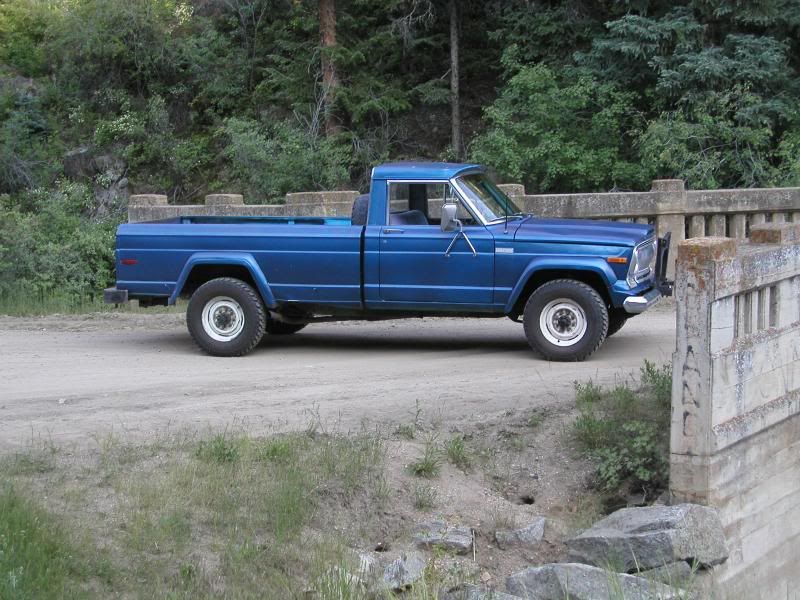 Registered User
Join Date: Jan 2007
Location: Mission Viejo, Ca
Posts: 3,268
Welcome to JF.
---
2000 Grand Cherokee Limited
2000 Wranger Sport SOLD
1979 Wagoneer SOLD
Registered User
Join Date: Nov 2013
Location: MESA
Posts: 41
Thanks, dooboy

Can you guys please tell me how this is lifted. I'm not very knowledgeable about 4x stuff, motorcycles and ATVs yes, 4x not so much. I was told it has about 3.5" lift, which I would assume to be correct since I don't think 33s would fit under a stock Wrangler, but again, what do I know?

Here's some pics of the front...
Registered User
Join Date: Nov 2012
Location: Broken Arrow
Posts: 620
That's one nice lookin YJ. I can see why you fell for it, it just has that "look" that appeals to some of us.

Ken
Vendor
Join Date: Apr 2009
Location: mass
Posts: 6,191
YJ's are awesome, I like the square headlight years.
---
To view links or images in signatures your post count must be 10 or greater. You currently have 0 posts.
Registered User
Join Date: Nov 2013
Location: MESA
Posts: 41
Just had a new exhaust installed. I wish he would have wiped his fingerprints off but, oh well, it will be covered in mud soon.
It didn't have a cat on it prior to this, the muffler was toast and was running rich as hell. He doesn't carry Magnaflow cats anymore because he's had a lot of trouble with them not warrantying that part, so it is a more restrictive cat than a Magnaflow. Since we have to emission it, and I like doing what I can to break down harmful exhaust gasses, I don't mind a proper cat. The emissions place wouldn't even test it with the old exhaust because the tailpipe just dumped straight down right after the rear axle, which also didn't help the in cab breathability either, especially at stop lights!
The sound is a bit louder than I thought it would be, but is a nice deep tone (for a 4 banger). It is actually almost the same volume as the crap exhaust that was on it, minus all the rattles.
Currently Active Users Viewing This Thread: 1

(0 members and 1 guests)
Posting Rules

You may post new threads

You may post replies

You may not post attachments

You may not edit your posts

---

HTML code is Off

---