Registered User
Join Date: Mar 2011
Location: Portland
Posts: 51
Yj's with 5-6" lift and flat flares
---
Looking to do about a 5.5" lift with some flat flares could I please see some pics with this combo? Please post tire size with picture.
sorry this is my old yj with 33s
Thanks! Your yj looks great. What was the lift on it? I am looking at rc 4" with 1" bl and 1"mml with 1/2" boom shackles. Is that a 33x12.5 or a 33x10.5?
It was a RC 4 inch lift and there 1.5 inch boomerang shackles. Be sure to get the longer steal brake lines also. With this setup u had enough room for 35s. those are 33x10.50x15 because it was all I could find in stock at the time I bought them but a 33x12.50x15 was what I was looking for.
Thanks for the help. I think I will stick with a 33x12.5x15 for the time being. Looks like a good amount of room for some nice flex. May go to 35's when I do my 4.88 gearing and 8.8 swap but for now the 4cyl is having a hard enough time pushing 33's with stock 4.10 gears.
Here is what I have now... 33x12.5x15 on 2" shackle lift stock sagged leafs and stock flares.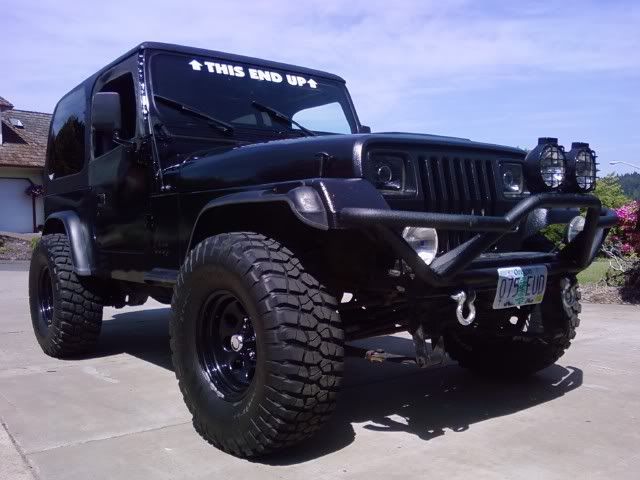 Registered User
Join Date: Jan 2008
Location: Oregon
Posts: 300
RC 6" SUA, 1" shackle, 6" flat flares, 37 x 14.5 Toyo's (really 15.7" wide).
---
08 Tundra CrewMax TRD 5.7, 07 Jeep GC-SRT8, 01 Lightning (sold), 96 Impala SS (sold), 93 RX-7 Twin Turbo (sold), 90 Wrangler 413 cid (AMC 401 +0.060), 71 Formula 400 (sold), 72 Formula 350 (sold), 71 Firebird 350 (sold), 69 Firebird 462 cid (455 +0.030)
Registered User
Join Date: Nov 2010
Location: greenville
Posts: 1,799
Quote:
RC 6" SUA, 1" shackle, 6" flat flares, 37 x 14.5 Toyo's (really 15.7" wide).
1st time ive ever seen the RC 6" lift on here. that YJ looking good too
---
"Its a Jeeps World, other 4x4s just get stuck in it."
GIVE IT THE ONION
Join Date: May 2010
Location: Mount Vernon
Posts: 6,302
Currently Active Users Viewing This Thread: 1

(0 members and 1 guests)
Posting Rules

You may post new threads

You may post replies

You may not post attachments

You may not edit your posts

---

HTML code is Off

---