Registered User
Join Date: Feb 2008
Location: West Linn
Posts: 7,393
Show us your Ski/Snowboard Racks
---
Hey all, snow season is coming up and I want to get a roof rack rail system for a rack. Just looking at to what people are running here. I have a 4 door JK, but would like to see everyones setup.
Need to get something soon! Help me out all!
---
"Water covers 3/4 of the earth, Jeep covers the rest"
Registered User
Join Date: Jun 2013
Location: Park City
Posts: 58
I second this request. NEED A RACK
Quote:
I second this request. NEED A RACK
Amen, I saw that Yakima makes a rail kit for our JK's but they dont have a exterior picture mounted up and it looks like it might sit too high.
---
"Water covers 3/4 of the earth, Jeep covers the rest"
Registered User
Join Date: Jun 2013
Location: Park City
Posts: 58
Installed Yakima 42" roof rail kit yesterday. Install was easy! Just took my time with the directions and made sure the holes lines up for when I was drilling. Took a little bit of gut to drill into the hardtop but I got over that quickly. I also got a 40" Fairing for wind noise, plus its a spot for all the stickers! Wil be putting locks on it later too, they are around $50 bucks so its just cheap insurance I think. Overall very happy. And it doesnt leak either!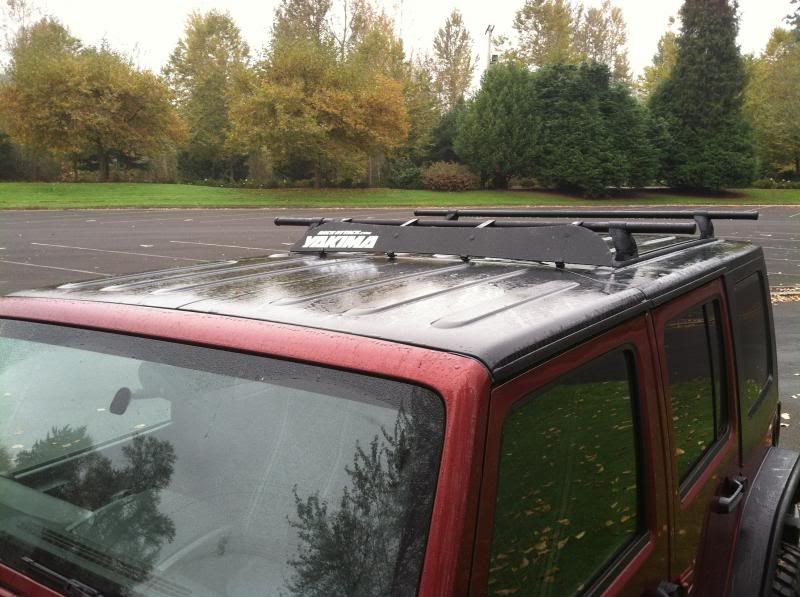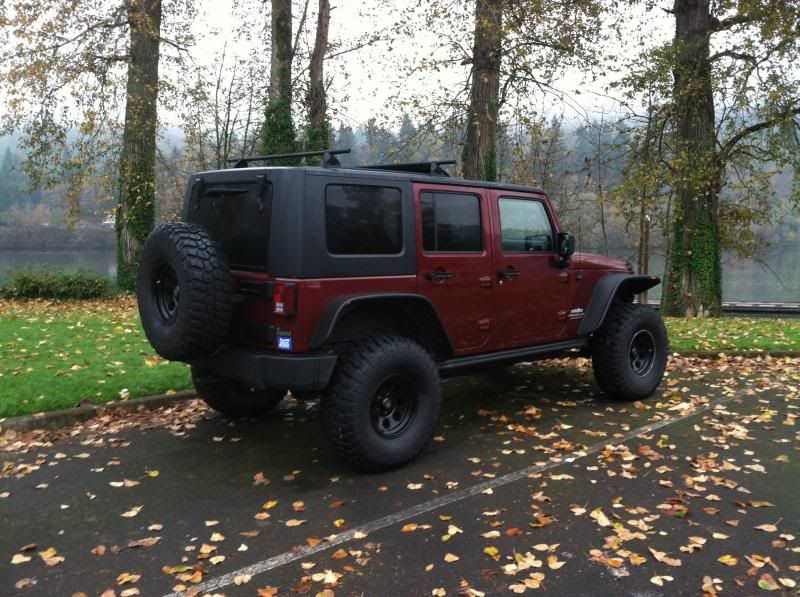 The fairing overlaps maybe an inch over the freedom panels but it moves up and down easily when you need to take them off or put them back on. So Im not too worried about it. Also left about equal distance on the hardtop riff line both front and back just to make things look balanced.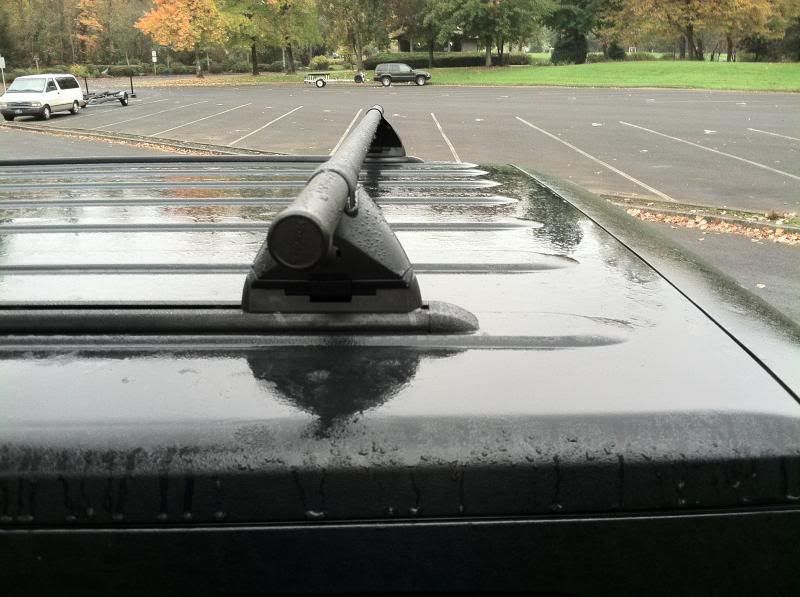 Everybody needs one of these! They also are removable from the rack rail so thats convenient for parking garages and when your not using it.
---
"Water covers 3/4 of the earth, Jeep covers the rest"
I have 60 inch Thule tracks I'm mounting tomorrow. I laid everything out, and to get them where I want them and I trimmed them 1 hole... Now I just need to go for it and start drilling. I already have the Thule towers and bars from the setup I had on my LJ, and I'm going to be picking up an Inno Shadow 16 box in matte black to carry my gear. I'll follow up with pics once I wrap things up.

Thanks for posting pics of what you came up with. I'm going to mount mine in a different spot. The '11+ hard tops have an extra ridge along the outside, so I'm going just inboard of that before the one you went with. That way, if I take the towers and bars off, I won't even see the rails.

Edit: Still have to figure out how to put my Hotheads headliners back up with the bolts poking through. Planning on spacing the headliners down, since I don't want to cut holes in the headliners. But I don't have anything concrete planned yet.
---
Ian
2015 JKU Willys
Got the rails on... The towers/bars are going to go on tomorrow.
The overview shots were taken holding my phone well above eye level. With the 3.5" lift and 35s, it would be difficult to even see them.
Overall shot. You can't even tell they're there.
View from the back corner.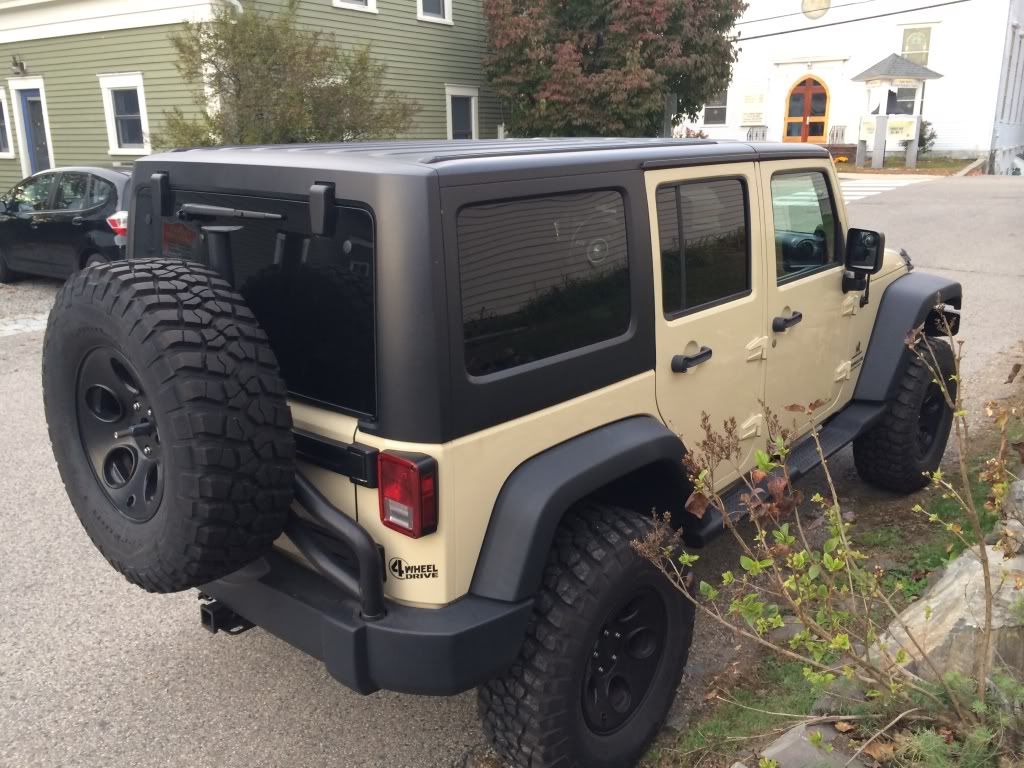 View from above.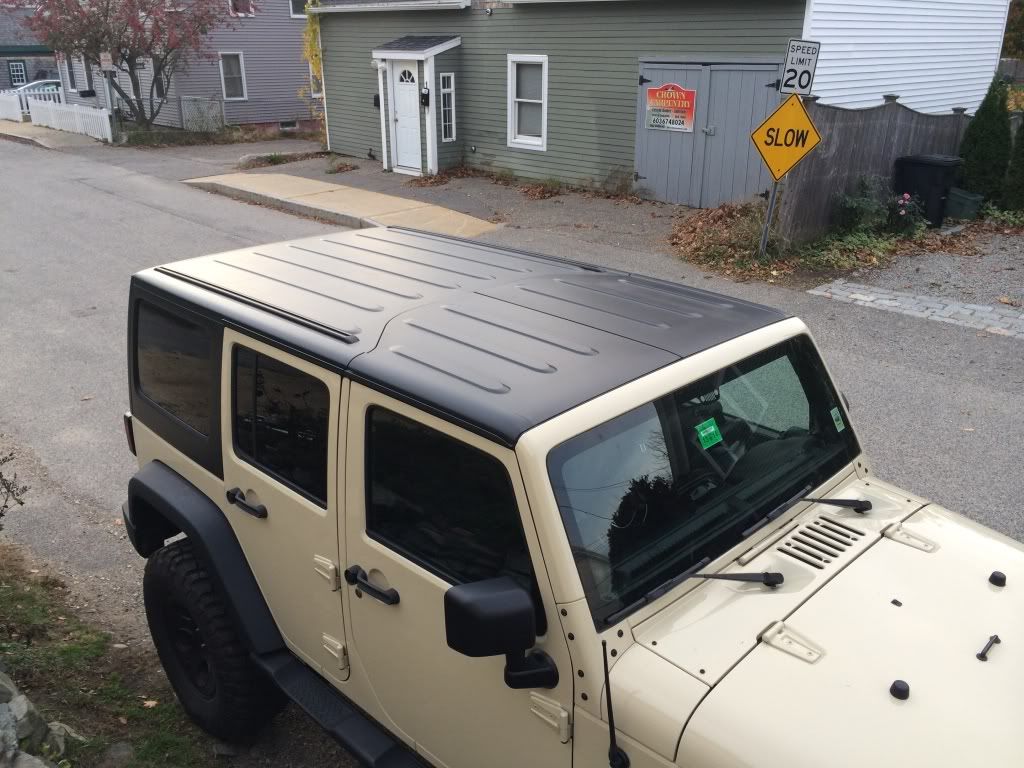 Closeups showing where they land relative to the top's profile.
From the front.
From the back.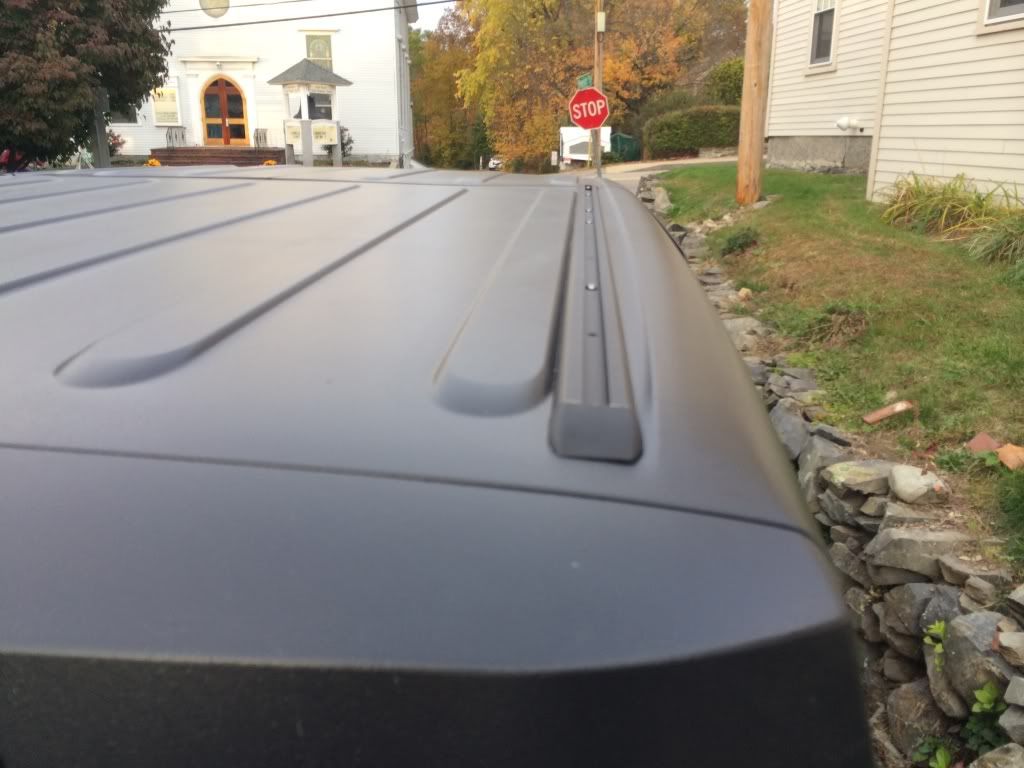 For anyone who goes with the Thule setup, the M5x40mm bolts are way too long. I went to Lowes and bought 12 10-24x3/4" stainless steel bolts and nylock nuts. They fit the same size hole, but are about half as long and kept me from having to trim the bolts inside the top. The bolts go through the area where the top is two layers thick. For 2011+ tops, the holes are 2 1/4" out from the center of the first ridge in on the top.
Now I just need to figure out how to space down my Hotheads or modify them with openings at the bolt locations.
---
Ian
2015 JKU Willys
Looks good, I see that ridge you were talking about. I would have opted for a longer rail system but the 42 is perfect for my snowboard racks. If I was carrying a box, I would have chosen differently. Keep us updated! Dont see many people with roof racks, not the caged racks.
---
"Water covers 3/4 of the earth, Jeep covers the rest"
Finally updating...
The box I ordered arrived. I ended up going with the Inno Shadow 16 in matte black. It's not as well known a brand as Thule or Yakima, but after doing some research, I really liked their products. The base is injection molded instead of vacuum formed, so it's stronger and more rigid. The attachment has infinite adjustability. And the box opens from either side, so depending on which skis I'm grabbing and which side they're on, they'll be easy to get to. I was able to reuse the Thule risers and bars from my LJ, but just barely. Between the narrower vehicle and mounting the tracks closer together, I had trimmed the bars when I put them on the LJ. Once I spaced them for the JKU, I ended up having about 1/4" to spare on the bars at each end.
I couldn't be happier with how everything came together. It looks great, adds no real wind noise and will make trips to and from the mountain much, much better this winter.
---
Ian
2015 JKU Willys
Currently Active Users Viewing This Thread: 1

(0 members and 1 guests)
Posting Rules

You may post new threads

You may post replies

You may not post attachments

You may not edit your posts

---

HTML code is Off

---