I will NOT show you my stickers, I will PROUDLY show you what my XJ looks like after rescuing it from sticker HELL.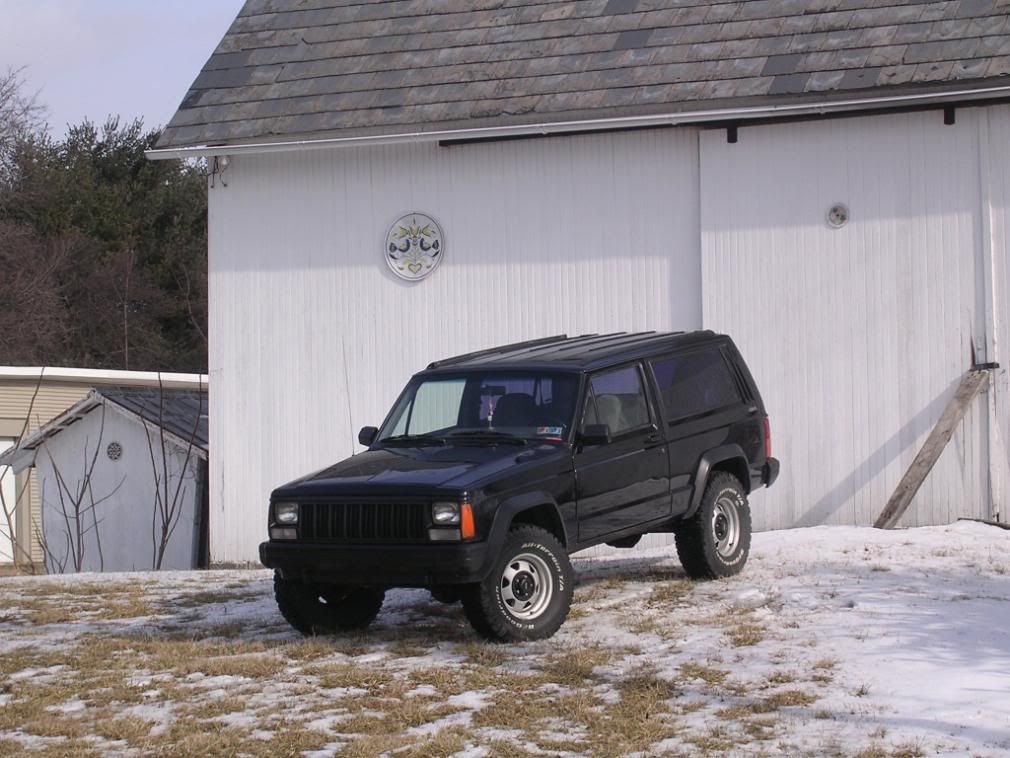 Let's see, GLEEFULLY removed stickers were:
1) "TWIZZ-TED RIDEZ" windshield banner. (Do people honestly graduate from high school spelling like "thizz"?)
2) Fake fire stickers coming out of lower front fenders....hep me now, I'm on FIRE!
3) A sticker of a little kid pissing on some random number. WTF?
4) Bullet hole stickers on the long rear glass.....bullet holes, but not really. Get it? Faked you out, chump.
5) Semi-naked devil chick with horns and tail on either side of rear wiper.....ooooh! Scary. Sexy! ...I'm confused. What was the desired effect of this? -Scraped and canned.
6) "HALIBURTON" or some crap for (snow? skate? surf? water?) boarding on the rear bumper, .....you know, just in case your Jeep does a lot of 'boarding in it's free time.
7) "GIRLZ CAN 2!" (Dashboard, on glovebox. What can they do? Sing Baritone? Pee standing up? drink whiskey 'til they upchuck? what, woman, what?...... Clarify, please.)
8) The unholy factory white pinstripe that ended with little "8 ball" stickers near the rear hatch. ....Partially covering the factory "4x4" stickers. It's that attention to detail that gets 'em every time.
9) "GREDDY" sticker on radaitor support/fan shroud plate. (Import stickers on a JEEP! Great.)
10) "FU-Q" round euro sticker. -I almost kept that one, but it was over my third brakelight.
11) More NASCAR numbers, a "3" that leaned over to one side with wings and a halo on the vent window, and an "8" leaning the other way on the other vent window.....
12) Fake barbed wire license plate frame holder with non-functional NEON glow bulb. Dragon seat covers and a light up shift knob. -all on the floor, of course.
13) Many, many Marine Corps stickers, as it was bought in Cramped Lagoon, (Camp Lejeune) NC, home of the USMC.
14) Stickers from every used car dealer it had ever been at, to include New Bern motors, Victory auto sales, Lying Larry's Lemon Lot, and a few others.
15) A whole buttload of stickers that I honestly cant, or choose not to remember.
16) SPRAY PAINT! ....Yes, I, too, was a member of the welfare wheels club. Factory rims spray painted flat black, right over dirt, brake dust, center caps, lug nuts, the sidewalls and all.
17) Those really sexy factory "CHEROKEE" emblems that all of the fake chrome had faded off of, and the "4.0 High 0utput" emblem on the back hatch proclaiming to the world what a rare and special powerhouse of an engine resided underhood, so that all of the Corvette, Trans Am, Z/28, GTO and select few turbo'd imports would know to cower in fear when gazing upon it. Scraped and canned.
.....Combine all of this crap with a sagging rear end, tiny P225 75 R15 tires, no lift, peeling clearcoat, a munched front fender, and "carolina pinstripes" (wheeling scratches)..........I swear It looked like an effin' circus freakshow gone wrong. Now, I'm sure my "coolnezz" factor went WAAAAY down once I scraped the "twizz-ted ridezz" sticker and the little kid pissing sticker off, but hotdamn, I swear I got better MPG withpout all that crap on there....... It still has decade-old window tint that has turned purple with age, and that, too will be replaced as soon as budget allows.
I might put a JeepForum sticker on there and maybe my own "USMC" sticker, but that's about it. They look better clean and conservative with a NASTY huge x big lift, IMHO. Nice clean, simple classic body lines that look better shown off than covered up with goofy crap.....again, my opinion.