Registered User
Join Date: Apr 2012
Location: Champaign
Posts: 119
Custom Door Hanger's
---
So I got tired of just leaning my doors up against the wall with a town under them and decided I'd figure out a safe cool way to store my doors and vinyl windows when they are not on my jeep (which 99.9% of the time they are off) So this is what I came up with.
Went to lowes and bought 4 of these:
Measure where I wanted them.... leveled them out... the whole 9 yards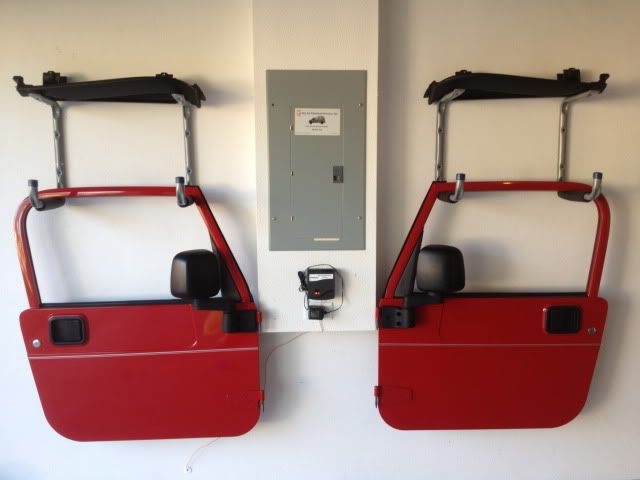 Then I decided to drill in two small pieces of velcro under each arm for the vinyl windows for the side of the jeep.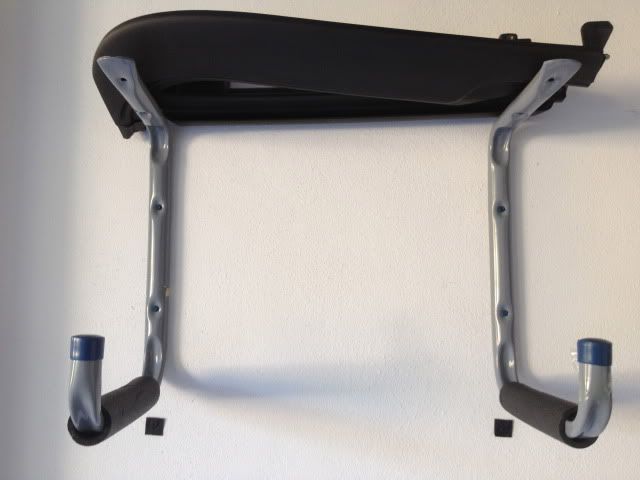 So here is the left side all on the wall and the right side what it looks like empty
Minus on door:
Holding almost everything: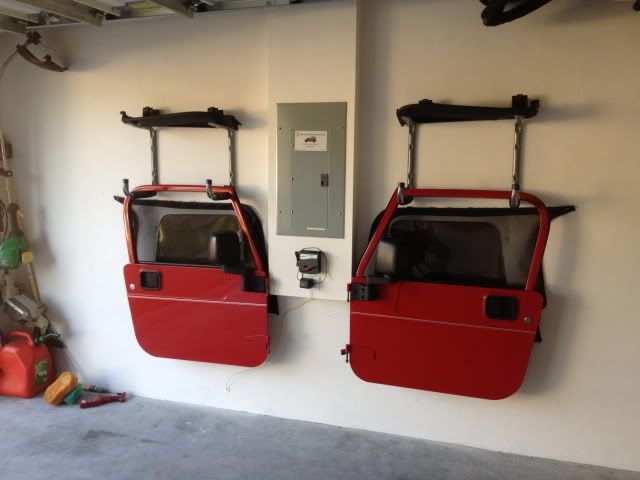 To top it off it even hold the rear vinyl window!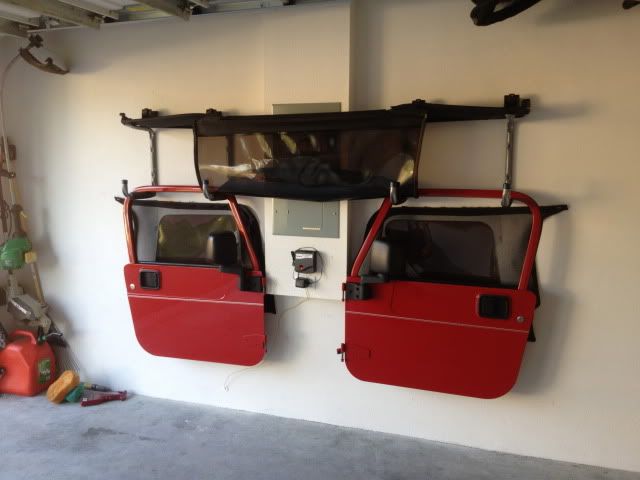 It holds everything and the Jeep still has room to sit inside the garage.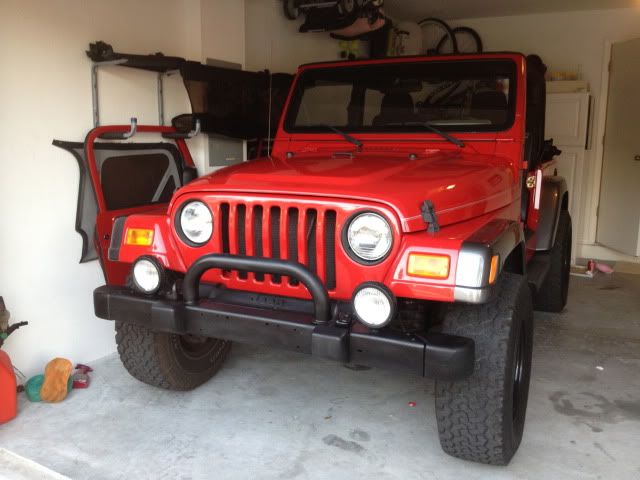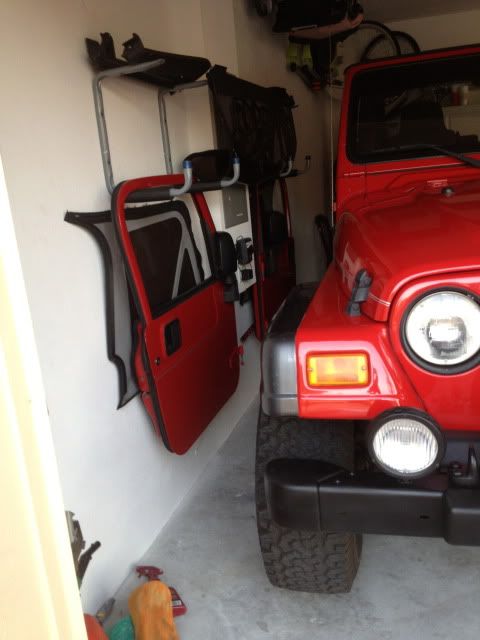 Will that's it for my thread, I hope you enjoyed and let me know what you did for your doors or if you like/dislike mine.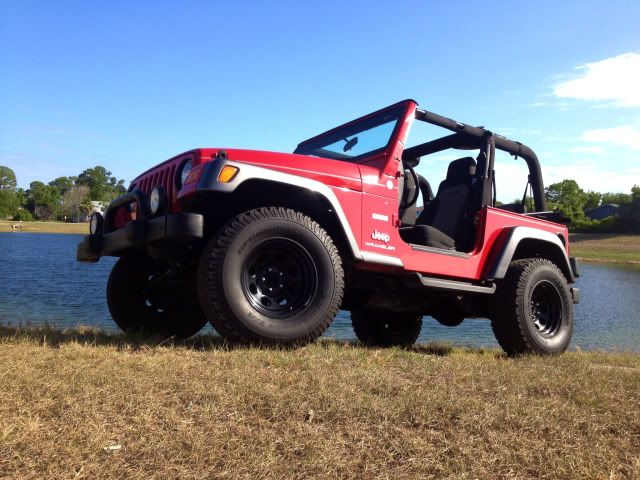 Registered User
Join Date: Mar 2012
Posts: 375
look real good and clean. i like it
Registered User
Join Date: Mar 2010
Location: Westchester
Posts: 5,268
nice! I just throw mine in the living room :-\ lol
---
To view links or images in signatures your post count must be 10 or greater. You currently have 0 posts.
I use to do that but now I have a 2 year old and that just doesn't work anymore!!! lol
Registered User
Join Date: Jun 2011
Location: 40°14′39.92″N 111°39′38.89″W
Posts: 2,218
posted in your other thread thats the same, looks great and I love your little video pic
---
2003 Wrangler Sport
4.5 Rubicon Express Lift|33" BFG KM2s|Ion Alloy 174|And never ending wish list!
yah i was bored and i like working with photoshop when i can
Registered User
Join Date: May 2011
Location: Centennial
Posts: 128
Looks Great!! Just a quick question because I'm about to do something similar. Is there any chance of too much stress on the upper part of the door when hanging like this? Is the door heavy enough to possibly bend the upper door frame?

Has anyone experienced any sort of bending of the upper part of the door frame? (especially if it's been hanging for months like this)
---
'14 Wrangler Unlimited Rubicon
Some people say it will cause it to crack the weld... I personally dont see how a weld like that would be damaged from a 56 lbs door when the weight is evenly distributed however just to be save im going out to purchase some small come along straps to go from the bar around the bottom of the door and back up to the bar, just to take some of the weight off the window frame. I just can't imagine it would cause a serious problem like that when there are plenty of website stores out there that sell mounts that are almost just like this for the exact same purpose. All well like I said im going to do that strap just to be safe. Not really worth a $1,000 Plus gamble... Because my doors will be there for prob 10 months of the year. Living in florida every day is a no door kinda day!!!!
Registered User
Join Date: Apr 2012
Location: Nashville
Posts: 14
Sweet! I've been looking at doing this myself. Great job!
Registered User
Join Date: Feb 2009
Location: manchester ct
Posts: 79
I dont have any pics but i use metal gate brackets for a fence with lag bolts through my garage studs and put a stud support and just slide the doors in just like they would be hanging on a jeep tub it works awsome! Ill try to post pics soon.
Registered User
Join Date: Feb 2012
Location: Pasadena
Posts: 25
FWIW I bought a 2001 and there is a small crack where the upper frame meet the meat of the door, it could have been caused by this type of storage but don't know.
Registered User
Join Date: Jan 2009
Location: Florida
Posts: 1,628
That's a good idea! Thanks for the pics.
Registered User
Join Date: Oct 2011
Location: Fitchburg
Posts: 13
Thank you for the great idea. I plan on doing this in my garage over the weekend.
Currently Active Users Viewing This Thread: 1

(0 members and 1 guests)
Posting Rules

You may post new threads

You may post replies

You may not post attachments

You may not edit your posts

---

HTML code is Off

---