Registered User
Join Date: Sep 2008
Location: UK
Posts: 27
34x10.5x15 Super Swamper LTB's
---
Any pic's of 34x10.5x15 Super Swamper LTB's
Registered User
Join Date: Dec 2005
Location: Pembroke ON
Posts: 2,013
---
2002 Dodge Dakota quad cab V8
2011 Dodge Grand Caravan
Registered User
Join Date: Aug 2007
Location: Winston-Salem
Posts: 2,491
Here ya go on a TJ and two XJ's.
How are you finding these tires for wair? I would be using them to work everyday only a 7 mile drive so not realy much road use.
Registered User
Join Date: Aug 2007
Location: Winston-Salem
Posts: 2,491
They wear pretty quick but not as bad as others. If you only drive 14 miles round trip to work and back then you should be fine. I know offroad they are beasts and I drop them down to 8psi and they work great without coming off the bead. I had them on the TJ for 6 months and they had only wore down about 3/32" and that's with a lot of miles.
Have managed to order a set of 34x10.5x15 Super Swamper LTB's, biggest I could get hold of in the UK at the moment! Although these are still going to take upto 6 week for delivery!!
Looks like i will be driving a TJ resembling a shopping trolley for a few weeks with the 31's and 6" lift!!!!!!!!!
Really anoyed now, placed the order only to get an email reply saying that the price on the web site was wrong and each tire was quite a bit dearer! I think im doomed not to get any big mud tires! lol
Anyway result of this is i have halted the process of the lift being fitted and am going to save the extra cash coming up to christmas and then go for it again!
Registered User
Join Date: Mar 2007
Location: Leesburg,VA
Posts: 1,421
my buddies and my jeeps with ltbs
---
my build up
To view links or images in signatures your post count must be 10 or greater. You currently have 0 posts.
Quote:
The cheapest way to get a significant power increase over a stock 2.5l, would be to pull it out and put in a 5hp briggs & stratton engine.
Registered User
Join Date: Nov 2009
Location: el paso, texas
Posts: 487
bringin this thread back since i used it to make my mind up on these tires
Quote:
bringin this thread back since i used it to make my mind up on these tires
'scuse me for bumping an old thread, but are those 34"x10.5"s? Those are the tires I am planning on getting for off-road use. Did you drive them on-road? If so, how's they hold up?
Jeep looks great, by the way.
Registered User
Join Date: Jul 2008
Location: quakertown
Posts: 447
Nice. Love them tires. I have a set of 33x10.5 BFG mud terrains on right now. I am hoping to be able to complile of set of 34x10.5 LTBs (or boggers) over the next year or so, and have them for off-road use only. The only roads they'll see are on the way to and from the trails.
Registered User
Join Date: Jun 2006
Location: minnesota
Posts: 9,774
On my 98 xj, they are balding and already re-grooved but they still hook like a mo-fo, I cant wait to see what my TSLs on my 96 do since they have a good 75% tread still!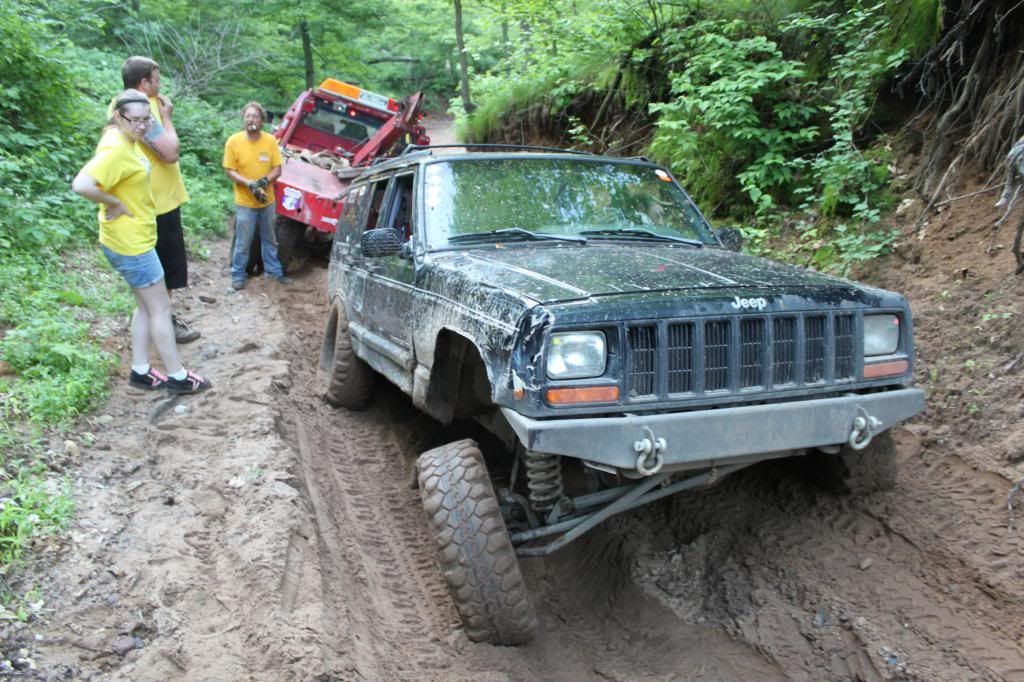 Like I said theyre balding so they dont clear out the best
And if you wanna see a vid of them in action theres one in my build thread which I got linked in my sig
---
1996 XJ on 36" TSLs, 4", locked F/R, stretched
Currently Active Users Viewing This Thread: 1

(0 members and 1 guests)
Posting Rules

You may post new threads

You may post replies

You may not post attachments

You may not edit your posts

---

HTML code is Off

---