Trip Report w/ Pics: Tinkham Rd / Hanson Creek Snow Run 3-16-2013 (WA)
---
.
Tinkham Rd / Hanson Creek Snow Run
Near Snoqualmie Pass, WA

March 16th, 2013
This past Saturday I headed out on what was likely to be the last snow run of the season. This time our group tried a new place: Hanson Creek / Tinkham Rd area. It's between North Bend, WA and Snoqualmie Pass on the south side of I-90.
While we were hoping Tinkham Rd (a popular snow wheel'n spot) was covered in snow, we had to climb a fair ways up the side of the valley before we found any. From there on, though it was a tough climb before we reached our turn-around spot up Hanson Creek Rd (FS Rd 5510).
This run we had a stock JK 4-door, stock TJ, my lifted TJ, two Cherokees, and a lifted and modified JGC.
The snow this time was all wet and soggy and the rigs had great difficulty keeping going. Particularly since we had to stay exactly centered on the tire tracks. Veer 12" off to either side and the tires would "fall off" the compacted snow tracks and sink in.
There was some coaching of the less experienced drivers (which is one reason to head out with a group of more experienced wheelers) and they began to get a feel for how to drive in the deep snow as the day went on. And for everyone all around there was a lot of recovery going on. Whether by tow straps or by winches a majority of the group needed some help at one point or the other.
Eventually we parked the JK on the side of the trail once it really began to struggle, it's weight and stock tires being a hinderance, and pressed on. As the Cherokees and JGC headed up I was helping the other TJ up the trail. Eventually a call came over the radio that the JGC snapped an axle shaft or u-joint. And that one of the Cherokees had torn off his front bumper trying to pull him out.
So, the fellows in the stock TJ took a breather for lunch while I headed up the road aways to assist with recovery. The JGC was stuck good, buried about 3 ft in snow in a big hole of his own creation. I first tried to winch him backwards, then when he was patially out, I drove around in front of him to try to tow him out that way with a tow strap. I ended up getting myself stuck while pulling on the strap. Unfortunately it was just me and the JGC who had winches but with the JGC not going anywhere he was able to winch me backwards and out of my own hole.
We eventually got the JGC out and after the last of lunch decided to call it a day and head down off the mountain. We had reach nealry 3800 ft of elevation and had to limp the JGC down to pavement and home. On the way out we got the other TJ turned around, then did the same with the parked JK (which required another winch tug). While we were doing that, one of the other Cherokees veered off-track and sunk into the snow again, needing a tug.
A few of us grabbed dinner together at Tweeds in North Bend, a diner that was featured in the TV show Twin Peaks. After that the group split up and Nathan and I stopped at Snoqualmie Falls. There is a lot of melt water and rain that is starting to flow down off the mountains and with the construction at the powerhouse all the water is diverted over the falls. I wanted to see what it was like with all that water. Quite cool, actually.
It was a good day but a long day and with a lot of trudging through the snow to help with all the recovery efforts I was beat by the time we got home.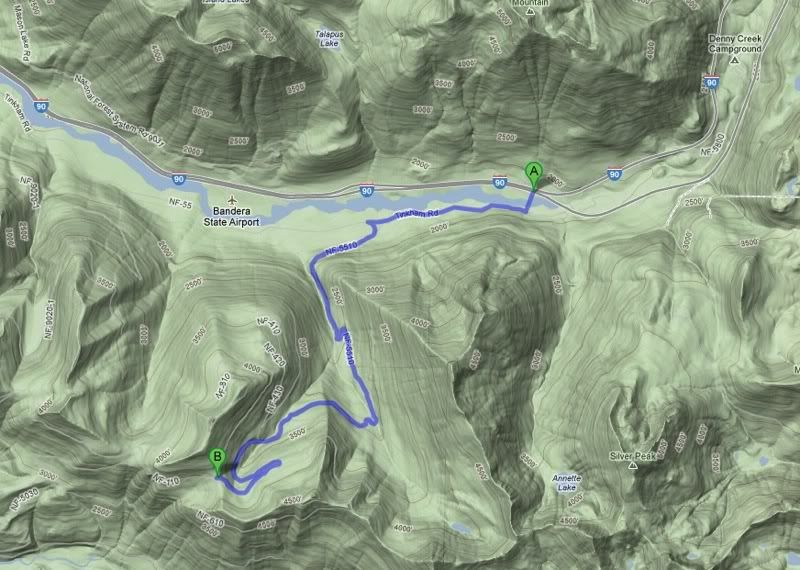 Our route.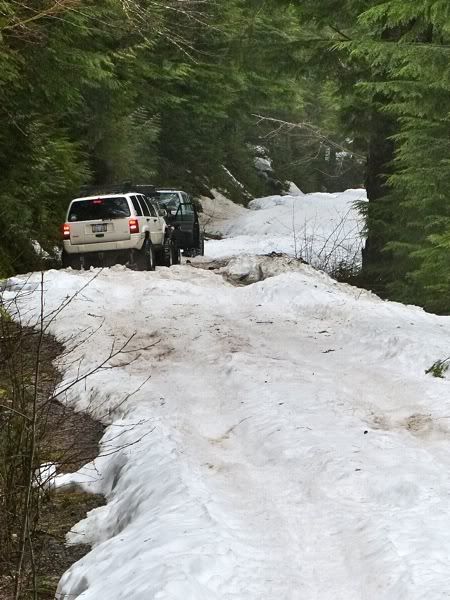 The start of the snow where we aired down and did trail prep.
Hanson Creek Rd (FS Rd 5510) passes under the Iron Horse
Trail (aka John Wayne Trail) which was a convered rail
corridor that crosses the cascades.
This is where we had to park the JK. He made it about another 200 ft, or
a little more than 1/2 way up.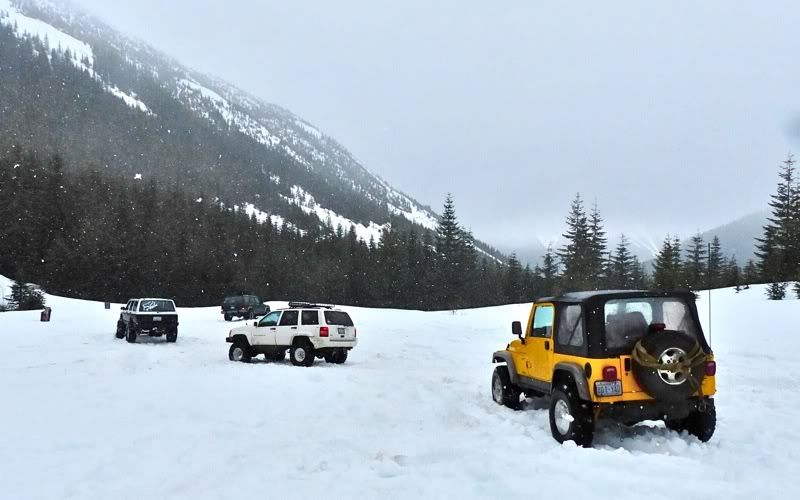 At the turn around spot right after the JGC was winched out.
It was a nice field to play in but with a busted rig we didn't
want to goof around. Besides, the other TJ was waiting for us
about 1/2 mile away.
Lupinseacam.
There were a few spots we wanted to make sure we didn't slide off the trail.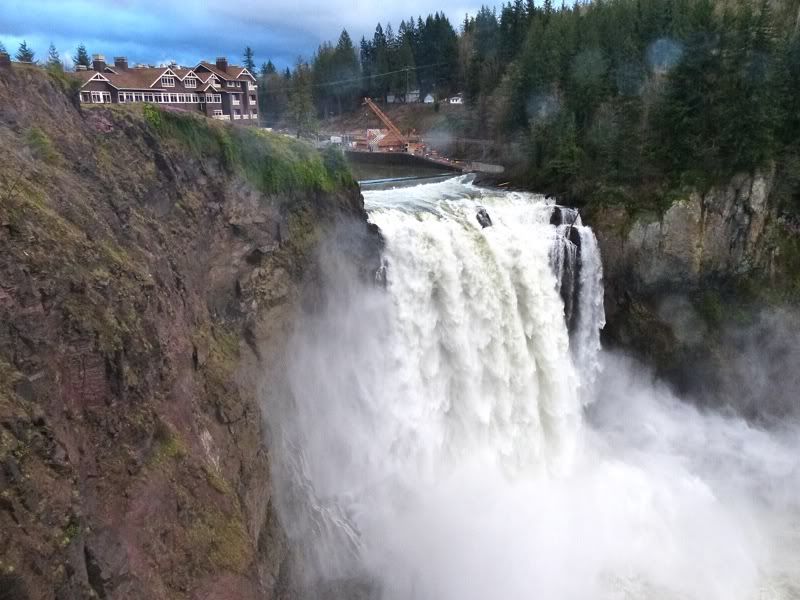 Snoqualmie Falls with a torrent of water going over it.
.
---
- Jay
Registered User
Join Date: Jan 2009
Location: Duvall
Posts: 185
Nice trip report as usual!
Registered User
Join Date: Jun 2007
Location: Total
Posts: 9,853
Nice report. I could do without snow until December.
---
Member of
JGW (Jeff's Gone Wheeling)
and
IndyORV
My Old YJ Build
My Mods
My YouTube Channel
Moab Trails I've done:
Onion Creek, Long Canyon, Dome Plateau, Top of The World (2), Fins-N-Things (2), Poison Spider,
Golden Spike, Gold Bar Rim, Hell's Revenge (2), Baby Lion Back, Cliff Hanger, Moab Rim, Kane Creek Canyon, Strike Ravine
Shortcuts to key points in my build:
MTRk's
OME 2" HD Lift
Antirock
Skidrow steering box & radiator skids
LoD rear bumper
Rokmen Mercenary bumper w/Superwinch
Rokmen sliders
Skidrow engine skid
Rampage Top
CB set up
Custom trunk
Rokmen 1" Billet spacers
JJ track bar
Rokmen Adjustable Control Arms
Currectlync Steering
Rokmen Trail Corners
Metalcloak Overlines
Kentrol Hood Latches
JK Turn Signals
Xenon 4" Flat Flares
Hood Decal
Duratracs
Derale Tranny Cooler
DieHard
Factor 55 Thimble
Ten Factory Front Chromo Shafts
Get your build sheet here.
Registered User
Join Date: Sep 2012
Location: Snoqualmie Pass
Posts: 32
You may get your wish soon. The way its been raining, this already low snow pack will be gone soon.
---
- Jeff

List of Mods
1.
Registered User
Join Date: Jun 2004
Location: BREMERTON, WA
Posts: 659
Ohh wow, I need to get on JF more often. This seems like a neat spot, and it's rather close to Ellensburg too.

Nice write-up Jay, I'm bummed there aren't more photos.
Currently Active Users Viewing This Thread: 1

(0 members and 1 guests)
Posting Rules

You may post new threads

You may post replies

You may not post attachments

You may not edit your posts

---

HTML code is Off

---