.
Manastash Ridge (WA)
Post-Burn Wheel'n Trip

October 11th - 14th, 2013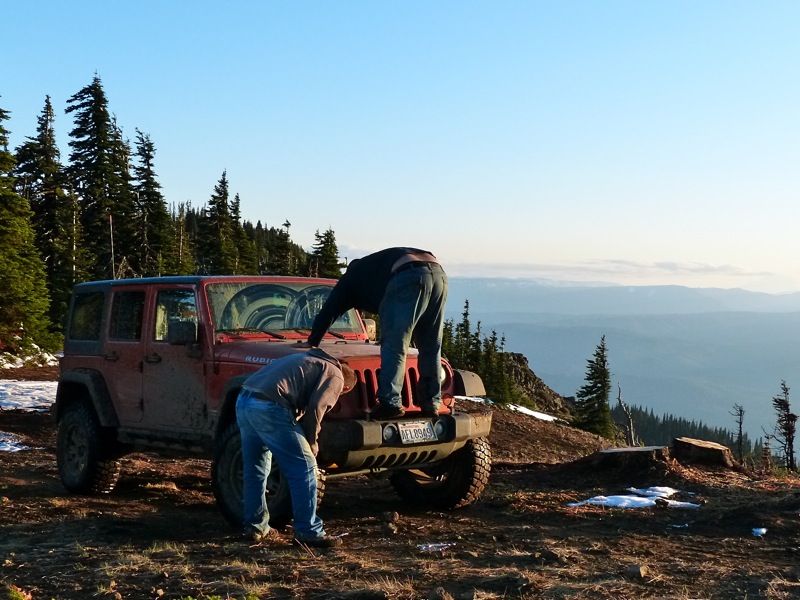 For the last several years my friends and I have been making an annual Jeeping / camping trip happen. Last year we headed out at the start of October and nearly froze with temps dropping at night into the low 30's.
This year we told ourselves it was going to be different. That we were going to do it earlier in the season when it's warmer. Yet we ended up going out two weeks later than last year. Go figure, life happens . . .
Friday
Also part of the last minute, hasty plans was to head out Friday morning. When Friday morning rolled around it turned out one of our number couldn't head out until Saturday. Not wanting to burn up a day of PTO doing nothing, my other friend and I decided to do a road trip to go pick up his Jeep.
My friend had his rig getting tuned up at Hazzard Fabworks in Spokane. We completely stuffed my Jeep full of camping gear, literally: the roof and windows were bulging outward and my friend had more gear under his legs. Thus we drove 300 miles across Washington state from Seattle to Spokane. Oh, and at a snail's pace, too (my rig doesn't like going above 60 mph).
We arrived in Spokane about 6pm and spent a couple hours BS'n with Luke, the owner of Hazzard Fabworks. Then stopped at Walmart for some long underwear (guess what I forgot), and then headed out at 9pm, back to Ellensburg, 180 miles away.
Stopping once for gas on the way and topping off again in Ellensburg at 12:30am, we did the sensible thing (for Jeepers) and headed up into the mountains to find our campsite.
By 2:15am we pulled into the campsite and by 2:45am we had the tents set up and were sacked out. Oof, long day of driving. First, 500 miles of interstate topped off by an hour and a half of mountain roads and Jeep trails in the dark.
Saturday
The hasty plan we had worked out the day before was my friend and I would go get his Jeep on the other side of the state and then set up camp. Then on Saturday our other friend would join us about noon in Ellensburg. It might have seemed the sensible thing to stay in a warm hotel overnight but, damn it, Jeeping. And Camping.
So we woke up 5 hours later at 8am to give us time to finish setting up camp, cook breakfast, and backtrack about an hour and a half into town. Well, we made it into town but the rest of everything was quite half-assed.
When we awoke there was almost 2" of snow covering the ground and our tents. Hm, not an improvement over last year other than it was warmer somehow. Breakfast was a few Twinkies and beef jerky. And we spent some time tying up half of a big *** tarp. Without any idea of more snow was expected we left the untied side draped over the camping gear we unloaded from our rigs.
It was a nice easy trail off the trail network back onto Berber Springs Rd . . . other than it was hard to tell where the trail was at times under the snow. Did I mention I also forgot my trail map at home? There was an etherial quality as a low cloud hugged the ridge top obscuring views beyond a few hundred feet.
We met our friend right on time. Then one our our rigs sprung a fuel leak. We spent a little bit of time tracing it down to an improperly set hose clamp from a year or two ago. Then grabbed burgers in town. More screwing around ensued as we tried to find firewood in town. With the burn ban lifted due to the wet weather we were definitely having a proper campfire this year.
With two rigs loaded with firewood we made out way back up to Manastash Ridge. We retraced out steps back up Berber Springs Rd up to a point. Then decided to try a different route back to the campsite. After missing a couple other turns . . . or maybe not we found another trail that went in the vague direction we wanted to go. Shifting down into 4-Lo we started the climb up the steep trail. In the dry it wouldn't have been much to write home about, but with some freeze-thaw action loosening up the normally powdery dirt trail and making it wet? Yeah, traction was a little challenge.
It turns out that this particular trail was a back way in to Moonrocks, a rocky out cropping well known for NW Wheelers. We spent a could hours screwing around on the rocks, climbing here and there. Some fellow JFers showed up and it was great to talk to them for a while.
The sun sets fast in the winter as well as in the mountains. Before it got dark we motored back to our campsite near Funnyrocks. When our newly joined friend saw how we had rigged the tarp up he set about mildly mocking us. Fair enough. He's a rock climber and more knowledgeable about knots. With him here at the campsite we got the tarp very nicely set up and the rest of camp established. My cargo deck folded out into a table and my chuckbox formed the rest of the kitchen area. A massive pile of firewood kept our only source of heat fed throughout the trip.
Sunday
Sunday we got up late and (for some reason I can't remember now) took forever getting our selves out of camp and on the trails. The goal was to run down the Four Fingers, take the 1708 down to Lillypond Lake Trail, then Kaner to the ridge and Tip Over and Tripod Flats Trail back to camp.
It seemed reasonable about noon / 1pm when we set out.
But we goofed around at a few obstacles for a while. Oh, and Lillypond Trail was a real bear to get up in spots due to a very slick, yet steep trail surface. Probably the trickiest part was the snot slick bridge that would have dumped us off it's 3 ft high edge if we didn't hit it JUUUUST right. We did hit it right but it took each of us many many tries.
Then 100 yrd later there was the slick, steep hill climb that probably took 20 minutes to get up including lots of throttle, momentum, and some winching.
At last we reached Lillypond Lake. Almost halfway done with the trail loop for the day. Except, hm, we spent a lot more time goofing around than we realized. I think it was around 3:30 or 4pm at this point and we had yet to run Kaner up to the ridge. No matter, we pressed on.
At the top of the ridge was what we've nicknamed "Boulder Alley." It's a real rocky section that's been getting hogged out the last few years. It gave us some trouble last year so this year we all wanted revenge. Without needing a winch we got all three rigs through. Yay. Good thing too as the "easy" by-pass was covered in a half-foot of snow hiding lots of beach-ball-sized rocks perfect for bashing into the undercarriage.
It wasn't much beyond this point that we entered the burn area. Earlier in the summer the ridge had a wildfire on it from a lightening strike. It slowly burned several hundred acres and shut down the trail system for much of the wheel'n season.
The fire was out but wow, what damage. The whole area between Manastash Ridge down to the Shoestring trail all the way over to Tripod Flats was gone. There wasn't any vegetation left on the ground which was bare dirt and ash. The only thing left were the tree trunks which stood as a forest of black spikes. A modest later of snow blanketed the destruction.
By this time the sun was setting and we wanted to get back to camp. So on we went. The game plan was to head eastward on the Manastash Ridge Trail, then cut down onto Tipover and over to Tripod. The going wasn't bad at first as we followed some other recently laid down tire tracks. Someone obviously went this way,how bad could it be?
Right.
When we left the ridge trail we left the sun behind as it dipped below the Cascades. There was a little twilight left but we'd be doing some night wheel'n before long. Thank goodness for those tire tracks. Normally I might be up for some night wheel'n but not this time. Before we reached Tipover trail we were motoring along in darkness. The trailscape was (almost) completely alien to me and I've been coming up here for well over a decade now. My friends were still learning the area. The burned tree trunks leaned over precariously, some wiggling noticeably as one of our tires would drive over a root or rub a trunk. We had to make a few detours around fallen logs too tall to drive over. But that changed when we finally reached Tipover trail. For a good hour and a half, maybe two hours it seemed like we'd go 150 ft, then stop and clear the trail, go another 150 ft and have to detour and thread the rigs through the trees. All in nearly pitch dark. It was nuts. My friends did awesome clearing the trail and route finding when we couldn't clear the trail. I felt very useless with my broken hand. Oh, did I mention I went on this trip despite recently breaking my hand? Thank goodness, again, for the tire tracks we were still following.
After hours in the dark we got back to camp around 9:30pm. Time to chill with a hot spaghetti dinner and settle in to a heated game of Monopoly. That was fun. We kept messing with each other and of course everyone always has their own set of rules. Which proved amusing for two out of three of us who stuck to the letter, if not intent, of the rules at the expense of our other friend.
Monday
Monday rolled around, the day we were to head home. I can't really remember what we did at this point. I think it was mostly fart around, pack up camp, eat the rest of the junk food and Coke, and then heading out.
It was a bit of a lazy drive home for me. We convoyed from where we hit I-90 at Thorp to Cle Elum where we fueled up. Then we went our separate ways. On the western side of the Cascades I took the valley highway from Snoqualmie Falls through Duvall and then home to Bothell. It was a very pleasant drive by-passing the rush-hour mess through Bellevue. A nice finish to another fun wheel'n and camping adventure.
Manastash Photo Album
Saturday morning we woke to some snow fall in our campsite.
The drive out on the trail to meet our friend that morning
was erie and beautiful.
Saturday afternoon we reached Moonrocks.
The weather always looked forboding throughout Saturday
but there was no more snow at least.
Creeping through the (easy) canyons at Moonrocks.
Playing in the rocks is very deceptive. Ground clearance needs to be
checked as does pitch and lean.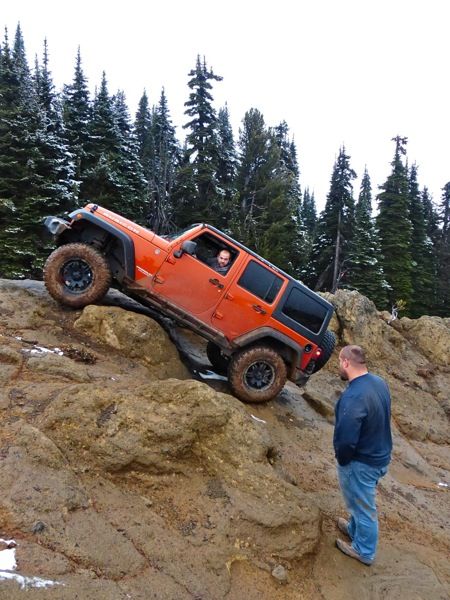 Hm.
Moonrocks, our campsite was in the background
near Funnyrocks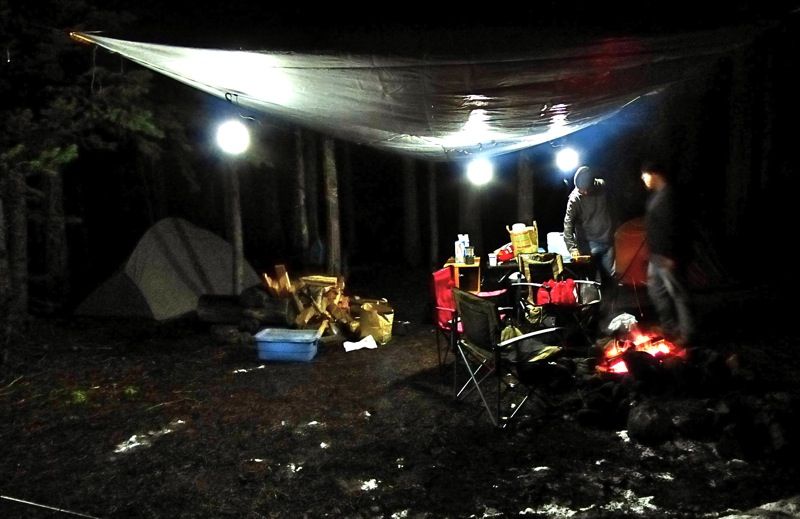 Camp all set up.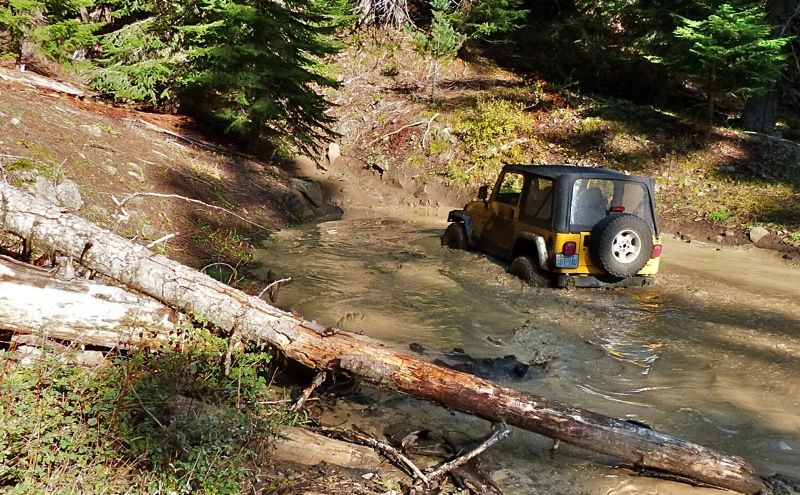 No by-pass for this puddle on the Lillypond Lake trail.
--- cont ----
.