Quote:
Originally Posted by
Gymguyjeep
Great trip and pics. I also enjoy the wide open spaces when jeeping. Some of those pics remind me a lot of the Big Bend area in Texas.
Thanks! I visited Texas with my Wife and our friends from Del Rio, TX a few years ago, and I really want to explore the Big Bend area in the near future. Here are a few more photos of our trip to Baja.
Our friend Russ wrote this excellent trip report. I'll repost here - Thanks to Russ for the excellent writing!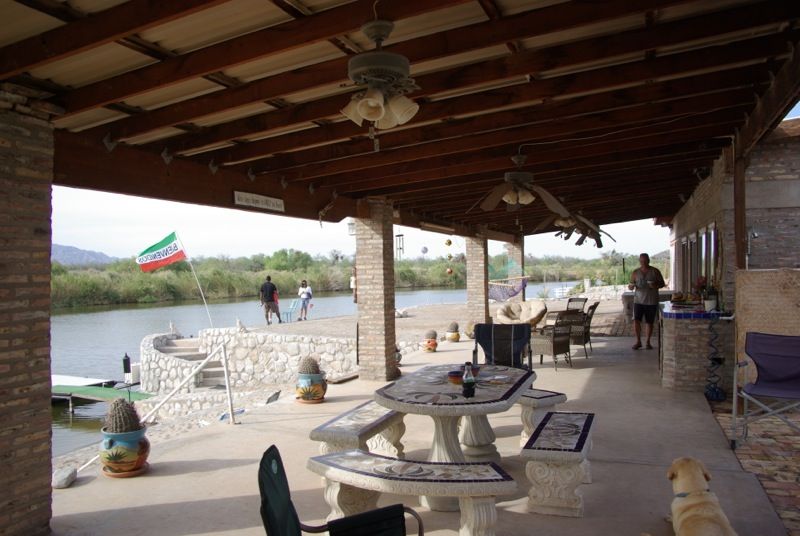 Mick gave us a tour of the neighborhood as we headed to the Pemex station in Durango to top off our tanks and gas cans, then he gave us a boat tour of the Rio Hardy. On the boat tour we were joined by Mick's wife, Pen, and his brother-in-law and sister-in-law, Scott and Gayla: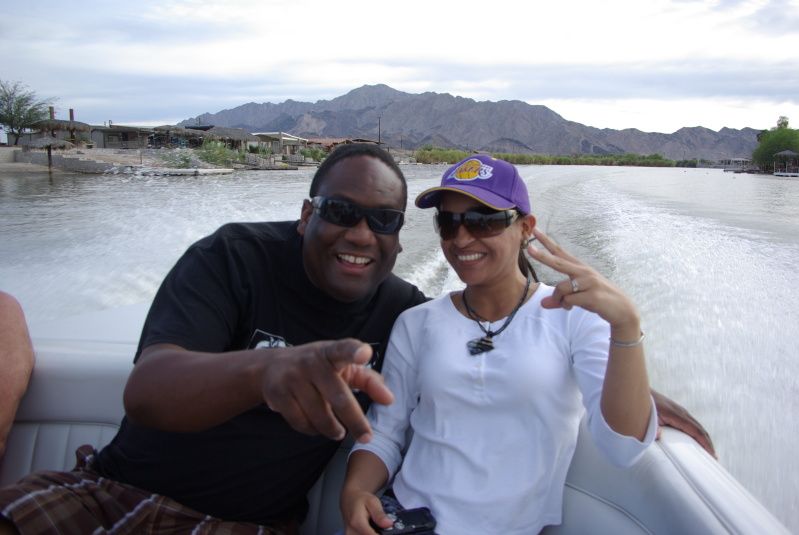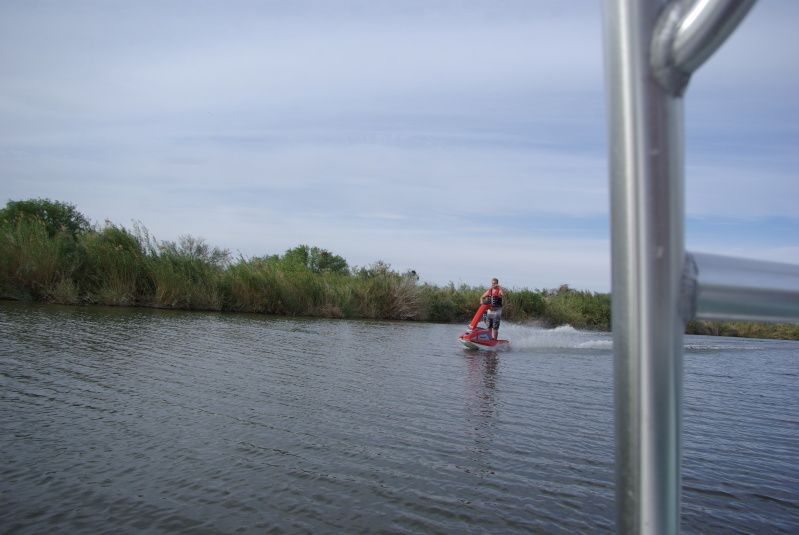 On the boat tour, Mick pointed out the damage from the 2010 earthquake. Because of the high water table, the soil "liquefied" so damage was widespread. The quake damage to this home has yet to be repaired. Mick said that his own home shifted twelve inches and his deck shifted eighteen inches during the quake: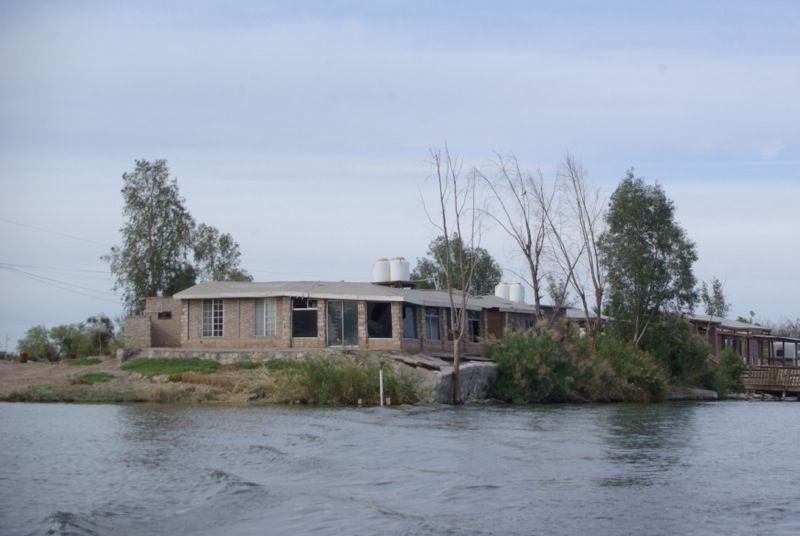 We watched the sunset from the deck as Mick prepared our dinner: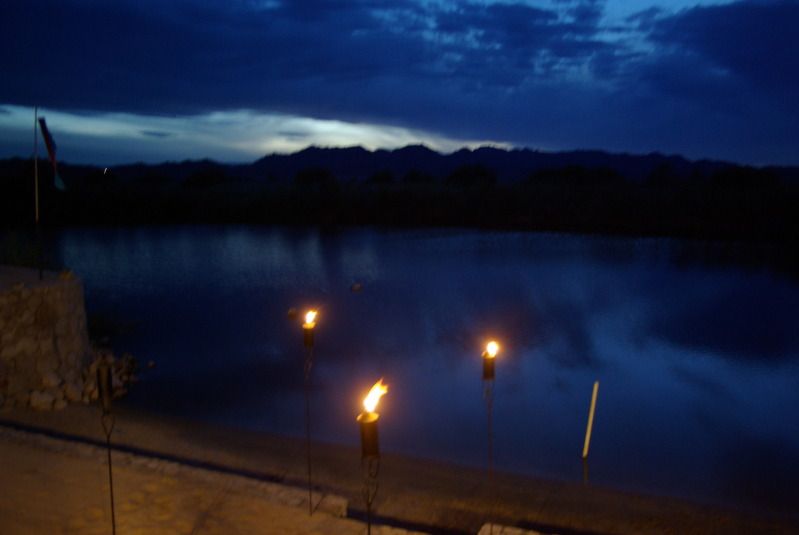 After dinner, we sat around a campfire and waited for Chris (CG) and Marco (TJMarco) to arrive from Tijuana. They arrived shortly before midnight, and everyone retired for the night.
At sunrise on Saturday morning the sky was overcast but it cleared by mid-morning and remained sunny the rest of the weekend.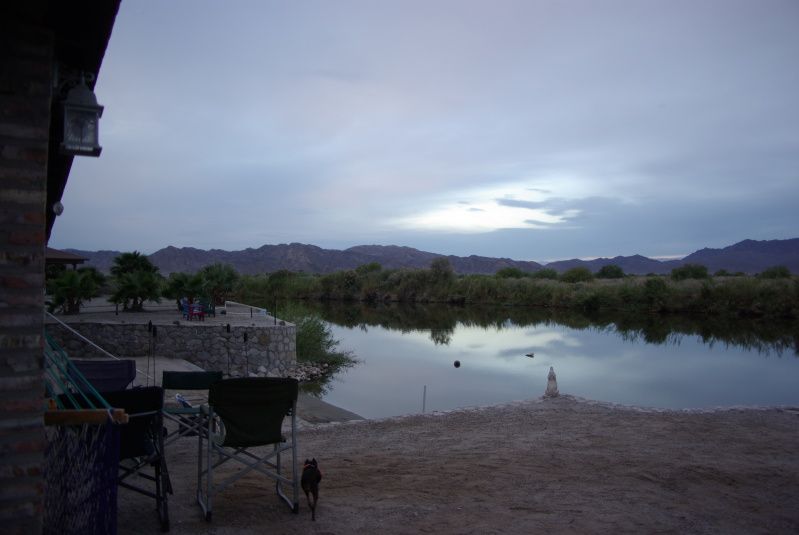 The plan was to head west from Rio Hardy, cross the Sierra El Mayor and Laguna Salada, stop for lunch near Cohabuzo Junction, head south along Arroyo Enmedio to intercept the Baja Pole Line Road, then follow the Pole Line Road eastward to MEX-5. This was the route pioneered by Neal Johns on the 2004 Pole Line Road run. Mick led the group through the Sierra El Mayor to Cohabuzo Junction. Mick's Ford Ranger is in the lead, followed by Scott's Range Rover, Ken's Jeep Wrangler, Chris' Jeep Wrangler, and Marco's Range Rover: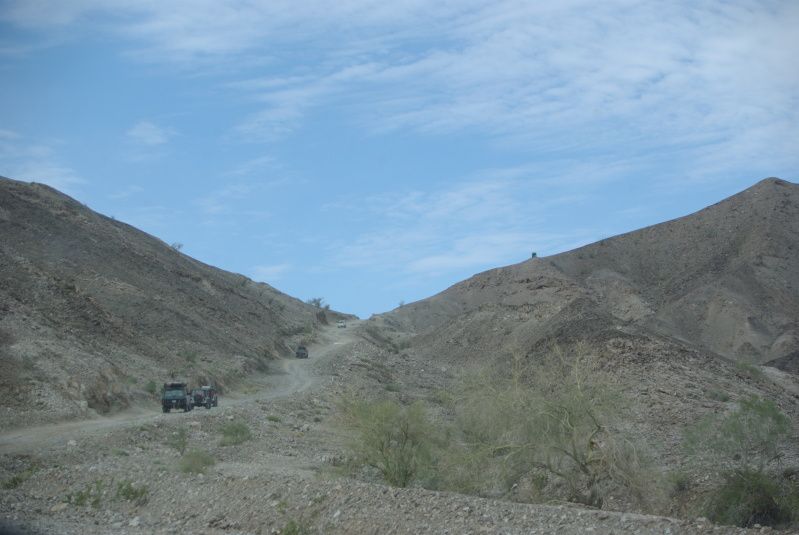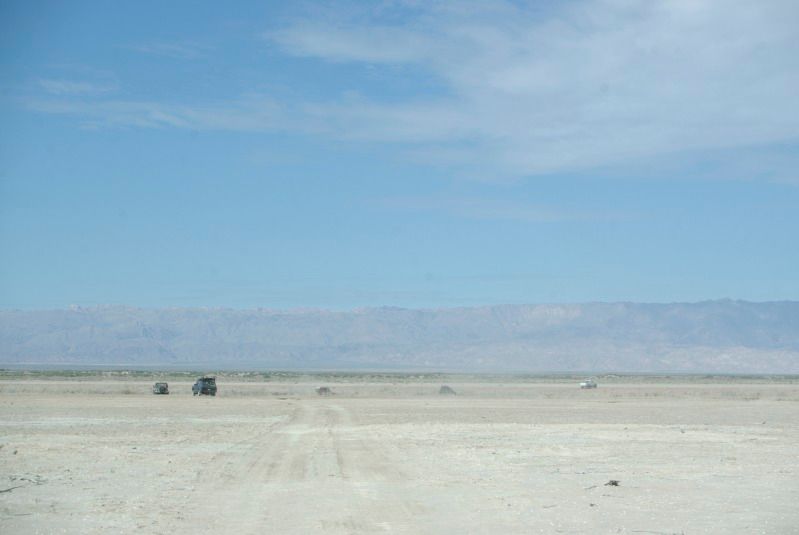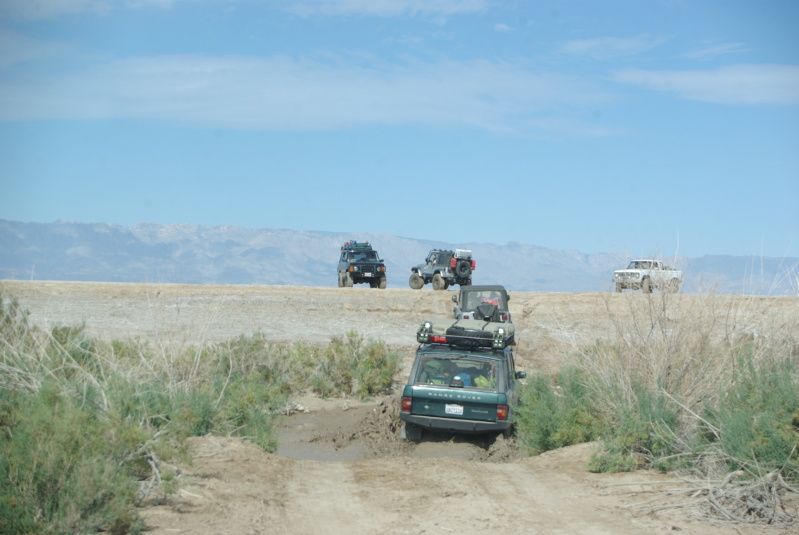 After lunch at Cohabuzo Junction, Ken took the lead and we headed south along Arroyo Enmedio to intercept the Pole Line Road. Ken is in the lead, followed by Chris' Jeep Wrangler, Mick's Ford Ranger, Scott's Range Rover and Marco's Range Rover: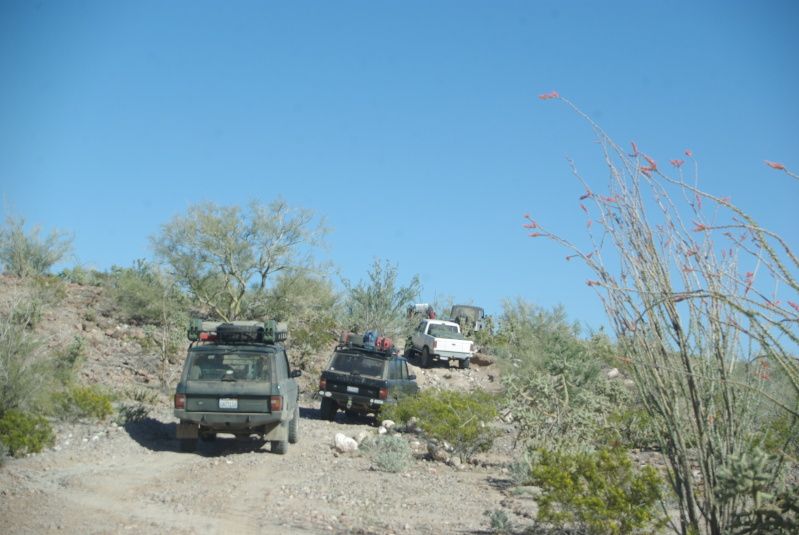 We encountered some minor mechanical problems. Ken complained that his steering wheel was no longer centered, and we found that his alignment shop had not properly tightened the clamp on the drag link adjustment sleeve. Mick's engine stalled twice. We determined that the problem was fuel system related, but we never found a definitive cause. His fuel pump was working, but there seemed to be a vapor lock on the suction side of the pump. After cooling down for a few minutes, his engine resumed running and it ran all day Sunday with no further problem.
We reached the Pole Line Road. In this picture, Chris' Jeep Wrangler is followed by Mick's Ford Ranger, Scott's Range Rover and Marco's Range Rover: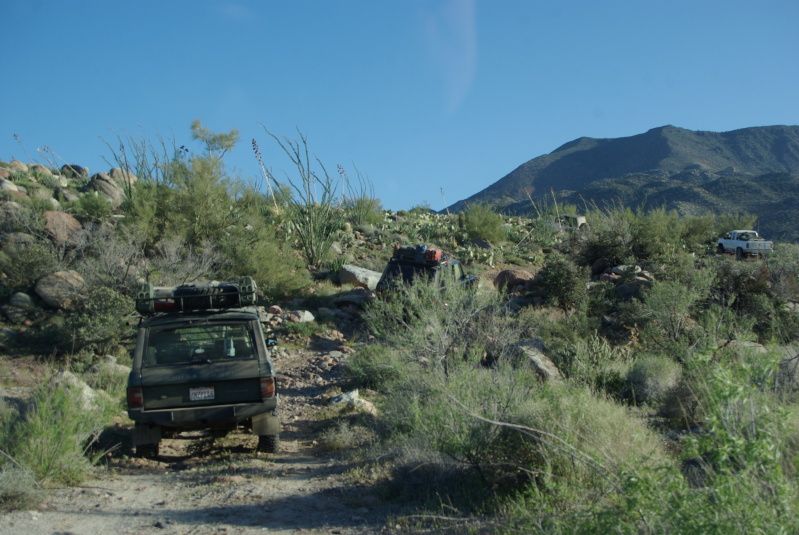 A beautiful view of Arroyo Enmedio from the Baja Pole Line Road:
More Pole Line Road pictures: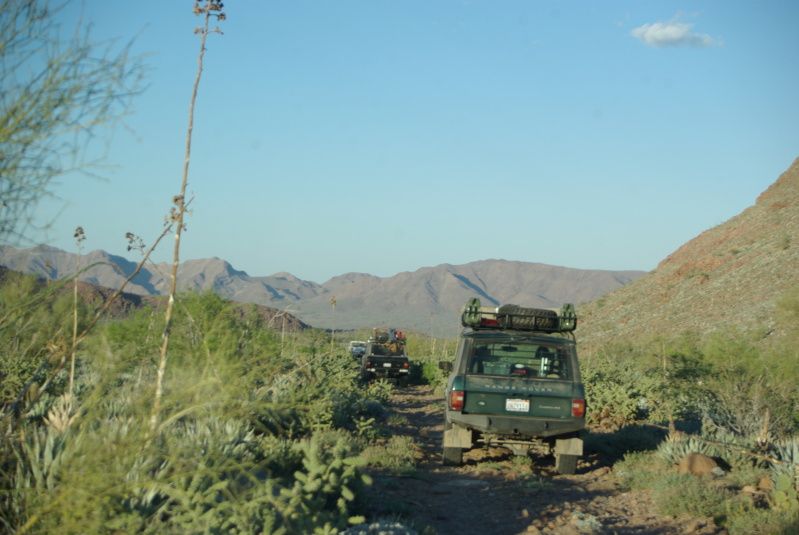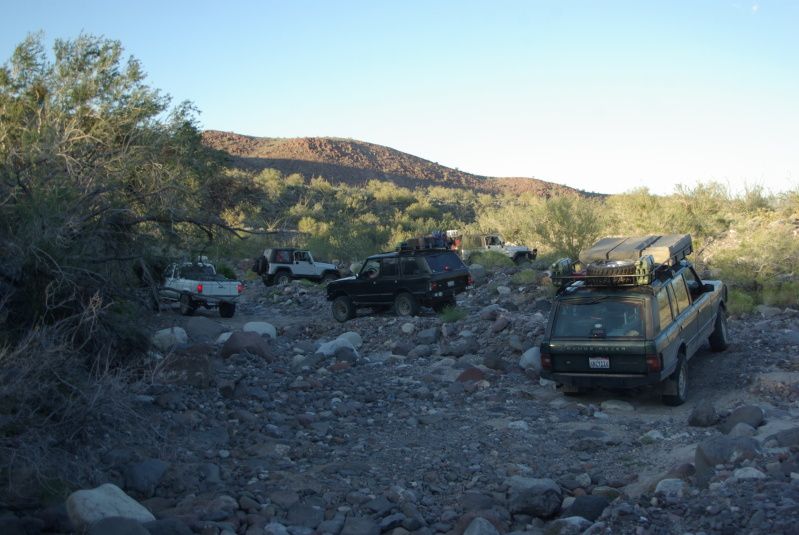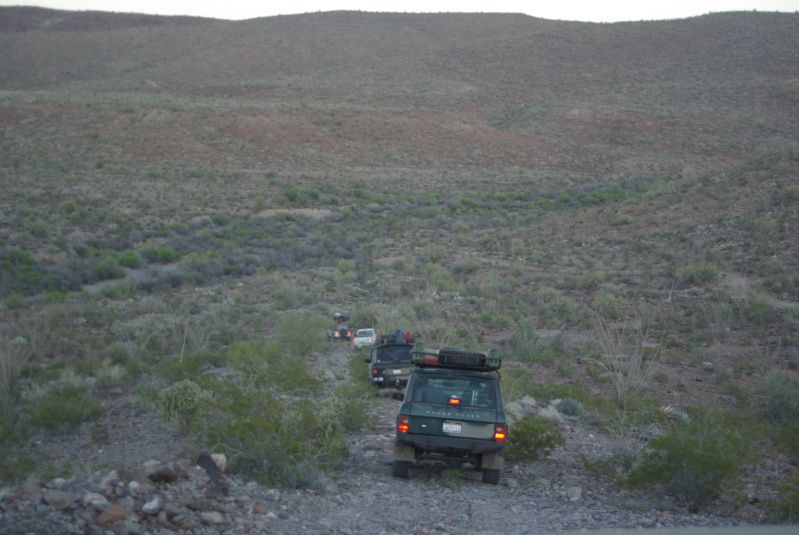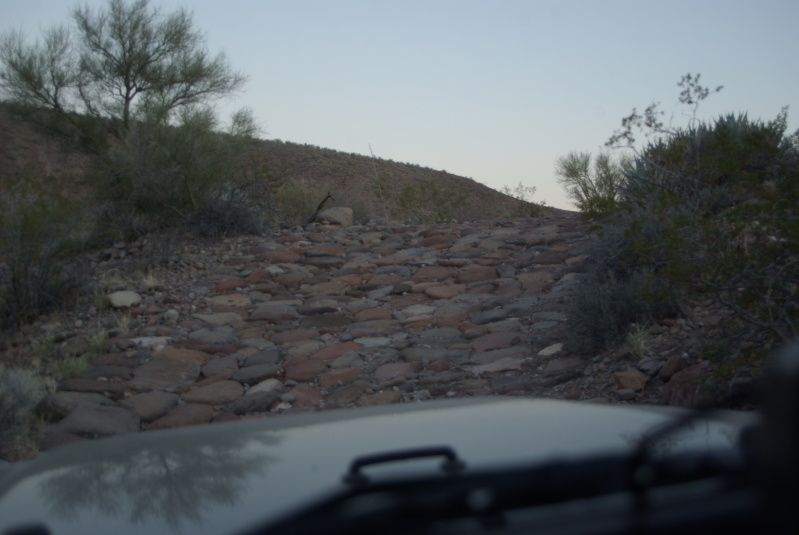 We set up camp on a dry wash in Cañon Enmedio. The canyon provided us shelter from the strong westerly wind that blew across the exposed ridgelines.
Easter Sunday dawned sunny and clear.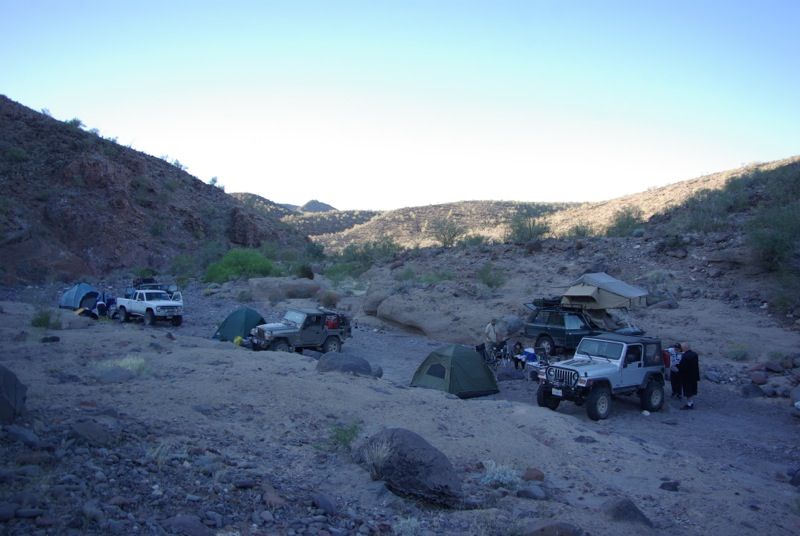 Our departure from camp was delayed briefly while Ken investigated the source of a knocking noise from his suspension. He discovered a broken bolt on a rear upper shock mount. He was unable to replace the broken bolt so he removed the shock absorber and we were on our way:
I remarked that I had not yet seen a single telegraph pole since we reached the Pole Line Road. When we arrived at the base of Basketball Hill, Ken made sure that I saw the remnants of some poles:
I had expected to find a lot of basketball size rocks on Basketball Hill, but there were not many rocks on the trail: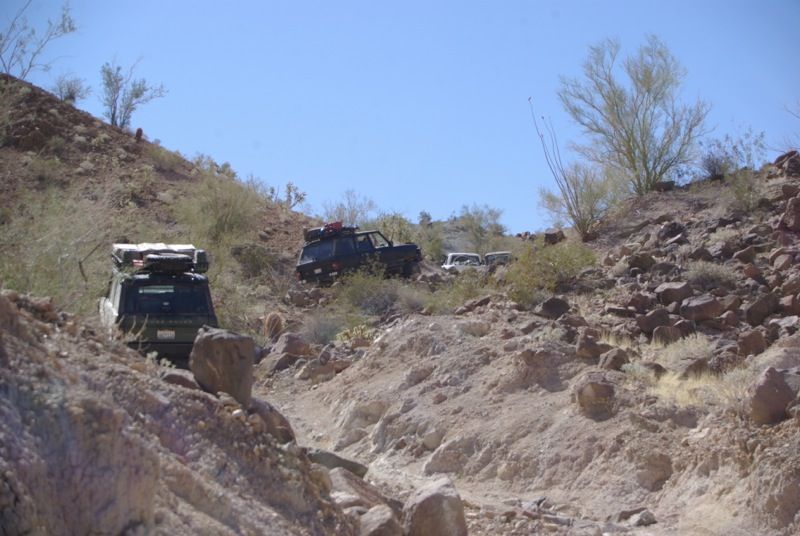 Ken pointed out two more poles in Cowboy Canyon: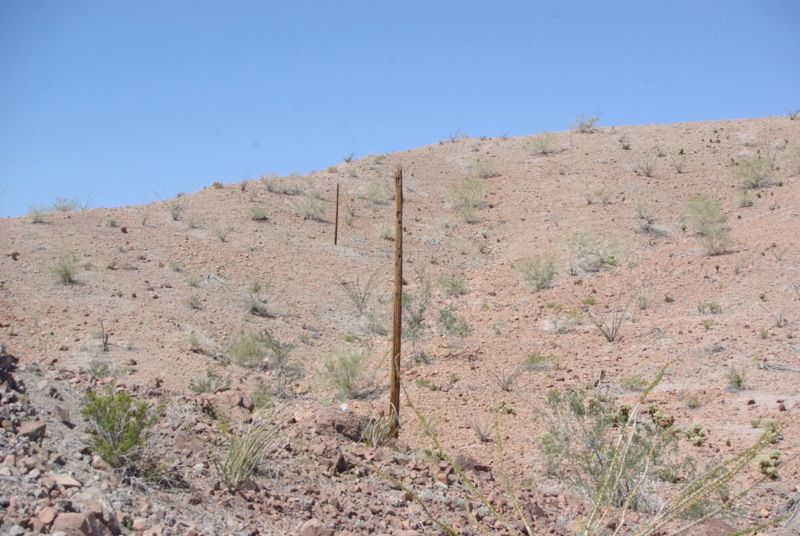 Sierra Las Pintas and MEX-5 in the distance: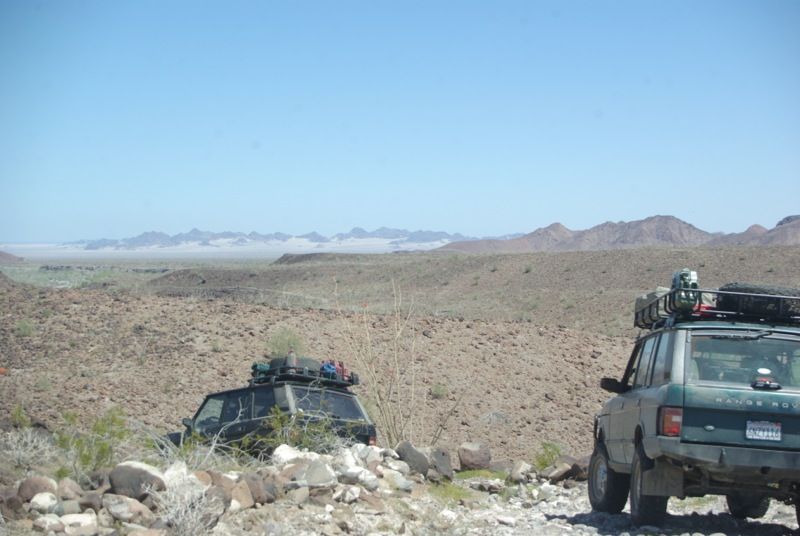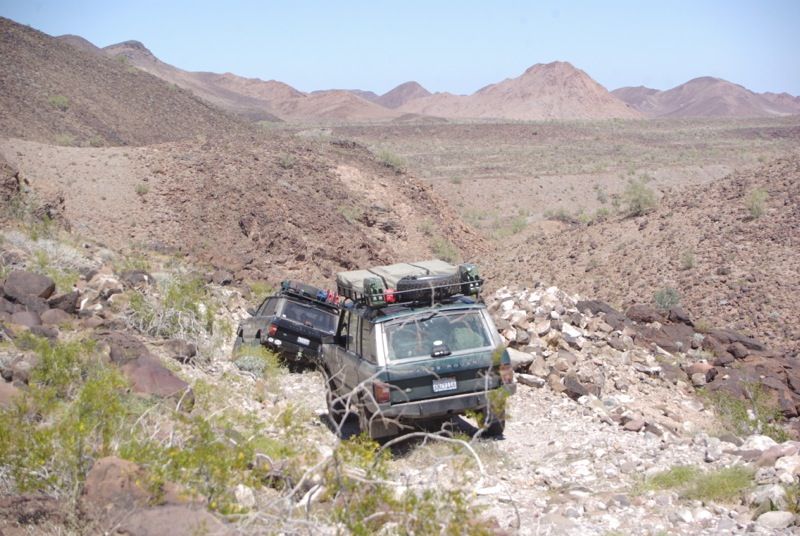 After a stop for lunch near the mouth of Arroyo Grande, we left the Pole Line Road and followed a trail that led north to Ejedo José Saldaña and then to MEX-5: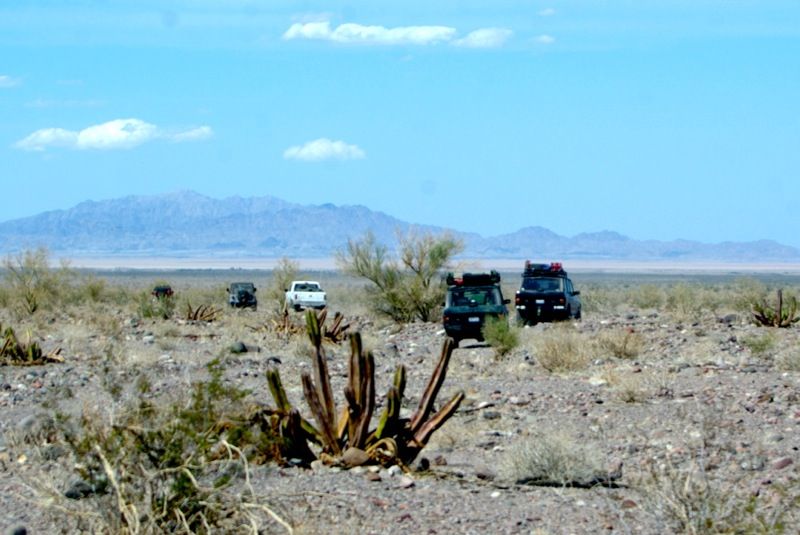 Just before reaching the highway we aired up our tires and headed to Campo Mosqueda on the Rio Hardy for dinner: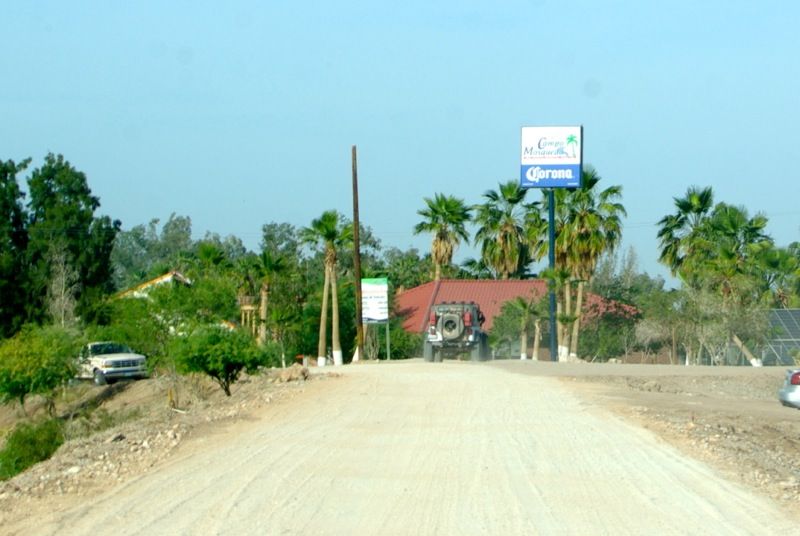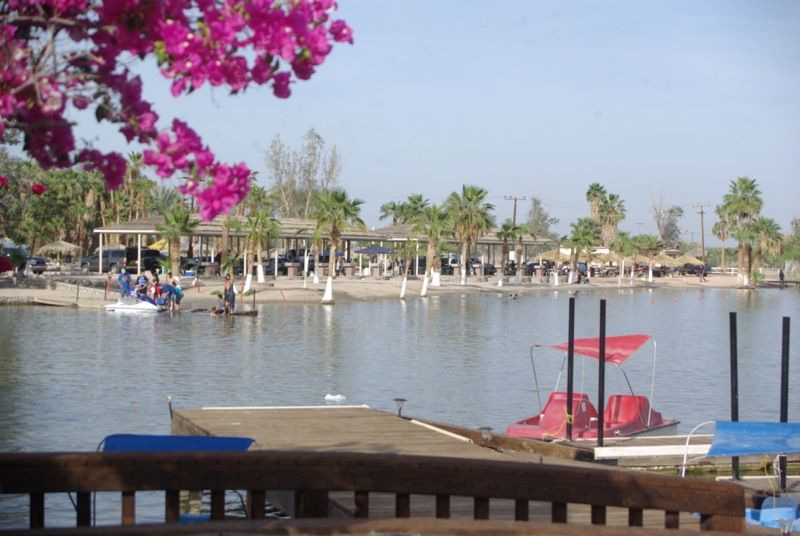 After dinner at Campo Mosqueda, we returned to Mick and Penny's casa on the Rio Hardy. While Mick took the others on a boat ride on the Rio Hardy, I stayed behind and washed the mud off my Jeep, then took a dip in the river to wash the dust and dirt off my body. Mick started a campfire, but everyone retired early. The next morning, we reluctantly said our goodbyes and headed home. Chris and Marco returned to Tijuana. Ken, Leidys and I crossed the border at Mexicali West. It took us just under an hour to cross the border. We traveled together to Cabazon, then Ken headed home to Riverside while I continued to Los Angeles. I had a wonderful time and thank Ken for organizing the trip and thank Mick and Penny for their hospitality.