New ORV Park Grand Opening - Reiter Foothills (WA) 11-17-2012
---
.
Grand Opening of Reiter Foothills ORV Park
Near Gold Bar, WA

November 17th, 2012

The Washington State Dept. of Natural Resources (DNR)just had a grand opening for a new ORV park east of Monroe, WA (near Gold Bar, WA). For decades guys have been wheel'n out in the woods out there but it's always been a no-man's land. The trails criss-crossed over a half dozen different land owners (some private, some public), and there was no clear law enforcement jurisdiction so . . . pretty much anything went. The trails were fun but there was also a lot of bad stuff that went down with wild bonfire parties, dumped stolen cars and trash, etc.
About a decade ago some of the local 4x4 groups had started working with the State to get it converted to an official ORV park. The DNR is very interested to move ahead with the project despite opposition from various green and environmental groups. The state agency wants to use it as a demonstration project to show how 4x4 trails and ORV areas can be sustainably built.
Mostly, this involves actually "building" the trails.
Yeah, they've have engineered specs, construction drawings, and a landscape architecture firm working on this. On one hand, I do this a lot
as it seems to be ridiculously over the top for what are a bunch of dirt trails out in the woods. However, the DNR is worried about erosion (fair enough) and that the trails get too chewed up. . . which is what everyone who drives on them actually likes. In any case . . .
So they have been trying to officially plan and build Jeep trails.
The "Old Reiter Trail System" ranged over about 4,000 acres of land and had ~16 miles of 4x4 trail. And who knows how many motorbike trails. There were some river crossings, and plenty of other smaller stream crossings. When the DNR came through and surveyed the whole area they determined where the existing trails were was not ideal. Actually, talking to the DNR officials, this is probably the single worst place to have an ORV park: LOTS of water run off, lots of streams and creeks, soft soils, steep slopes, oh, and it's right over an aquifer recharge zone for the city of Index, WA.
But it's the land they had to work with.
The DNR shut down all the old trails and have been working the last two years to plan and develop a new trail zone away from the most problematic environmental areas. All 4x4 and motorbike trails are being relocated to about 1,000 acres on the eastern end of the site. It's much more compact area and there will eventually be a whole bunch of tight loops. There will only be about 4-ish miles of 4x4 Jeep trails but apparently they are going to be some really challenging trails so that you might only get through about half of that in a day. Sounds like it'll be a great place for rock buggies.
November 17th was their grand opening of Reiter Foothills ORV area. The DNR was there, some county sheriffs, a few of the local 4x4 clubs had set up some pop-up shelters and had food and beverages, and there was a questionnaire there from the DNR soliciting feedback on the trail. There is a reason they only opened this one short trail, they wanted to try it out and get feed back before they built anymore. . . that, and probably budget constraints also played a roll.
They had a big motorbike loop trail set up and about 900 ft of a Jeep trail. While not very long at all I was quite impressed with the 4x4 trail. They had a bunch of large rocks staggered on either side of the trail and the trail was only wide enough that you basically had to drive on the rocks. There were pull-outs / wide spots about every 300 ft so two-way traffic could pass eachother. And a nice mixed pile of boulders for the rock buggies to crawl on (I actually drove over it in my Jeep with the help of a spotter).
Oh, and this is going to be the "easiest" trail in this system.
All future trails are designed to be a lot more difficult and challenging. Admittedly, if they get harder than this I won't be going on them as I bumped and scraped my Jeep up enough on this run. But I'm really jazzed they are developing a new ORV park and that it'll have some tough stuff for the buggy crowd.
With only 900 ft of trail built I wouldn't recommend burning up a chunk of your day to drive out and run it. However, if you're board, interested, or in the area then go check it out.
Reiter Foothills - Grand Opening Album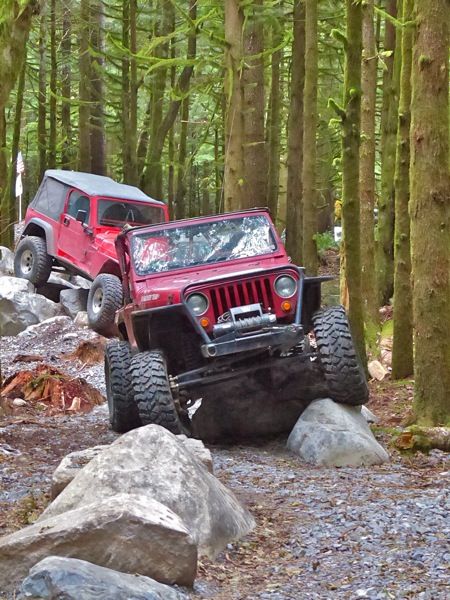 A "general" or typical section of the trail.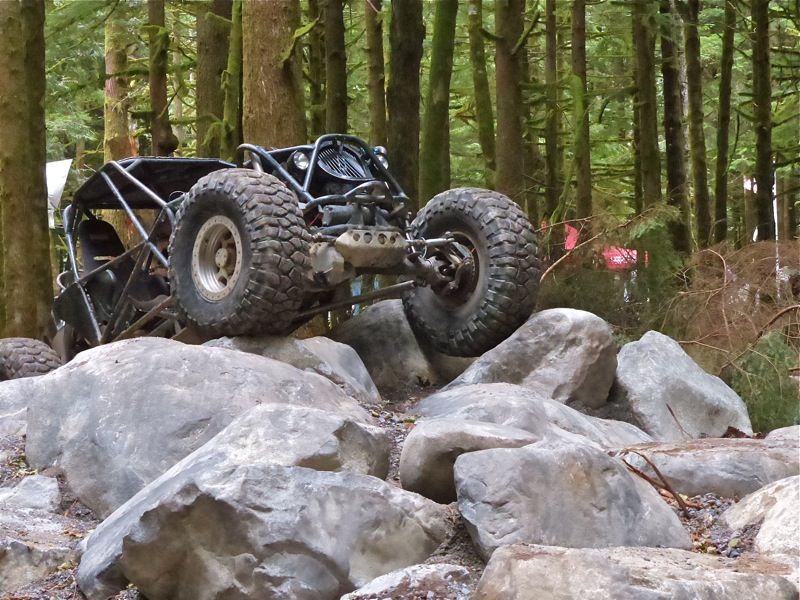 The boulder pile challenge area.
Here is a better shot of what most of the trail is like.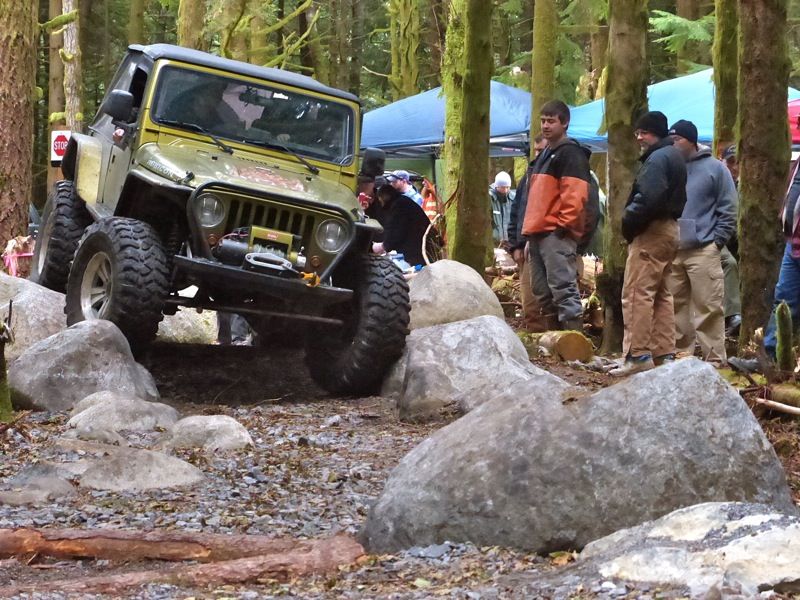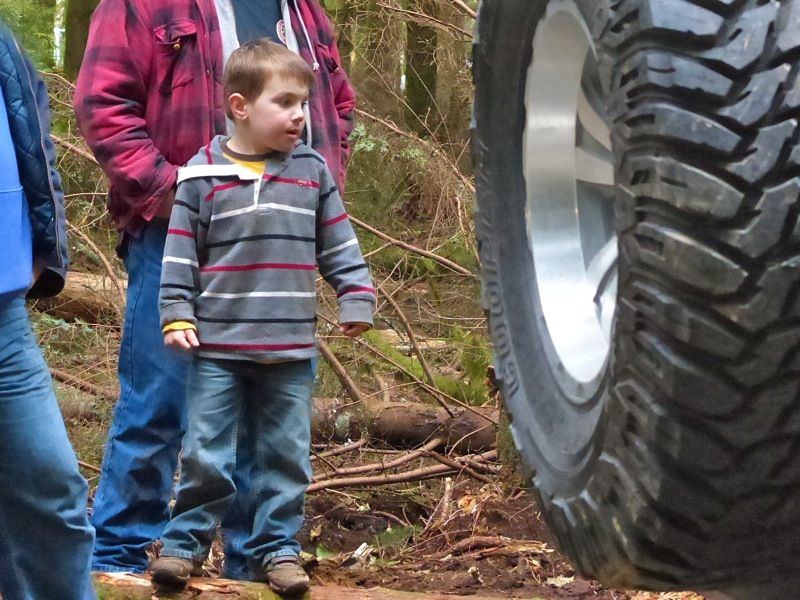 My son came up with me. He had a good time running around
in the woods while all the rigs went back and forth on the new trail.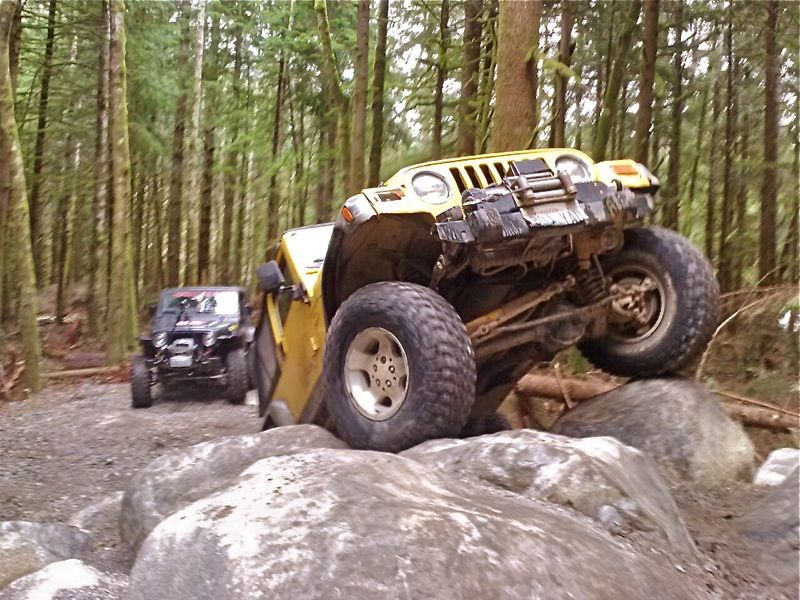 My Jeep going over the boulder pile. A friend
shot this pic with his cell phone.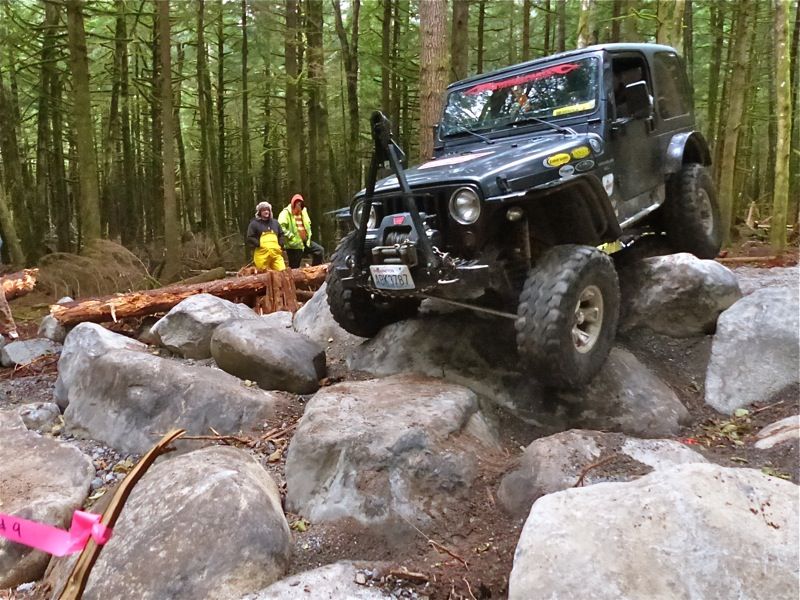 .
---
- Jay
Registered User
Join Date: Nov 2008
Location: Everett, WA.
Posts: 657
It was my understanding it was not open to the public yet that this was just one of a couple of test drives so DNR could see how the trail works. Is that correct or is it open full time?
---
Always bring a compass, it is awkward to have to eat your friends.

4X4XNORTHWEST.COM
Registered User
Join Date: Jun 2004
Location: Kenmore, WA
Posts: 3,581
Quote:
It was my understanding it was not open to the public yet that this was just one of a couple of test drives so DNR could see how the trail works. Is that correct or is it open full time?
Hm, I don't know.
I'm assuming because it's the "grand opening" it should be open to the public.
I know they had some test runs back in October with the build-volunteers running the trails where the DNR staff did some ride-alongs. It gave them a chance to change somethings. For instance, on the October test run some of the rocks on the boulder pile were too small and the DNR was certain they'd be fine. But the rig's just peeled them out and moved them all over the place. So they were replaced with larger boulders that appear to be holding up well after an intense half day of use.
Granted, I wasn't there and this is what one of the guys told me so . . .
Anyways, I'm thinking it's open.
You'll need a Discovery Pass for it.
As I say, I woultn't necessarily make a special trip. My rig isn't the most built up and I did it in about 5 min or so. Then what? There's not much else out there. But if you are interested in checking out first hand, have at it.
---
- Jay
Registered User
Join Date: Feb 2005
Location: Va
Posts: 1,305
Registered User
Join Date: Dec 2008
Location: Indiana
Posts: 1,532
Very cool.
---

To view links or images in signatures your post count must be 10 or greater. You currently have 0 posts.
This is for fighting, this is for fun.
Currently Active Users Viewing This Thread: 1

(0 members and 1 guests)
Posting Rules

You may post new threads

You may post replies

You may not post attachments

You may not edit your posts

---

HTML code is Off

---