Moon/Funny Rocks/Eastern WA, 9/11/2010
---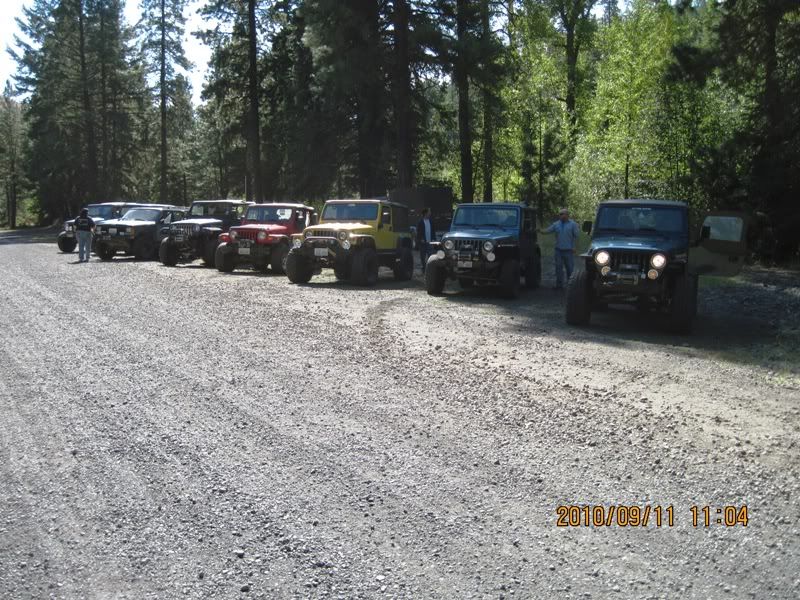 Group shot when we aired down.
MCE Mike/WAC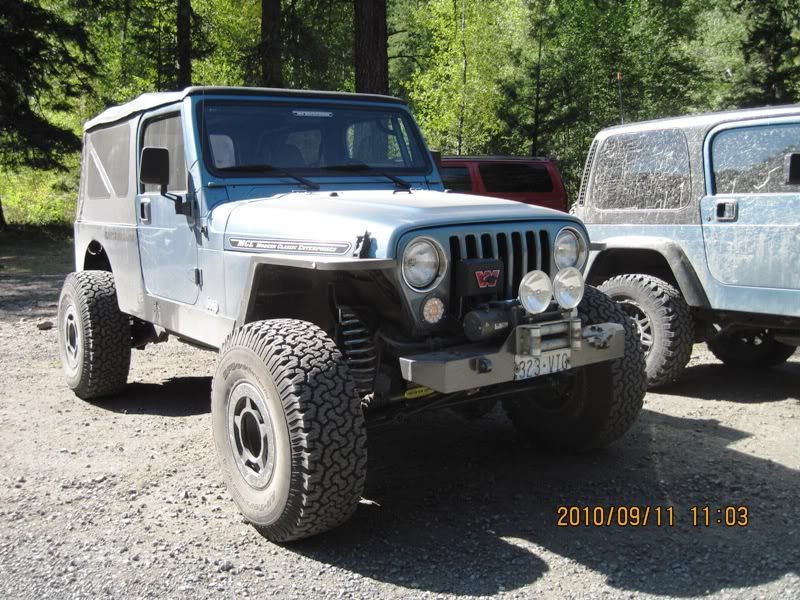 MCE Jason/Ziptie and father Phill...:-)
This trip had been planned for several weeks. The MCE boys, (Mike/Jason; Modern classic Enterprises), Robb & Barb/RBXj, John #1, John #2, John #3 & Donna (Donna Mae & I), Rich/PepCsLj & Scott/SnoqualmieTj all met up in North Bend, WA at 8:30 am on Saturday 9/11. It was another 80 miles or so to Ellensburg, WA where we all topped off our tanks before heading to the trail head.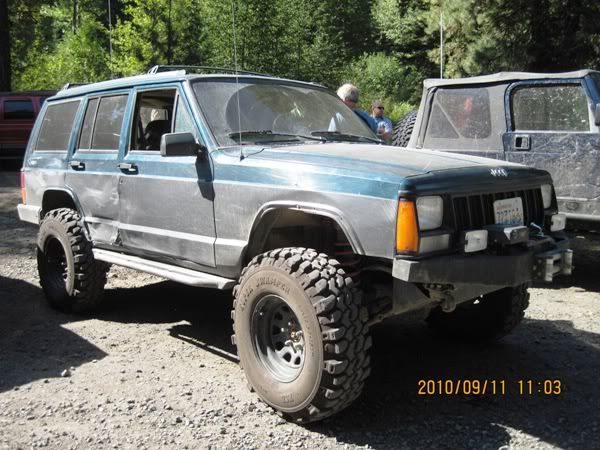 RBXj (Robb & Barb)
SnoqualmieTj/Scott! Great to gret to wheel with you again, Scott!
John #1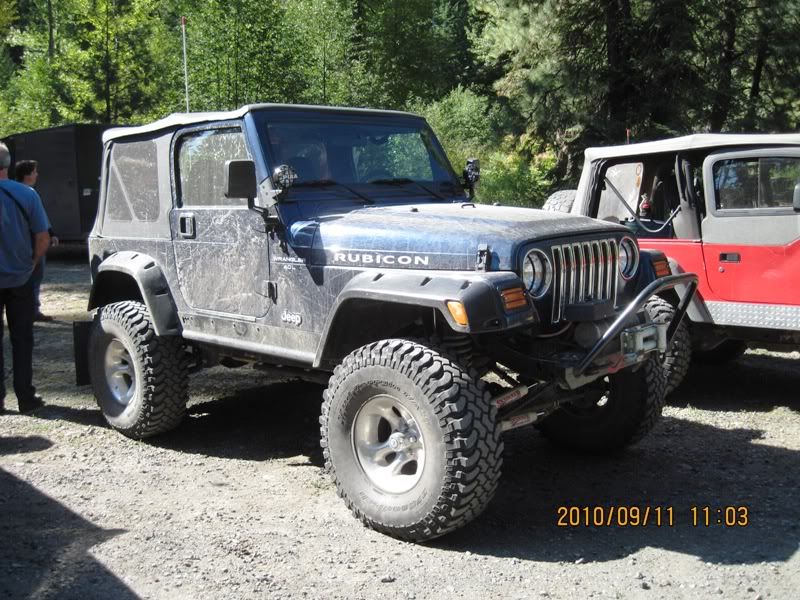 John #2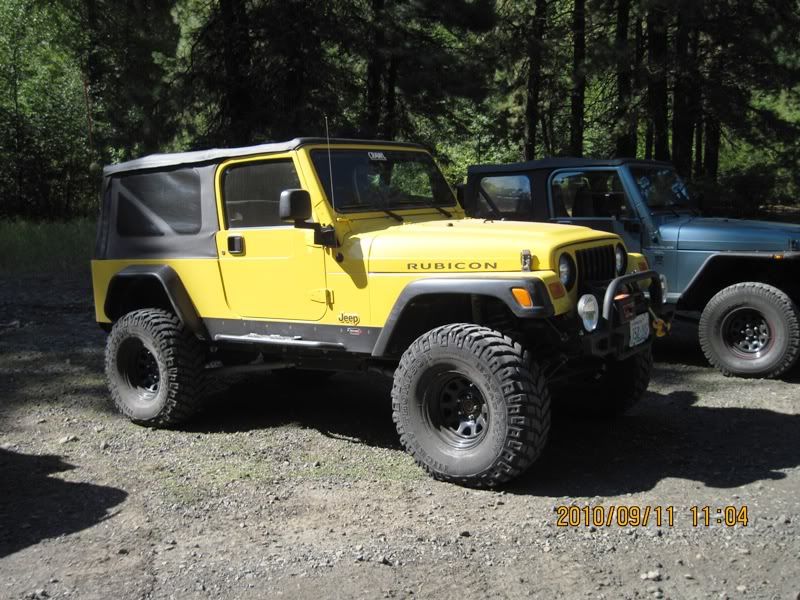 Rich/PepCsLj
John & Donna/RaggedOleMan
We aired down, did our pre-trail tasks and headed out for a day at Funny & Moon Rocks in Eastern, WA. There were supposed to be 150 rigs +/- up there that day and we wanted to be there, too. By the way, see the distorted flares on the red Tj/my heep? That's what happens when you don't add an inch or so of bumpstop to the front on a 2-1/2" OME suspension lift, 1-1/4" pucks on 33x12.5r15 BFG KM2's...no problemo, the MCE Flatty's are in the garage, about to be christened...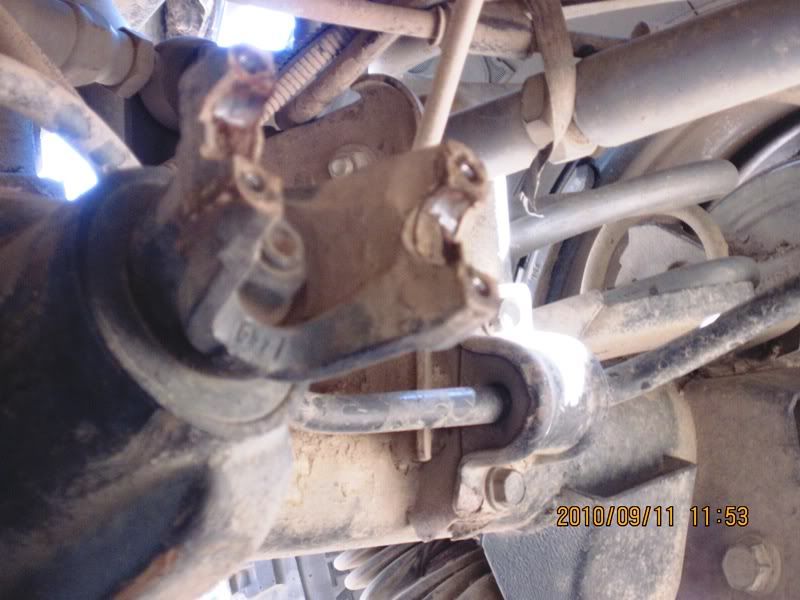 It was only 10/20 minutes into the trail before the only carnage of the day surfaced. A bad rear u-joint relegated the Rubi to front wheel drive only. A few minutes to pull the driveshaft and we were rolling again.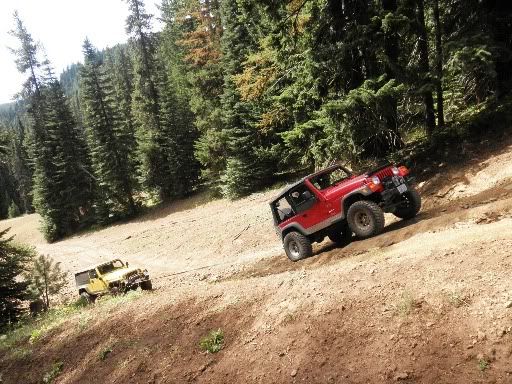 For all the d35 haters out there...the red Tj is sportin' a d35 with a Superior C-Clip Eliminator with Superior Evolution Series, 27 spline shafts. It's pullin' that Rubi up this,
and several other inclines/hill climbs
on the way to Funny/Moon rocks. More than once, others offered to tow him up, concerned the d35 couldn't make it, but, this was a great test of the Superior kit and well, I wanted to give it hell...it performed flawlessly and never once complained, EDIT: until it did a little over a year later. The Superior CCE with 27 spine shafts busted and took out the locker with it in January of 2012. I would not buy the Superior 27 spline set up, and run a locker with it.
A view of Manastash Lake on the way to Funny & Moon Rocks...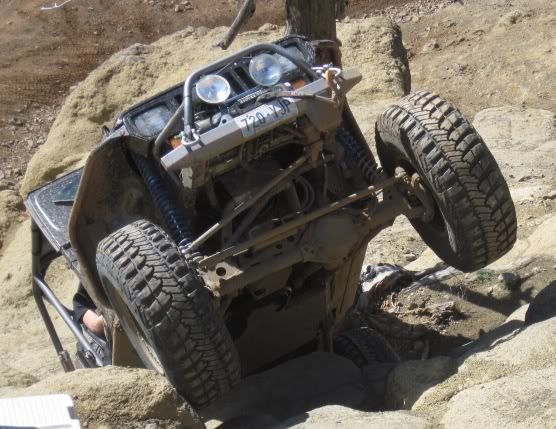 (Above) Not sure who this guy is, but, he made easy work of this thing. Jason had been watching, waiting his turn!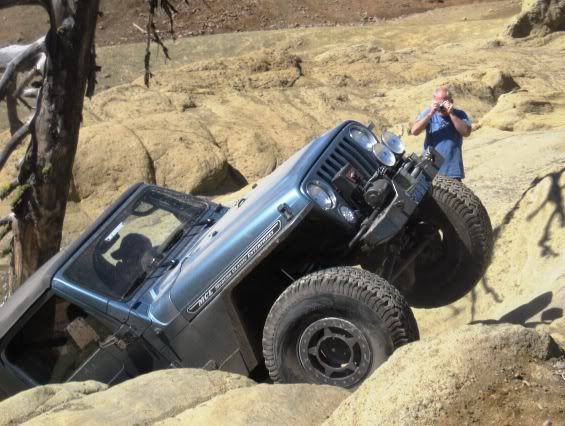 There he goes...that's MCE Jason doing the line he'd not done before.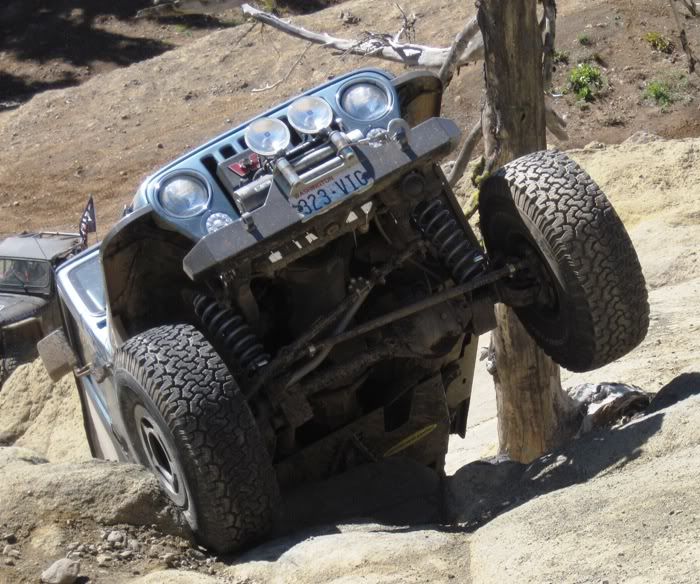 He was providing an opportunity to check out the underside of them Flatty's! Lookin' Good Jason...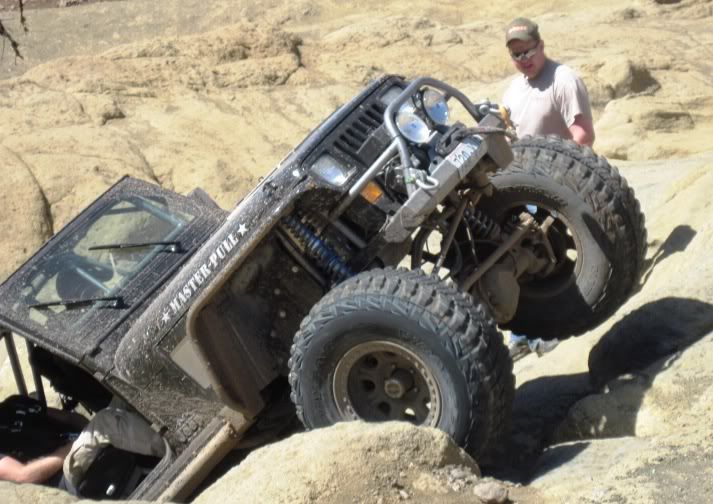 MasterPull was there...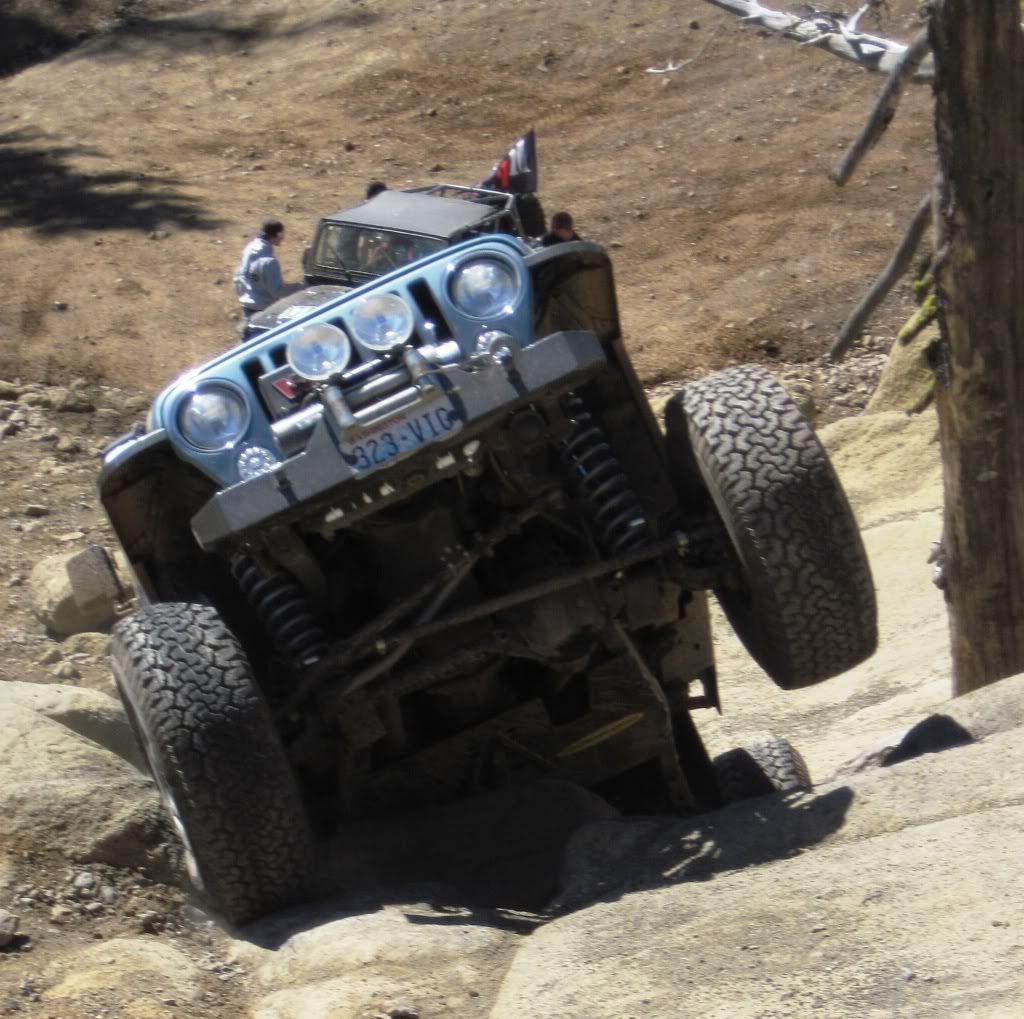 Showin' off them Flatty's again...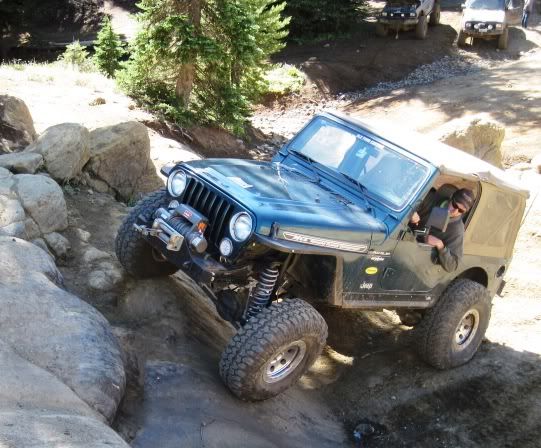 That's MCE Mike. He made this little climb look easy. He just crawled to it, bumped it and floated on up. He made it look so easy in fact, that I just had to give it a try. The pics are below. I ended up doing it three times that day! Well, two...the first time I got up, but, let's just say finesse' wouldn't be the best way to describe it. A group of onlookers that were taking photo's of the attempt scattered like someone farted when I got up this thing! Man, they were lucky! We all laughed about it, but, frankly it was ugly...so I took another shot at it determined to do it better, smoother like I knew what I was doing...and man it was sweet. It was smooth...and if everyone hadn't seen me do it the first time, they'd have thought I really did know what I was doing!
Later, feeling pretty proud of myself I came back to this spot to do it again. Man, I couldn't get up that thing to save my soul! Phillip, MCE/Jason's father was shouting; "Bump it! Bump it!" But it wasn't to be...I had to suck it up and back down. Talk about embarrassing! and there was a few dozen onlookers to boot...