The Mojave Road is the old immigrant trail from Fort Mojave on the Colorado River to what is now Southern California. The Road has a rich history like the story of Jedidiah Smith and others. Jedidiah Smith and his party were attacked by Indians as they crossed the Colorado river and half of the party was killed. Jedidiah and the remaining men took the Mojave Road to San Gabriel.
The Road has interesting things to see and do.
Two Cherokees and a Denali set out to conquer the road. Three Dad's and 10 kids. We brought our guitars and some great food and drink.
Here's a few pics:
Sandy wash near the East most portion. We ran it from East to West. We met others who were running West to East.
From Fort Piute looking East down the canyon.
The old bus. My Dad's a TV repairman, he's got an awesome set of tools, we can fix it.
We built the Jeep didn't we
Indian well. There are petraglyphs every where. OK so some of the kids are pretty big.
The Penny can. It's up high because the shorter kids can't be trusted
Camp Carruthers. To the older couple from Bishop who packed up and took off when we pulled in;
We are truely sorry and thanks for the awesome spot.
Carruthers Road heading south back to the Mojave Road
Camp Rock Spring. There was water flowing out of the canyon. If you were travelling on the road back in the day this was a lifesaver.
You can see a good group of cars parked in the distance
There's no cars in this shot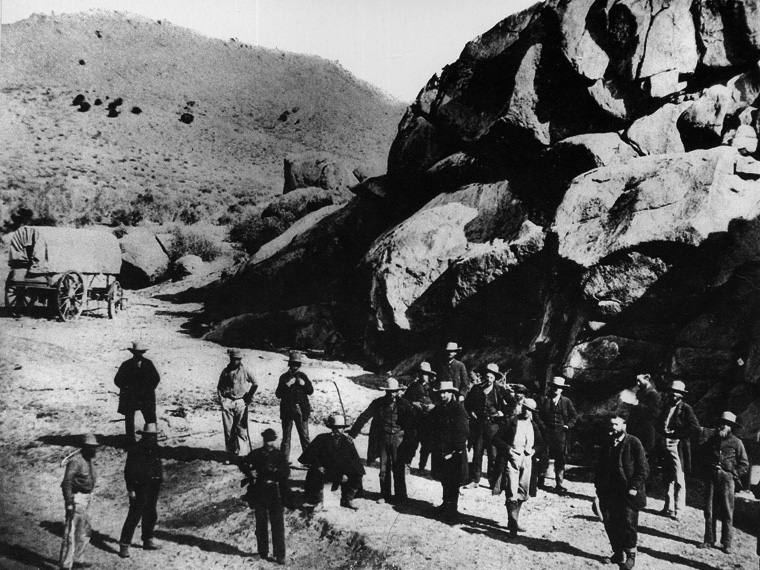 Cedar Canyon Road looking West toward Cima Road and the railroad tracks
Sunset from the West side of the Beale Mountains
Beale Mountain Camp Group Shot
Past Marl Springs heading toward the mailbox
The Mojave Mailbox, Frog Shrine, Gnome garden, Christmas Creosote bush
and Army men attacking Alien.
True story
Lave Tube
Ladder Entrance to the lava tube
Mission Accomplished
We took Kelbaker road to Baker and missed Soda lake and Afton Canyon, we'll come back for that.
Besides the Denali scraping up it's running boards there was no carnage and all the vehicles ran great,
for that we were lucky. There were a few groups running in both directions, but the desert can be a quiet
and unforgiving place. We brought plenty of water and all the proper gear.
If you're interested in running the Mojave Road I highly recommend Mojave Road Guide by Dennis G. Casebier
as well as a good GPS and friendly navigator.