Mission Impossible…
The mission; To secure a base operations at the Little Naches Campground, suitable for fueling up on grub & rest. Then to obtain seat time on the best trails in the northwest, Manstash area…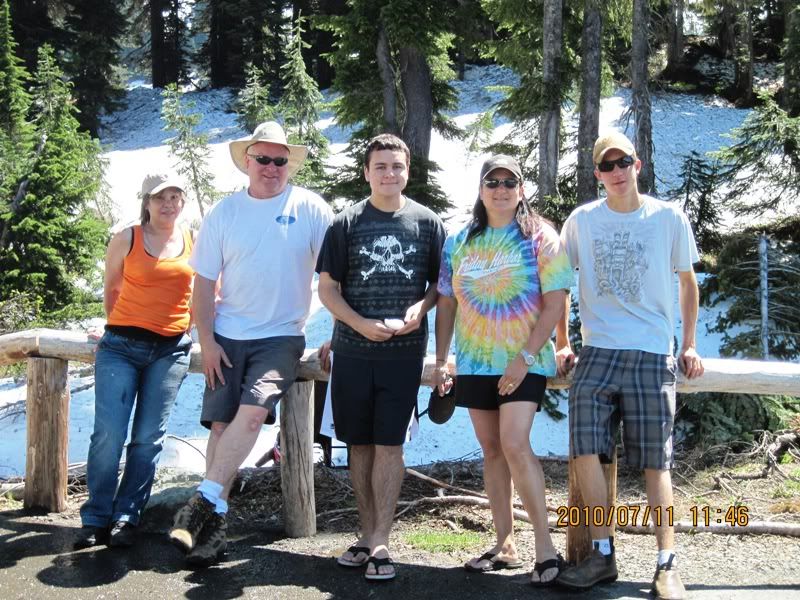 The crew from left to right; RaggedOleWoman (Donna Mae), Jeep & Cherokee Recovery and team captain BastardToy a.k.a. Roger. Number one son, (Kyle) of the team captain and cross country champ-to-be, Mrs. BastardToy and mom of a lifetime, Shelene, flanked on the right by the other number one son, jeepster425 a.k.a. Ryan…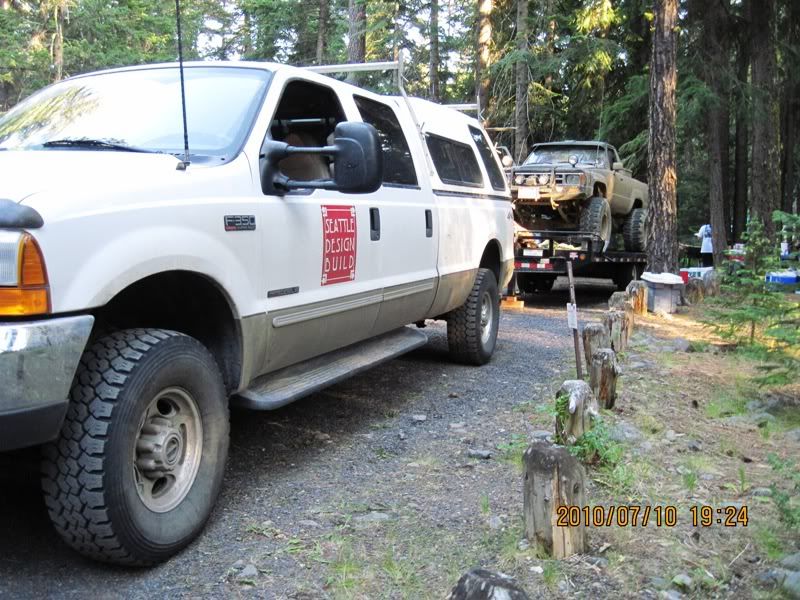 We left Maple Valley bright and early at 2:22 pm. Yes, PM…crew chief, Roger with his co-pilot Kyle totin' that incredible, muddy-ole Toy behind his big rig. The RaggedOleWoman and I followed close behind. It took us about 2 hours to make the drive to the Little Naches Campground, spaces 17 & 18 (or 16…can't recall…). Number one son, Ryan with his precious cargo, the Mother Load…(mom) came about two hours later in Ryan's air-conditioned Xj…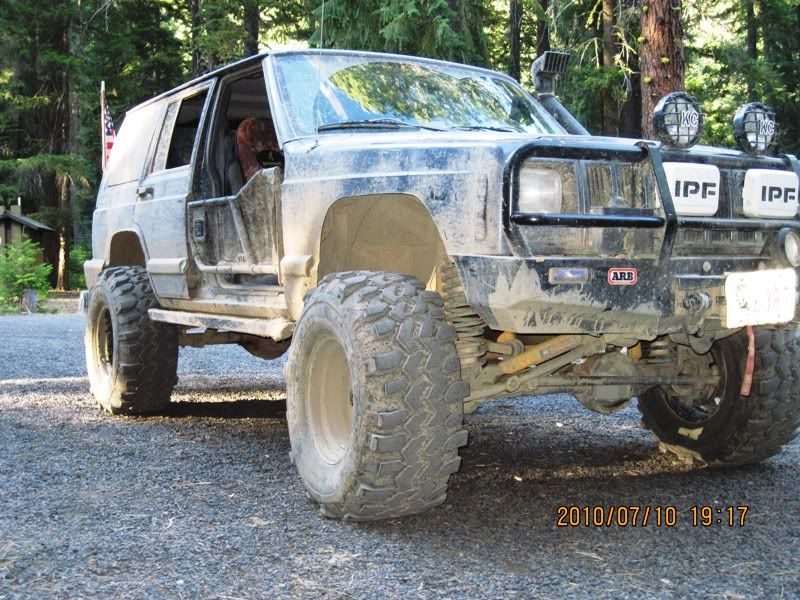 In the photo above, the air conditioning mod can be plainly seen. This was mom's first ride over the pass in the somewhat recently, modified, Xj. Lucky for mom the outside temperature hovered in the upper 80° range…
Here's the crew at the campsite…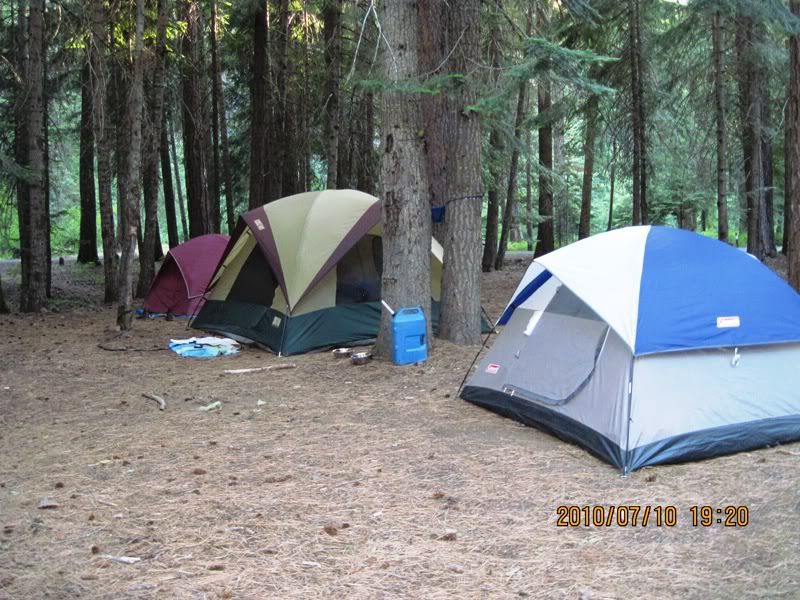 A row of humble huts, where the doors were never shut, and a man (mom or the RaggedOleWoman) could get inside without a dime…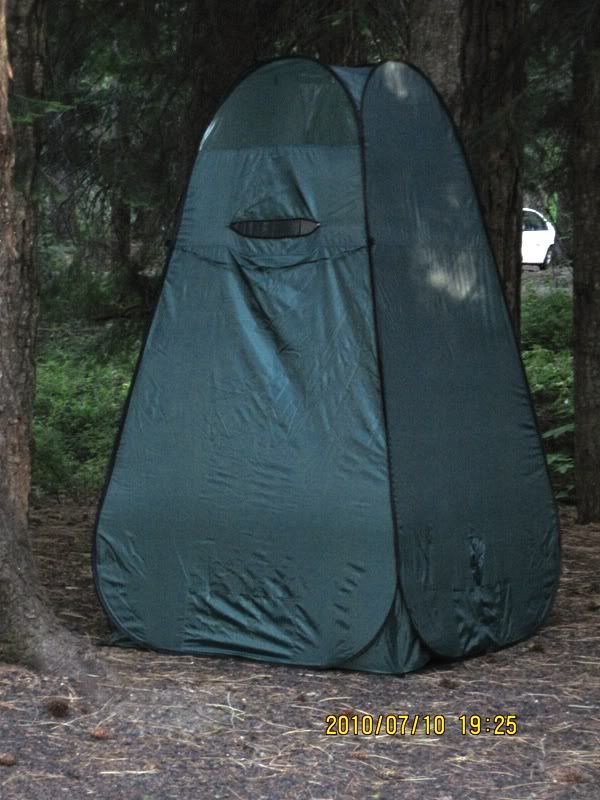 Here's the newly erected privy. Where you can lay you down to rest, like a snowbird on its nest and read the Sears and Robuck Catalog…we substituted CRAWL, Rifleman and 4Wheep Parts publications…hey, this is the 21st century!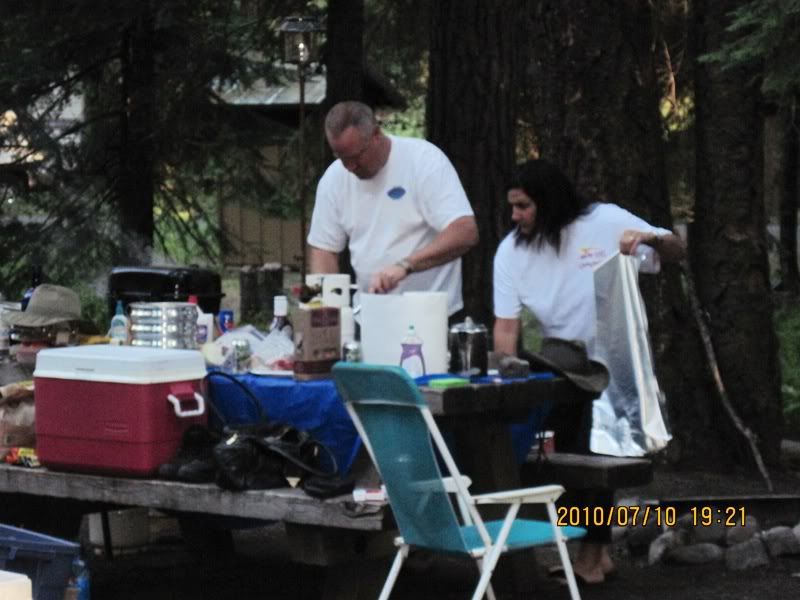 We got ourselves nestled in, ate some outrageously good grub, (BastardToy and Mom are abslolutely incredible behind a grill, bar-b-q and prep counter), had a few laughs, a few drinks One unruly member of our party thought it hilarious to run off with some of the firewood! Tooley…named after the tooly's, was a wonderful addition to the crew. He generally handled his night watch duties as only a seasoned infantryman could…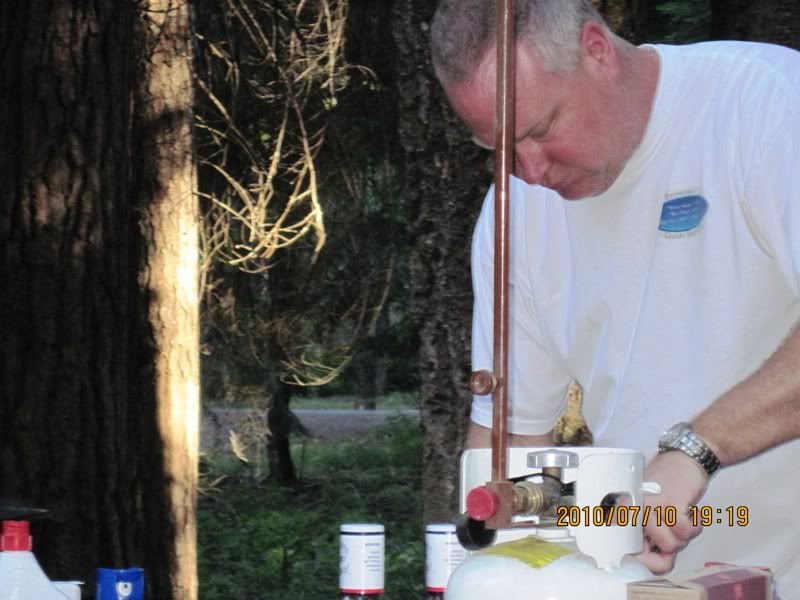 Alright, who turned off the gas? See this thing? Don't touch it, don't adjust it just leave it alone? Got that private?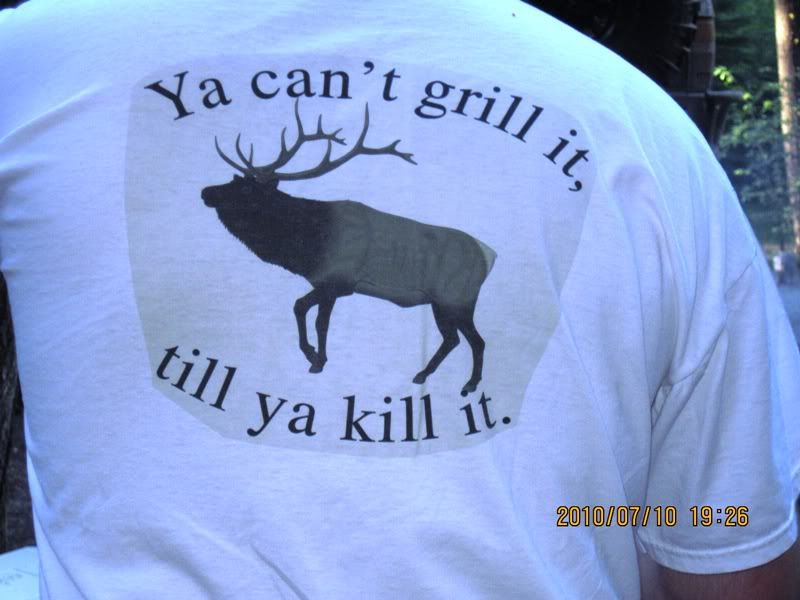 Well, where do you think it comes from?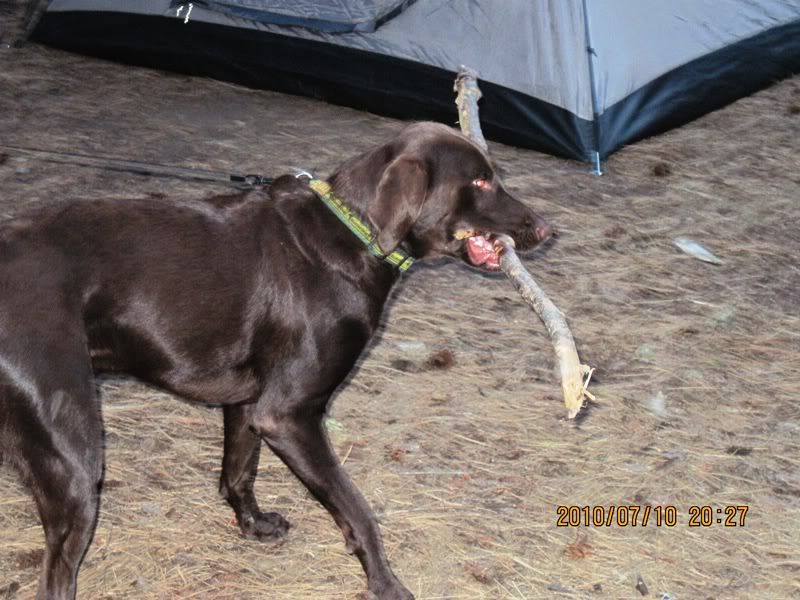 Bring that firewood back! Alright, who dropped the ball! That's the firewood! Get that dog!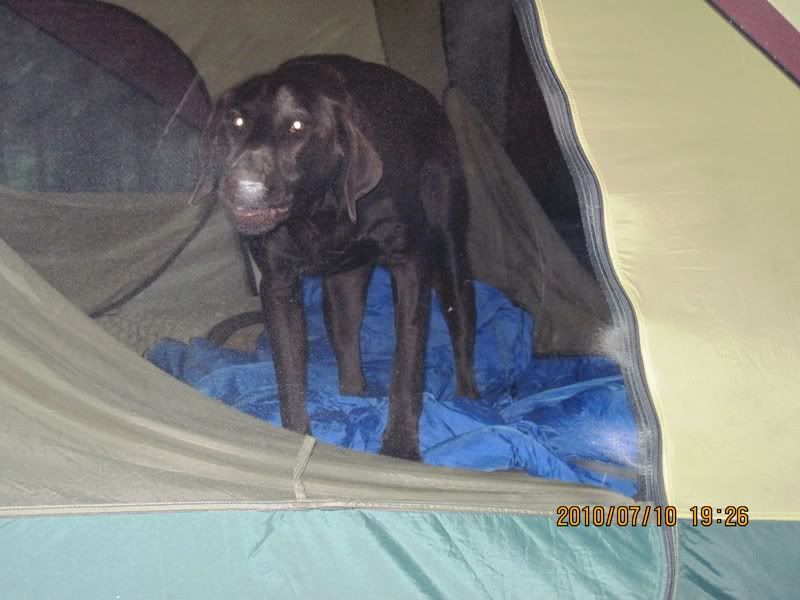 Uh, naw, it's okay, you can have it…nice dog…nice Tooly…ROGER!
Yeah well, the night was perfect. Great friends, great food, good drinks, good music, perfect conditions. It just don't get any better than this, eh?
The night was uneventful and we awoke beneath the Eastern Washington sky. Soon after an incredible breakfast, we had a visitor. It was TjDave! Great to meet you, Dave! Wished we could have wheeled together a bit later on, on Saturday, but after you left here's what happened…
Roger unloaded the Big Toy, everyone aired down, got the whole fan-damily in the heeps and set out for Funny/Moon rocks to impress the bejeebers out of Mom and Kyle. We took the 1708/Milk Lake trail. The RaggedOleWoman and I were eating dust as the BastardToy and Cherokee led the way up the recently improved DUSTY, gravel road. We approached the washout, where Jeff/RS4Race flopped a few weeks back. The Big Toy/Bastard Toy stopped, shifted into low range and began his descent.
His passenger rear wheel rode high on the hump and his nose was buried in that log to the left. A little maneuvering was in order. No problem…he backed up a few feet to get a better line and after a bit of foolin' about, he passes through it unscathed, or so a few of us thought...
"I'm busted"…comes over the CB. Roger comes to a painful stop a few feet beyond the washout. Jeepster takes his turn and effectively pilots his Xj down and around and parks behind his old man… Ryan and mom bail out to see what's up as do Donna & I. We pull up front to get the poop 1st hand…
Turns out the driver's side front hub and/or shaft are toast…a few attempts in two wheel drive are enough to know we're headed back to camp.
Jeepster, where's the pix!
I pulled a u-eee and went back around the washout to provide a strategic, Toyota Recover Position… The Big Toy/BastardToy limped a 180° and headed back to the washout. 3 or 4 attempts proved fruitless. So I rolled out the Toyota Recovery strap complete with Toyota Recover Shackles and proceeded with the rigging. A slight tug was all that was necessary to get the rolling heep of Toyota rust and mud around the obstacle! (GAWD, Roger and his entire family are going to shoot me when they read this!) Jeepster425 made it around like a seasoned veteran, and then we all made our way slowly, back to the campground.
Back on the hoist (trailer) we all talked a bit of story and axle theory…none of us knew WTF we were talking about, but, we talked about it nonetheless…ultimately, Roger decided to stay behind, break out his tools and get dirty while Jeepster425 and his mom, the RaggOleWoman and myself headed back to complete the mission to Funny/Moon Rocks.
We got about half way back to the washout when Jeepster425 gives a heads up on the CB that's his heep is a little hot, and we need to pull over for a few. I figure he's got enough mud and Northwest territory jammed in between his radiator fins to start a garden, so I gets my mini-compressor out and start blowing that crap out. I've got my face buried in the front end of the Cherokee when I hear someone shouting "John!" Turning around I see the hood of MY heep open, and three familiar spectators…
Jeepster425 had popped my hood to find my cooling system had sprung a leak…at this point I should tell you that, a couple of years back, I'd installed one of those Prestone flush & fill kits on my heep. Well, you know that little, black plastic cap with the hose threads? It appeared to have come loose enough that it wasn't holding the pressure. So, I grabbed that puppy to tighten it with my right paw and instead of tightening, the gates of hell were unleashed. That little black plastic cap grenade'd and showered us all with pretty green coolant…
Jeepster, where's the pix!
I fumbled through my trail repair bags/boxes looking for a quick fix when someone handed me the cap off a water bottle…I looked at it and thought, well, it just might work! I screwed that bugger on and it fit! I hoped it would be good enough to get us back to camp, this might work…
It did…for about a ¼ mile. It popped and blew like old faithful…so we get another bottle cap plus a water hose clamp and try to goober up enough of a trail fix to get back to camp. It lasted until we got to Hwy 410 and then gave out, blew the remaining coolant out…
So we got on the CB and asked Roger back at our camp site if he had any coolant, and as luck would have it, he did. Jeepster425 (Ryan) ran the mission and returned with dad, and 3 gallons of coolant. Another bottle cap and a bit of coolant got us back to camp.
Now it was Rogers turn to fire up the Tj Recovery rig…(paybacks are hell, eh? ) Jeepster425, his brother and mom all stayed at camp while Roger, the RaggedOleWoman and myself went in search of some plumbing parts. We didn't even get out of the campsite before the battery idiot light popped up on the dash of the big rig…seems we were doomed from the get-go…
What are the chances that all 4 rigs would have trouble at the exact same time? Got to be a gazillion to one…well, Roger took a chance and it all worked out…
Soon after we got on the highway, we passed some emergency vehicles heading back towards camp. Something about the speed at which they were going suggested it was serious…
In the mean time we made our way in 95° heat to the Ace Hardware in Naches. They had everything we needed! They even had AT+4, (GreenYj) Paul! How'd we miss that a couple of weeks ago?
The drive back to camp revealed the purpose of the emergency vehicles we'd passed along the way. Seems a lone biker, a woman, had pulled out in front of a little ford Ranger. A white sheet marked the spot where they'd evidently worked on her, without success…a humbling and sobering sight and moment I'll not soon forget…the camp ranger guy confirmed she'd passed as he was the first upon the scene…
Back at camp I was able to cobble together a fix for my heep. Jeepster's rig had cooled down and we were both itchin' to get some seat time so we headed off in the evening sun. He up the 1901 and Donna and I up the 1903 to the 676. We explored for about an hour before it was time to get back to camp, and another incredible dinner…
Hopefully Ryan and Shelene will post up their pix of the day, soon…
When all is said and done, I wasn't in the least bit disappointed that our wheelin' trip kinda fizzled. Oh, I suppose I was at first. It was a bit of a bummer. But, the more I thought about it the less disappointed I became. Breakage is part of the whole wheeling experience, but, up until Saturday, I'd never been stranded or, neither had anyone I was wheelin' with. Including Roger, Ryan and their family. I think I/we were complacent with all the successful runs we've made and didn't realize just how lucky we'd been, as well as all those others I've wheeled with…It was a good, non catastrophic lesson in "expecting the unexpected" and how important maintenance on our rigs is. It was also an incredibly wonderful camping experience with great friends that I'll not forget easily…
Below are parting shots of the drive home…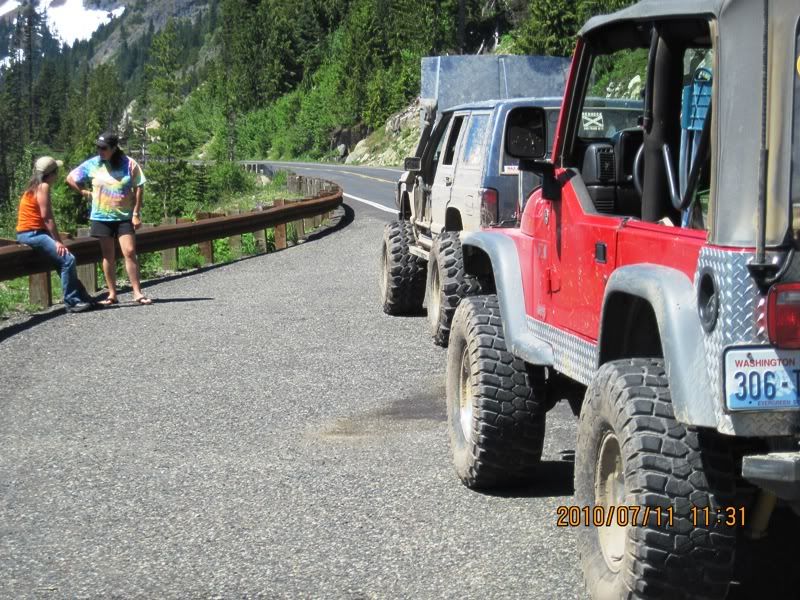 Jeepster425 overheating again on the way back over Chinook Pass.
A snowball fight in mid July, 80° plus sunshine & heat! Mom is tethered to Tooley and Kyle takes a shot!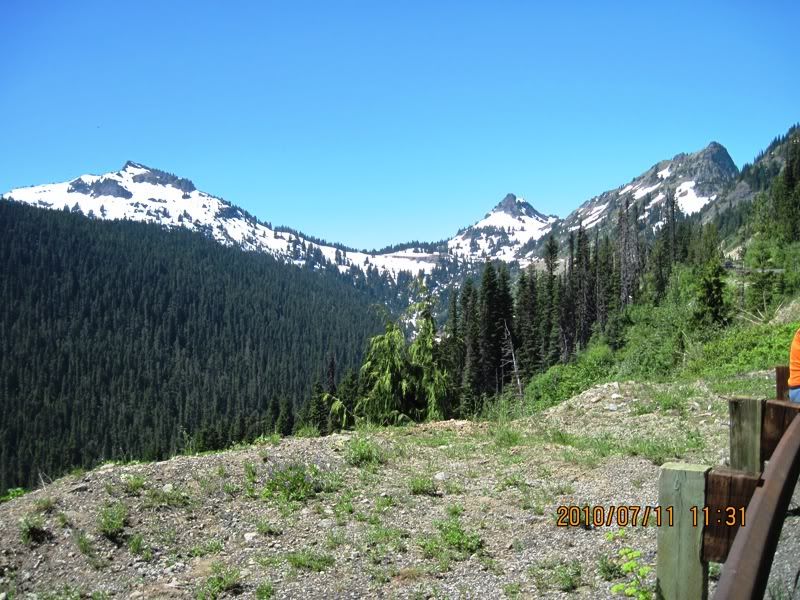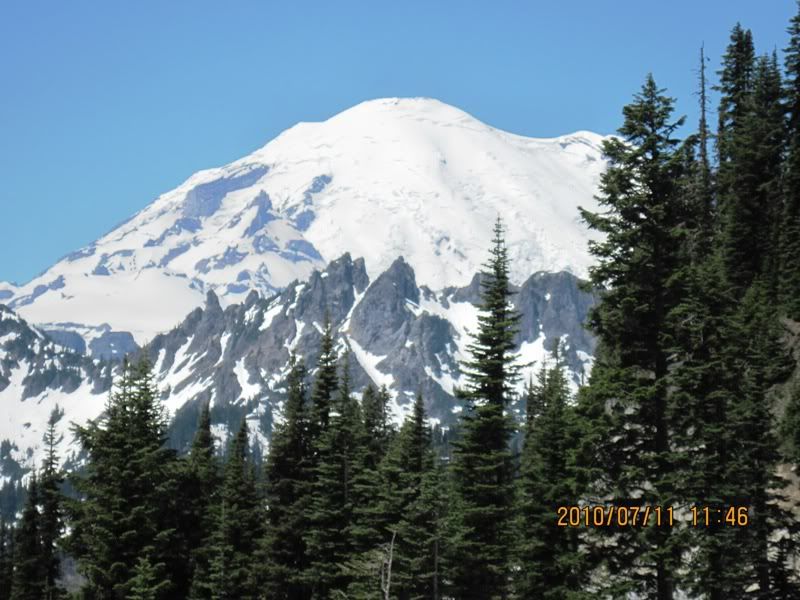 And a goodbye to the Mt. Rainier as viewed from the wet side, just over the summit…