It's only Tahuya, right? How many of us busted up our junk at that place? I know I have. Maybe it's complacency, maybe it'a voodoo, I've no clue...but today a bunch of went out to find out.
RaggedOleMan (Jeepster425 behind me, NRiver behind Jeepster425) Airing down...we know, it's only Tahuya...
Jeepster425 (Ryan C.)airing down...look how muddy and dirty that thing is before we even got started...you ain't seen nothing yet. Ryan gave us all a show and a good laugh later in the day. Though I don't have any photo's of it, I think Inline6 got some and/or a video of the "Water Boy" doing his gig...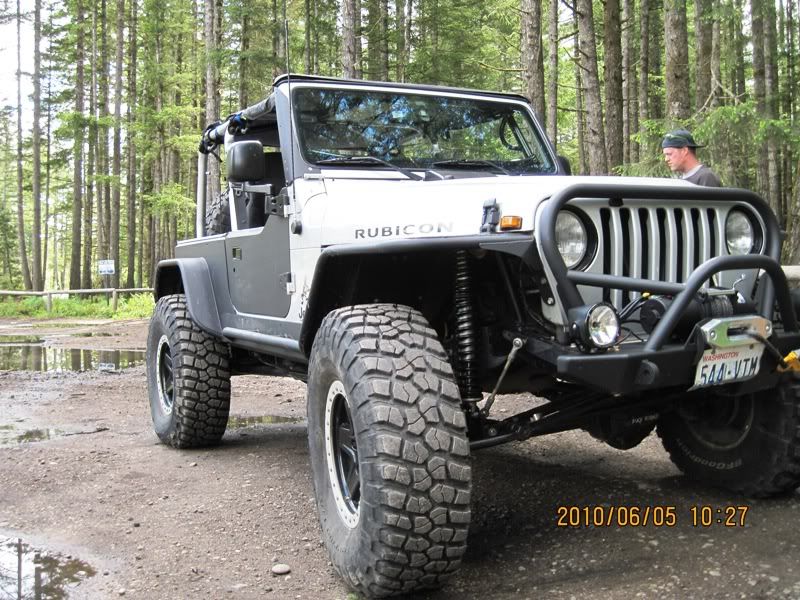 NRiver (Bruce) As usual of late, the belle of the ball! This was, I think, it's second "formal" outing and it didn't disappoint Bruce or the rest of us. Finesse' would describe it on the trail, though some have another name for the driver! Most recently, and memorably for me was; "Rip"
UniMog! Vega222 a.k.a. Oliver. this was my first time, close up view of the, arguably, most technologically advanced rig of its era. 1959... This thing is amazing! Loved the ***** out of it!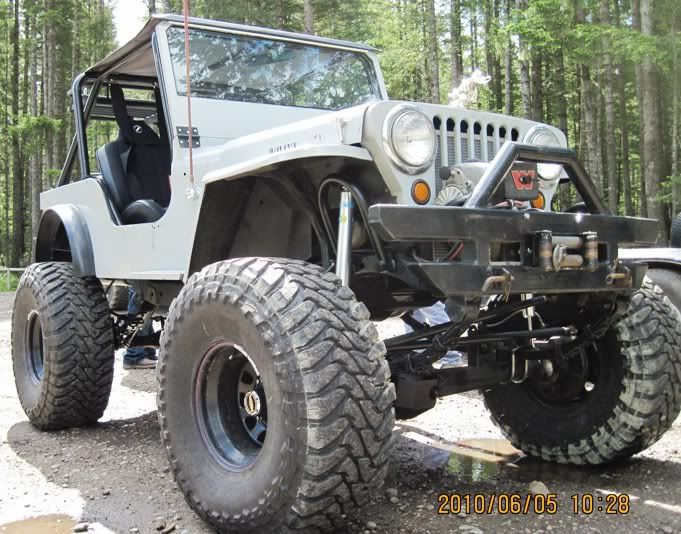 This V8 powered, fuel injected 1949 (I think it's a 49') on 35's was the reason we were all out here today. Rick, it's owner, recently bought it and did some "improvements" on it. Among them was relocating the drivers seat to the rear as far as he could get it to allow his 6', 250lb frame to ease in behind the 10" steering wheel. As McKbrew once said; "Like stuffing a bowling ball in a straw". Rick, always has a smile on his face even as he flipped the RaggedOleman a heapin' helpin' of old man jokes as the pretty young girls paraded by whilst we were shootin' the ***** at the high school keg party down at Mud Lake...Great rig, Rick! Sounded good, too, with that new duel exhaust set up! Next time it's your turn up Yellow Jacket and the other new rock climbs out there!
At the end of the tank traps there's a mild hill climb and this is Rip, floating up it...
About half way up...come on, get that heep up here! Can't you float any faster! Gawd...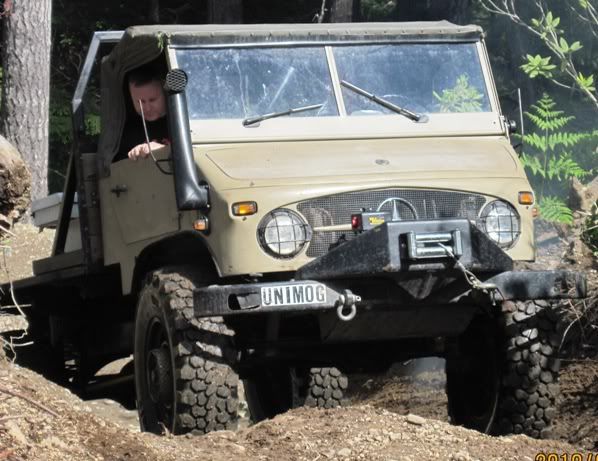 Next it's Olli in his Uni! Finesse' isn't a word I'd use to describe this thing in motion. Mechanical & lumbering come to mind. But make no mistake this thing will go where no man has been before. My first experience watching it, or any other UniMog for that matter, in action. Them 40" Continental tires just churned up results at each and every opportunity!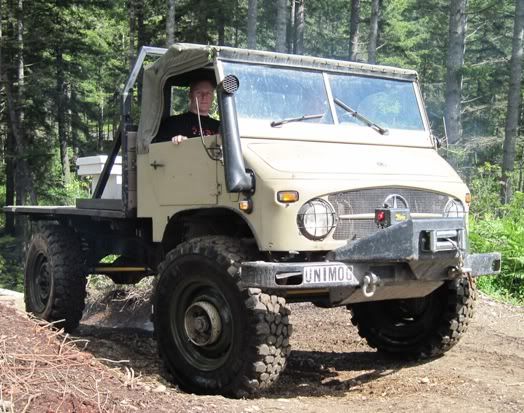 At the top, the Olli-Uni made better time than Rip and his Rubi!
Next it's the Water Boy preppin' for his show later in the afternoon! It's a 2001 Xj, loaded! It was a little overloaded later on...
Ryan's safe and sound for the moment...after this we headed over to the top of Yellow Jacket to give Rick and his Wily's the willy's...but first, we had to endure a caravan of 17 f'n Range Rovers tip-toeing down the hill. I mean tip-toeing. I fixed/prepared a sandwhich, ate it, had a soda, drank it, smoked a butt, *****ed and moaned, compained over the CB and there was still rovers mosying on down the hill...the last one finally, delicately skootched around the corner and out of harms way...
Here's Olli and the Uni treading heavily down Yellow Jacket. We all watched with youthful anticipation as the mechanical, lumbering, beautiful beast beat feet to the bottom...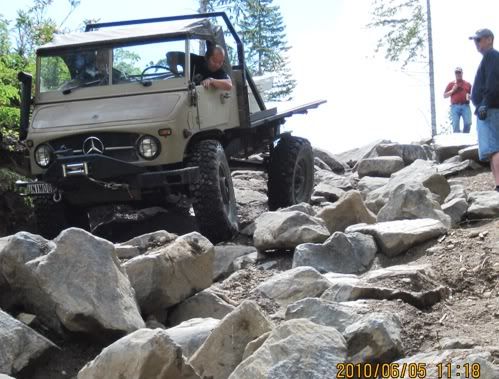 Rip is giving Olli some pointers on the descent...
You could pitch a tent under that thing! It wasn't fast, but, it got the job done. I tell you what, that thing is darn near un-stoppable on a downhill... Rotflmao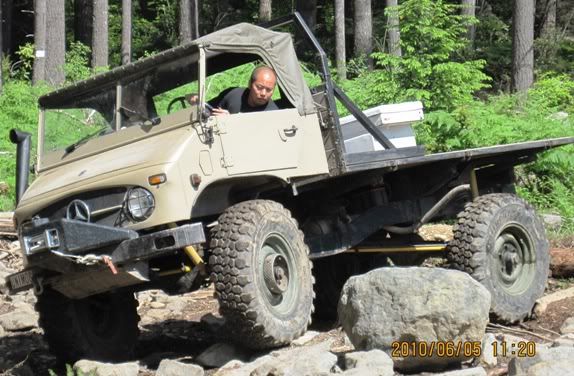 Hey Olli! You popped a bead! "What?" Where? I didn't pop no stinkin' bead!" Yeah, I know...faked your buns!
Hey Olli, there's a big rock under your dif! Oh, wait, there's 8 frikin' feet of clearance under that thing...nevermind, Olli...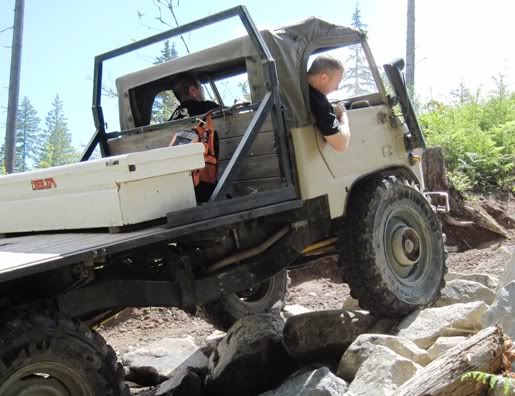 Show off! Look at that thing go!
No, you ain't done yet. You still got a ways to go!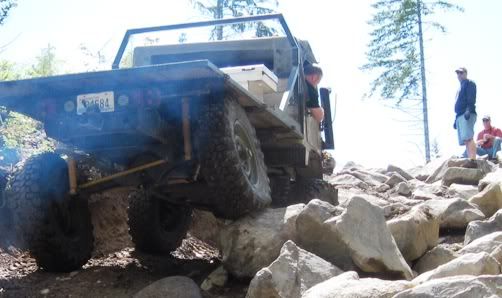 Does it articulate well? Oh, I see...I think you need a little more clearance there, Olli...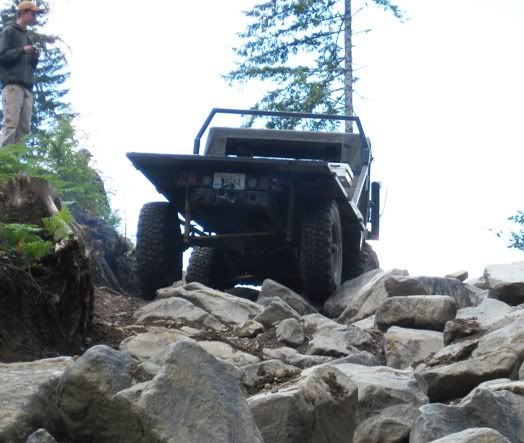 Up and over! Nice job, Olli! Outside of a bit of boulder budging, it was next to flawless @ Yellow Jacket...
~John