The spouse and I met up with our friends from Clancy, MT and managed to sneak away for 5 days last week. We did some camping off the Goose Lake Jeep Trail northeast of Yellowstone NP. The start of the Jeep trail is about 140 mile drive from Bozeman so we took the 2012 JK unlimited for its first real trip in the fire so to speak (as a side note-yeh it works pretty well but no way will it keep up with my CJ 3B in this stuff. Maybe with a lift, but it is still just too damned big).
By far, the most harrowing portion of the trip was the 53 miles from Gardiner, MT to Cooke City, MT through the park. We didn't even get a mile out of Gardiner before the first critter jam-this one for bighorns, but there were a couple more epic jams between Mammoth Hot Springs and Tower Junction. That we made it through without incident can only be attributed to the fact that there wasn't a bat in the vehicle for the inconsiderate jerks that can't be bothered to pull off the road to take pictures or whatever-maybe a lot of whatever.
The Goose Lake road (FS 3230) turns off US 212 about 3 miles east of Cooke City just short of Colter Pass and is about 8 miles from the highway to the Goose Lake trailhead at the Absaroka Beartooth Wilderness boundary. Contrary to what one of the local club members told me, it is still open all the way to the wilderness boundary-same as it has been since 1964. The first two miles are passable with a normal car after being rebuilt for the mine reclamation work at Crown Butte. The rest is mostly 3, with a couple of reaches that are maybe 4 trail. I did need both lockers in one place and had to give a line assist to my buddy's XJ with an open front.
We camped at Star Lake (the first one on the trail south of Goose Lake and about a mile south), maybe a 100 yards from the road. We then did day hikes, two with Jeep assist, to areas within the Wilderness. Camp at Star Lake (and yes, REI):
Typical trail shots: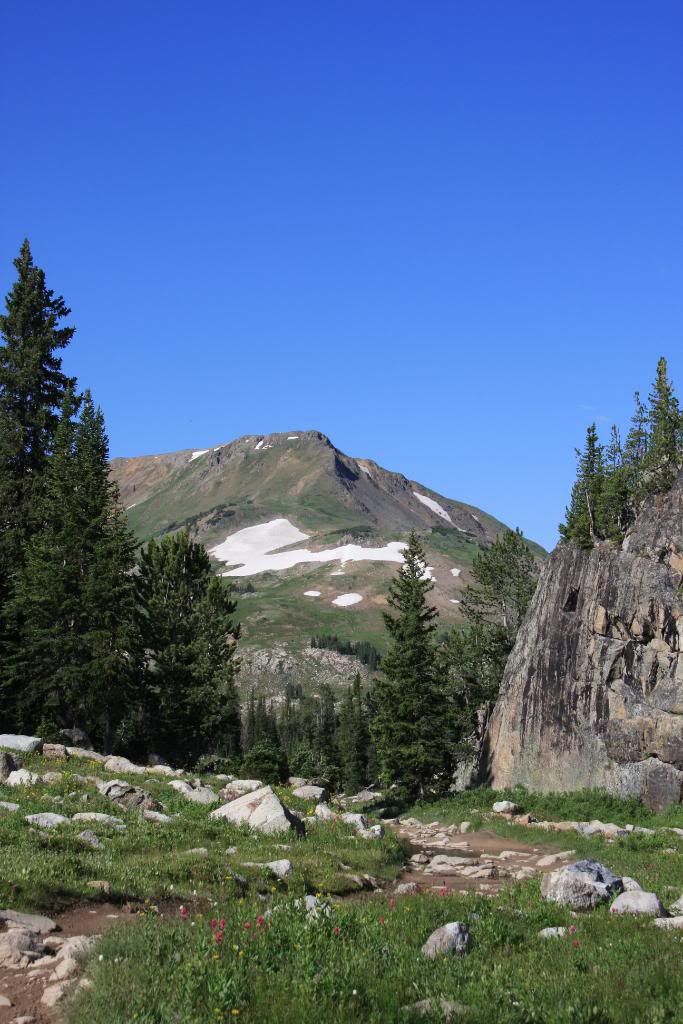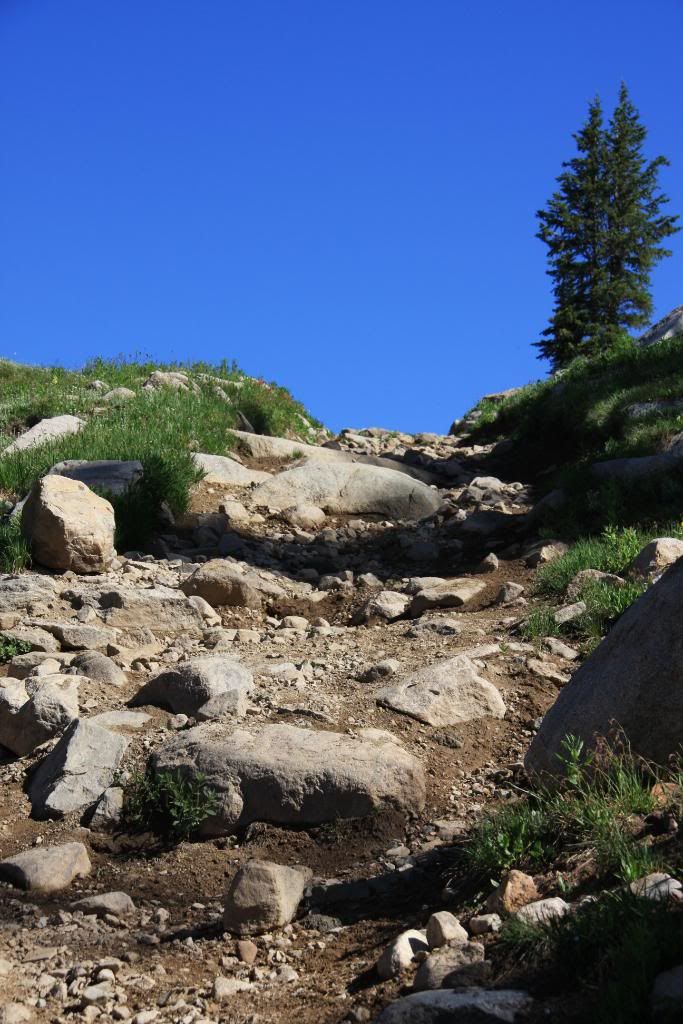 We drove the Jeeps to the Goose Lake trailhead for the day hike to Grasshopper Glacier:
Trailhead: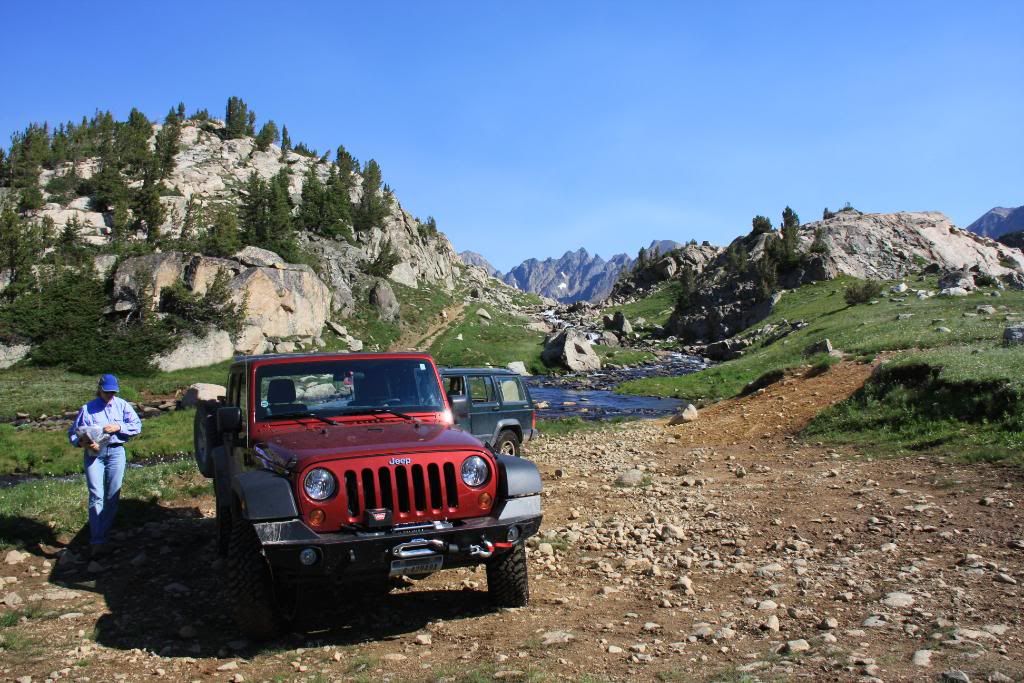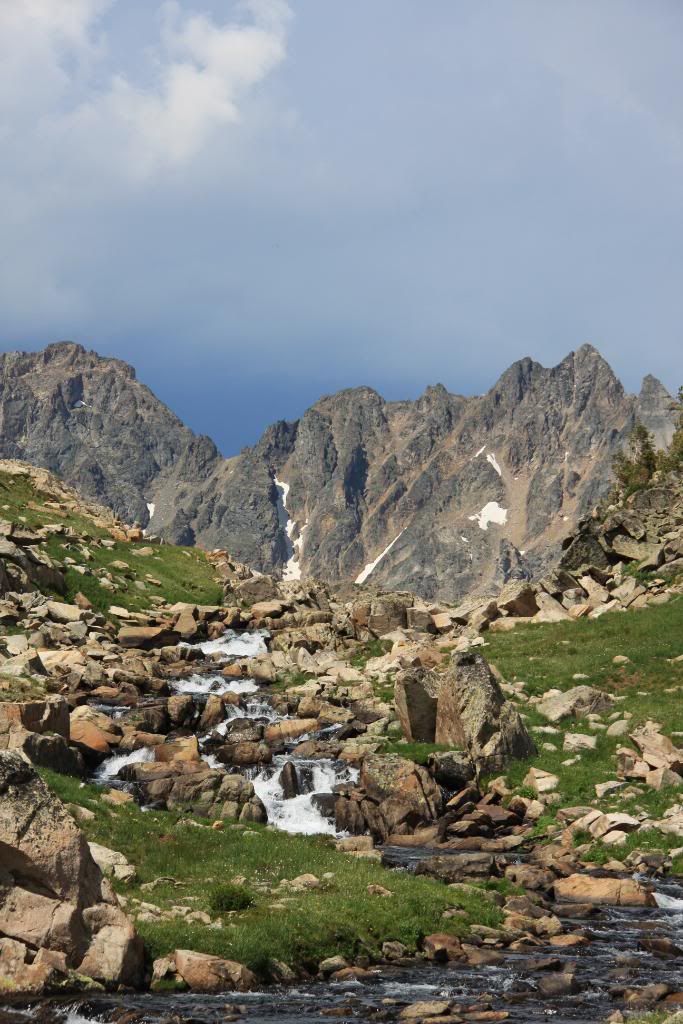 Goose Lake and Fox mountain (11,245'). This area may as well be in the Brooks Range-all tundra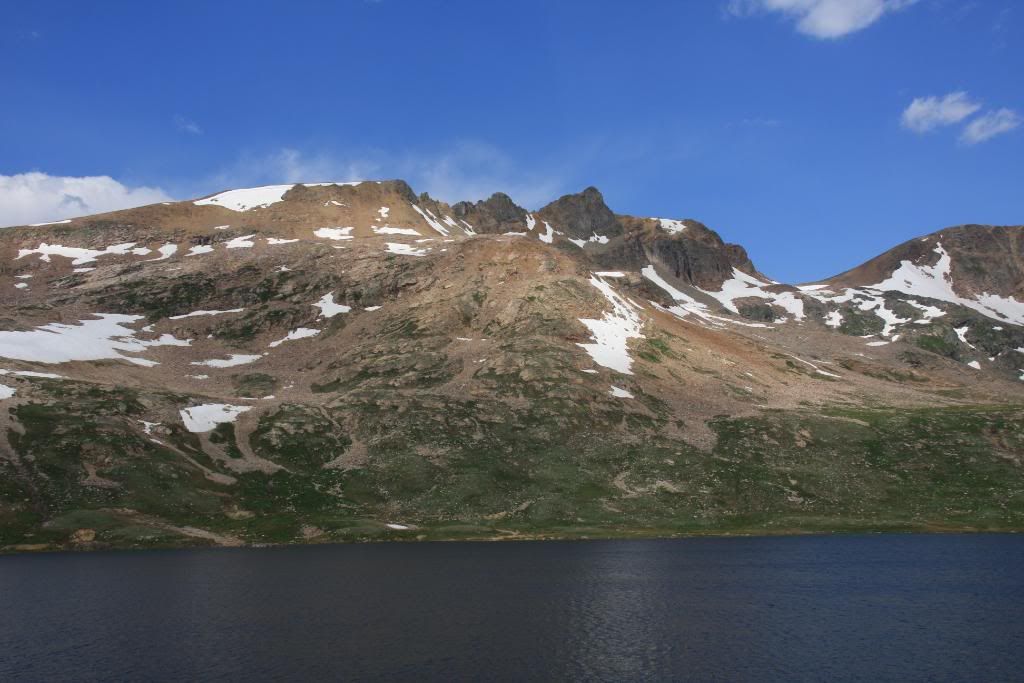 Goose Lake: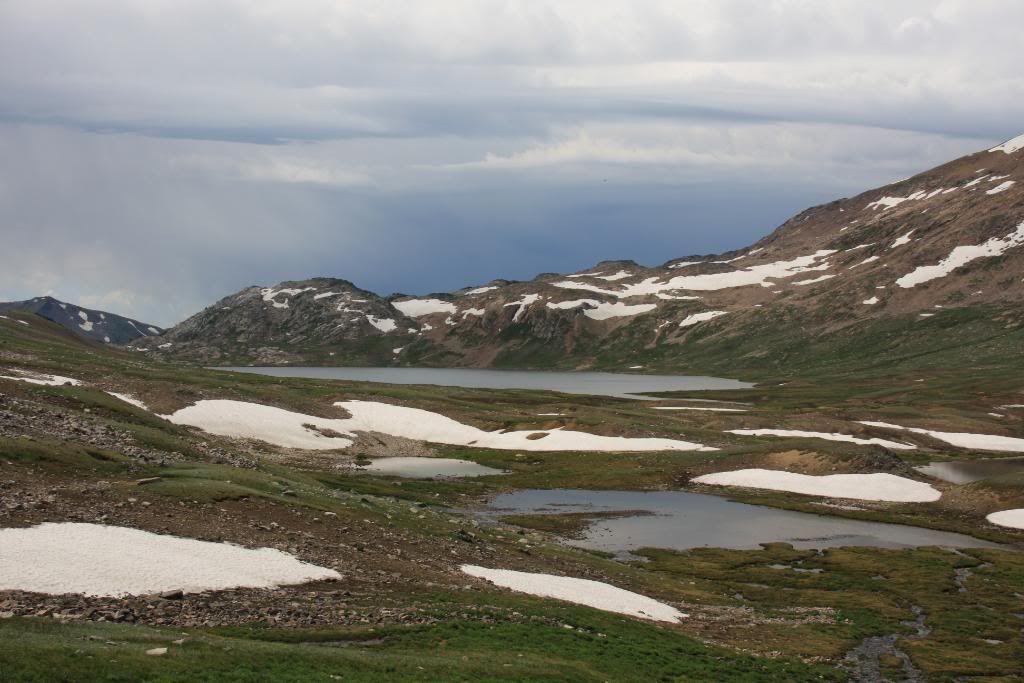 Old mining debris between Goose and Little Goose Lakes: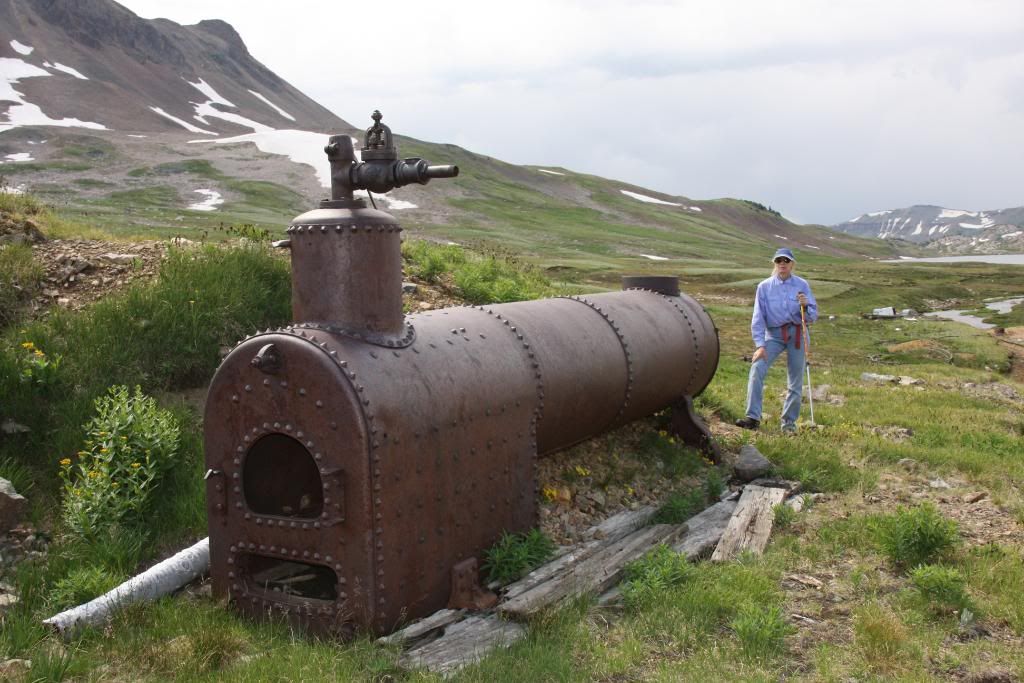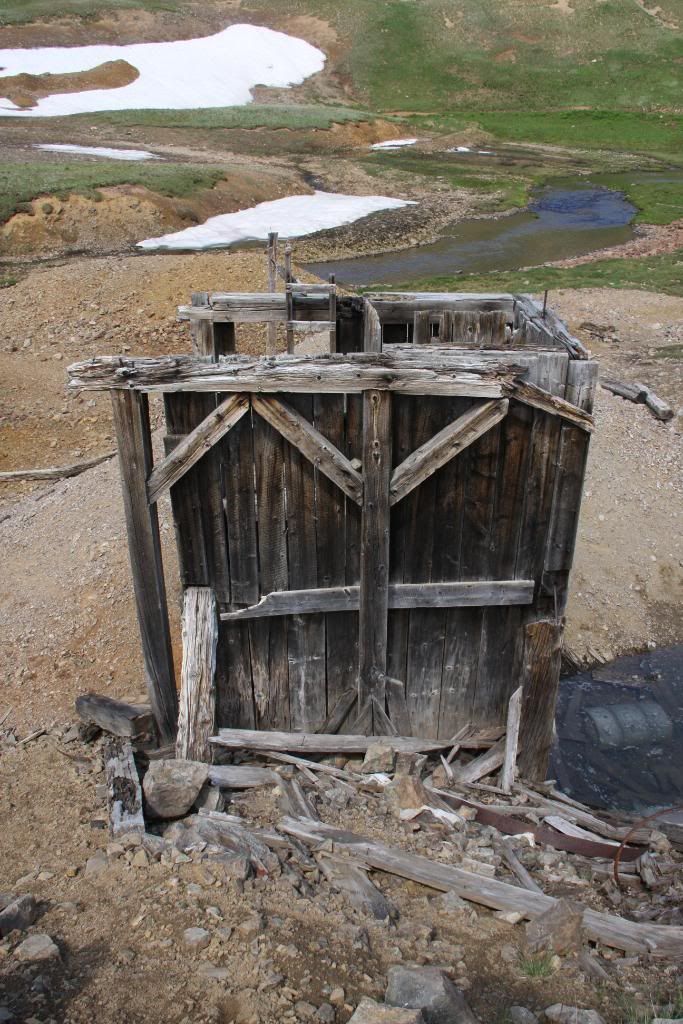 Hike to Grasshopper Glacier: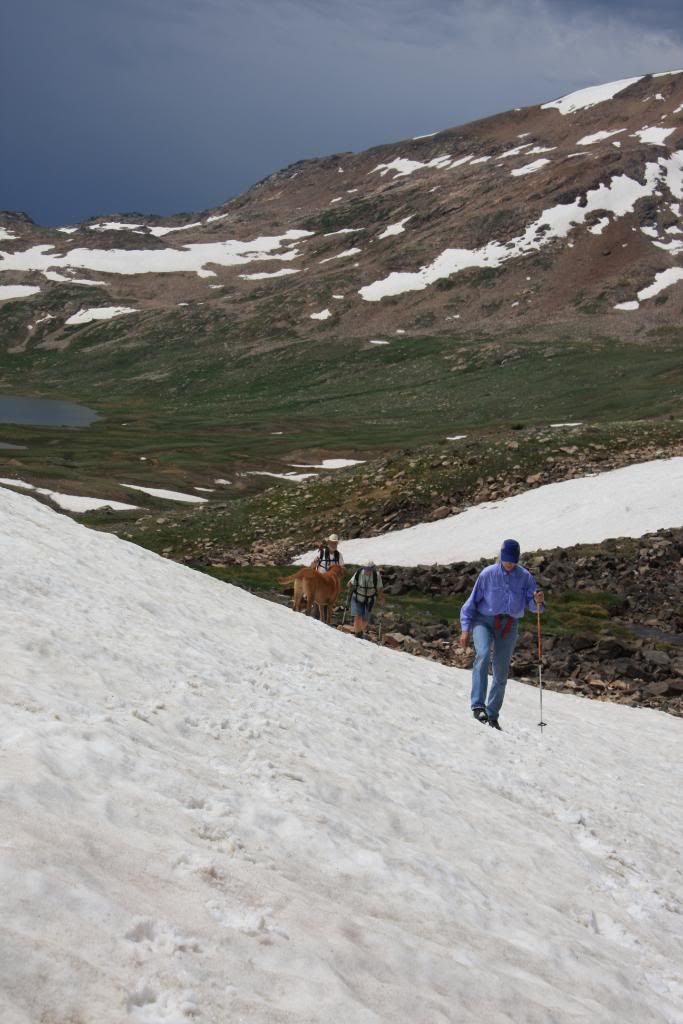 Looking north from the top of Grasshopper Glacier down West Rosebud Creek drainage. We were at about 10,750 foot elevation, 40 mph wind, rain, and hail so I didn't get too many pics at this spot.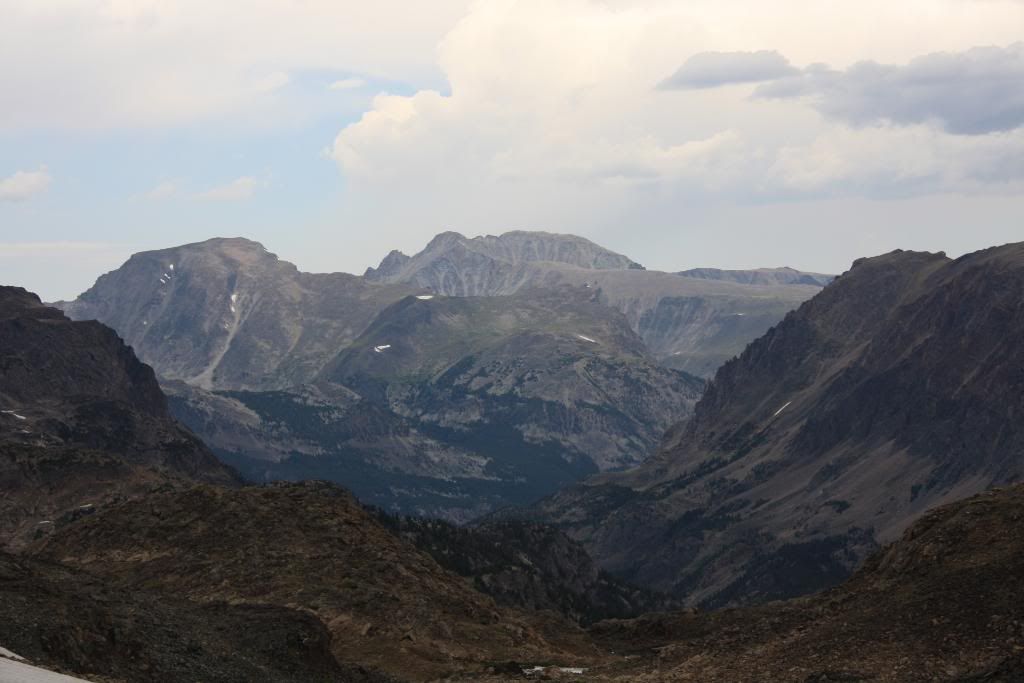 The second trip started at camp (Star Lake) and we hiked to the next small drainage to the east past Snow, Green and Little Green Lakes. Amazing what a difference being a half mile from the road makes-true backcountry. This was a relatively easy 5 hour hike.
Star Lake: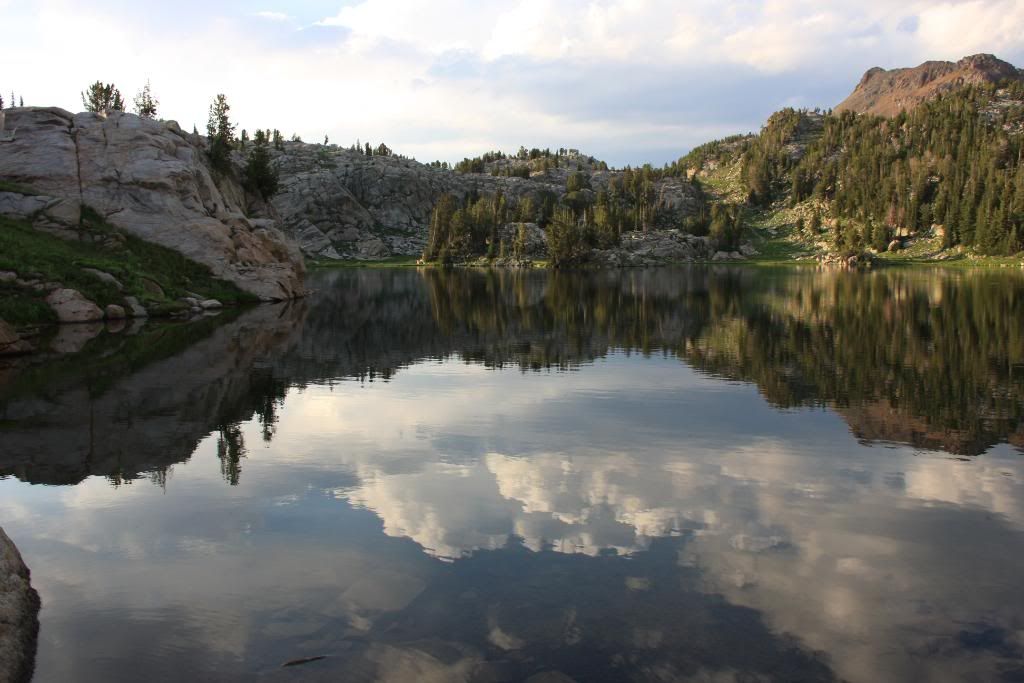 Snow Lake (with a little rock flour in it):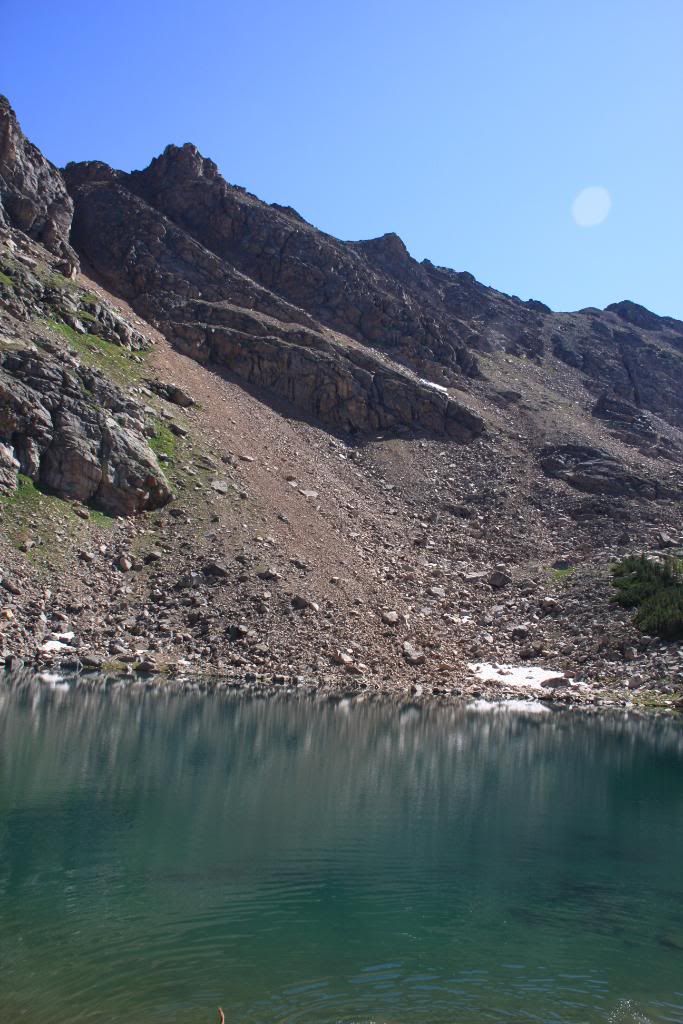 Green and Little Green Lakes: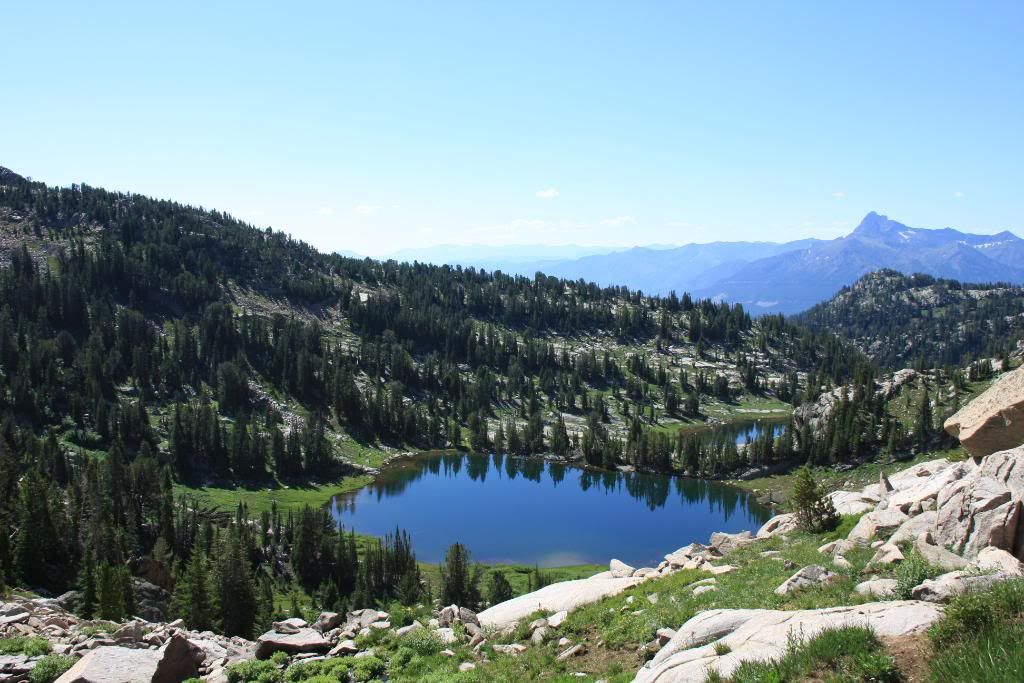 Between Snow and Green Lakes: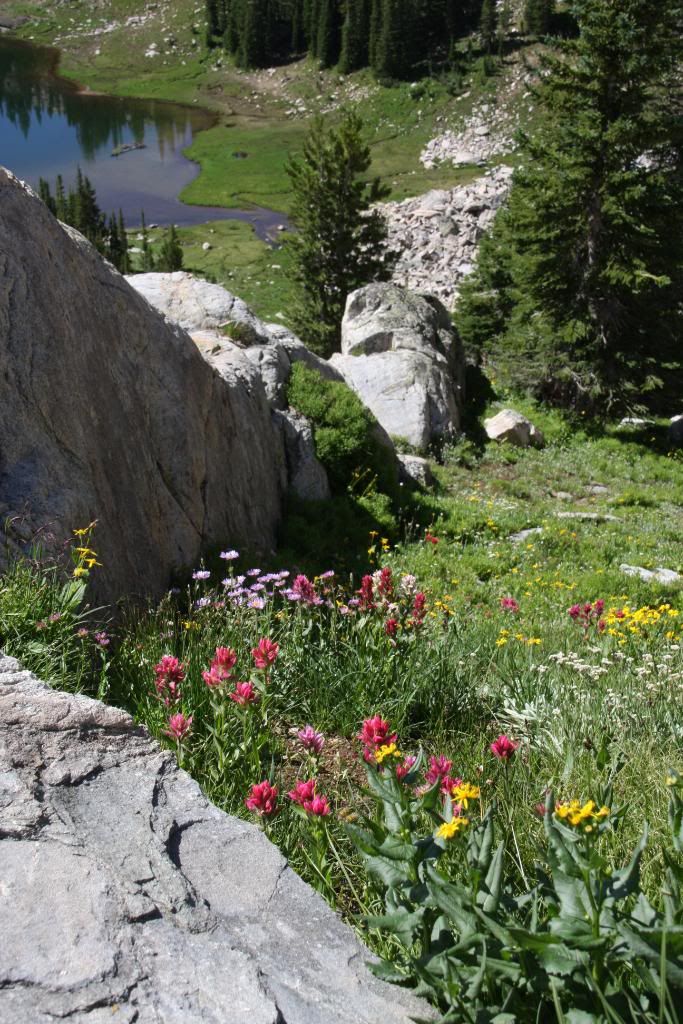 Right when we got back to Star Lake, these guys were in the process of flushing a few fish in the lake: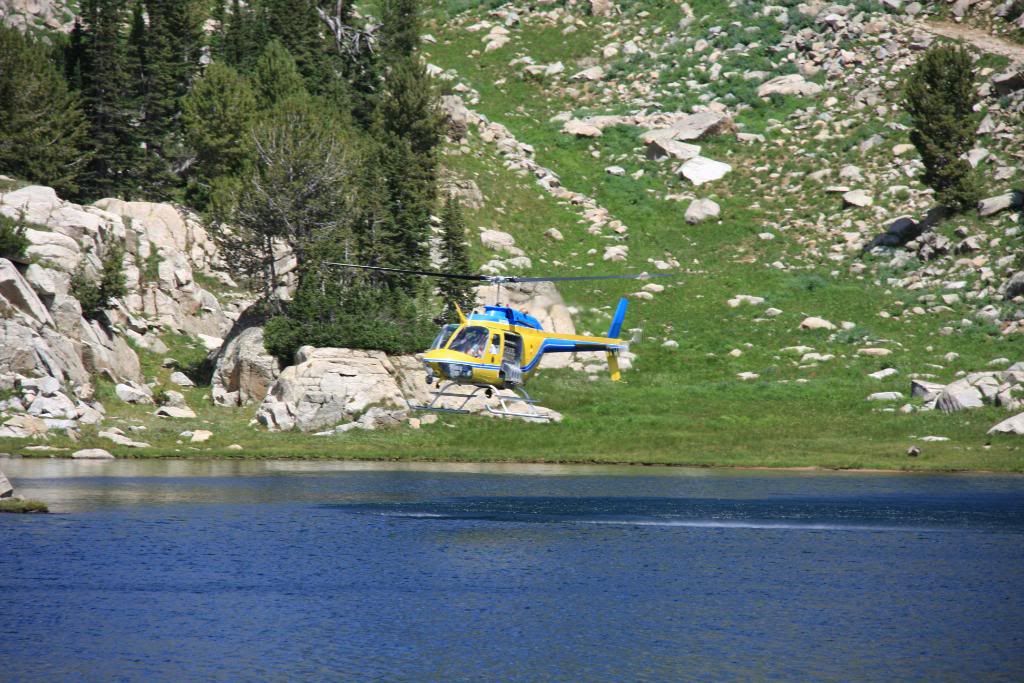 The last trip was up Zimmer Creek and 8 plus miles of hiking. We again drove the Jeeps, this time to Round Lake. Then we spent 45 minutes wandering through the brush near Companion Lake before finally locating Trail FS 573 to Lady of the Lake/Zimmer Creek and then taking Trail 574 up Zimmer Creek. There is no signage for FS 573 and it is most definitely not obvious from the Jeep trail. A lot of Trail 574 exists on the map only-no where to be found on the ground.
Mount Zimmer (11,550')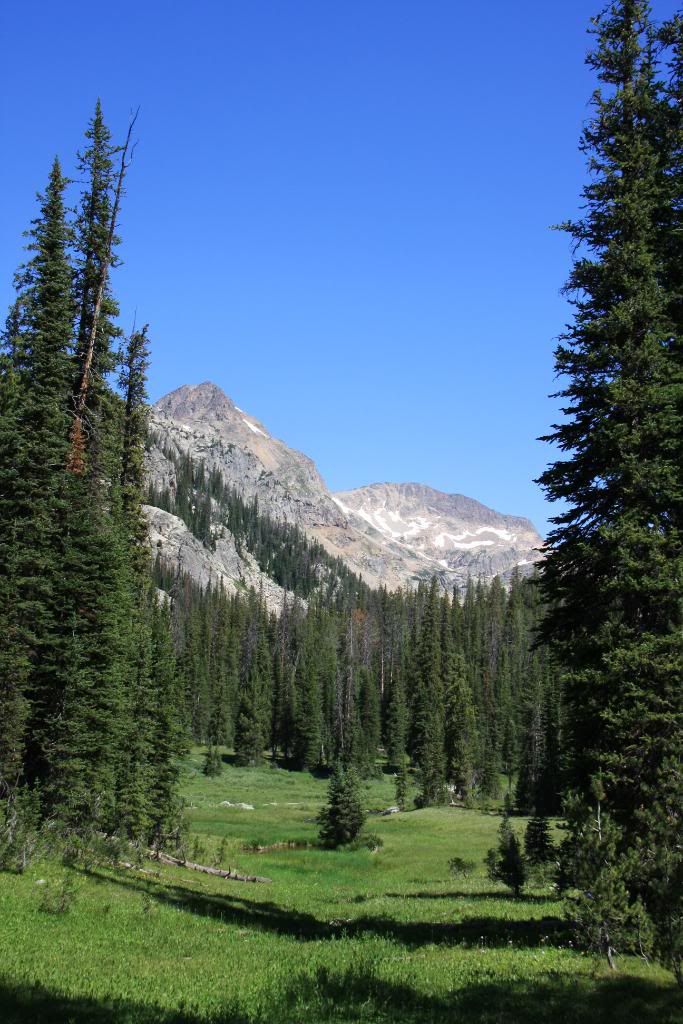 Zimmer Creek: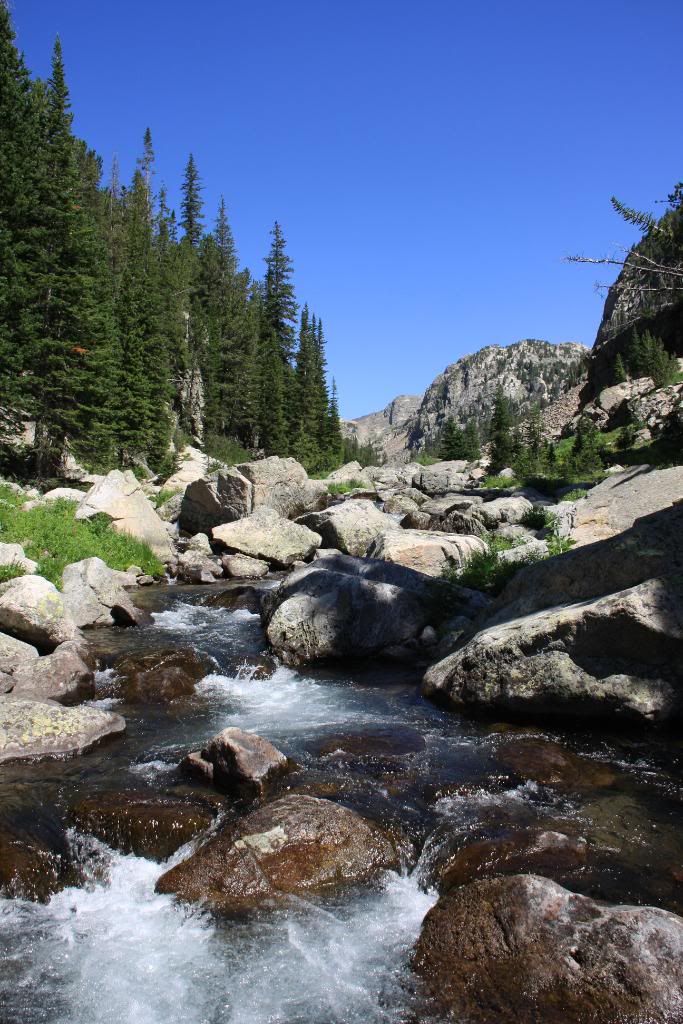 Falls below Zimmer Lake: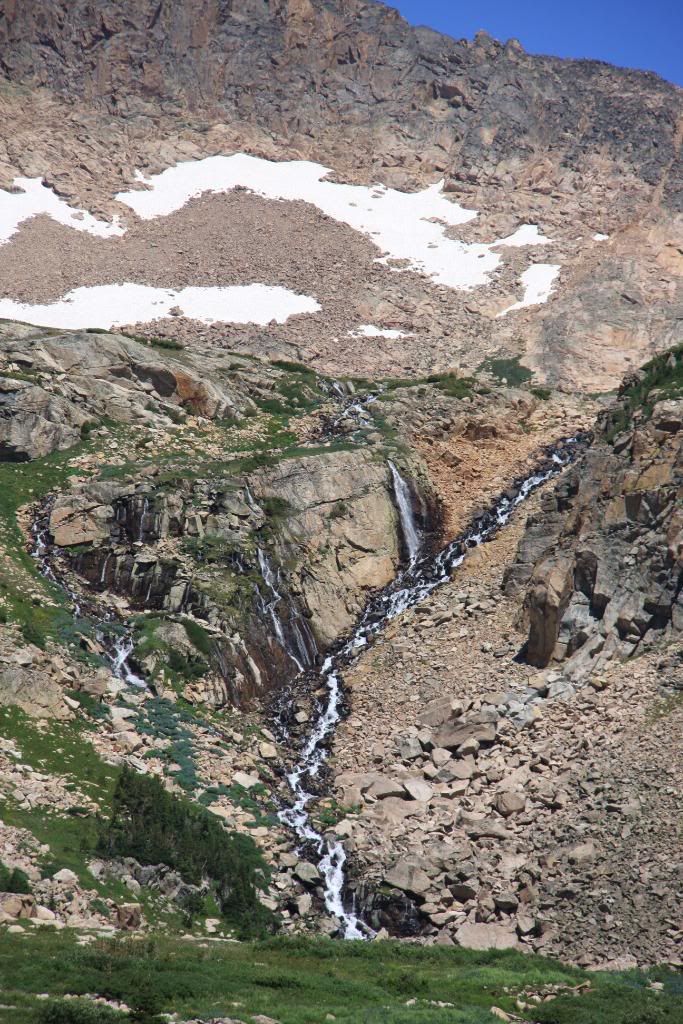 Flowers were everywhere: one very big flower garden: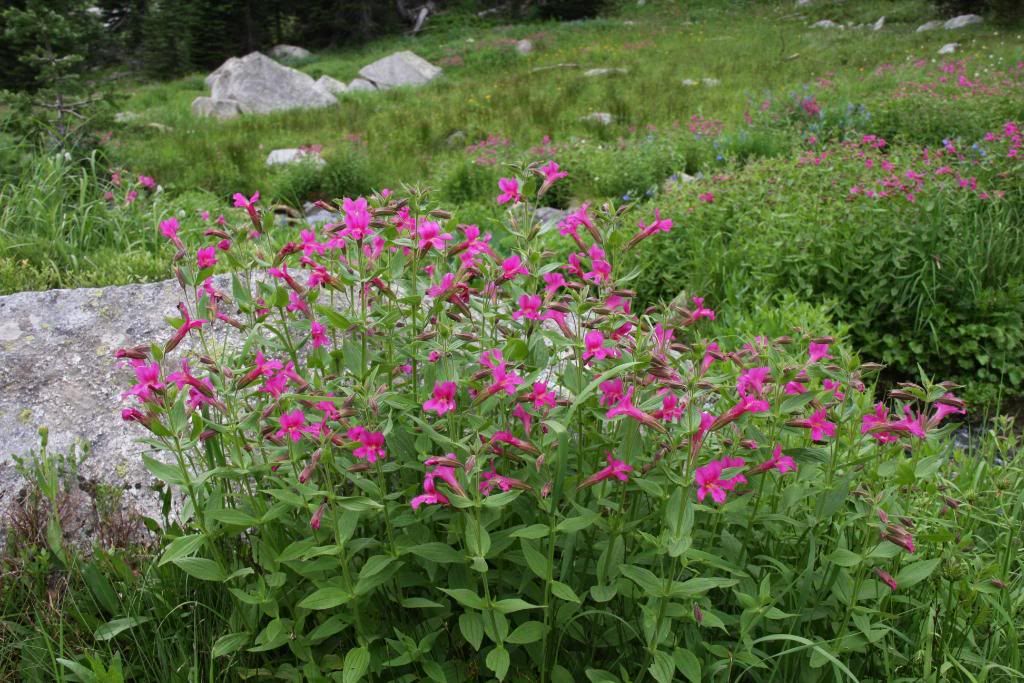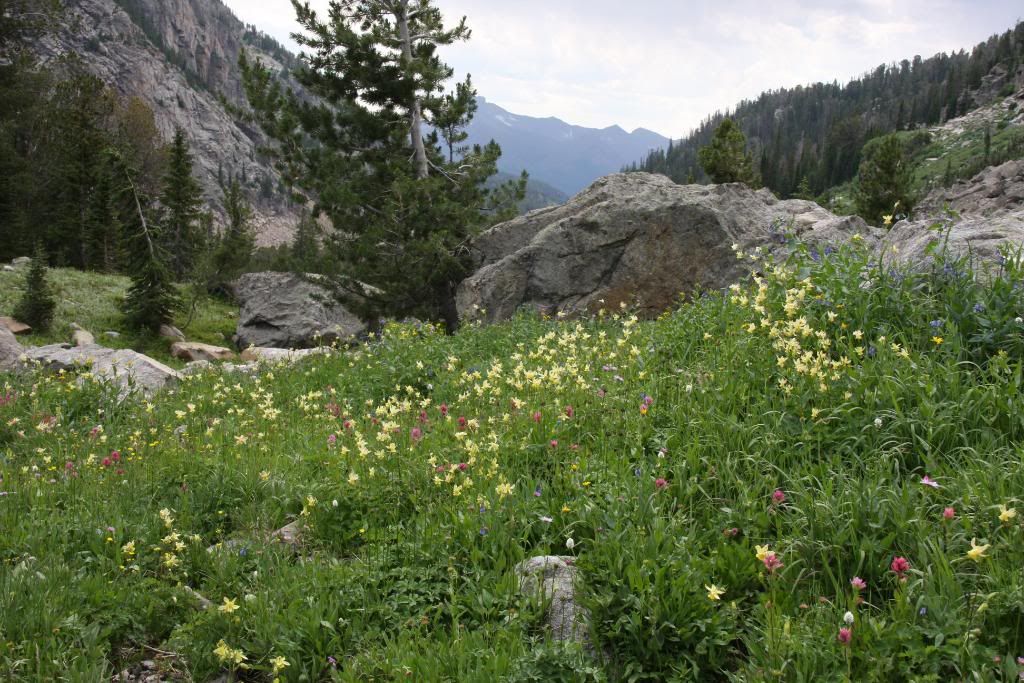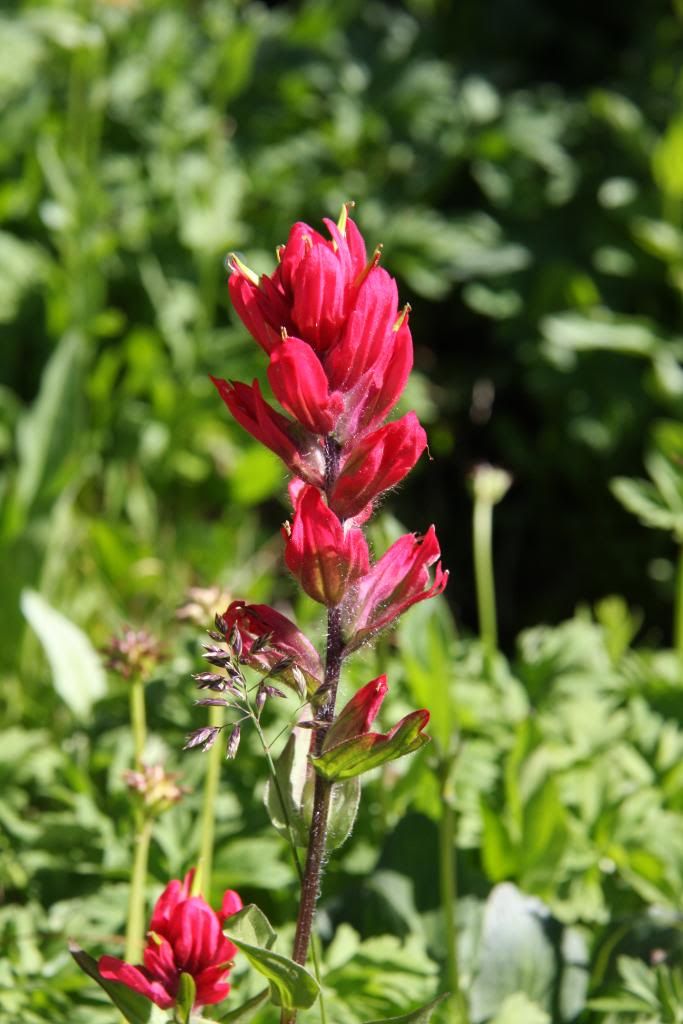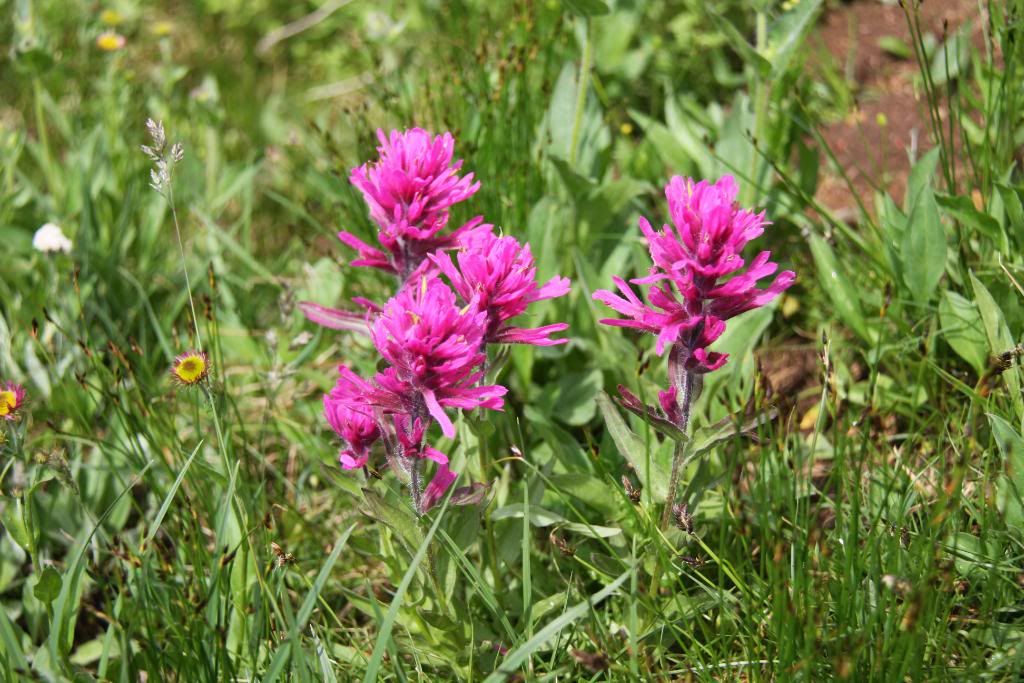 Parting shot looking east from Goose Lake Jeep trial into main Beartooth Plateau: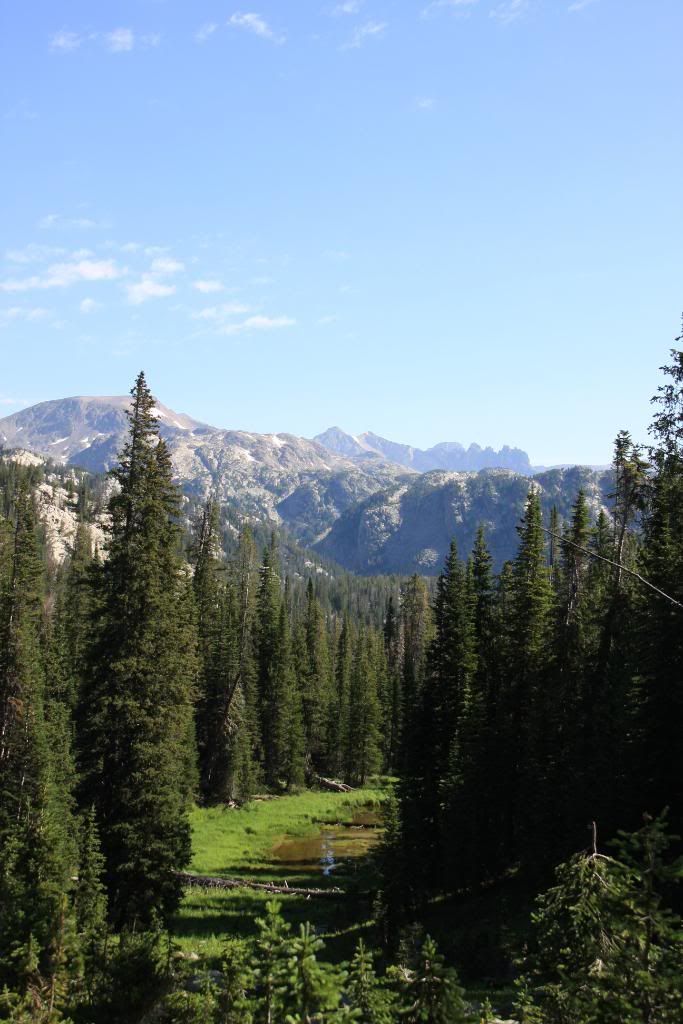 There are several more Jeep trails in this area, including Lulu (6943) and Dasiy Pass (3219) roads and one could spend several days just driving. All of it can be done with a more or less stock Jeep but a winch would be highly desirable.
That said, if you get off your duffer, there is just much, much, much more to see-more than a lifetime's worth. My first venture into this area was in either 1964 or 1965. I have logged more than a year's worth of time in it over the last five decades and there are many places I have yet to see. A million acres of some of the best scenery there is. All in all, time well spent.