Registered User
Join Date: Oct 2010
Location: Chico, CA
Posts: 701
Fordyce Creek Area (lots of pics)
---
I invited lots of people to join us last weekend, but no one showed, so we just went ahead and did it anyway. We were planning to take HUM WEE (my son's Mighty Mite) but I did not get it ready to tow in time and he couldn't make it anyway which is just as well. As I posted elsewhere, my Griffin radiator was in for repair and they failed to address the problem with it and get it back in the agreed on time, so I rustled up a junk yard radiator out of the local pick and pull. It was a two core brass radiator that I took down to a local radiator shop to have re plumbed for a Chevy engine. But I guess I forgot to tell them to rod it out. It worked alright in the flat land, but when we started climbing the mountains it wouldn't do the job. I thought maybe it was a little plugged up by the rate of flow through the core, so I stopped in Grass Valley to say to my son and talk to a guy who said he might go and get some radiator flush. I dumped it in and took off. There was an immediate improvement in cooling and it was staying cool as we went up the grade. But when we got to Bear Valley, very nice spot it, it started spitting coolant up through the hood vents on to the wind shield. We stopped and found that a custom made piece that held the radiator cap had sprung a leak. I guess the radiator flush was too much for it, even being in for only 30 minutes. It was peeing a nice little stream out the side and the big fans I had on the radiator was pushing it up through the hood vent. So we poured in the wife's carbonated water and other water we brought along and crawled to the next available gas station only about five miles down the road. We bought more water and limped into camp another two miles down the road.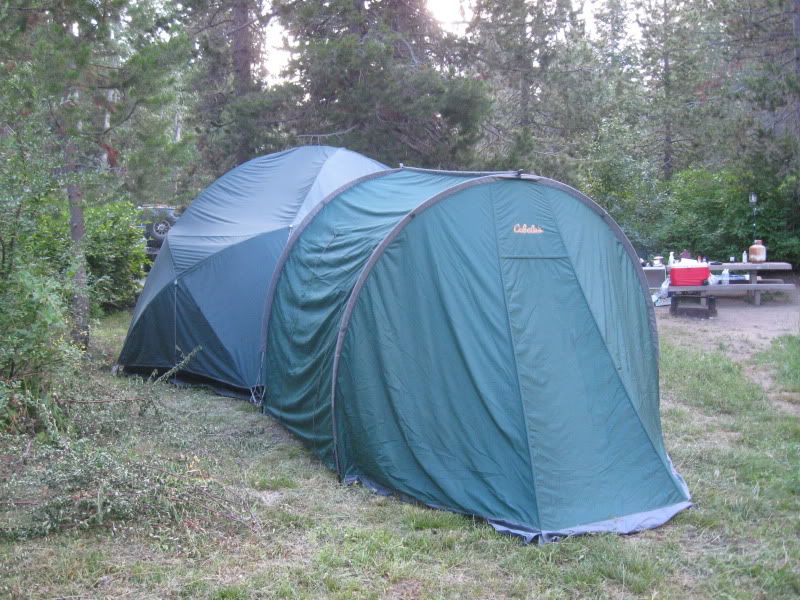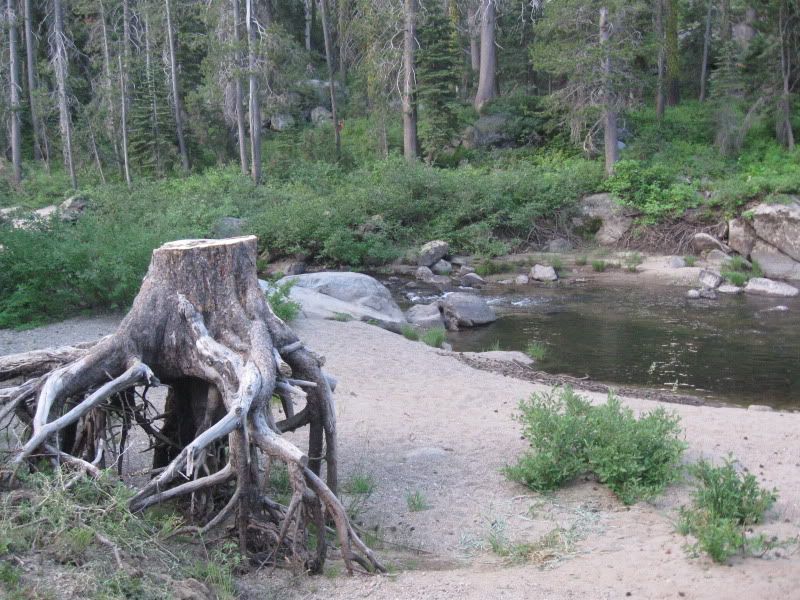 Sitting on that rock in a reclining folding chair and watching the sun come up was really grand
We had planned on establishing camp an going to Cabalas, a really classy outdoor store. These are always fun to go to. They always have a zoo with mounted animals on a mountain. This one has two. We were going to take care of the wife's shopping fix and pick up an new self inflating mattress pad since our pads were old and a little too well used. We didn't make it obviously. But the camp host was a really nice guy and we got to talking and he offered to take us into Truckee to get my radiator part soldered. While we were at it, I fixed his electrical problem on his motor home so he could raise his jacks and dump his holding tank which he said was rather full. So the next day we started out for Truckee in his pickup. I couldn't believe it. There was no one in any welding shop that even knew how to solder. No radiator shop either. The only one in town was shut over some environmental thing. But one guy at at welding shop had some stuff that he put on that he said might hold. But he took a rotary wire brush to it before applying this stuff and made the hole bigger first. Now it was about 1/3" long and 1/16" wide. We stopped and got the stuff for the motor home and went back to camp and I put the patched part in. So off we went to Reno to Cabelas a day late, and a very poor nights sleep. We made it about two miles and blew that plug right out. By now we were carrying about four gallons of water. The wife's carbonated water went in again. We were getting about one mile to two gallons of water while idling up Donnor Summit. We made it to a place called Soda Springs, which consists of a gas station with no gas and a post office and small ski area. We couldn't even find the guy running the convenience store but we did find a plumber in the back room. I got to ranting about how no one in Truckee could solder and I couldn't believe it when he says. I can solder and there is the tanks. Whew. I went out and got my part off in about thirty seconds flat and took it in to him and after cleaning it up he solders it. Twenty bucks later we were back on the road and flying, well as fast as an XJ can go at 7,000 feet elevation, towards Reno and out new sleeping pad. We did a little browsing for future camping purchases and came back and I said lets go wheeling, there is a few hours of daylight left.
So off to the Signal Peak road we went. It was then that I realized I forgot to bring any of my maps and areal photos I had prepared for the trip. But I had wheeled this road before so I knew where it was. The wife had never been rock crawling before and I thought this would be a good road to break her in on. The last time I was on this road, I made it up with 31s and a three inch lift with no lockers. It was a little challenging, but that made it fun. It takes off from the Eagle Lakes staging area, the famed entrance to the Fordyce Creek Trail (better know as the Sierra Treck).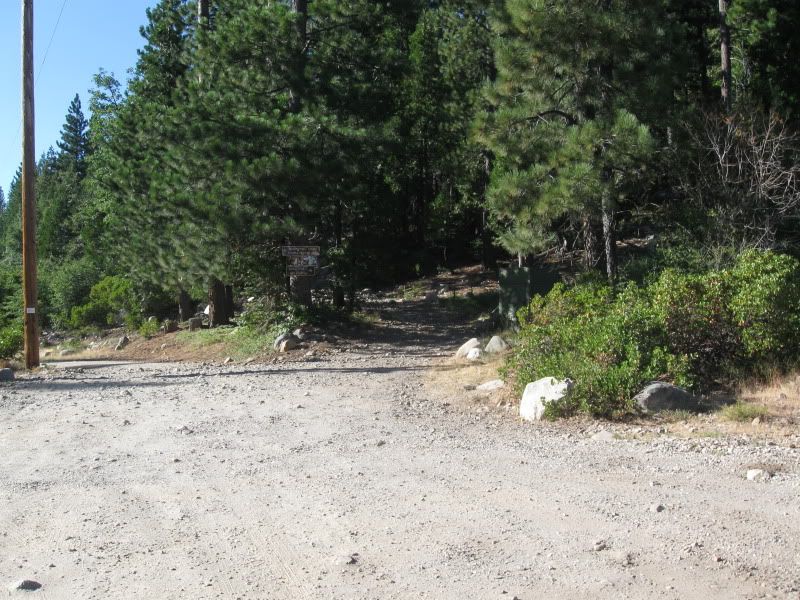 There was a lot of snow there this year, in fact the snow didn't melt off until August this year. Things had changed. This is what the base of the road was like.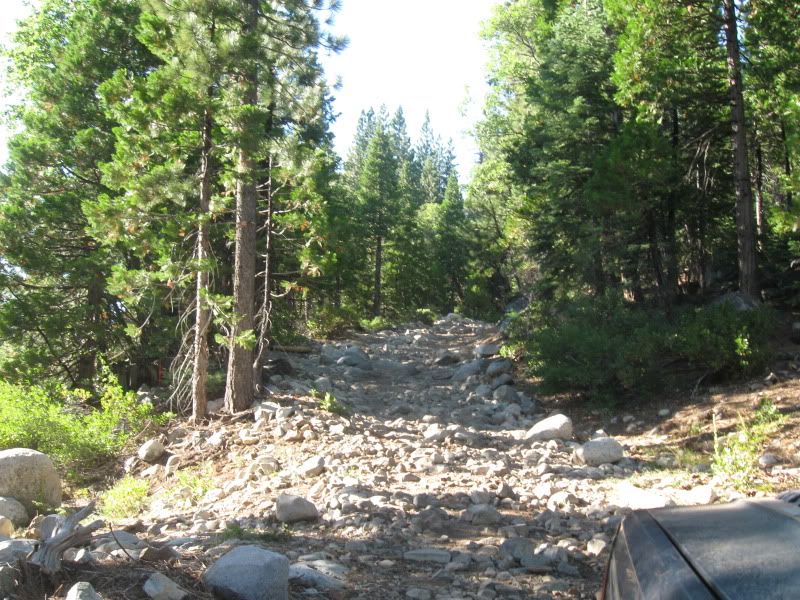 Well, no biggie. This was a Jeep after all and I had a new Aussie Locker in the rear. There is a rock up in the second group of shadows. That was as far as I made it. I couldn't go any farther. Then I heard my power steering pump making noise. The wife was looking at me and telling me I should reconsider this. I popped open the hood and found the pressure hose had worked loose on the pump and dumped the oil out. So I backed down all one hundred feet to the staging area and discovered that I never got into 4WD low range. I only thought I did, which you can do with an Atlas tcase. So off to the gas station at Cisco Grove to get some power steering fluid, only about one mile away. Oiled it up and back we went, this time I made sure it was in gear. Got to the rock in the trail again and the wife said, "You can go around it over there". Nope, onward. I went up and over the rock and up we went.
We found some more rocks in the way that had been exposed by erosion, but no big deal. We were using the low gears in the Atlas to good advantage. 3.8:1 is a nice crawl ratio for this stuff. Then we came to "The Rock"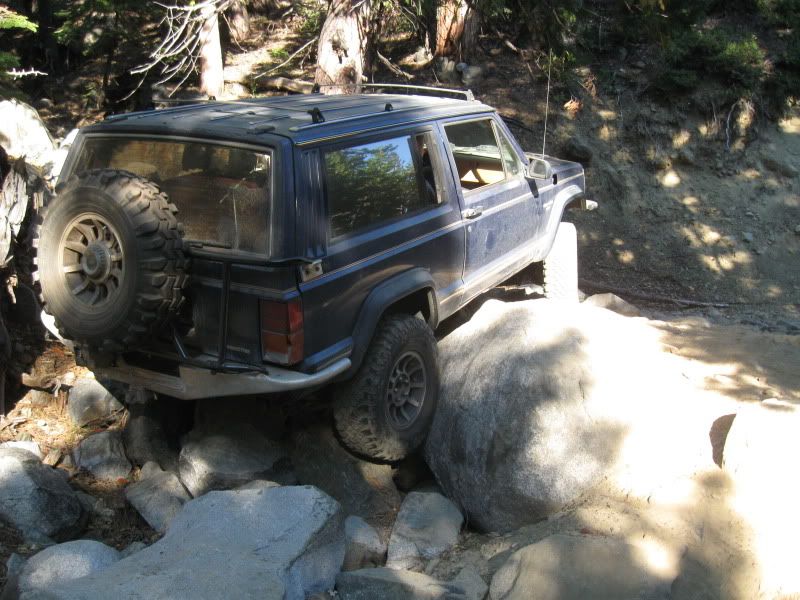 The wife was out of the Jeep shaking her head talking about going back. I just eased up and stopped for a Kodak moment. Never slipped a tire. I had already gotten a little rock rash on the rocker panel, which you can see in the pic if you look close. She was amazed. This was now starting to look fun to her. She got back in and we went a little further and stopped here.
It doesn't look bad in the pic, but this was really off camber and the trail had washed out and had been built up by others and narrow. I didn't have anyone to spot me since no one had showed up so we turned around and went back to camp. Down hill was on the wife's side, and is was a long ways down. However the wife was singing a nice tune about the Jeep and what it would do and was starting to get into this.
The next day, Saturday, I planned a long trip. So we packed up the refrigerator in the back, running off the inverter with more carbonated water for the wife and lots of cool drinks and food for an all day trip. And I mean all day. This one would last ten hours, and I knew it.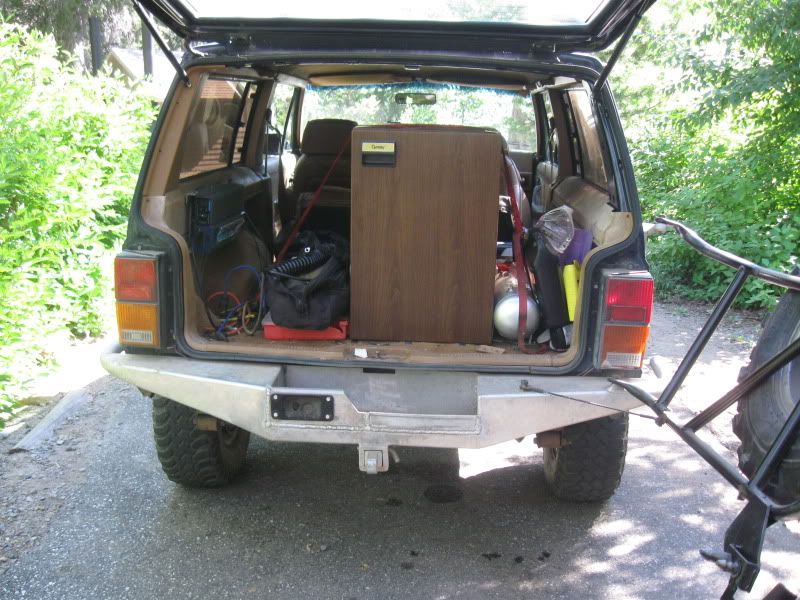 Normally I would go in at Eagle Lakes and cross the Fordyce. But we talked to Adam in Grass Valley and he said that two weeks before, the water was up to over the half doors on his lifted YJ on 36s. That was about six inches higher than my air intake and distributor. So we elected to go down to the Bowman Lake road and head for the other side of Grouse Ridge Road and get on the trail and head for Byers Lake and see if we could make it to Meadow Lake, the end of the Sierra Trek. It was a good plan, but it is too bad I was suffering a senior moment. I had forgotten that forty years ago they had closed that area. In fact, there was an old Ford Pickup down there with an engine in it that had been abandoned. It was 1972 and I needed an engine for my flat fender project. So I loaded up my Bronco and a trailer and tri pod and wheeled down there and pulled that engine in about 6" of snow all of one month before closure. That was a great motor. I punched it out .315", yes that is 5/16" and stroked it a half inch, put dual two barrels on it with some headers. It had about twice the usable torque as a 4.0L. You could pull another vehicle behind it and not know it was there. But I digress. We found Grouse Ridge road and started up.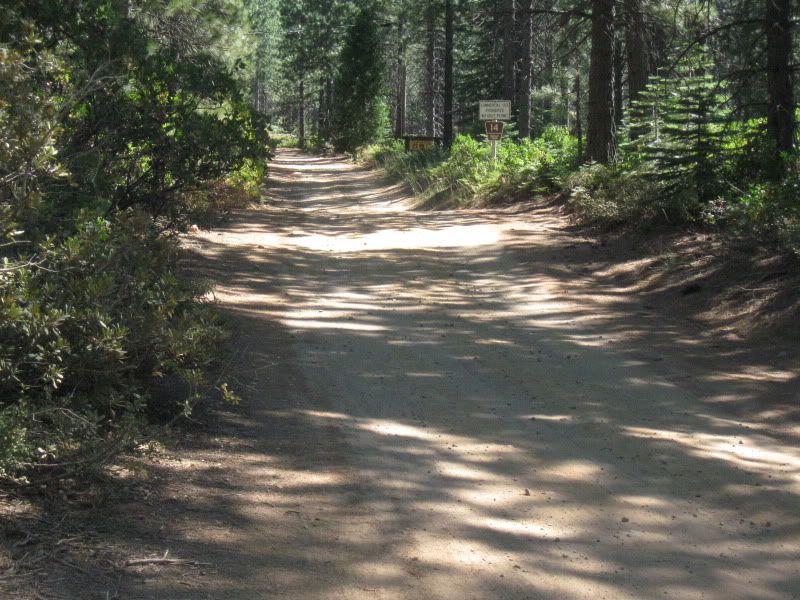 Registered User
Join Date: Oct 2010
Location: Chico, CA
Posts: 701
These rocks don't look too big in the pics, but you lack perspective. The erosion this year had taken its toll. These rocks are about waist high. They were standing around having a beer trying to work up the courage to try it. I knew better, so I turned around and headed back to the Baltimore trail after looking at their map. We got on it and found it to be a pleasant trail. Almost doable by a stock or mildly built rig. I would say one locker and 4.5" lift minimum on this one.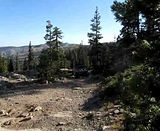 Click for video
The last one was a fair sized step. Having the locker was necessary I think. It looks so easy here because of the gearing I was using. 10.38:1 is slow and easy and allows a rig to crawl things you wouldn't believe and make it look easy, compared to 2.7:1, which I also have. It was right about now the wife was saying, we need to go back and vid "The Rock". But it was 7PM with only about an hour of daylight left so we headed back to camp by way of Truckee.
Sunday, we were required to be out of camp by noon. But there was wheeling to be done. I decided I could do the other end of Signal Peak and make it back in time to get packed up and out of there. So off we went. We found the end of it and proceeded up. And had trouble immediately on some loose dirt and round round stones. So I backed up and gave it some gas and up we went. Only to discover that we did the whole thing in 2WD again. Made a mental note to adjust linkage when I get back. But this part is easy and doable in a stock rig. The scenery is spectacular and the views are awesome. The air was a little hazy, like there was a fire somewhere. We made it to around 8,000 feet elevation in these pics.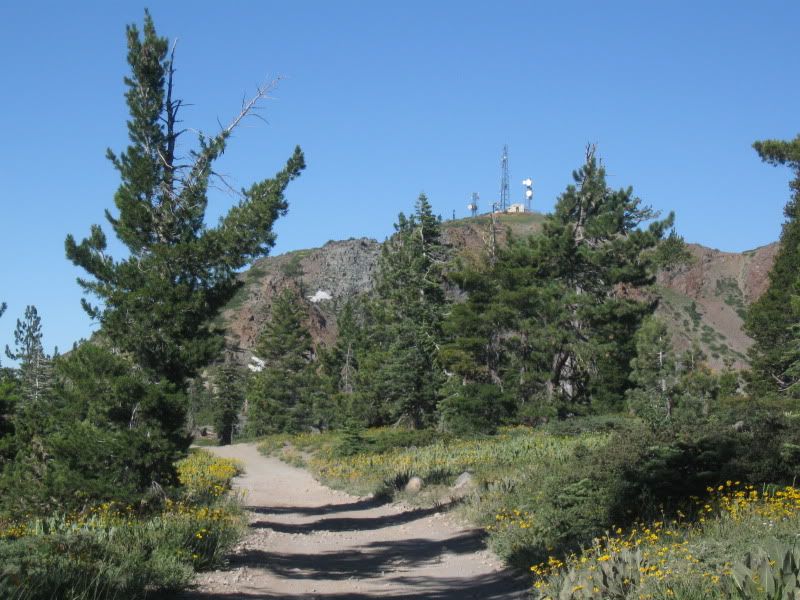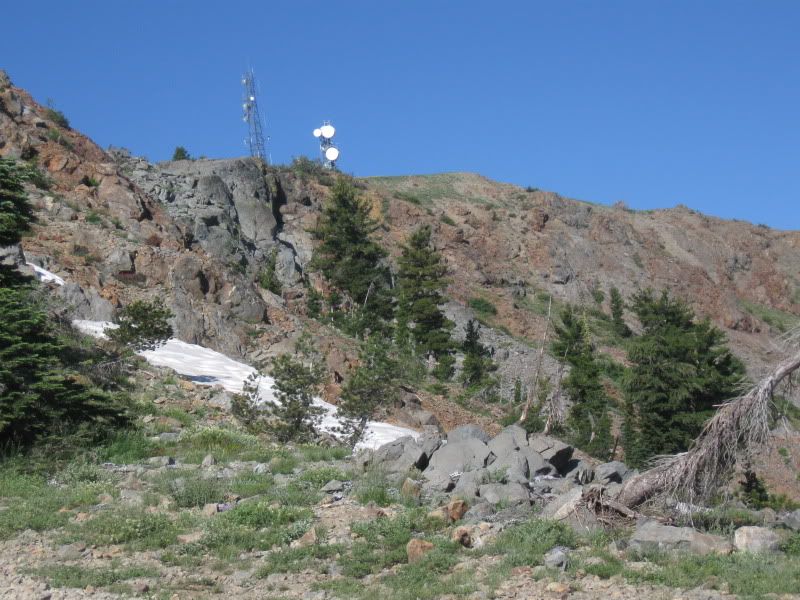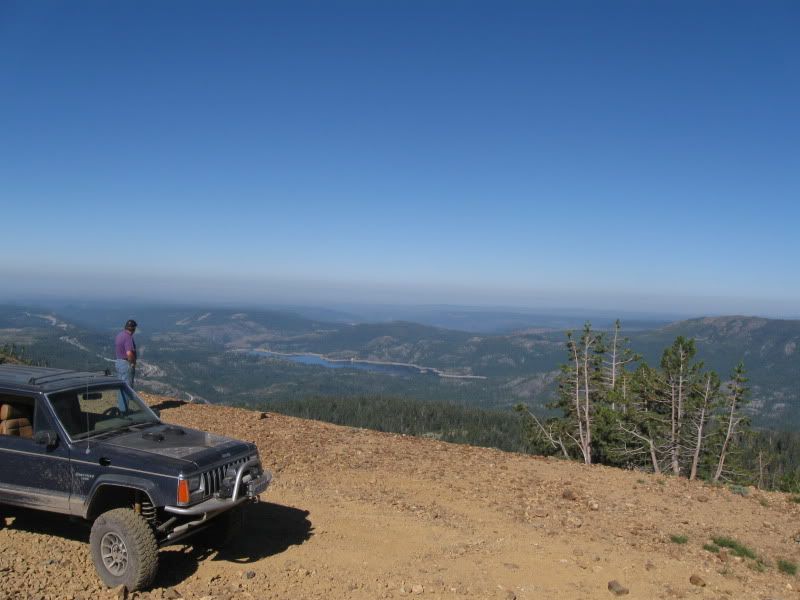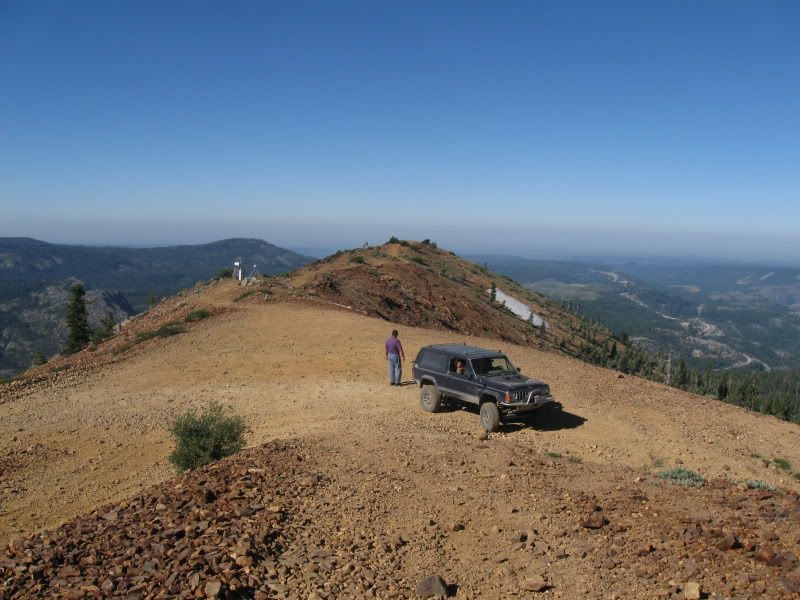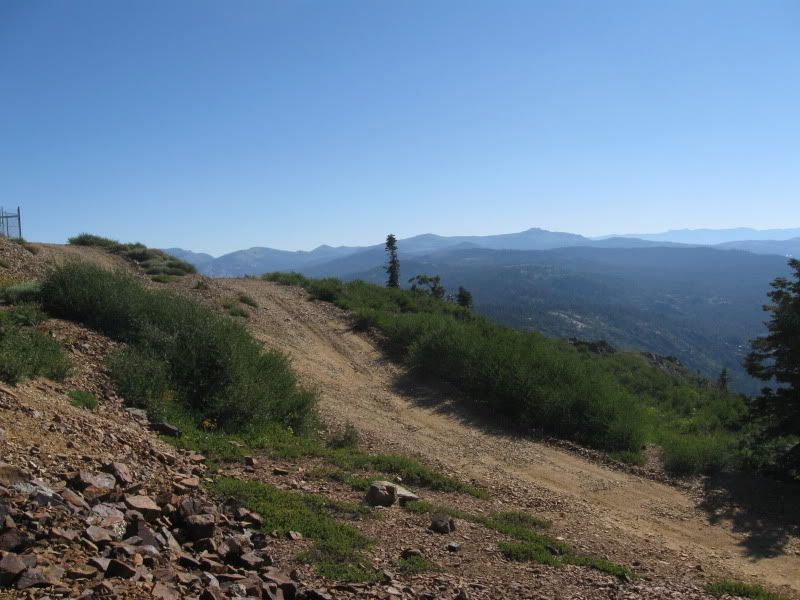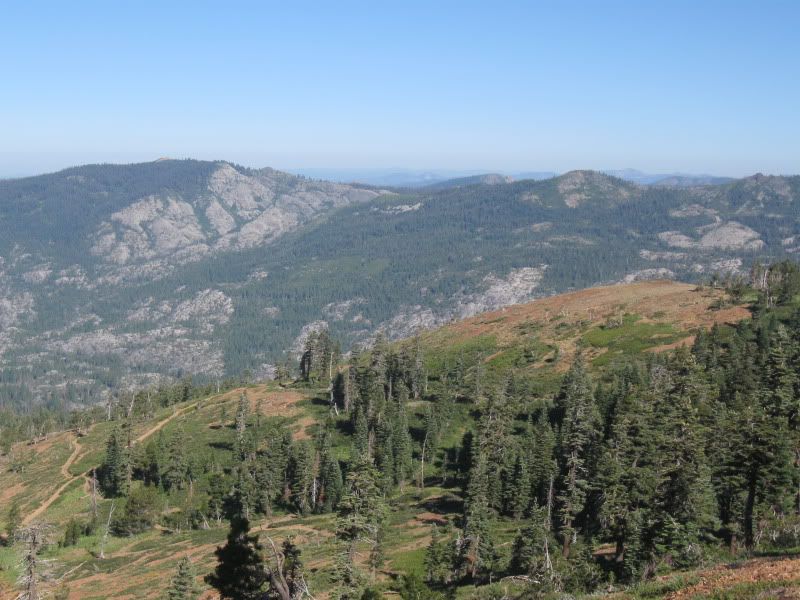 Here is the rest of the trail. It disappears into an old growth Spruce forest, a rare sight in the Sierras.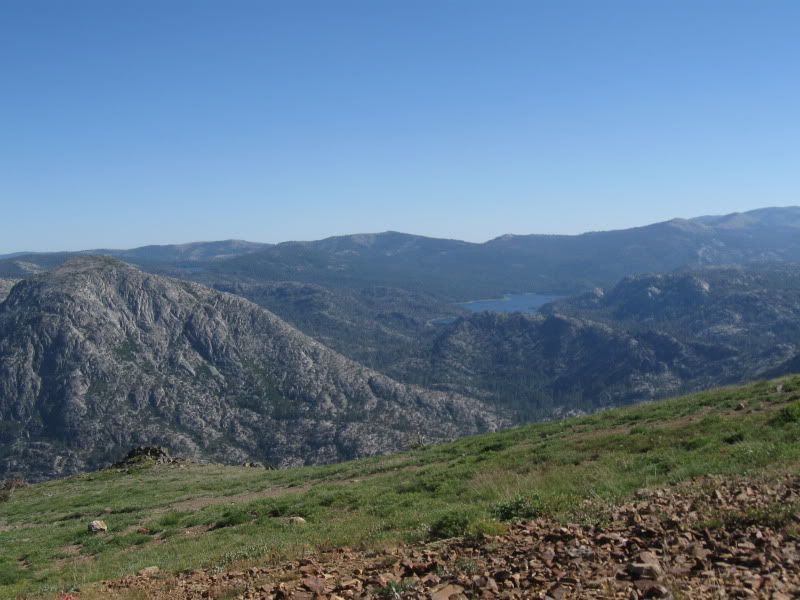 The big piece of rock on the left is Old Man Mountain. Solid granite. I hiked up the face of it on the government payroll when I was younger. Out of sight of this pic is a stream with 30" German Brown trout trapped in pools. But I ain't tellin you fishermen exactly where. Don't bother, you will never find it. We were on the ridge to the right on the Baltimore trail yesterday. The Sierra Trek trail is at the base of Old Man Mountain in the canyon.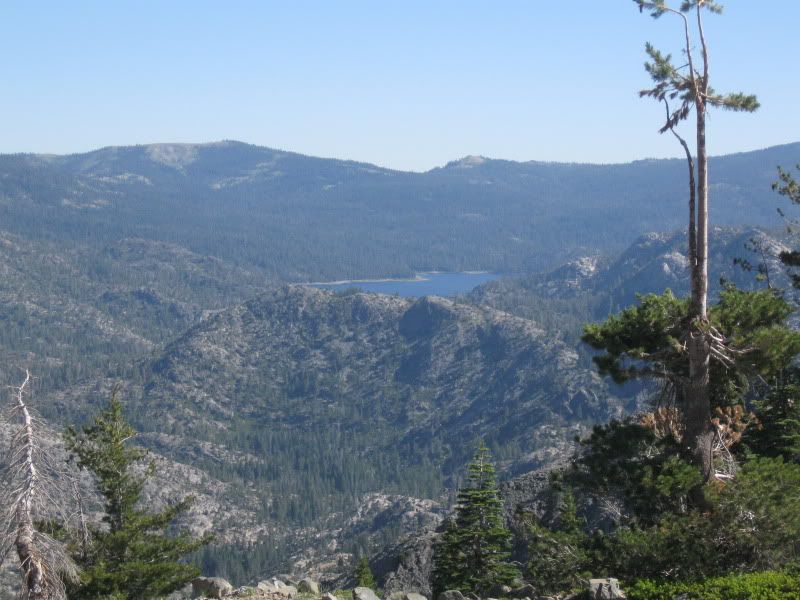 Currently Active Users Viewing This Thread: 1

(0 members and 1 guests)
Posting Rules

You may post new threads

You may post replies

You may not post attachments

You may not edit your posts

---

HTML code is Off

---