Elbe Hills 6.11.2010
---
I met TrailJunky and PopCancherokee @ Elbe for our day of wheelin.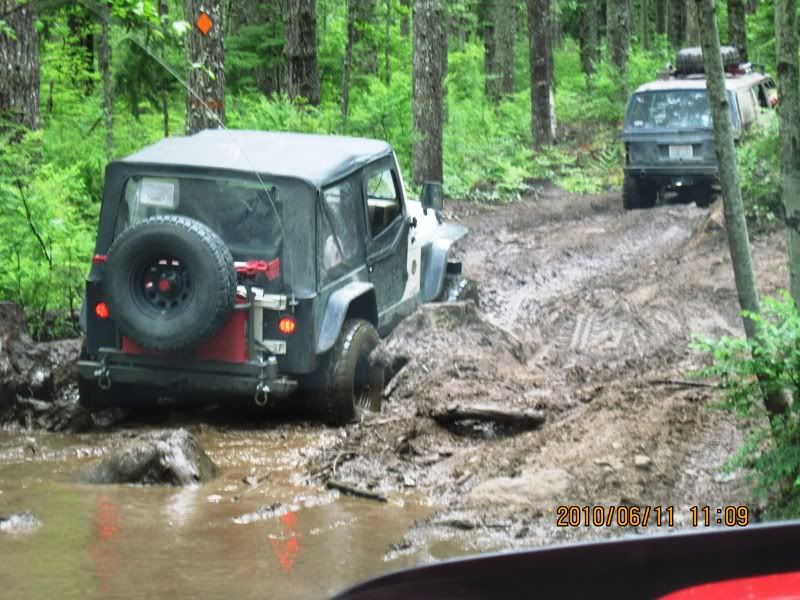 I believe we ran everything backwards today! This is the upper end of the Gotcha Trail and where we started our day around 10:30/11:00.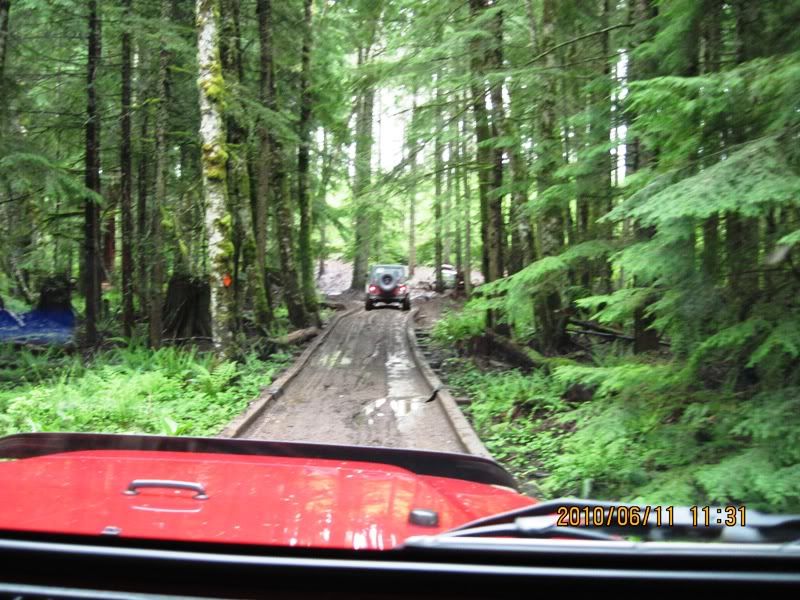 More Gotcha...just beyond this bridge is a great little spot for foolin' around in the mud/dirt...That's TrailJunky up front and PopCanCherokee is in front of him, just out of sight.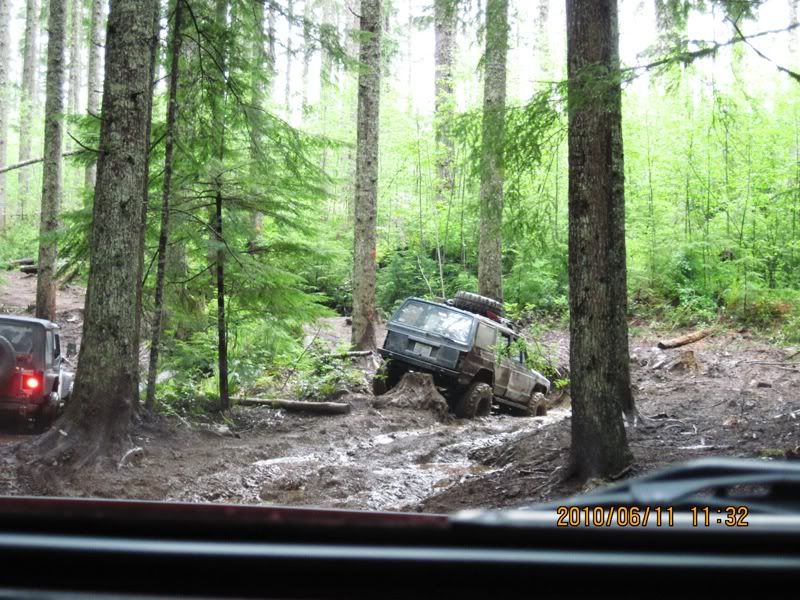 There's Dave a.k.a. PopCanCherokee...after a few attempts at this mud slide he heard a "pop". We all made our way up the hill and stopped at the top to assess things. Only 10 minutes (+/-) into the trail, Gotcha got PopCanCherokee's passenger rear axle. Now Dave has a two piece, rear passenger, custom by Gotcha, axle shaft...Dave insisted he could drive back to camp and get it swapped out for one of the several spares he had in his inventory...
With some reluctance, TrailJunky and Trevor a.k.a. mini-PopCanCherokee, and my son Jess & I headed off in the other direction down the trail.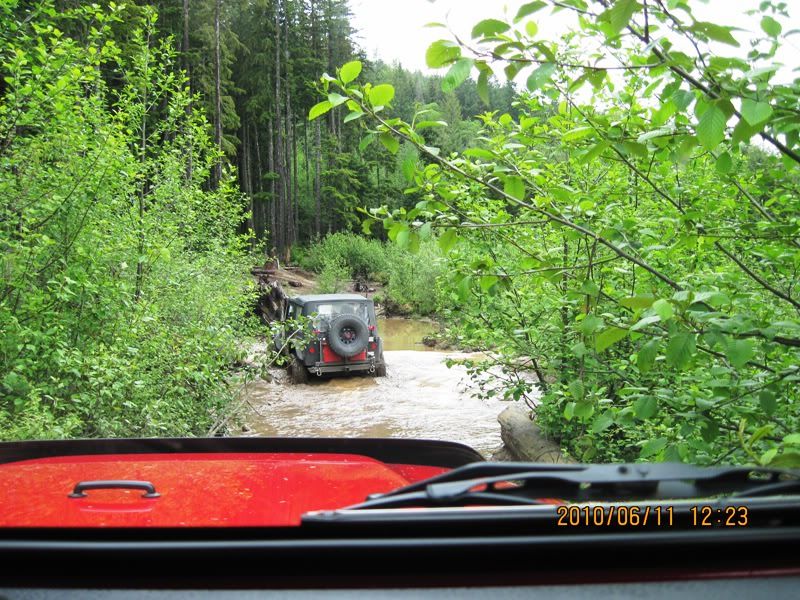 Onward...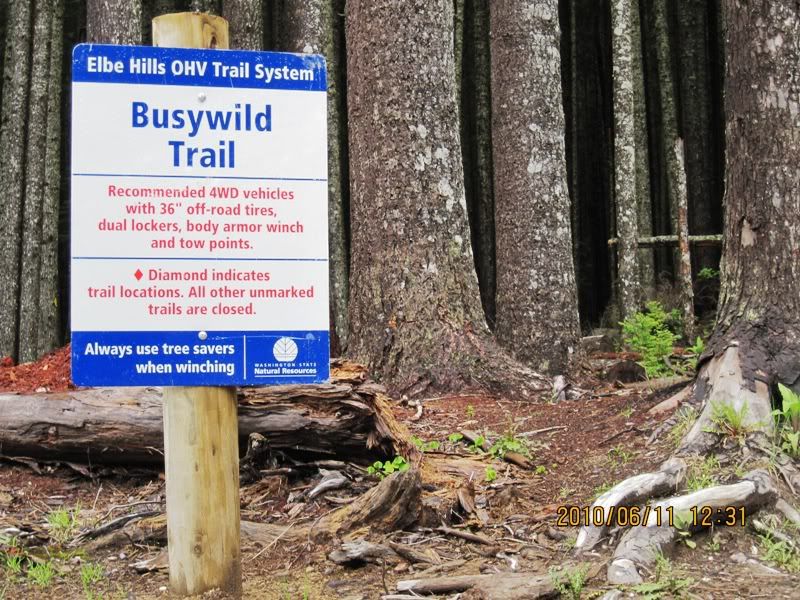 The BusyWild...yes, we did the Busywild, on foot...we walked down to check it out and see what all the fuss was about. We walked about 500-750' or so up the trail and could see how this gnarly section of trail, likely earned its reputation. It wasn''t in the cards for TrailJunky and I on this day, but it's in our future...
Approach (or end) of BusyWild...time to go check on PopCanCherokee...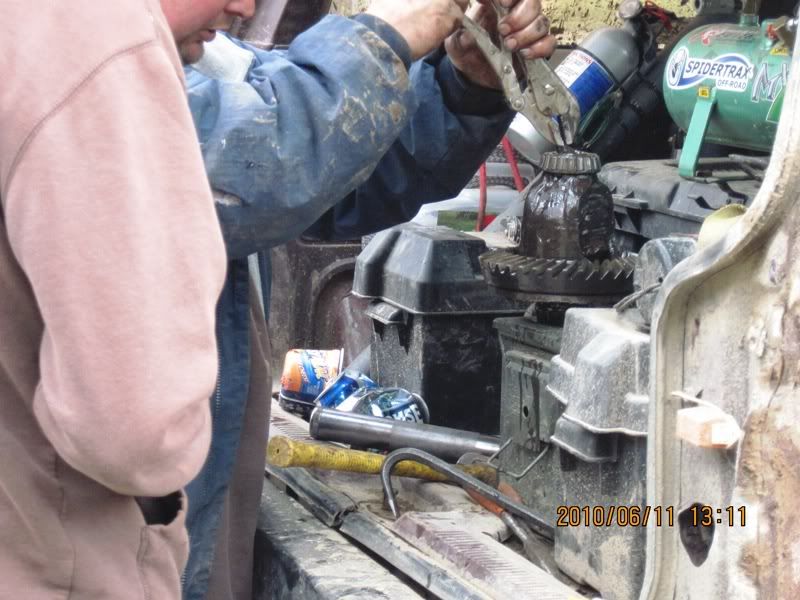 There's the welded Lockrite inside the d35 carrier... Dave is trying to get the short end of the busted shaft out...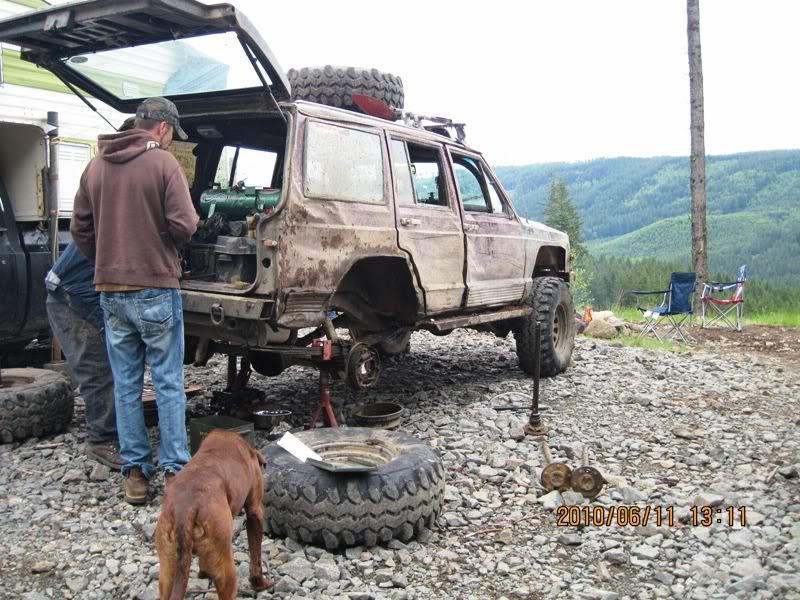 Notice the two spares over there? The third one, (standing up) is the long end of the busted shaft. Looks like Dave has everything under control, so TrailJunky, Jess, Trevor & I all hit the trails again. This time we did the Swamp Trail the Alder & Alder Loop, the Mainline and a section that Trevor called the "EasyWild".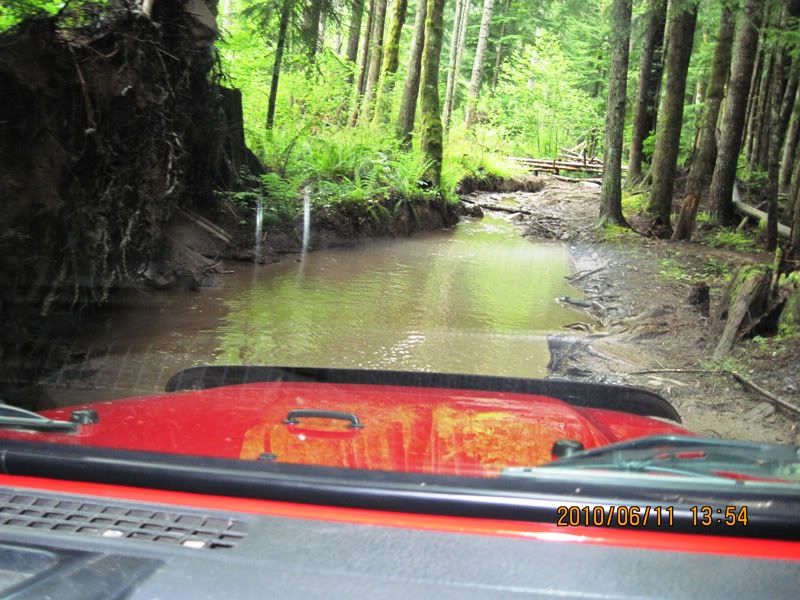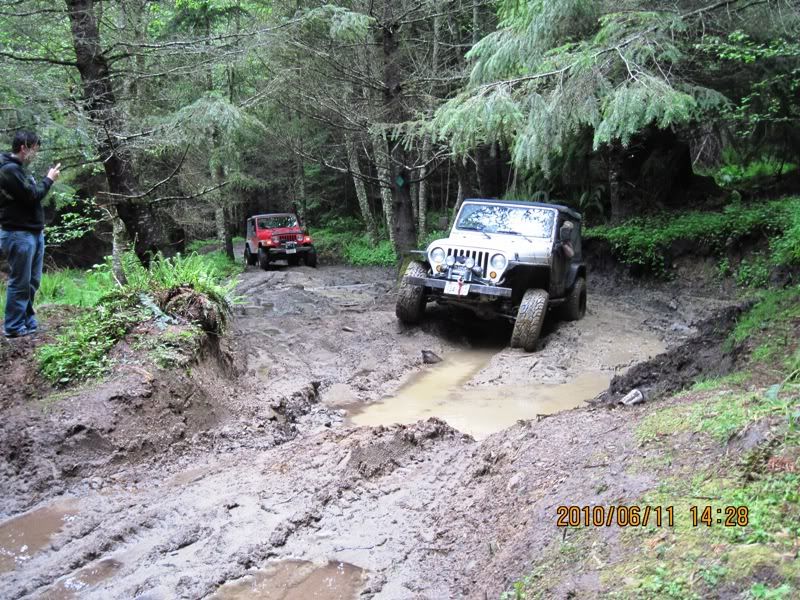 This was a fun little spot. Tim, (TrailJinky) and I, both of us having little to no experience here at Elbe, decided to get out and check out the upcoming obstacle. It consisted on a knee deep, oatmeal consistency mud pit with a small wall at the end. After devising a plan, Tim positioned himself and made his attempt.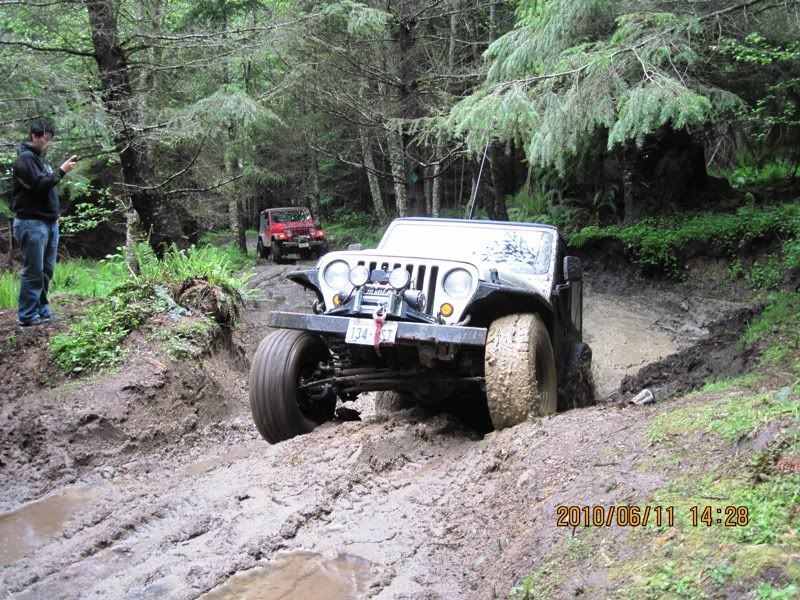 No cigar...let's try again!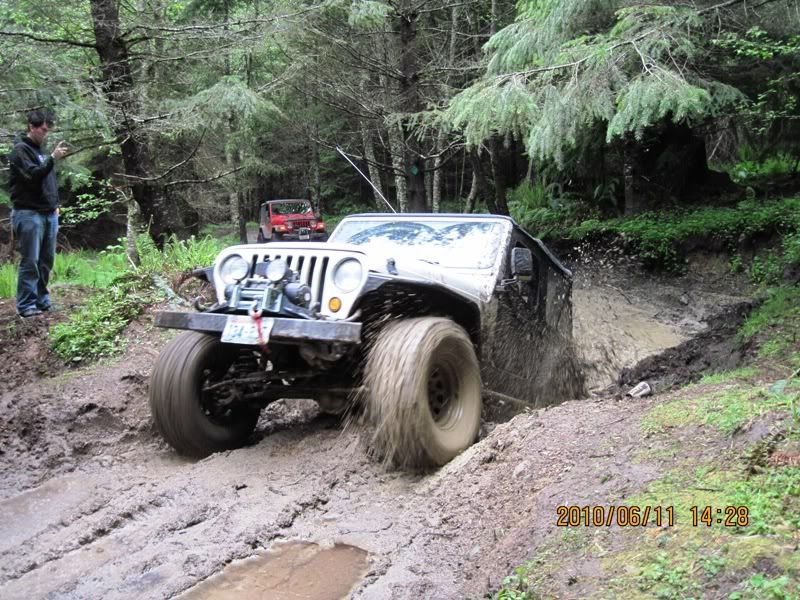 *****....again!
Okay...one more. Ready, set, go!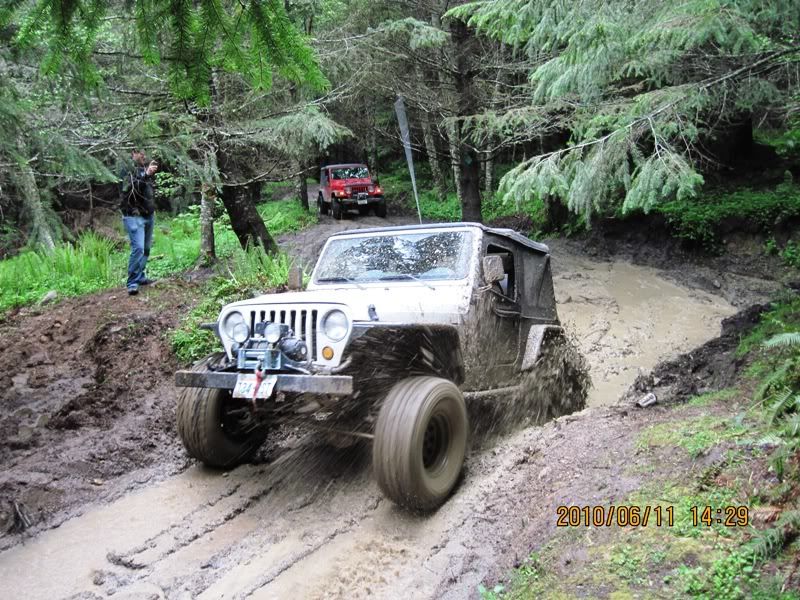 Success! We hooted and hollered like the nooby's we are! Next it was my turn. No drama, I was able to walk up without any trouble. The difference a front locker can make...
We continued on, but, I failed to take any more pictures. Sorry...
It was a fun day. We got back to PopCanCherokee's remote garage location to talk story...we found Mike (Samari Mike/Rockstar?) was there when we got back. When we finally left around 5:00 or so, we passed JeeperCreeper among the throngs heading into the area for the weekend Fun Run.
Hope TrailJunky got some pictures to supplement mine!