Registered User
Join Date: Jul 2007
Posts: 2,353
Denny Creek + Tinkham 2/26/2011
---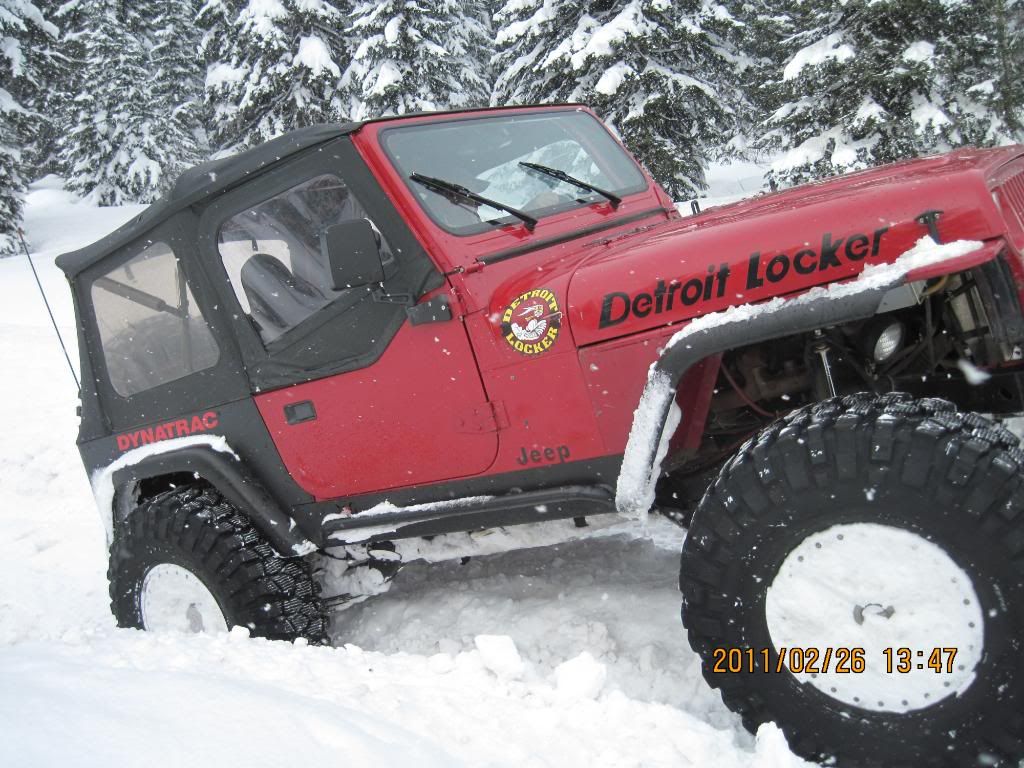 (Scott's rig) TracTech is a seasoned, skilled and knowledgeable wheeler and rig builder, and when he asked if I'd like to tag along on a snow run, I was all over it...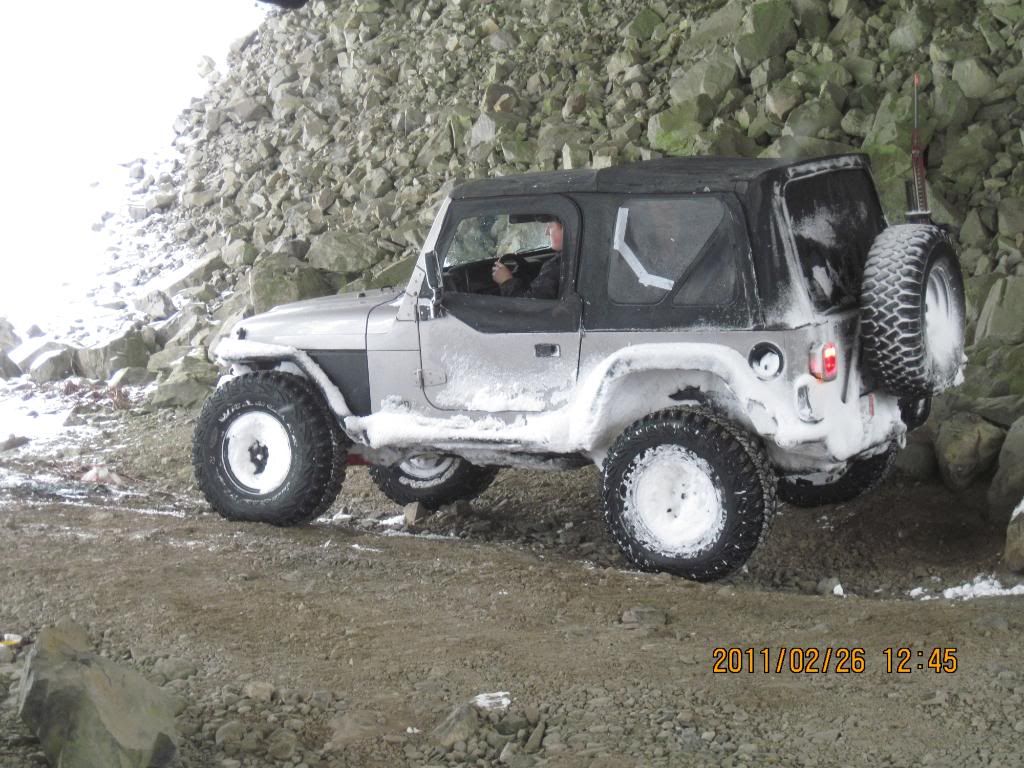 (Cody's rig) We met on the south side of Exit 47 at 10:00 Saturday morning. Arriving at 9:45-ish I thought I was early. Wrong...Scott & Cody had already aired down and were taking story when I got there!
(My heap) It had snowed a shi!tload during the past week. When MCE Mike, Krasky, Sean, Matt & I were there a week ago it didn't look anything like it did today.
We started with the Tinkham trail/road. Right about where the road Y's to the left to go up in the mountains, we came across a small group of Jeeps. Someone hollered out "Hey John!" as we passed by. Being old and ragged, with a few X's out there, I had to wonder if some sort of confrontation was coming up...dodged a bullet because it was Snoqualmie Tj and someone else I didn't get a glimpse of! Yes, I returned a greeting...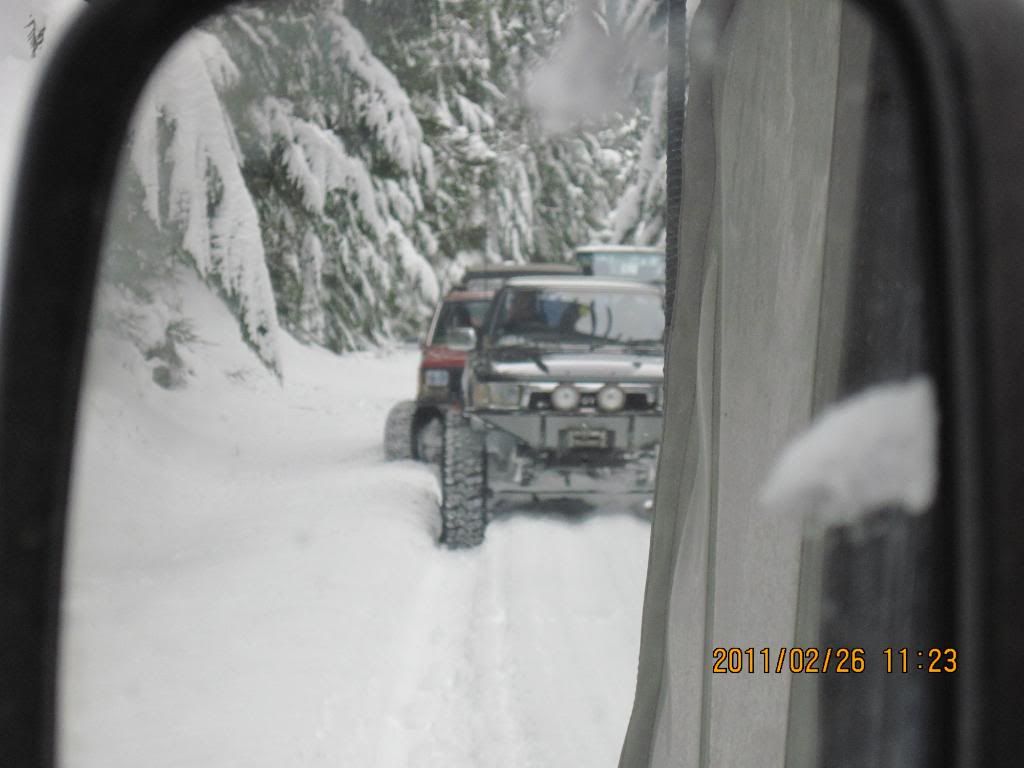 As the three of us headed up the trail things were going pretty good. Cody was in front of me and his rig meandered to & fro like he'd had a Bloody Mary morning. Scott was up front. The snow was deep, based on my few snow experiences, (seat time on snow runs is only two or three times...) so I was understandably a bit anxious. I'm locked front/rear, but on 33's with the factory snow shovel for a skid plate. It didn't take long before Cody got bogged down (he's on 33's with a snow shovel, too...) and I had to come to a stop.
Cody seemed to overcome it, but I wasn't as fortunate. And coming up behind me was a group that looked pretty capable, they were closing in. Turns out that Scott and that group knew each other quite well. As I struggled I listened to the chatter on the CB and realized Scott was way up ahead, and the way my heap & I were performing, I felt as though I was little more than dirt in the fuel line, on this trail. so I tried to position myself so all the guys behind me could pass. I radioed Scott & Cody to tell them I was struggling and to go on ahead, as long as when they came back, they came back down to get me!
Well, I was able to finally make some progress, and caught up with the group that had passed me. Then the CB informed me they were having trouble up ahead and decided to turn around...so I had backed down the hill for a few hundred feet when Scott came up on me. He was going to plow out a landing pad so I could do a 180°. As I approached the pad prepared for me, the rest of the group was bearing down on me. Not wanting to clog things up again I just continued backing up. Finally, I'd had enough...I swung around into the deep stuff, and and made friends with the snow. The results pointed me back down...a good thing that...I was feeling sort of insignificant, like a dumb kid. About ready to figure out how to disappear so the adults could go and play! But, I didn't have, to.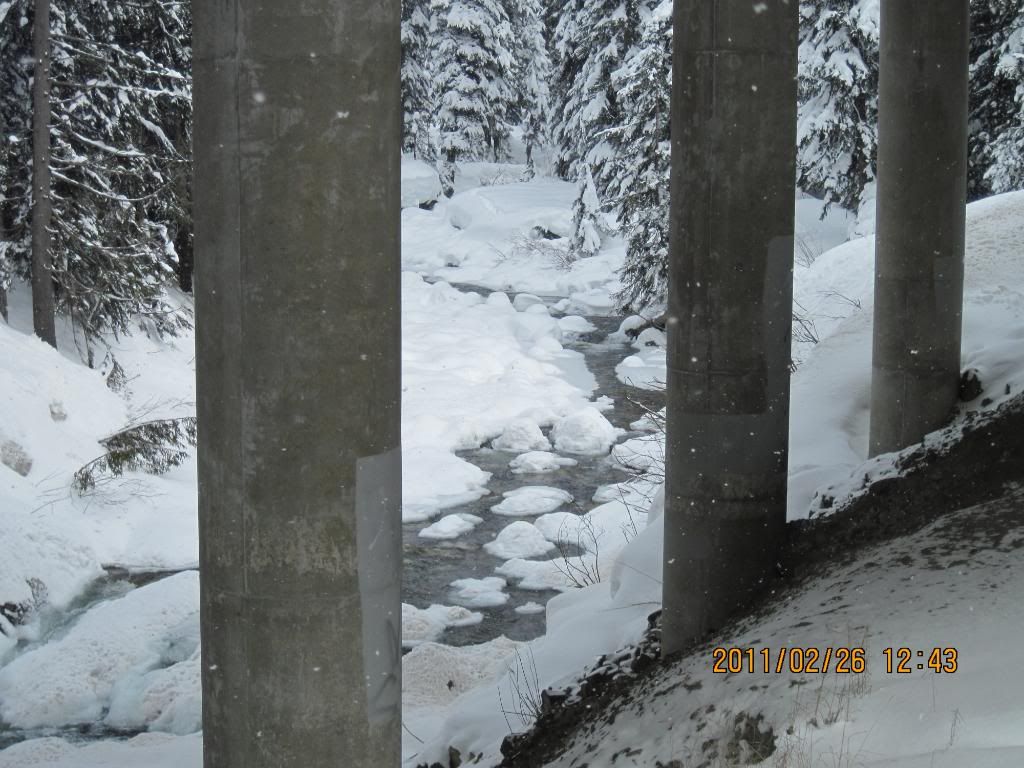 We made our way back over to the Denny Creek side. Following Scott, I had no trouble at all to that little spot under west bound I-90 where we all stopped, had lunch & talked story.
Cody had got hung up somewhere and Scott went back to fetch him. I went on to the bridge.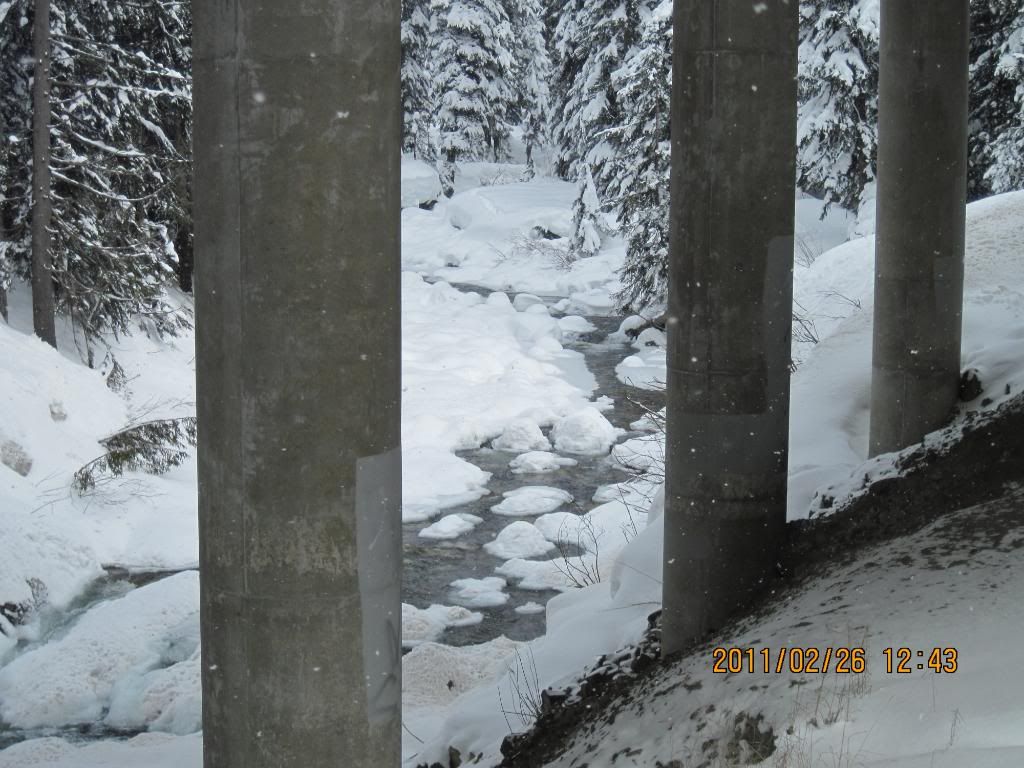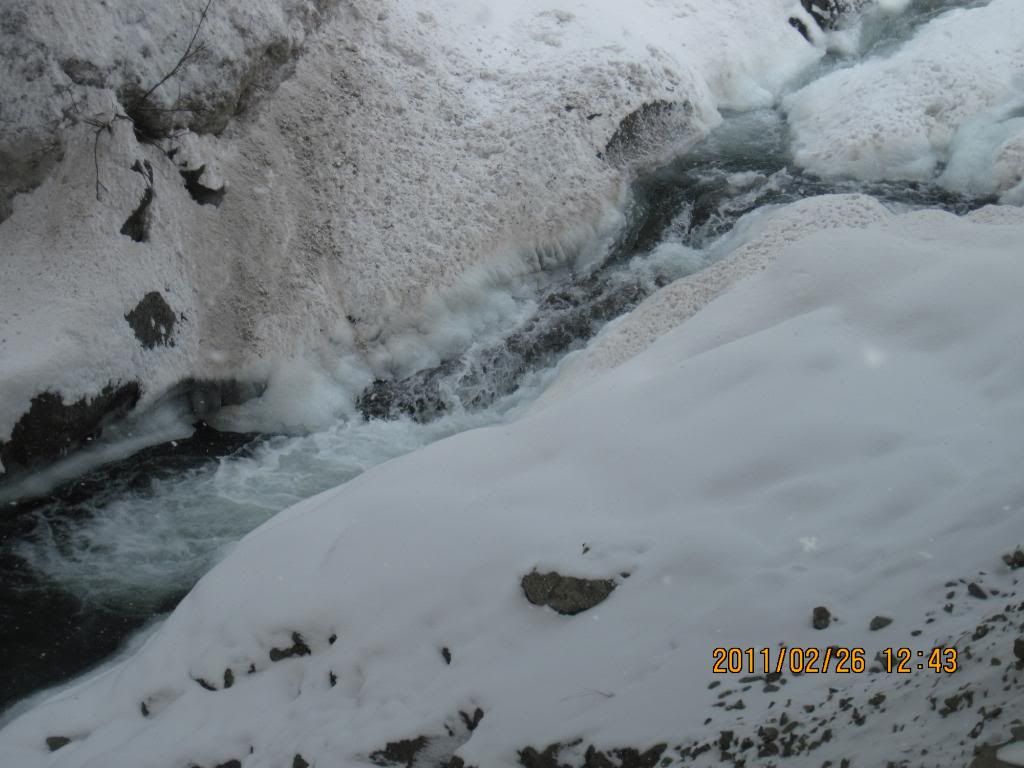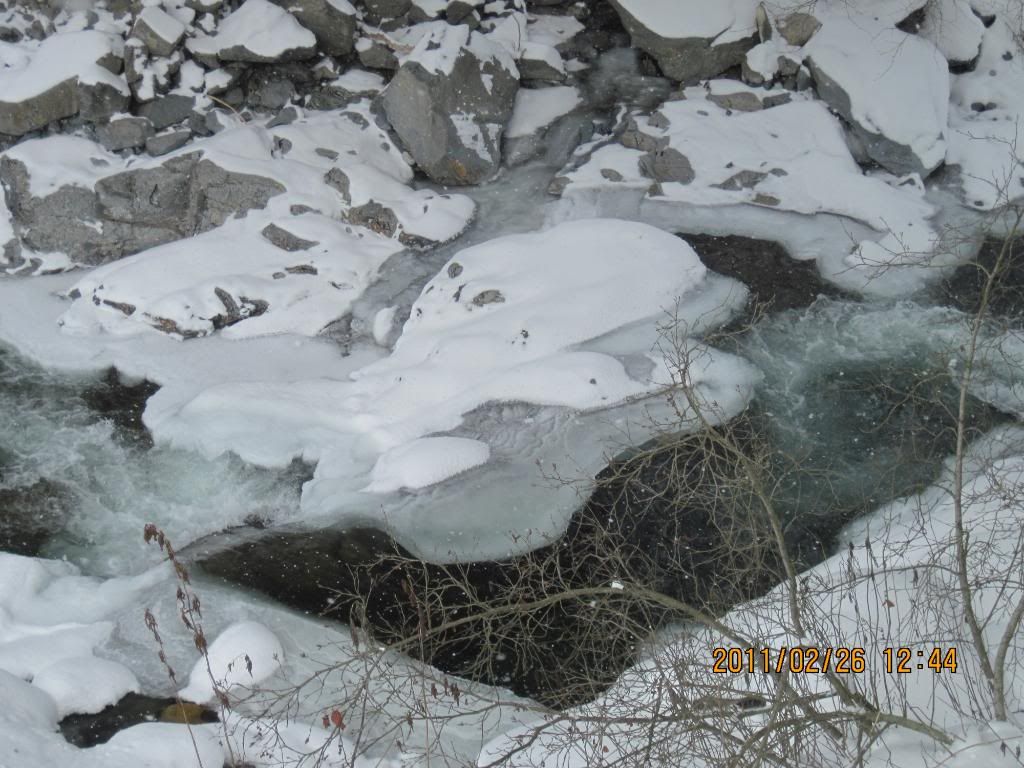 It wasn't long before every one showed up. The guys that I'd let pass me on Tinkham were now here where I could get a good look at them.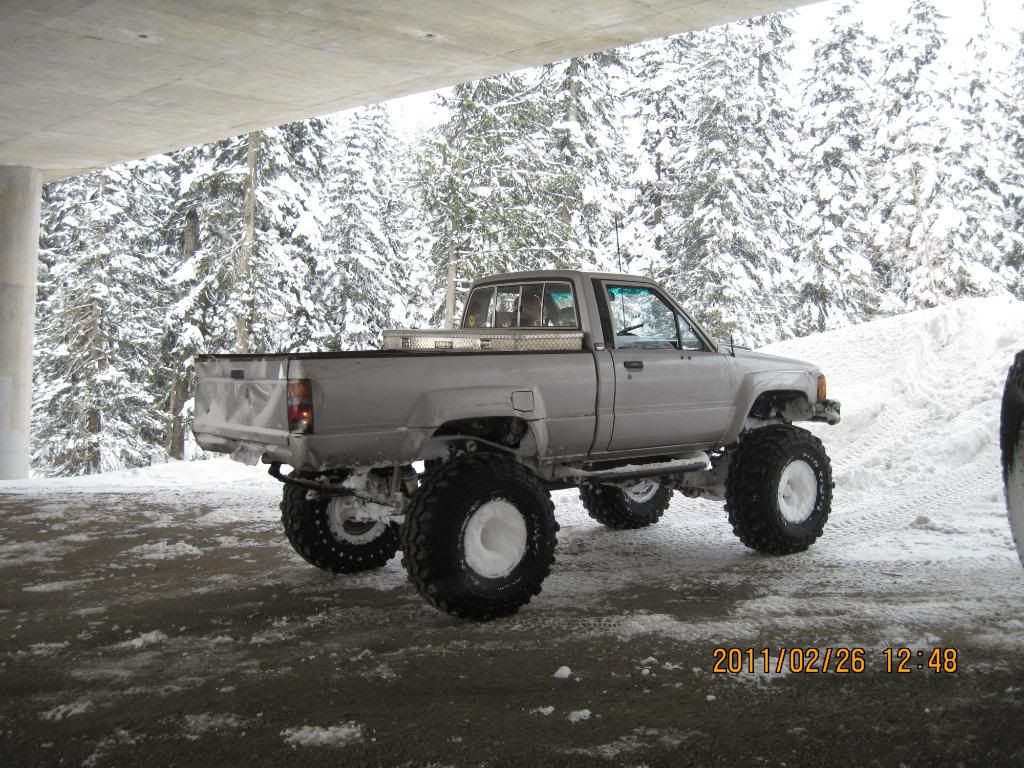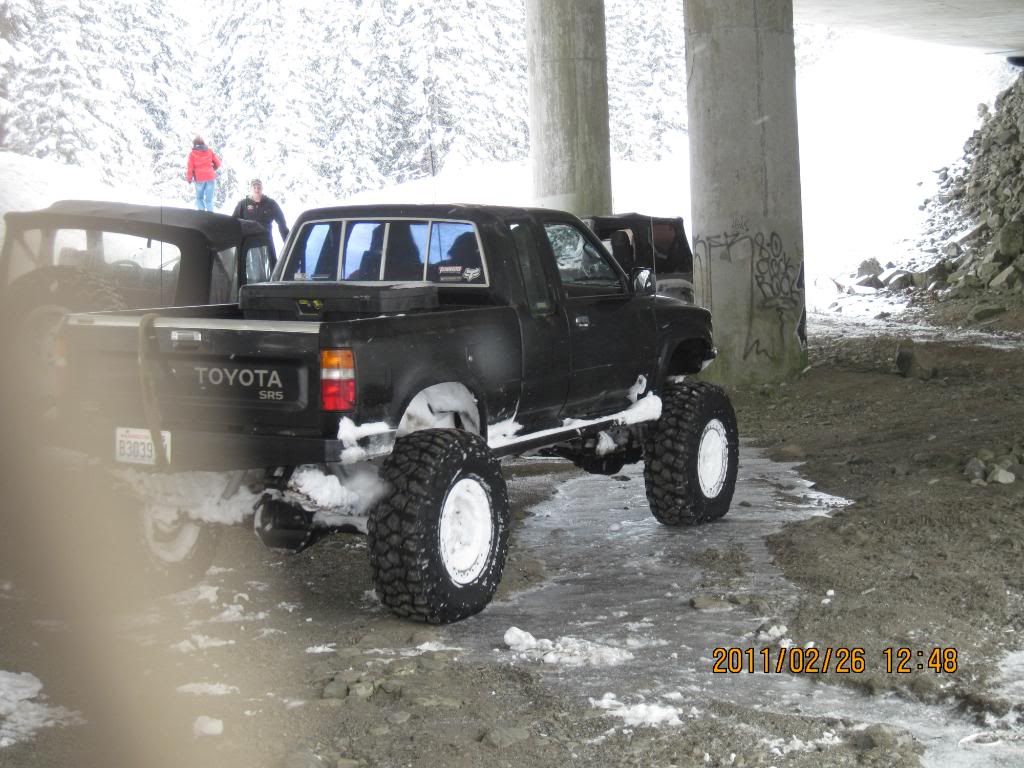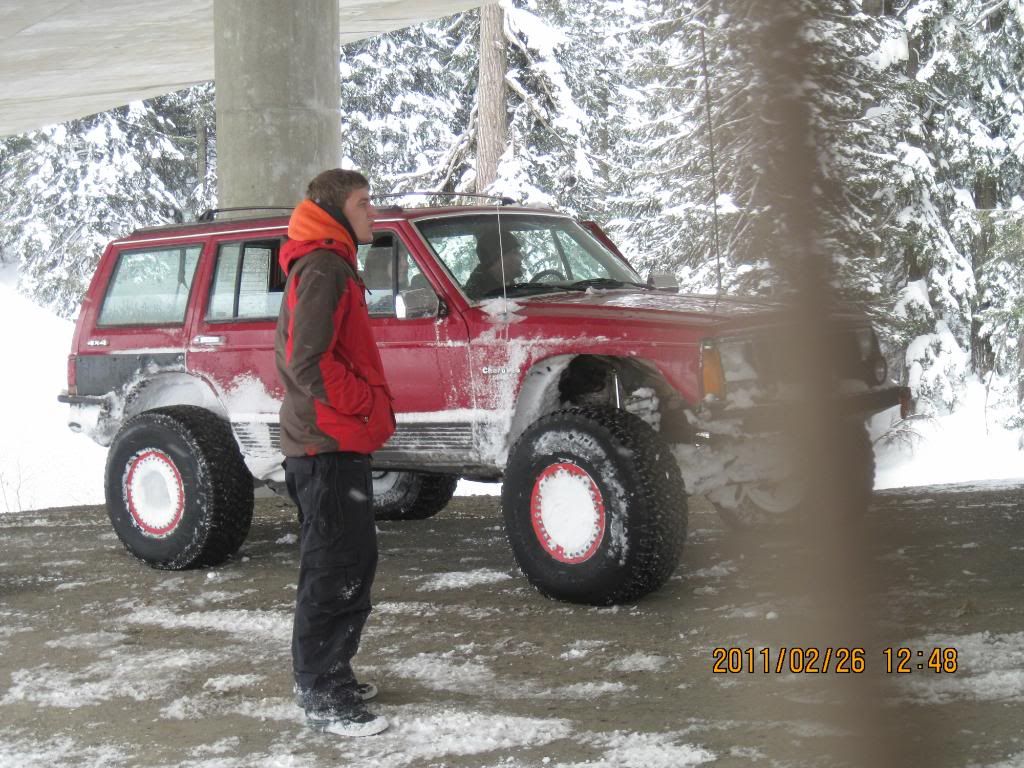 All these guys had demonstrated some excellent driving skills in the snow. I was secretly envious of their abilities! I had to be 30 years older than these guys, but as far as the snow was concerned I was still a noobradoodle...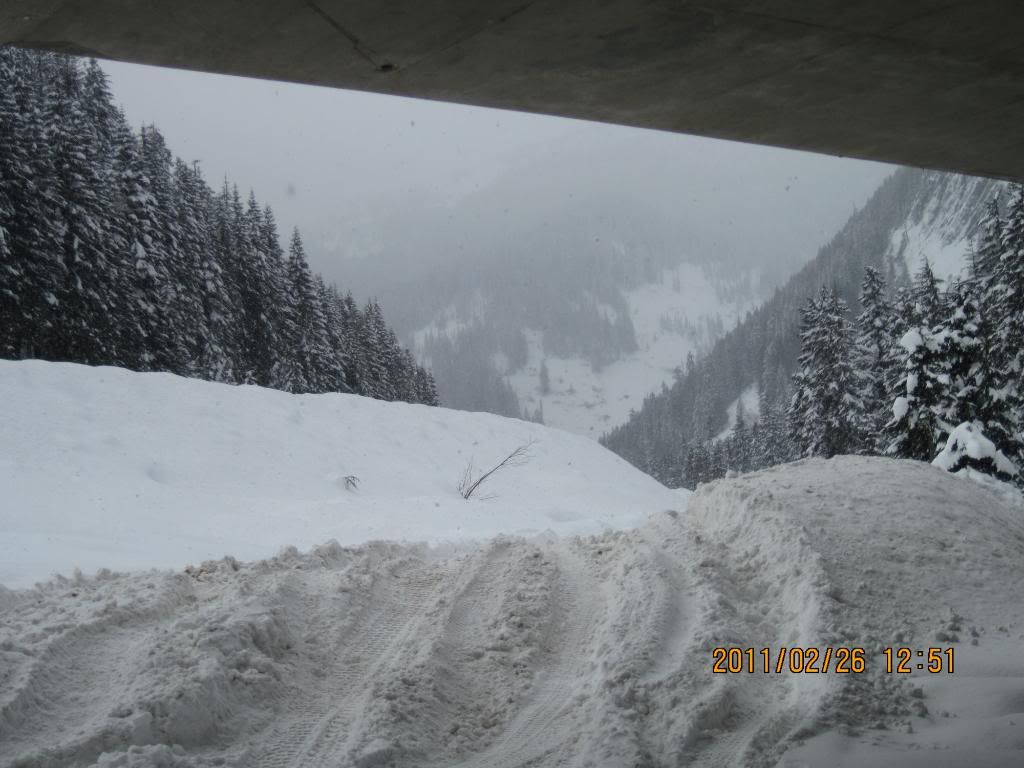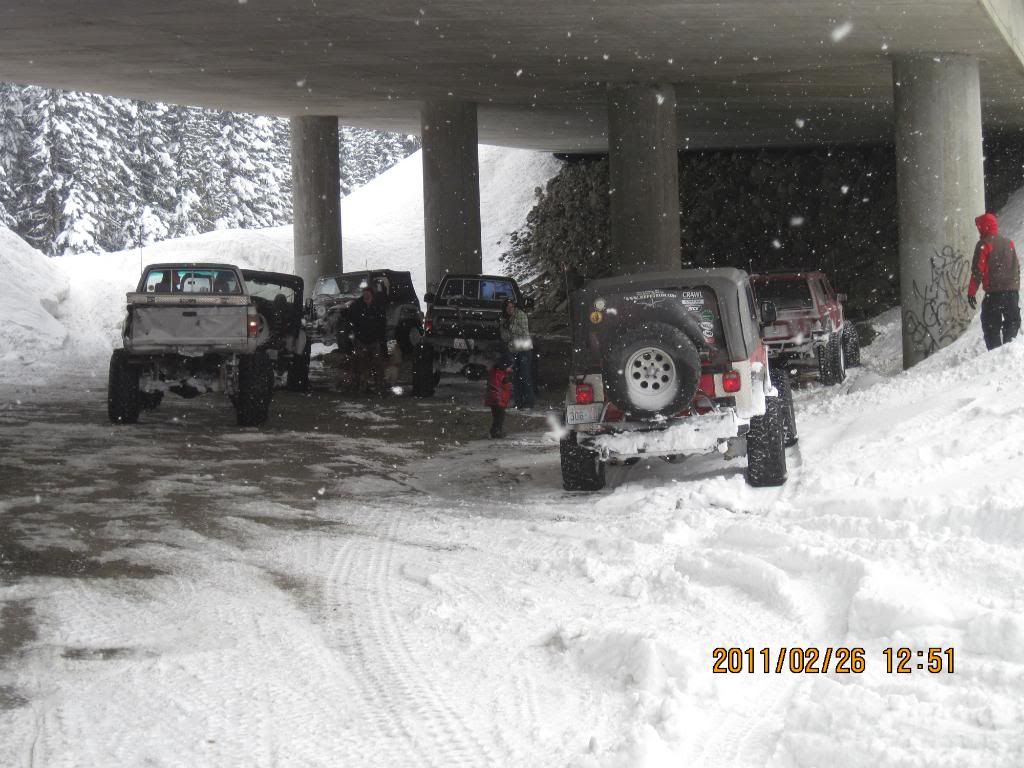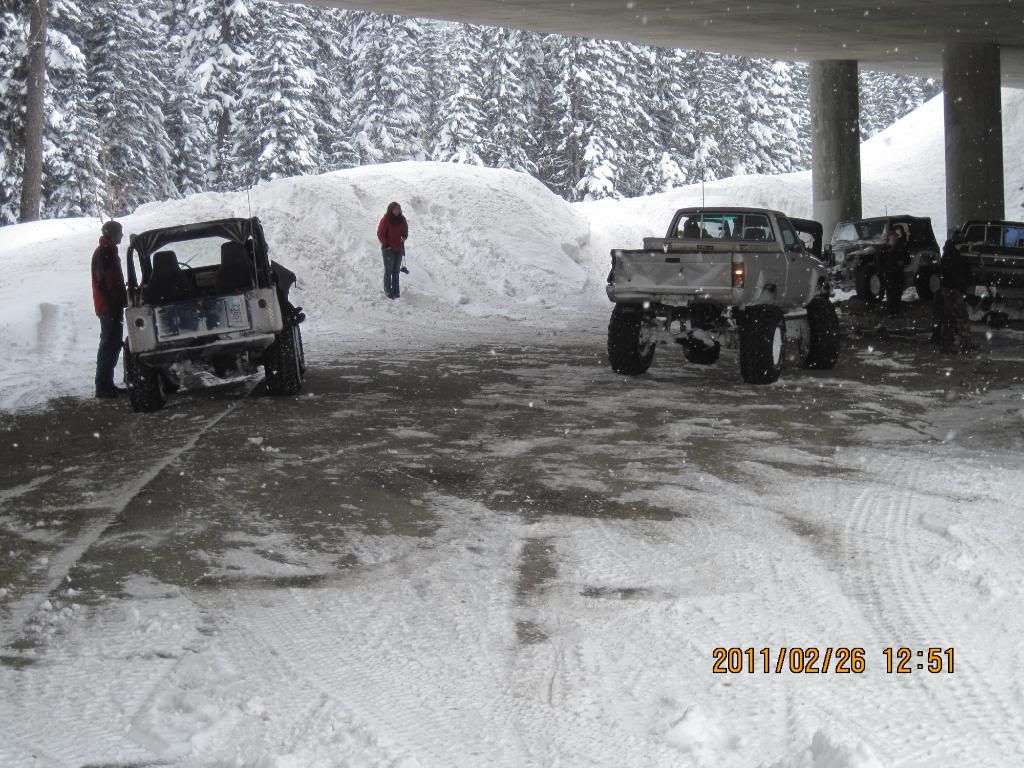 Registered User
Join Date: Jul 2007
Posts: 2,353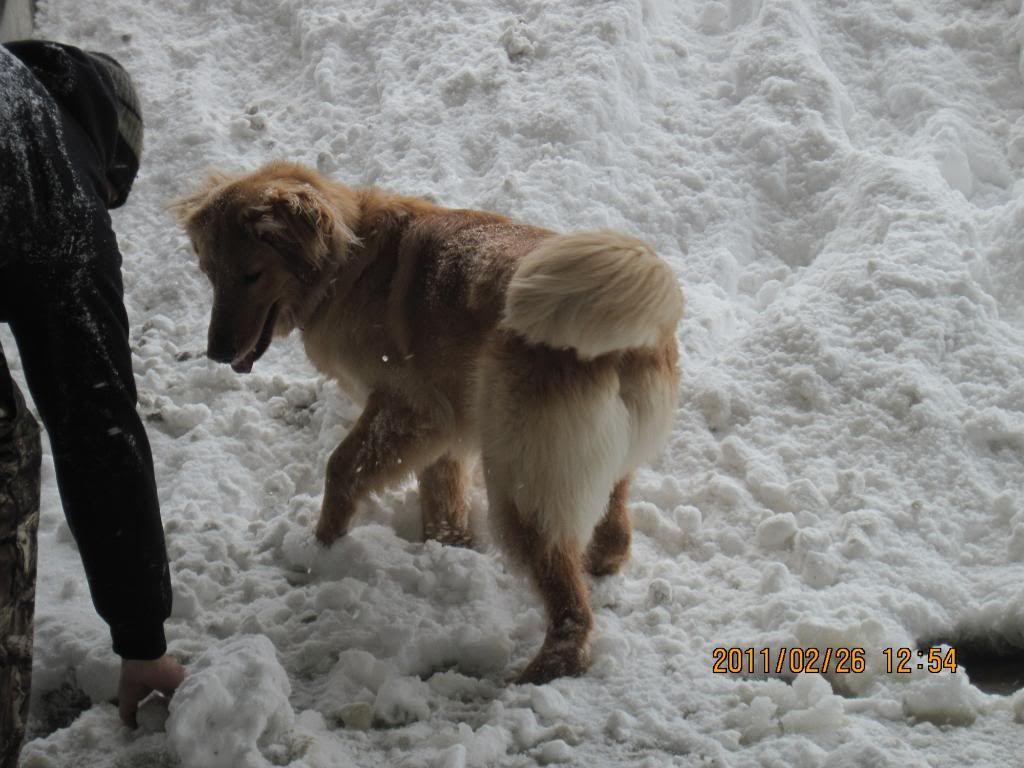 The hot dog of the group!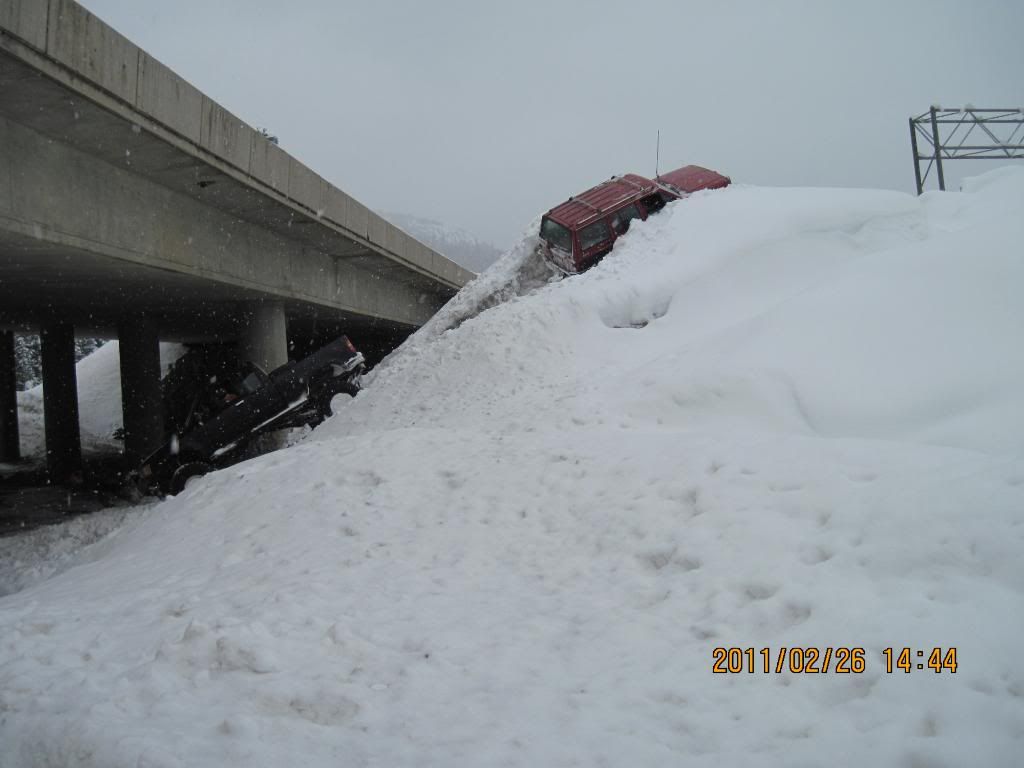 I have to admit that when I saw him go up there it was an "oh-*****" moment for me. However, all ended well...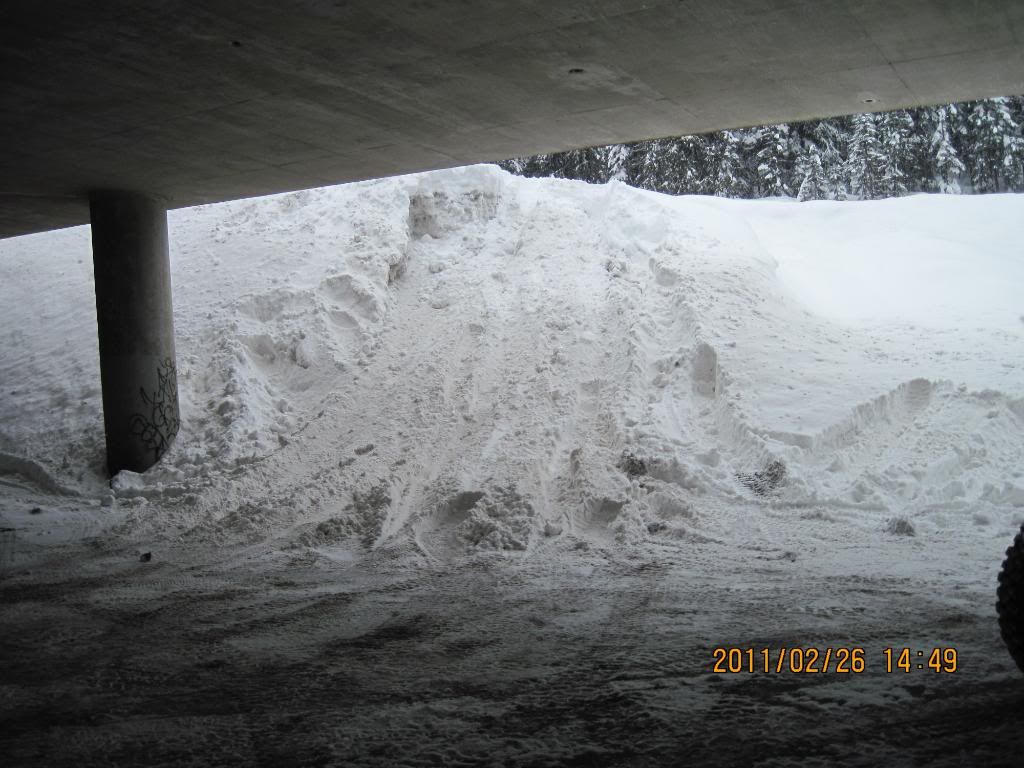 When I was here last week, this little section was quite do-able. At the top you'll come out smack-dab between the east & west bound lanes of I-90, eyeball to eyeball with the traffic.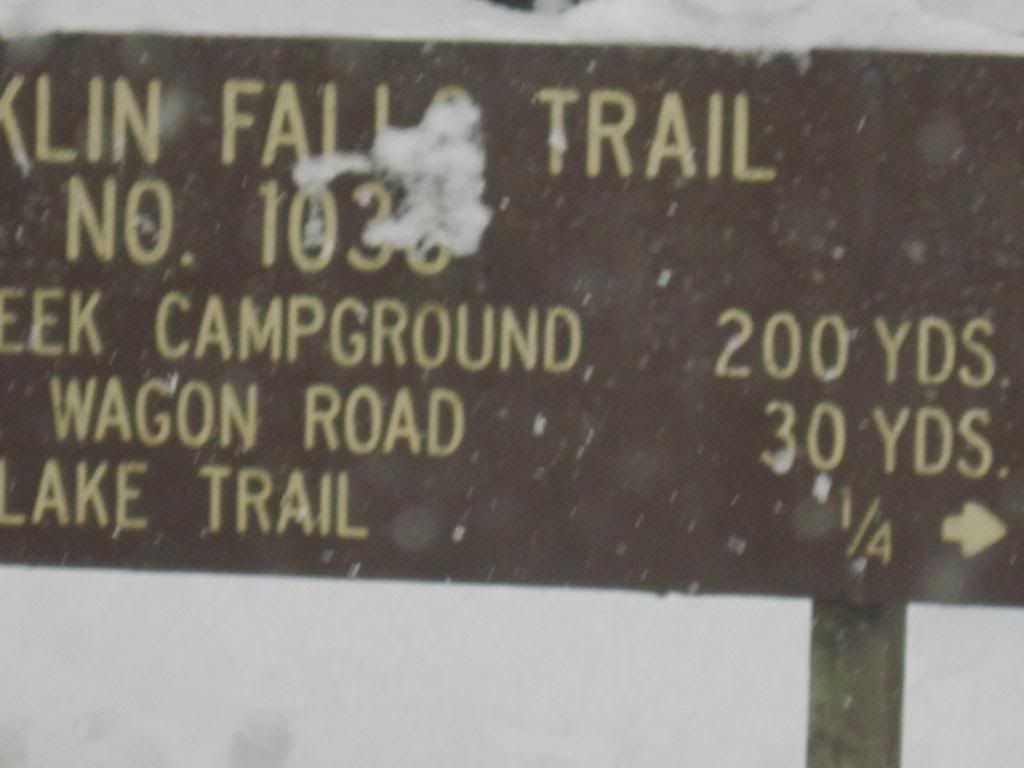 We'd all gone up to Alpental, and then went back down. Scott was in the lead, and elected to take a venture into the campground area. The snow was deep, and it was a struggle for Cody & I, though Scott drove through it with what appeared to be immunity. Immunity = skill, a well set up rig & lots of seat time in the snow...
Cody & I had to turn around on the trail. Cody went first. As luck would have it, he blew out his reverse gear as he argued with the maneuver. I was more fortunate, as luck was on my side. We headed back down to air up without incident.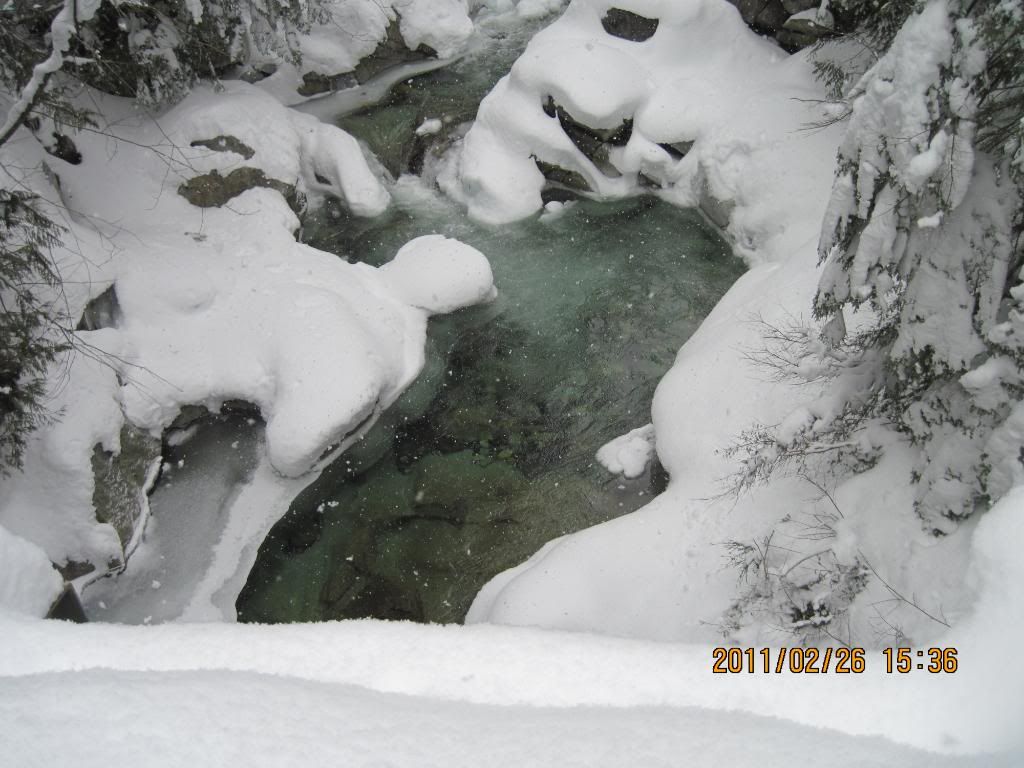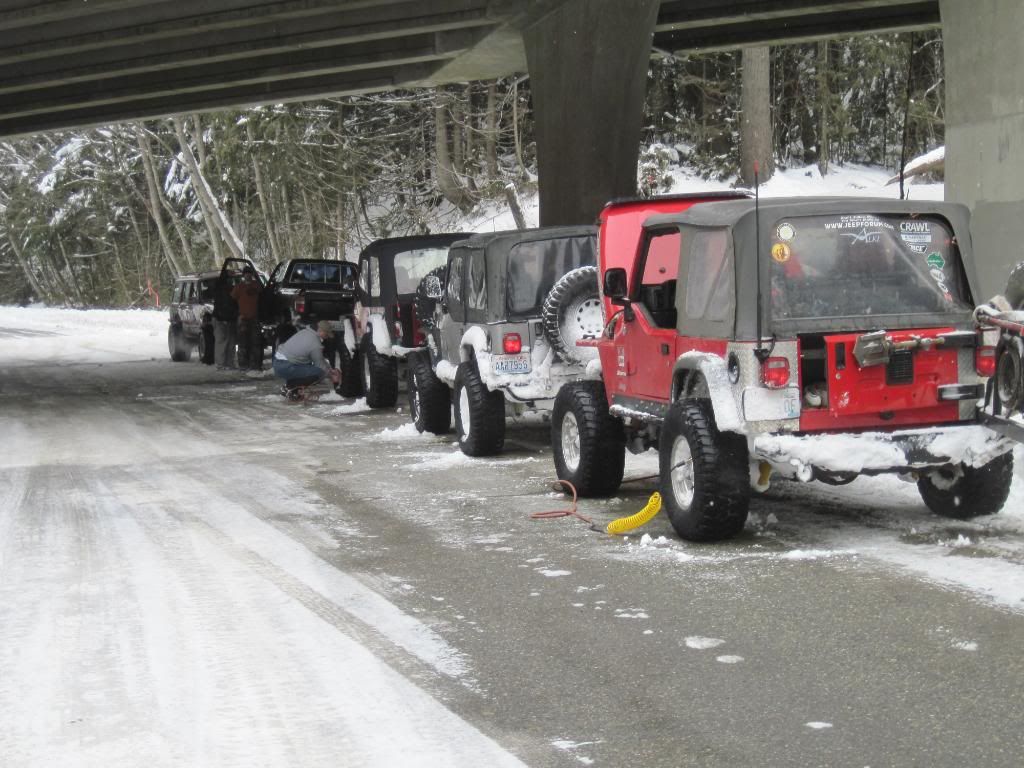 I got to say that I had a frickin' blast. Everyone needed a yank at one time or another, some of us more than others! Cody & I yanked & winched each other out so many times I can't remember...as I got out of my heap for the 20-zillionth time to rig up the strap or winch, the snow & cold was taking it's ransom from my ragged-ole-self. It was time to go home.
As we aired up, Scott & I talked a bit. It was curious to me that Scott was willing to have a snow-noobradoodle like Cody & I, (Cody was much more experienced in the snow than I) tag along. He likened the experience to having kids...watching them frolic around, keeping on getting it wrong, know what I mean?
That tickled me...here I am at this age being viewed as a kid! Kinda like it. If I could have my way with God, I'd ask him if I could do this life over because, there's a few things I'd like to change...yes, I have regrets. That said, discovering this 4-wheeling stuff has taken decades off of me!
On the way home I stopped to visit a dear friend of mine. Just so happens they were having a birthday party! The suds were flowing and there were some viddles to take part in, too. After the gifts were all opened by Tuli the lab on his 2nd birthday, Roger & I talked story, & BS'd about Tombstone, the movie with Val Kilmer as Doc Holiday. Those of us who grew up with westerns on the TV, seem to find some camaraderie when it comes to that movie.
RBXj & I also spend time talking and musing about that movie...there's just something about it...you're a daisy if ya like it, too...
Hey, thanks a million Scott, for a memorable and really fun experience! Almost as good as the Micky Mantle autograph I so wanted back in 1963 in Kansas City. Though I never got it!
~John
Registered User
Join Date: Jan 2006
Posts: 33
Great pictures, thanks for sharing.
Force Wheeler
Join Date: Oct 2007
Location: Texas
Posts: 2,631
wonderful pics...I enjoyed 'em...thanks
---
2007 White Jeep Wrangler X-auto, black freedom top, 15x8 Pro Comp Rock Crawlers, 33x12.5x15 BFG KM2s, Superchips Flashpaq, 2" OME Spring Lift, Bilsteins, Rusty's Adjustable front and rear trac-bar, JKS Quicker Disconnects, Rusty's adjustable lower control arms (front and rear), PolyPerformance adjustable upper control arms (front and rear), OEM Rubicon Rock Rails, Finishlinewest Stonehenge Series rear bumper, Smittybuilt winch, Body Armor Front High Clearance Bumper w/ KC Highlights mounted, Roadmaster towbar, Valley 2" receiver hitch, Skid Row Engine Transmission skid, sPod switching system, KC Highlights windshield mounted lights, Delta replacement non-quadbar xenon headlamps, and Bestop saddlebags-Member of the United Four Wheel Drive Association and Blue Ribbon Coalition, †John 3:16†
RIP Mrs. yoda13... My life is better for having had you in it and you made me a better man...I can't wait to see you again...I love you always and forever, and for all eternity
If you want to help the sport of off-roading, and protect your right to do so, please visit the
To view links or images in signatures your post count must be 10 or greater. You currently have 0 posts.

forum...

To view links or images in signatures your post count must be 10 or greater. You currently have 0 posts.

Registered User
Join Date: Jun 2007
Location: pacific wa
Posts: 457
great pics.
---
07 Rescue Green Jeep JK Wrangler Unlimited 4 door

To view links or images in signatures your post count must be 10 or greater. You currently have 0 posts.

cmyjeep
Member
Join Date: Feb 2009
Location: On the road
Posts: 403
Looks like it was a good day, but then any day wheeling, is a great day! Thanks John, for posting your pictures.
---
1999 TJ Sport with a few mods
Registered User
Join Date: Jul 2007
Posts: 2,353
Quote:
Looks like it was a good day, but then any day wheeling, is a great day! Thanks John, for posting your pictures.
Yeah! See ya Saturday!
Registered User
Join Date: Nov 2010
Location: Elgin
Posts: 92
great pictures, looks like a blast!
Registered User
Join Date: Aug 2007
Location: Leesburg
Posts: 566
bump for some great pics and a good share! thanks!
Currently Active Users Viewing This Thread: 1

(0 members and 1 guests)
Posting Rules

You may post new threads

You may post replies

You may not post attachments

You may not edit your posts

---

HTML code is Off

---