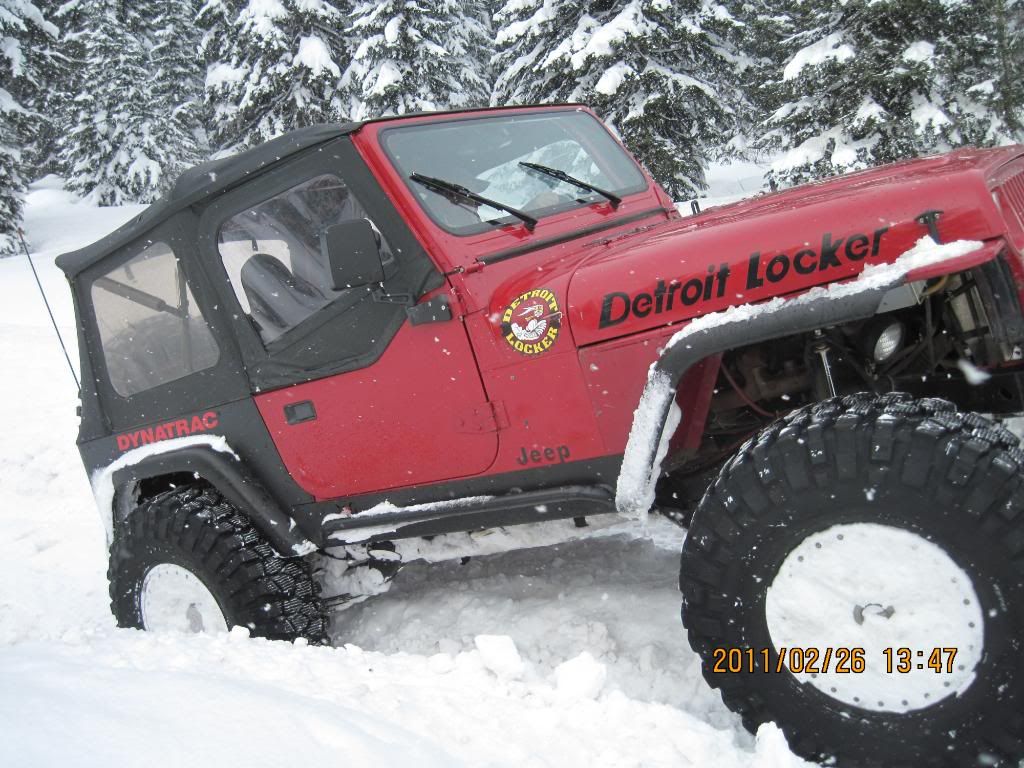 (Scott's rig) TracTech is a seasoned, skilled and knowledgeable wheeler and rig builder, and when he asked if I'd like to tag along on a snow run, I was all over it...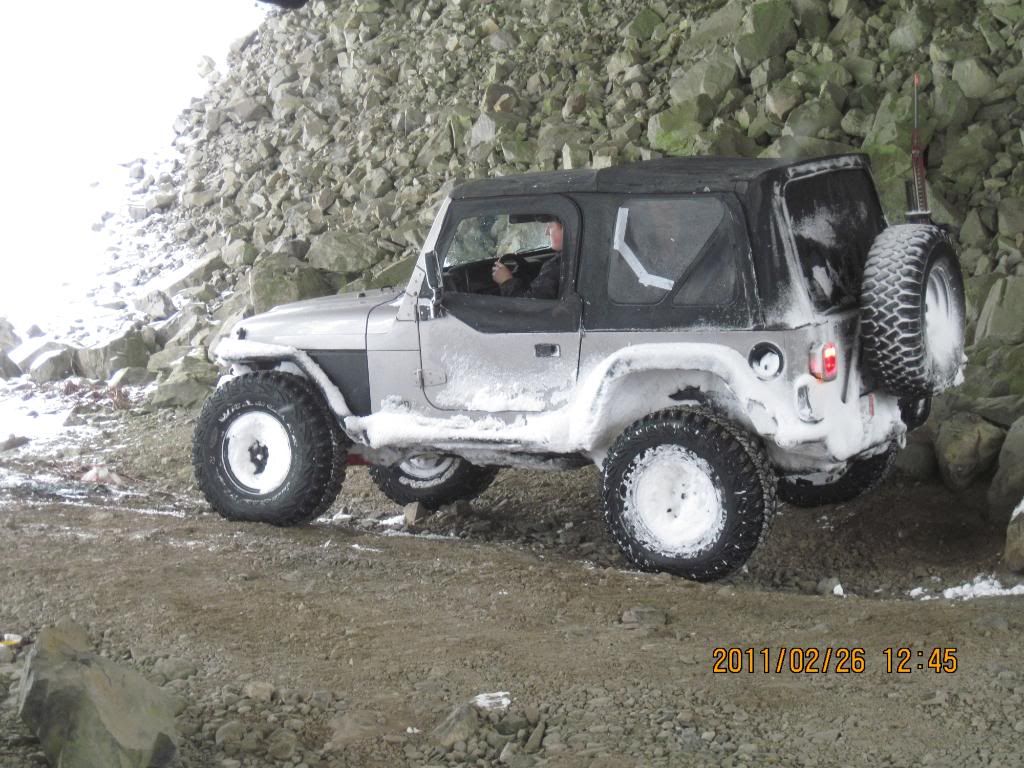 (Cody's rig) We met on the south side of Exit 47 at 10:00 Saturday morning. Arriving at 9:45-ish I thought I was early. Wrong...Scott & Cody had already aired down and were taking story when I got there!
(My heap) It had snowed a shi!tload during the past week. When MCE Mike, Krasky, Sean, Matt & I were there a week ago it didn't look anything like it did today.
We started with the Tinkham trail/road. Right about where the road Y's to the left to go up in the mountains, we came across a small group of Jeeps. Someone hollered out "Hey John!" as we passed by. Being old and ragged, with a few X's out there, I had to wonder if some sort of confrontation was coming up...dodged a bullet because it was Snoqualmie Tj and someone else I didn't get a glimpse of! Yes, I returned a greeting...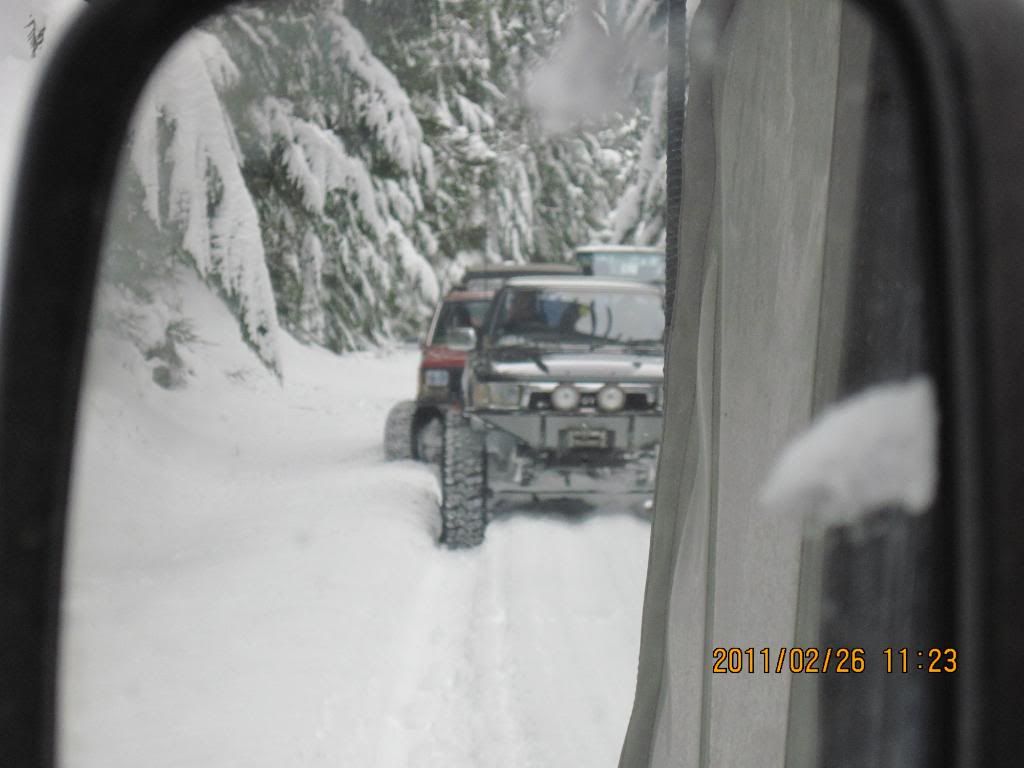 As the three of us headed up the trail things were going pretty good. Cody was in front of me and his rig meandered to & fro like he'd had a Bloody Mary morning. Scott was up front. The snow was deep, based on my few snow experiences, (seat time on snow runs is only two or three times...) so I was understandably a bit anxious. I'm locked front/rear, but on 33's with the factory snow shovel for a skid plate. It didn't take long before Cody got bogged down (he's on 33's with a snow shovel, too...) and I had to come to a stop.
Cody seemed to overcome it, but I wasn't as fortunate. And coming up behind me was a group that looked pretty capable, they were closing in. Turns out that Scott and that group knew each other quite well. As I struggled I listened to the chatter on the CB and realized Scott was way up ahead, and the way my heap & I were performing, I felt as though I was little more than dirt in the fuel line, on this trail. so I tried to position myself so all the guys behind me could pass. I radioed Scott & Cody to tell them I was struggling and to go on ahead, as long as when they came back, they came back down to get me!
Well, I was able to finally make some progress, and caught up with the group that had passed me. Then the CB informed me they were having trouble up ahead and decided to turn around...so I had backed down the hill for a few hundred feet when Scott came up on me. He was going to plow out a landing pad so I could do a 180°. As I approached the pad prepared for me, the rest of the group was bearing down on me. Not wanting to clog things up again I just continued backing up. Finally, I'd had enough...I swung around into the deep stuff, and and made friends with the snow. The results pointed me back down...a good thing that...I was feeling sort of insignificant, like a dumb kid. About ready to figure out how to disappear so the adults could go and play! But, I didn't have, to.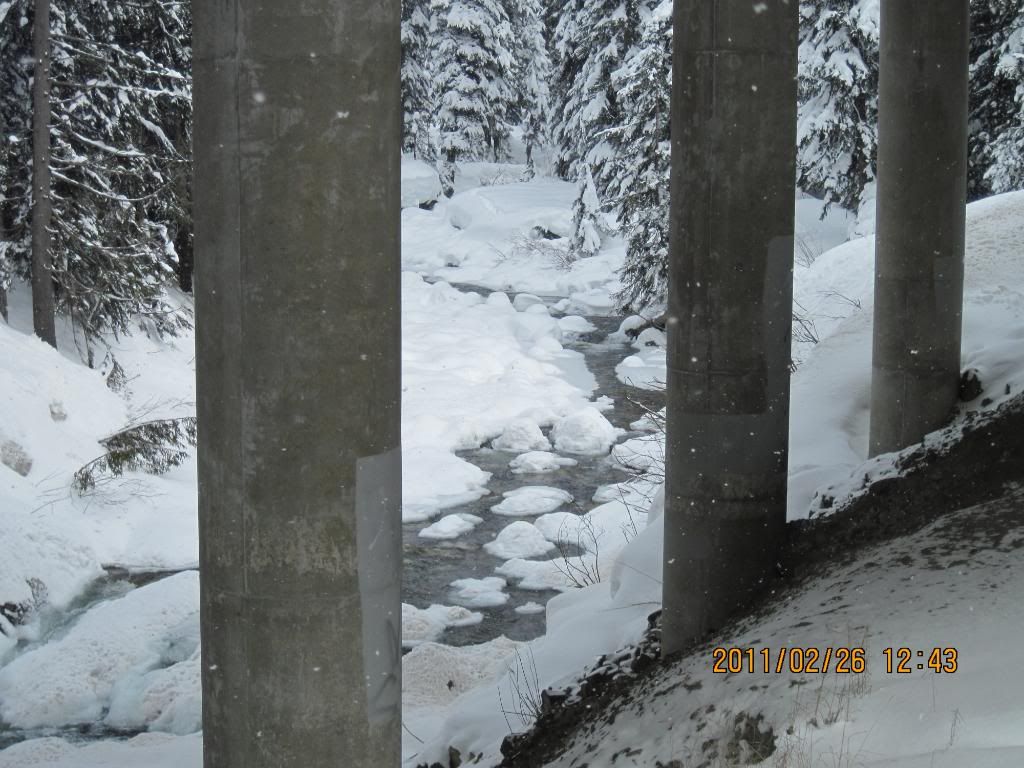 We made our way back over to the Denny Creek side. Following Scott, I had no trouble at all to that little spot under west bound I-90 where we all stopped, had lunch & talked story.
Cody had got hung up somewhere and Scott went back to fetch him. I went on to the bridge.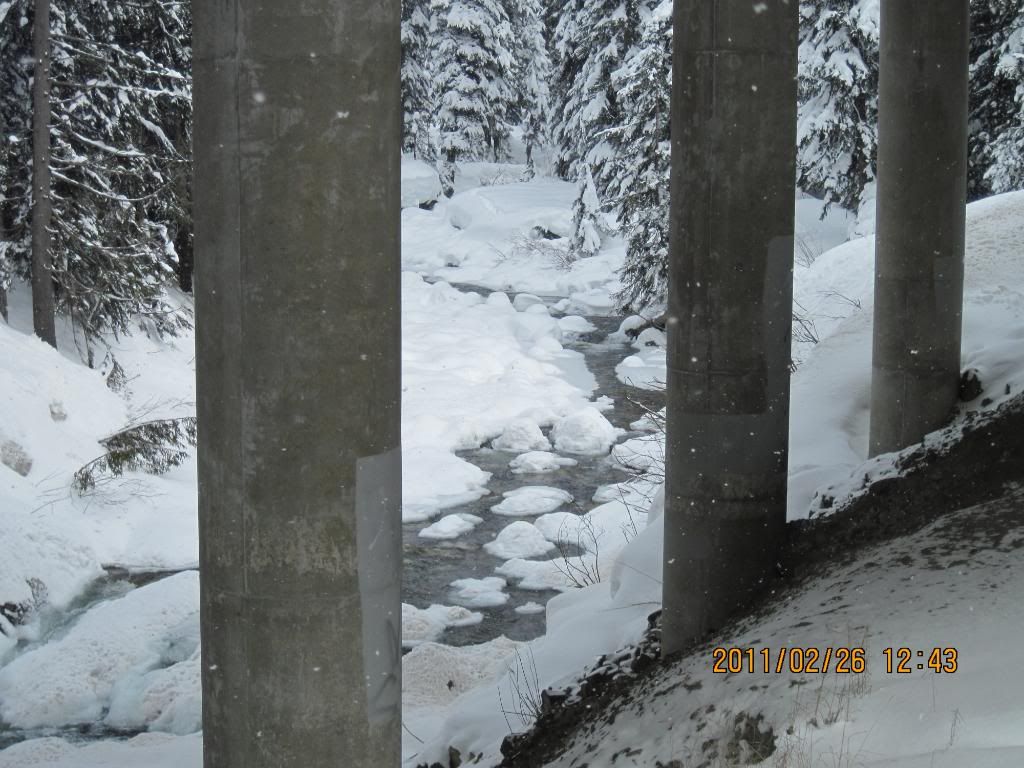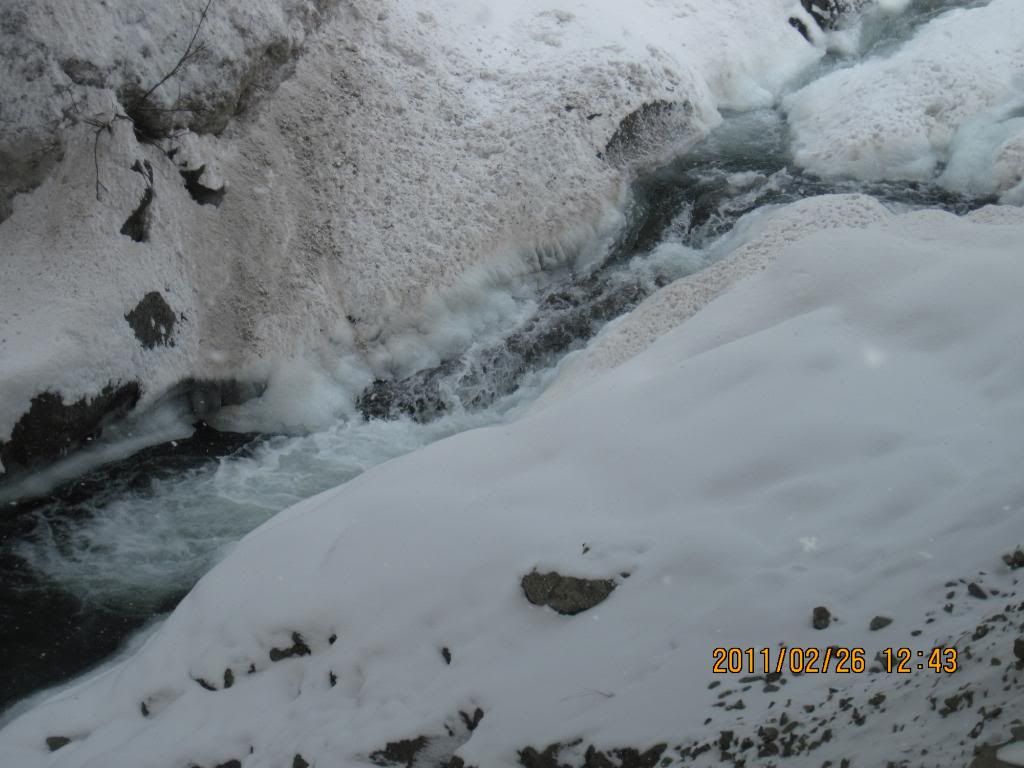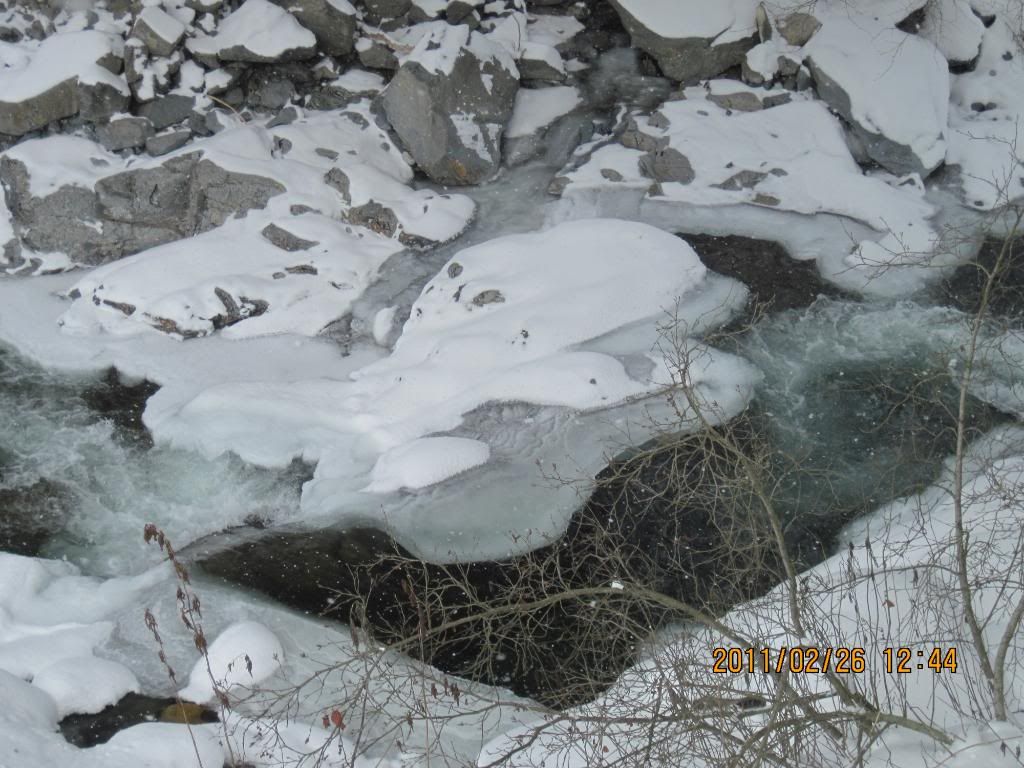 It wasn't long before every one showed up. The guys that I'd let pass me on Tinkham were now here where I could get a good look at them.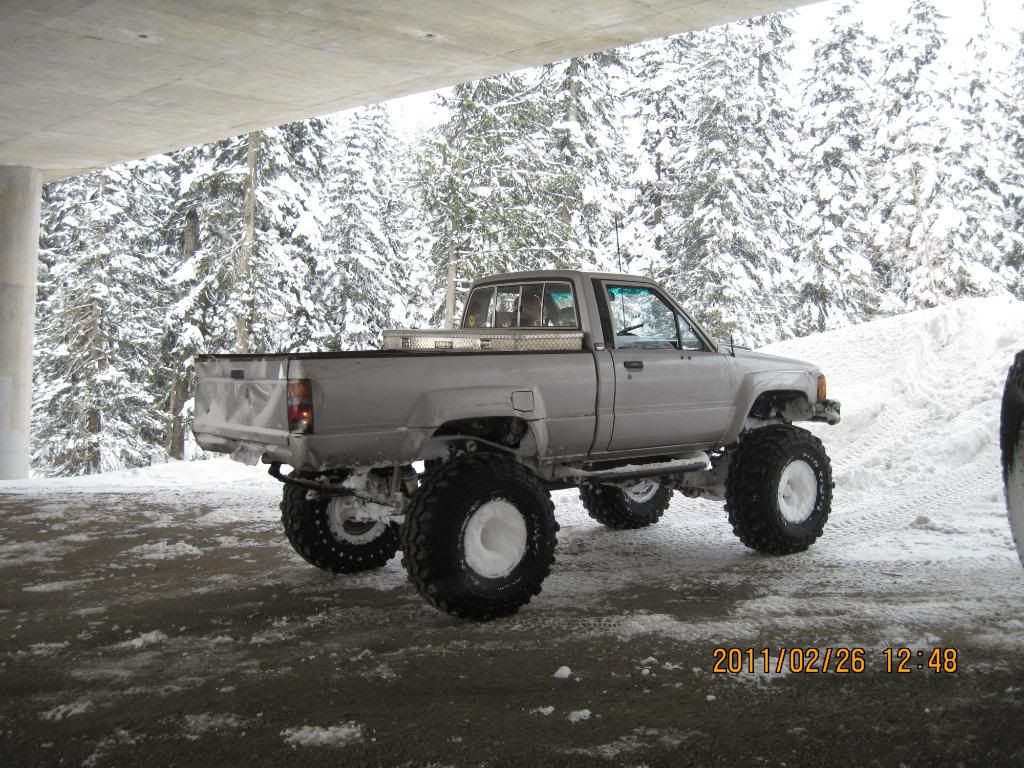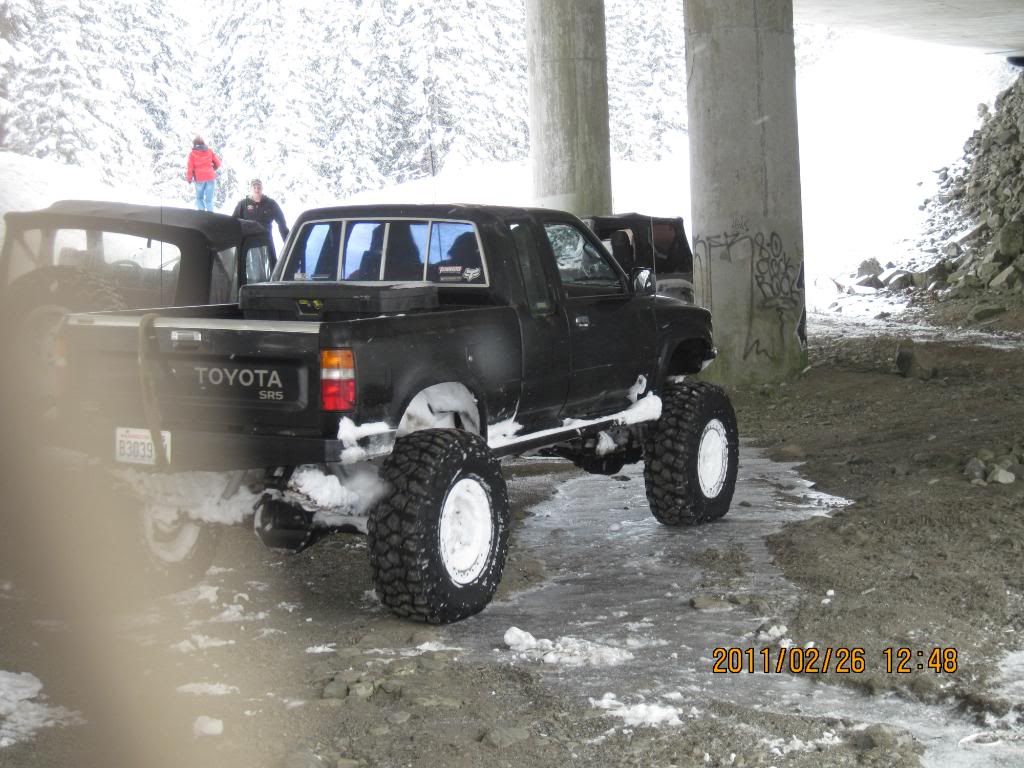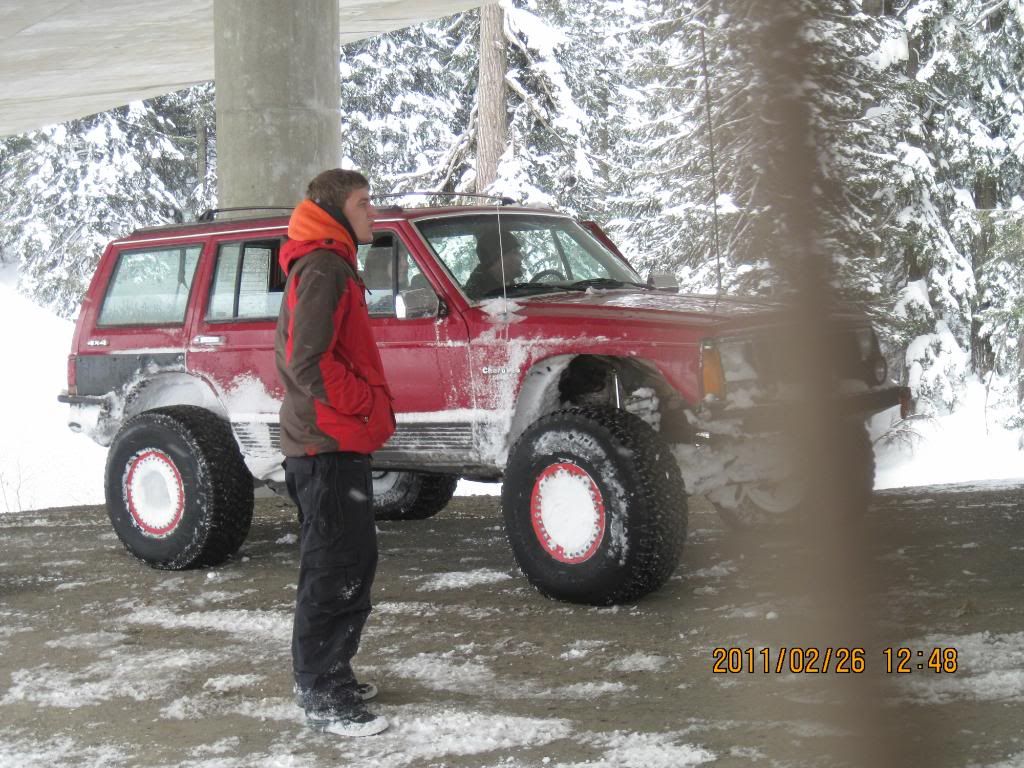 All these guys had demonstrated some excellent driving skills in the snow. I was secretly envious of their abilities! I had to be 30 years older than these guys, but as far as the snow was concerned I was still a noobradoodle...