Registered User
Join Date: Jan 2002
Location: Grand Junction
Posts: 1,396
Big Country
---
I may have mentioned before that I grew up, reading and re-reading the writings of the late Dick Stansfield. I'd look at his pictures of the San Juan Mountains for hours upon hours. As a teenage kid, living in Upstate New York, Colorado was a world away and I truly never thought (though I dreamed) I would have the opportunity to retrace his steps through the beautiful country, pictured before me.
Fast forward, some thirty odd years...
This summer has been a short and hectic one. Working like a dog, attending to family matters... you know the drill. Quality time with the old CJ has been in short supply. We were finally able to break away for a couple of weekends and do some back country exploring.
With the camping gear packed up in our trusty CJ5, we hit the road to Silverton, under sunny skies.
The first trip found us running Poughkeepsie Gulch and pre-running the ones I'll cover in the second half of my story.
I had seen the turn off for Poughkeepsie on previous visits to the area but had never explored it. It was time to see if it was really as tough as I had heard. Of course, we took it in the uphill direction.
Running up Mineral Creek, to get to the Poughkeepsie Gulch trail is half the fun. Since the first time I ran it, ten years ago, it's been one of my favorites.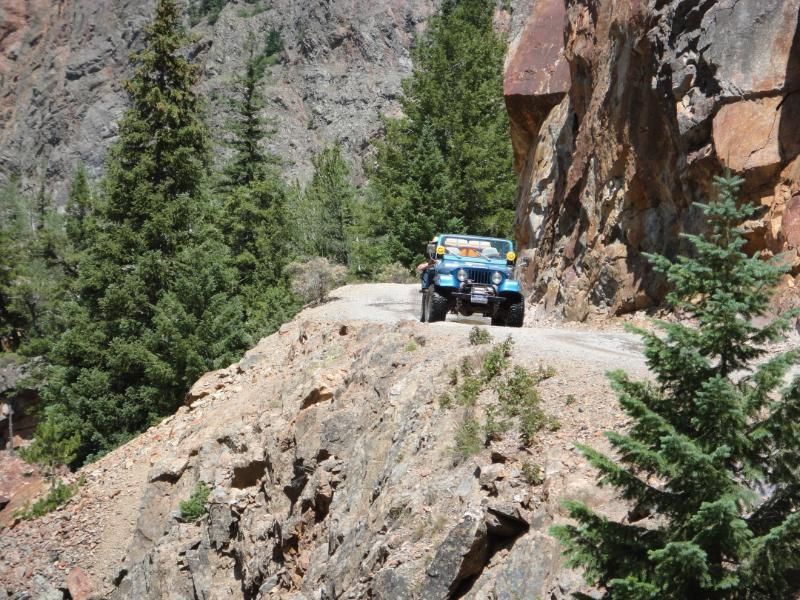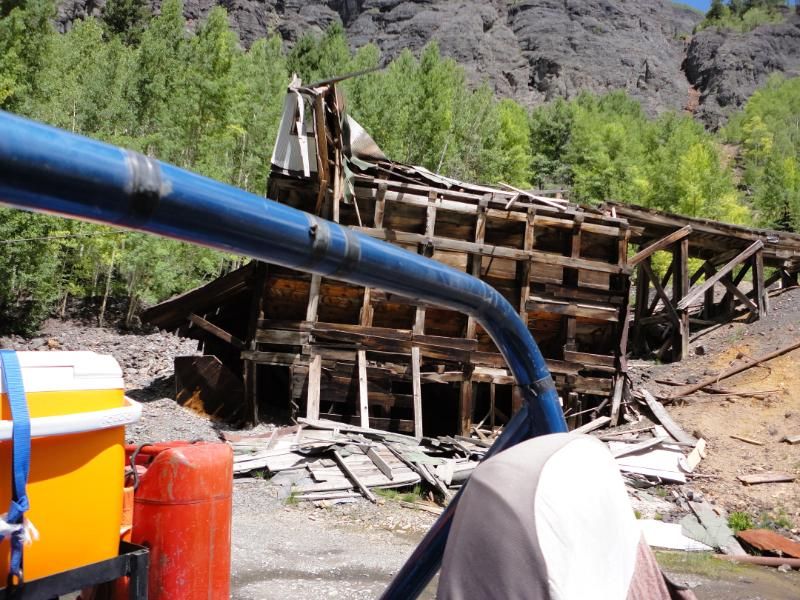 Arriving at our destination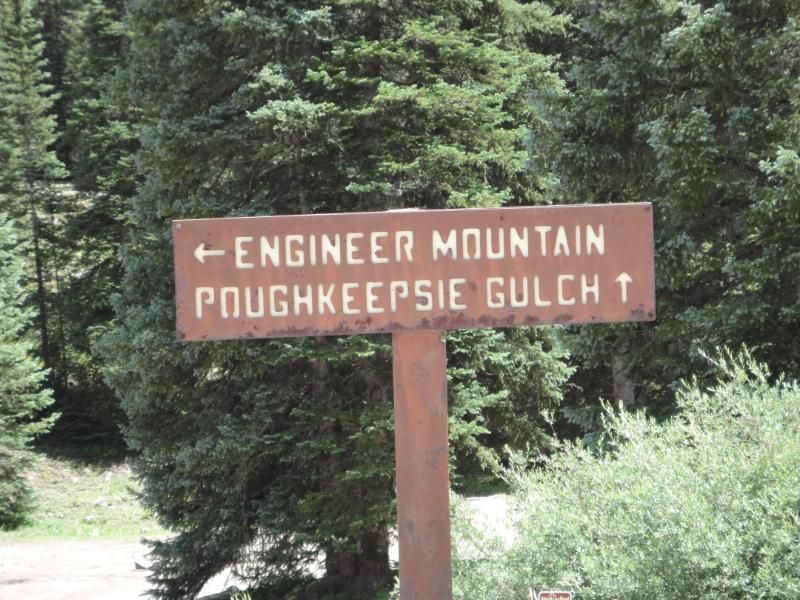 The first "obstacle" is about 50 feet off of the Mineral Creek road. A reasonably deep mud hole. While you can drive around it, we chose to go through. We never drive fast or go for the splash and had our newly installed Warn winch to back us up if we couldn't make it.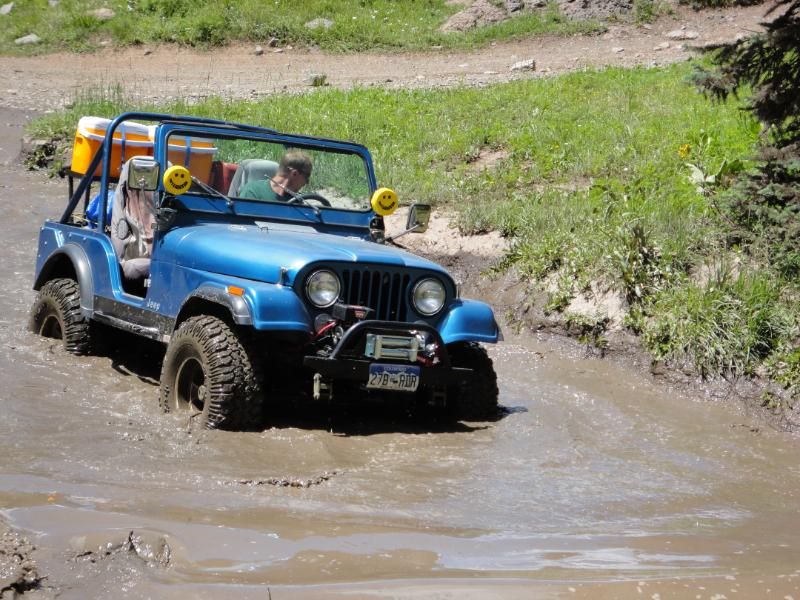 The picture doesn't show it very well but the bottom tips the Jeep to one side a little bit, submerging the step on our rocker guards. The water and mud were about two feet deep and our Interco TrXus tires pulled us through without muss or fuss.
After the mud hole, the trail began ascending, through a beautiful pine forest, then opened up to incredible views of some very big country.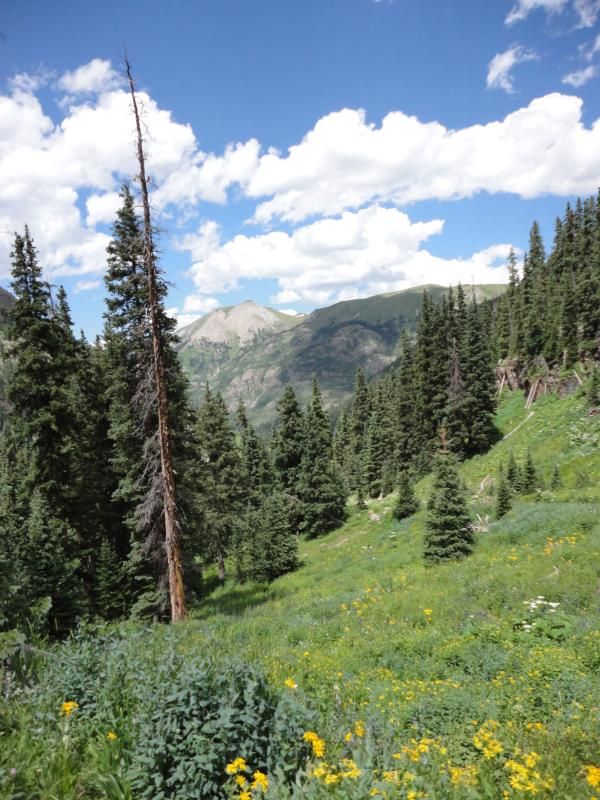 Fortunately, for us, we took a wrong turn, onto a spur road that led to a gorgeous little basin. The trail ended there with a closure that it looks like someone didn't like and tried to take down.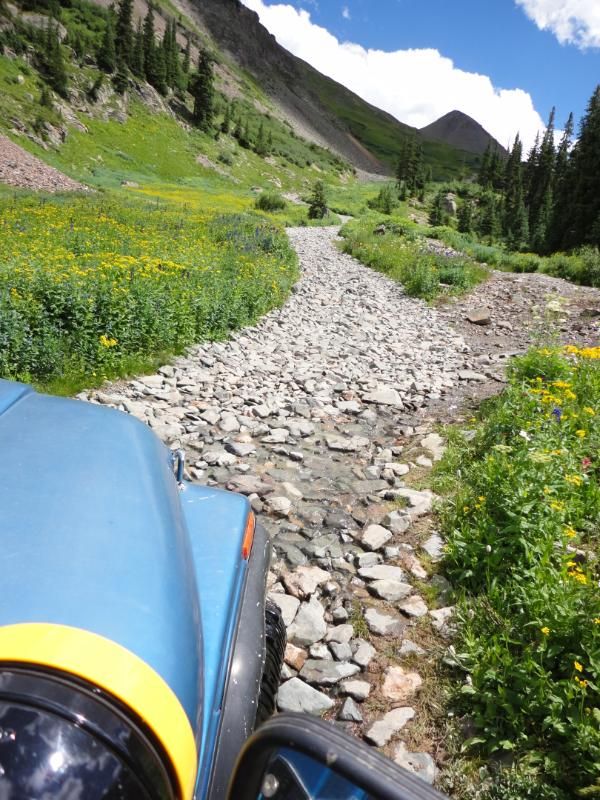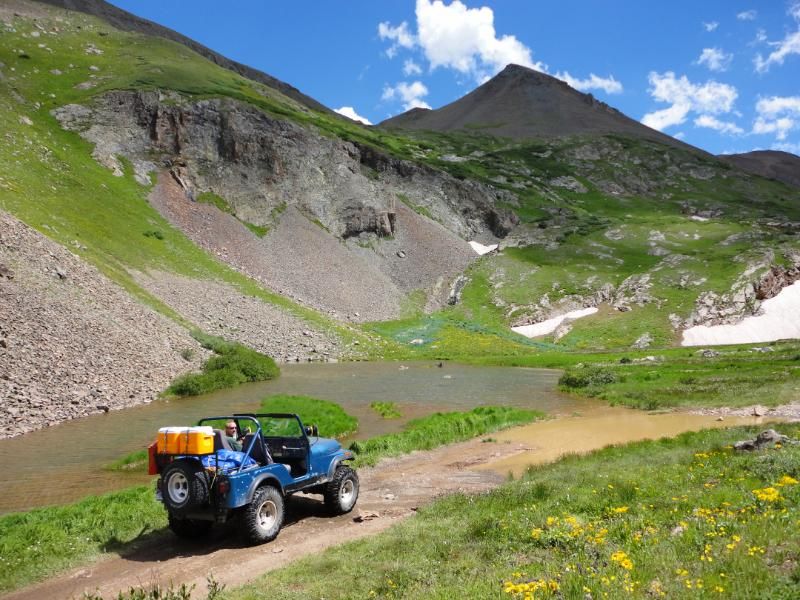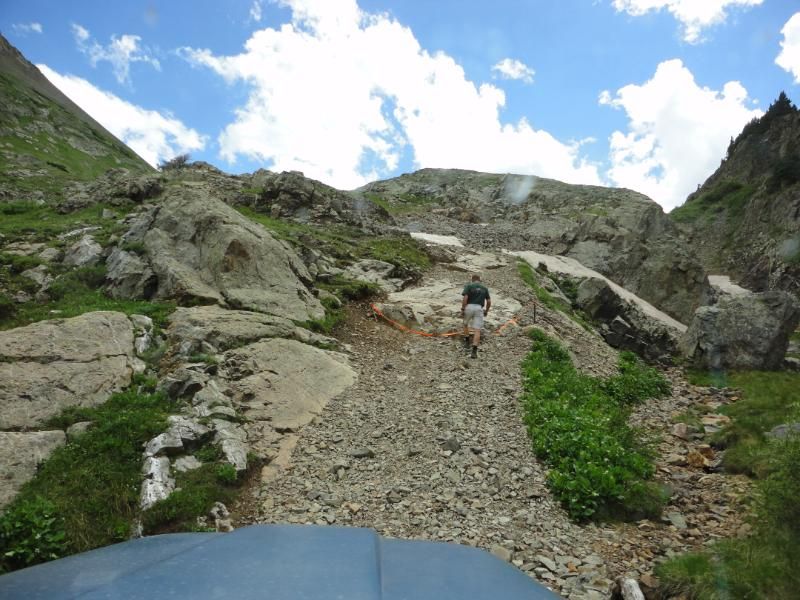 After soaking in the beauty of the basin for a little while, we turned our tail lights to it and returned to the main trail, heading for the infamous "wall".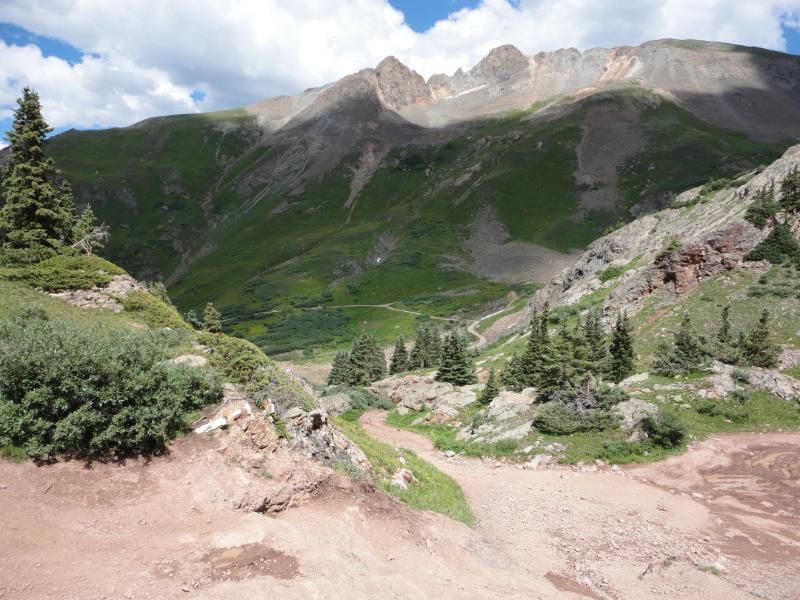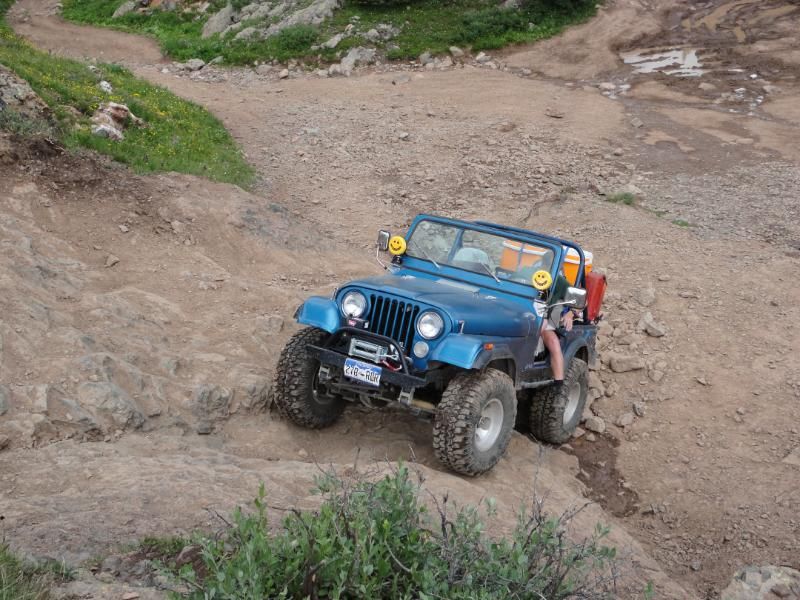 By this time, we had discovered that we had gotten some bad gas.... er.... the Jeep had bad gas..... you know what I mean. Anyway, the Jeep was running like a three legged Pomeranian and stalled out near the bottom of the obstacle. Since we don't let pride get in the way of progress, we pulled the winch cable and cleared the wall, getting back to level ground to get the Jeep started again.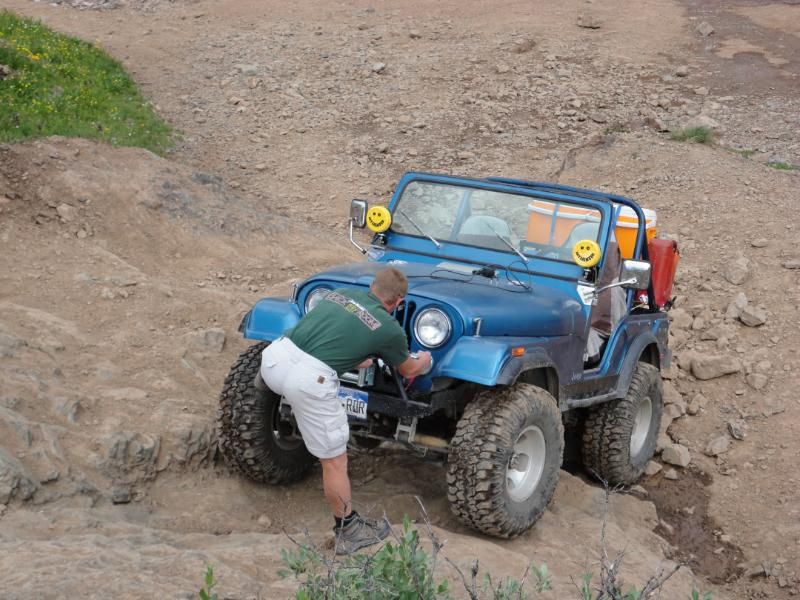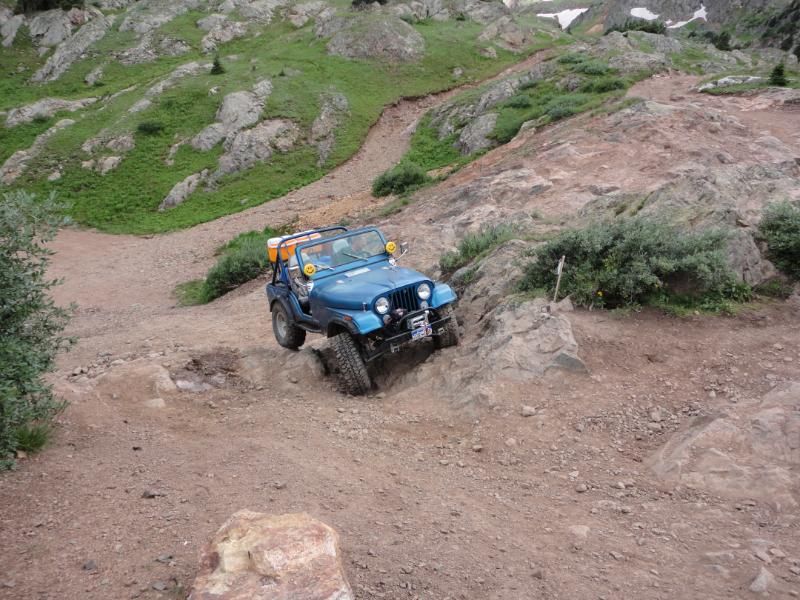 Many thank yous to the Thunder Mountain Wheelers for installing winch points!
Once we got our little Pomeranian running again (sort of), we proceeded to the next obstacle, just a little way up the trail. This one isn't as big as "the wall" but I believe it is as difficult or even more difficult. Right in the middle of climbing this steep pile of rock, the Jeep coughed, our hearts stopped, and so did the Jeep. My kingdom for fuel injection and a bottle of HEET!!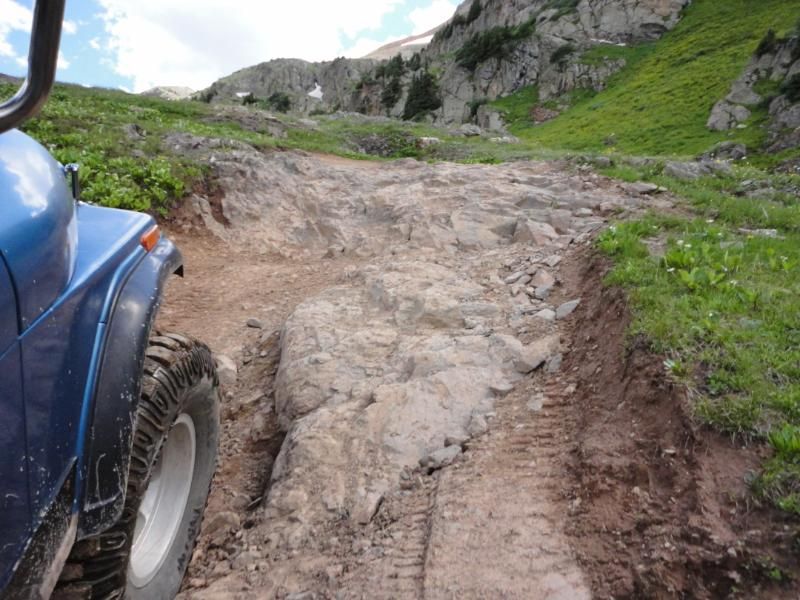 As usual, the pictures don't do justice to the difficulty of the obstacle.
Since we don't have power steering or power brakes, lowering ourselves down the rocks, backwards wasn't difficult, just nerve wracking. Since we were alone on this journey, we decided that chickening out and heading back down to Mineral Creek was the best course to take.
With the sun lowering in the sky, we made our way to Eureka, where we set up camp for the night. Part two of our weekends will be posted shortly, for your reading pleasure.
---
Earth first... We'll Jeep the other planets later.
Registered User
Join Date: Apr 2009
Location: Hayden
Posts: 2,739
Only one thing comes to mind. WOW.
Registered User
Join Date: May 2011
Location: Evansville
Posts: 29
That looks amazing. I am so envious of all you guys out west. South Eastern Virginia is the worst place for anyone who loves wheeling. Come to think of it, I have some friends out in Grand Junction that I need to go visit. After seeing these pics of Colorado that trip just moved up on the priority list.
Big Country Part Two
---
On our second weekend, we enjoyed the company of a friend. We often explore by ourselves, so this was a nice treat.
Armed with a couple bottles of HEET, we once again headed for Silverton. Clear skies greeted us, as we hit the road but thunder was in the forecast. Since our plan was to watch the Perseid meteor showers in camp, at 11,000 feet, we hoped the forecast was wrong.
The trip over Red Mountain Pass is a joy, despite being paved and is a trip worth taking, in its own right.
The story of the avalanche shed, over US 550 is both sad and interesting.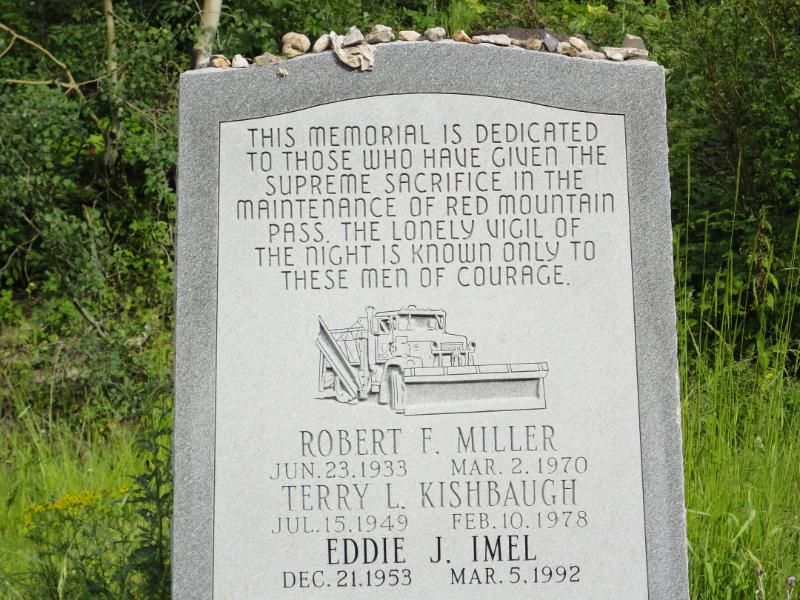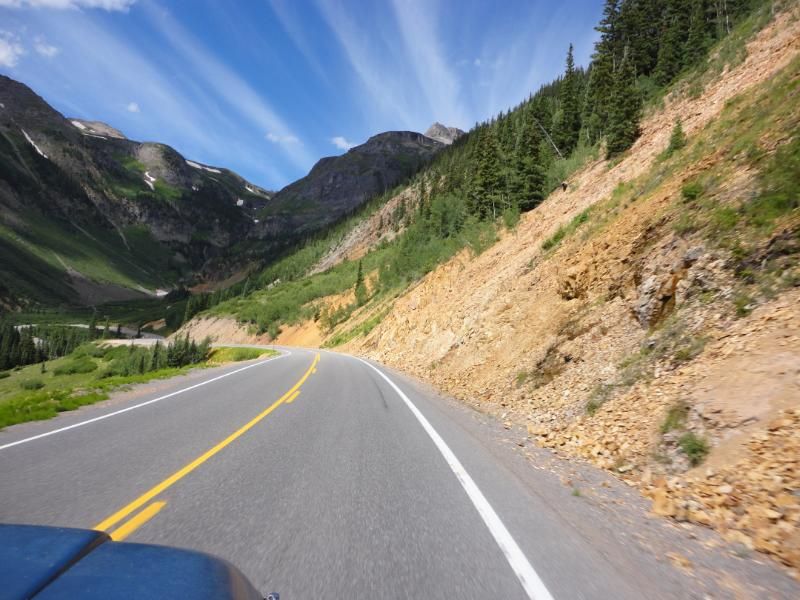 After topping off our tanks in Silverton, we headed up, through Eureka, to Animas Forks, where we aired down and wandered around the famous ghost town. To our disappointment, the bars have been taken out of the old jail and put in the museum. After all, who doesn't want to get pictures of their friends, behind bars?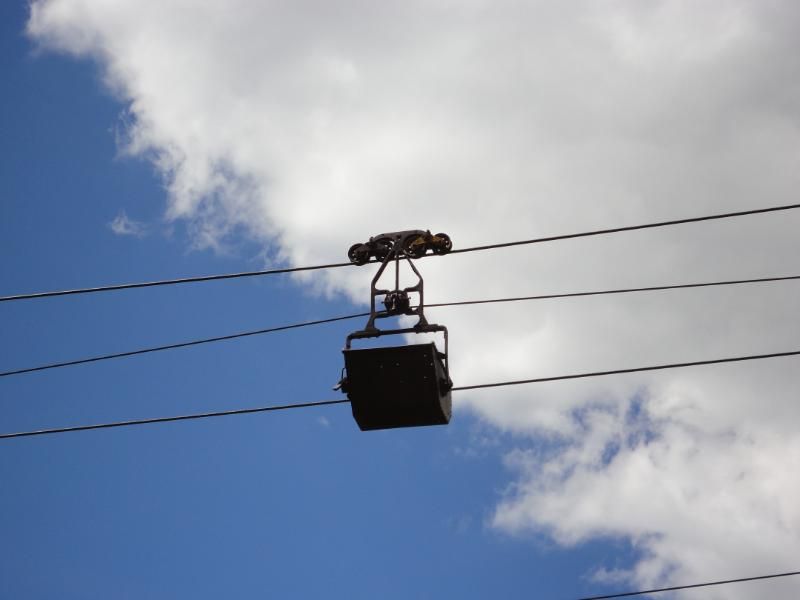 We didn't pester him but there was a celebrity in our midst, that day.
Animas Forks is an amazing place and we could have, easily spent more time there.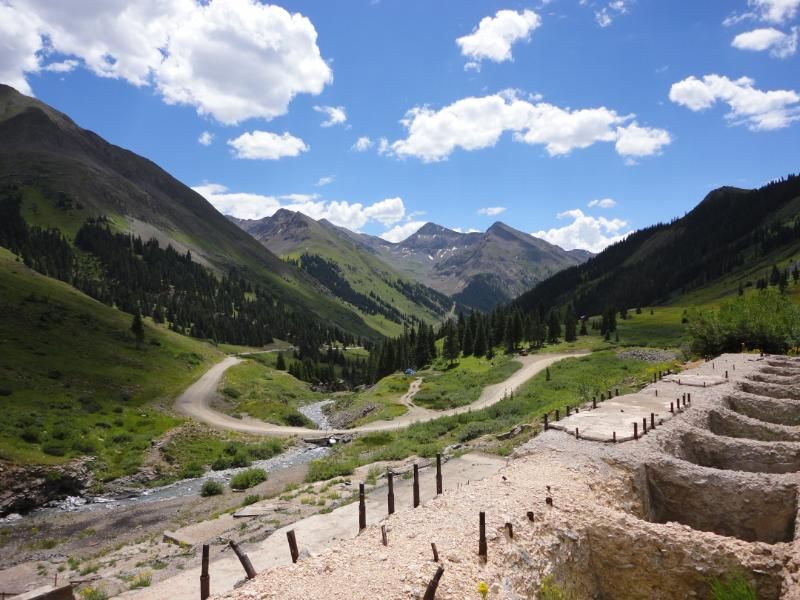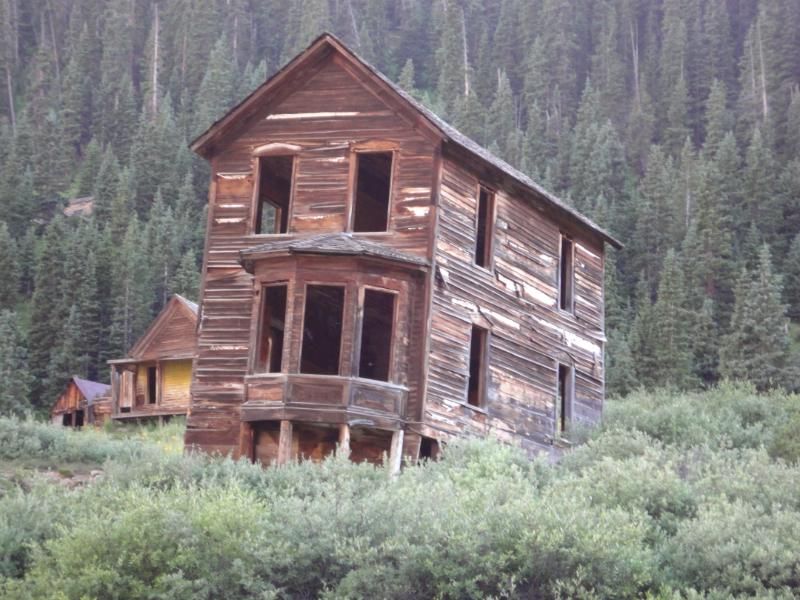 Upon attempting to leave, we discovered that our mangy, three legged Pomeranian had returned and had to spend a little time under the hood of our CJ. A few, quick carb adjustments had us up and running in short order and we were free to make our way up California Pass (envying our friend's Mopar fuel injection kit, all the way).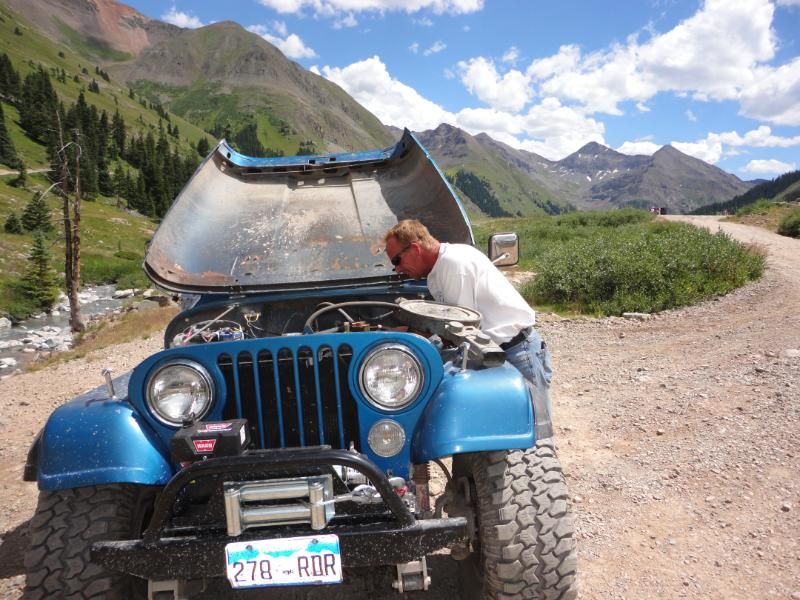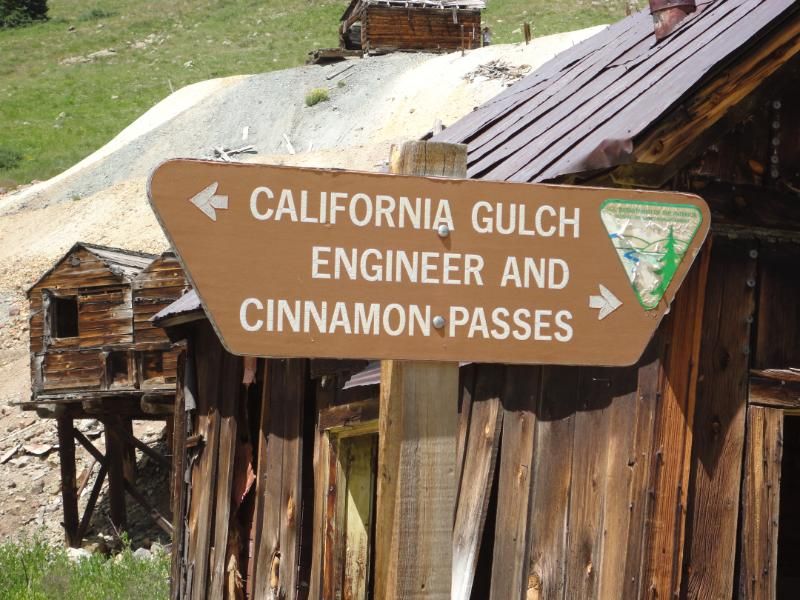 Not far up the road, we came across one of the few mining structures California Pass has to offer. While this trail is a little short on history, it is big on scenery.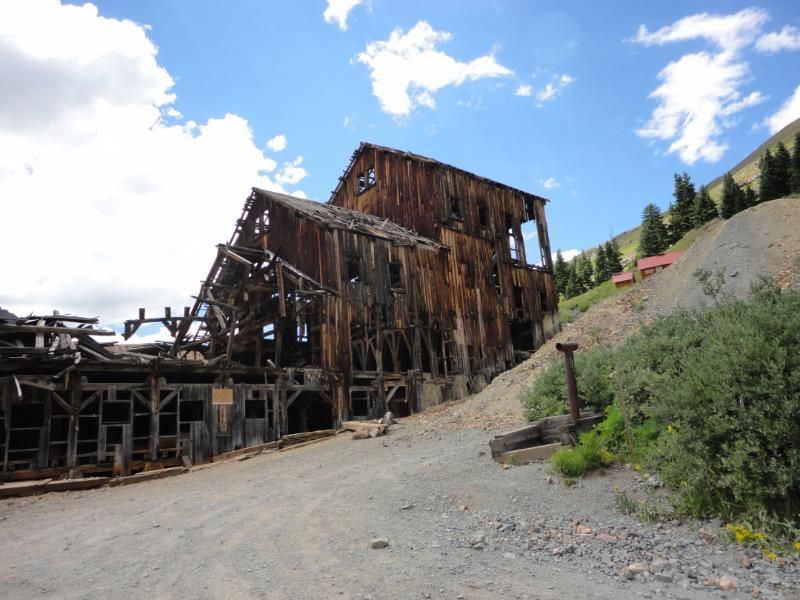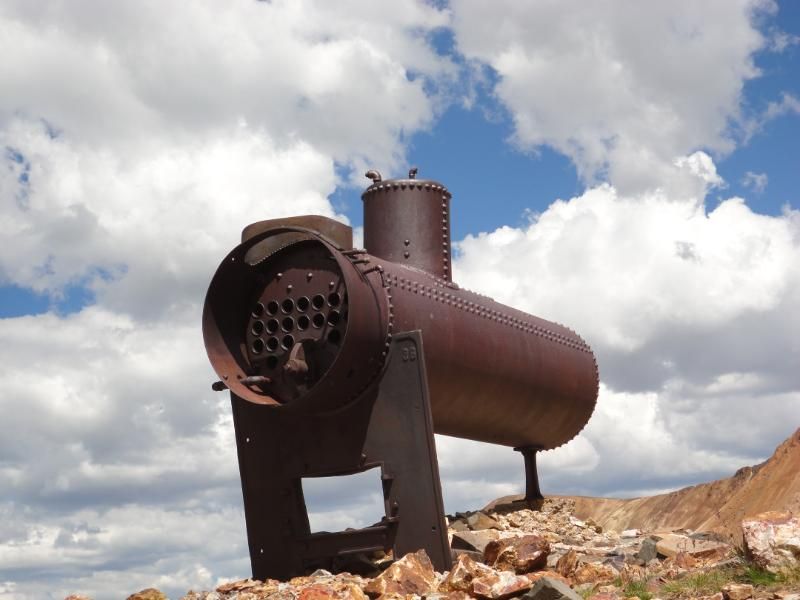 From California Pass, it's just a short hop to Hurricane Pass. Lake Como is beautiful and would have been our destination if we had made it all the way over Poughkeepsie Gulch, the prior weekend.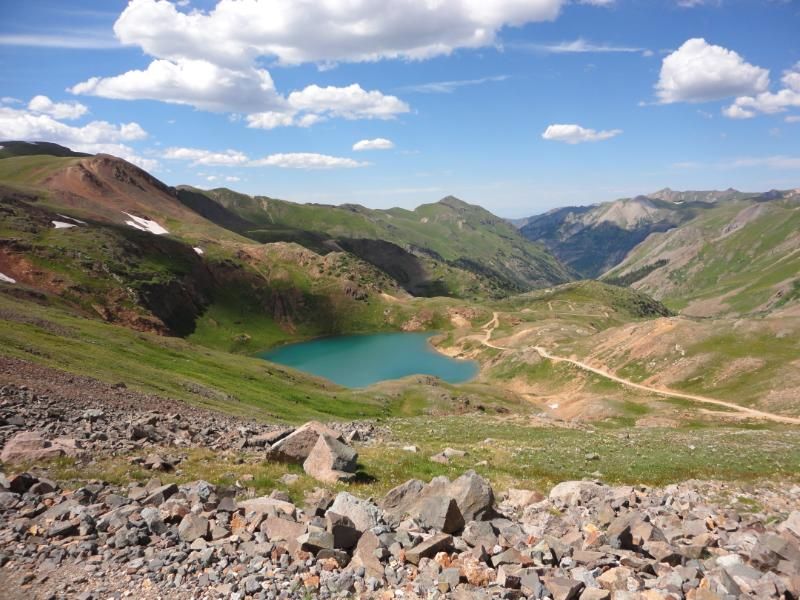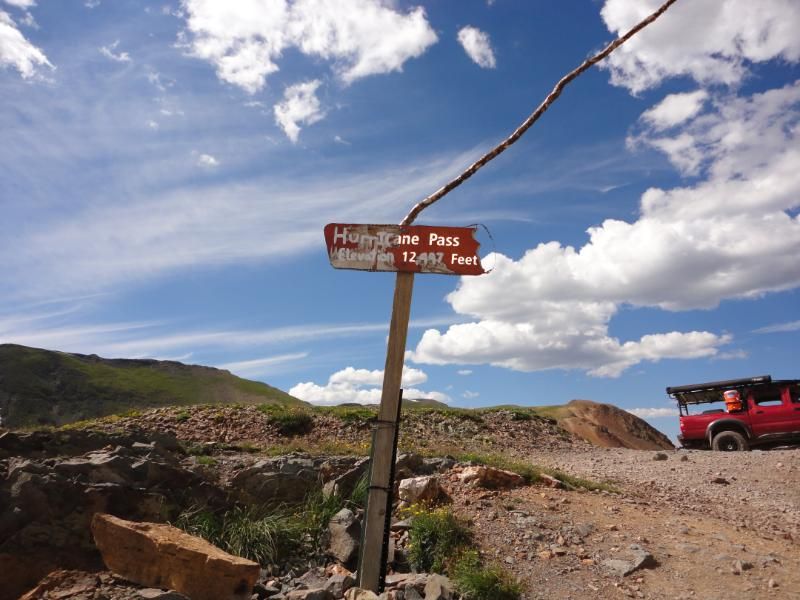 ---
Earth first... We'll Jeep the other planets later.
Big Country Part Three
---
From Hurricane Pass, we made our way to Corkscrew Gulch. Some of the switchbacks are nearly as tight as those on the infamous Black Bear Pass, that we ran last summer.
As we got near the bottom of Corkscrew, clouds started gathering. Hoping the weather would hold, we topped off the tanks in Ouray and headed up Mineral Creek. Camp was to be at Mineral Point.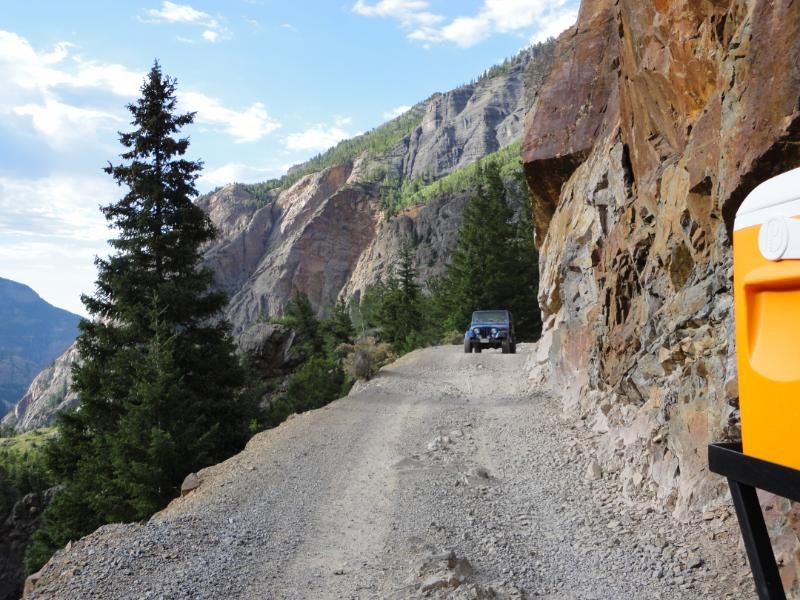 As we climbed, the rain caught us. The three legged beast chose that time to reappear, as well. We threw on the bikini top and poured in another bottle of HEET and proceeded in ever heavier rain. We reached Mineral Point just as the rain started to lighten up and set up our camp. Fortunately, the weather broke long enough for us to enjoy the campfire camaraderie and have a welcome, hot meal. Sadly, the clouds and full moon conspired to prevent us from seeing even one Perseid meteor.
The following morning dawned chilly, wet, and threatening more rain. Spirits were high and breakfast was good, regardless. We did get rained on while we broke camp but it couldn't dampen our spirit of adventure. Any day in the mountains is a good day!
In all the times that I've visited this area, it seems that I never had time to explore the spur roads. From now on, the spurs are my destinations. We explored around Mineral Point and had the best time of the whole trip.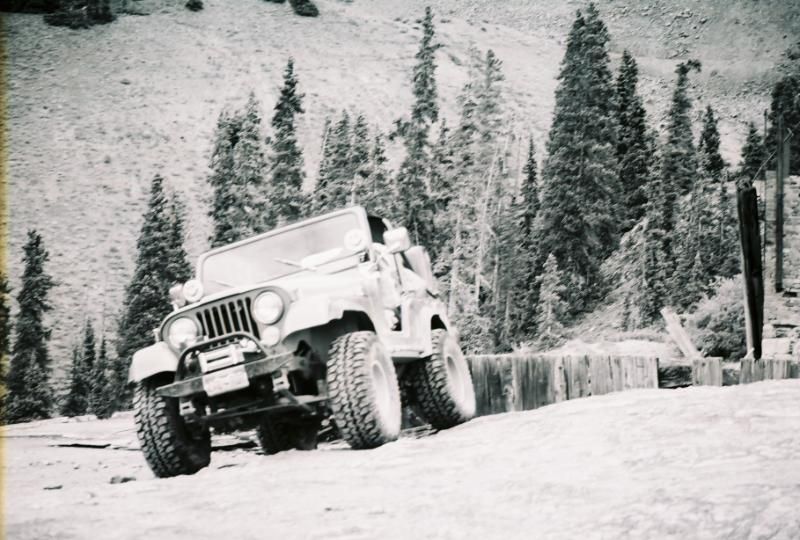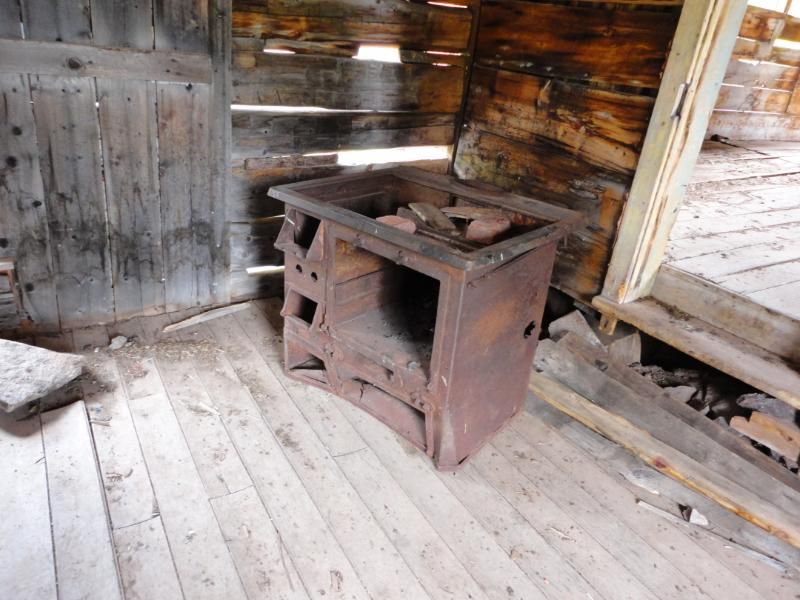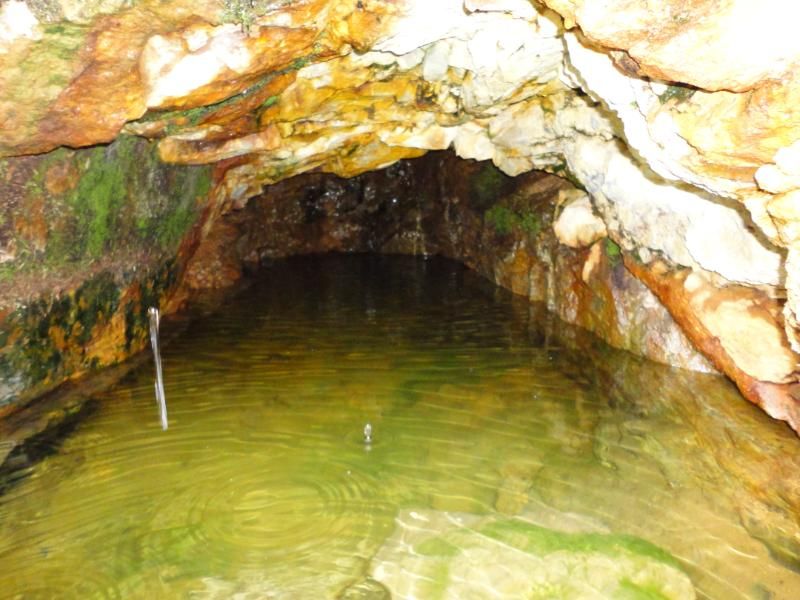 With the day getting older and work waiting to ambush us all the next day, we forced ourselves to point our grilles downhill and begin the trek home, eager to return and explore the past, again.
---
Earth first... We'll Jeep the other planets later.
JkE, if you make the trip to GJ, shoot me a PM. Maybe we can go wheeling!
---
Earth first... We'll Jeep the other planets later.
Registered User
Join Date: Dec 2007
Location: Huntsville, AL
Posts: 836
Beautiful country, was just there last Saturday.
---
Black 13 JKUR 10th Annivsary
White 13 JKUR

___________________________________________
M-F: Cell Block #4533
Join Date: Nov 2005
Location: Indy
Posts: 8,152
Nice! Unfortunately I wasn't able to get to CO this year so I feel better hearing your stories and seeing your pictures. Thanks for the write-up, and love the CJ!
---

Red Jeep Club #345
2006 TJ Sport -
To view links or images in signatures your post count must be 10 or greater. You currently have 0 posts.

2004 KJ Limited
2013 Off-Road Trailer -
To view links or images in signatures your post count must be 10 or greater. You currently have 0 posts.


"Civilization is what old men manage to salvage
from the onslaught of young idealists." -- Don Colacho

Registered User
Join Date: May 2010
Location: Detroit
Posts: 66
Nice pics.
What is the cylinder-shaped equipment shown in a few of the pics?
Those are boilers. They produced the steam that was used to power the mills and mining equipment.
---
Earth first... We'll Jeep the other planets later.
RIP
Join Date: Jan 2003
Location: Austin, Texas
Posts: 10,938
This has to be up there with one of the top 20 best trail reports (and examples of a proper report) that we've ever had. Nice trip. I'm jelious. And (insert your favorite supportive derogatory words here) nice photo work.
---
To view links or images in signatures your post count must be 10 or greater. You currently have 0 posts.
To view links or images in signatures your post count must be 10 or greater. You currently have 0 posts.
My MS/Life blog, Audio and Electronic write-ups, project how-tos, pictures, stories, and more.
Quote:
Originally Posted by SirGCal
If you can't take a nano-second to press shift/period/etc. and make proper sentences and paragraphs, I don't know if I can take a few minutes to respond to your topics... It doesn't have to be perfect by any means, but a little effort goes a long way.
I was actually in a little bit of a writing funk for this one.
Last year's report on Black Bear/Imogene passes was much better, I think. Thank you for the compliments, though.
---
Earth first... We'll Jeep the other planets later.
Registered User
Join Date: Jun 2008
Location: Glendale, Arizona
Posts: 440
Very nice. I've always wanted to get my jeep up there. I'll actually be in Telluride in a few weeks. A suggestion for your bad gas issue. I carry a bottle of 104 octane boost. I definitely helps when you get gas of questionable quality.
---
'78 CJ-7, 401 w/ headers, T-18, 35" muds, 4" lift, MSD ignition box, locked diffs.
I'm in Telluride every Mon, Wed, and Fri. Cool town!
---
Earth first... We'll Jeep the other planets later.
Currently Active Users Viewing This Thread: 1

(0 members and 1 guests)
Posting Rules

You may post new threads

You may post replies

You may not post attachments

You may not edit your posts

---

HTML code is Off

---