Registered User
Join Date: Oct 2009
Location: Oregon
Posts: 49
"The next chapter" Commando
---
Hi everyone. I've never done a build thread, and I can't guarantee the fastest progress updates, but I thought all my questions and posts could just be concentrated here.
I've been curious about the Jeepster Commando for almost as long as I've been a CJ guy. My first transportation was a cherry 1984 CB650SC Honda Nighthawk, in Wineberry Red. It was fun, but living in wet western Oregon made me realize I wanted something more comfortable. I went shopping for my first car when I was 18, in 1996. I don't remember ever thinking much of Jeeps but I saw a 1984 CJ-5 on a classic car lot and it really called my name. It was a four-banger soft top, but it was really clean. I ended up with an S10 Blazer instead, but I always missed the character of the old CJ's. I got the itch pretty bad and in 1999 I drove to Mesa, Arizona and bought a hardtop 1978 CJ-7 with the 258 six, t18 and D20. I spent the next thirteen years absorbed with building, repairing and enjoying that jeep. That CJ saw me through the Marines, college, girlfriends, countless 'wheeling trips with my brother and buddies, and finally marriage and two kids. Some of you have read about the crash which turned the CJ into a parts vehicle, so I won't rehash it. I was pretty unsure what to do next. After months of fighting the other guy's insurance company, I finally received a reasonable offer and wound up with 12k to build my next jeep. I was also able to buy back my CJ for $244. That gave me the money and parts to build a C101.
I had come pretty close to finishing the CJ before the wreck. Here's a picture of the engine bay.
This was me climbing up Hells Gate at Moab. I stalled once, which was pretty spooky with an idle circuit not quite adjusted right: It stumbled pretty badly off idle, which was interesting while heal-toe'ing the brake and gas and also managing the clutch! I got it fixed as soon as I got home and would have fixed it there if i'd known what the problem was.
Our group at a plateau at Moab. My brother is in the gold '82 CJ7 to the left of mine. His has a D60 rear and D44 front with a SBC and loc-rites. It is an excellent jeep. The jeep on the right laid over on its side while climbing HellsGate about half an hour after this picture.
This is what the crash looked like. May of 2012.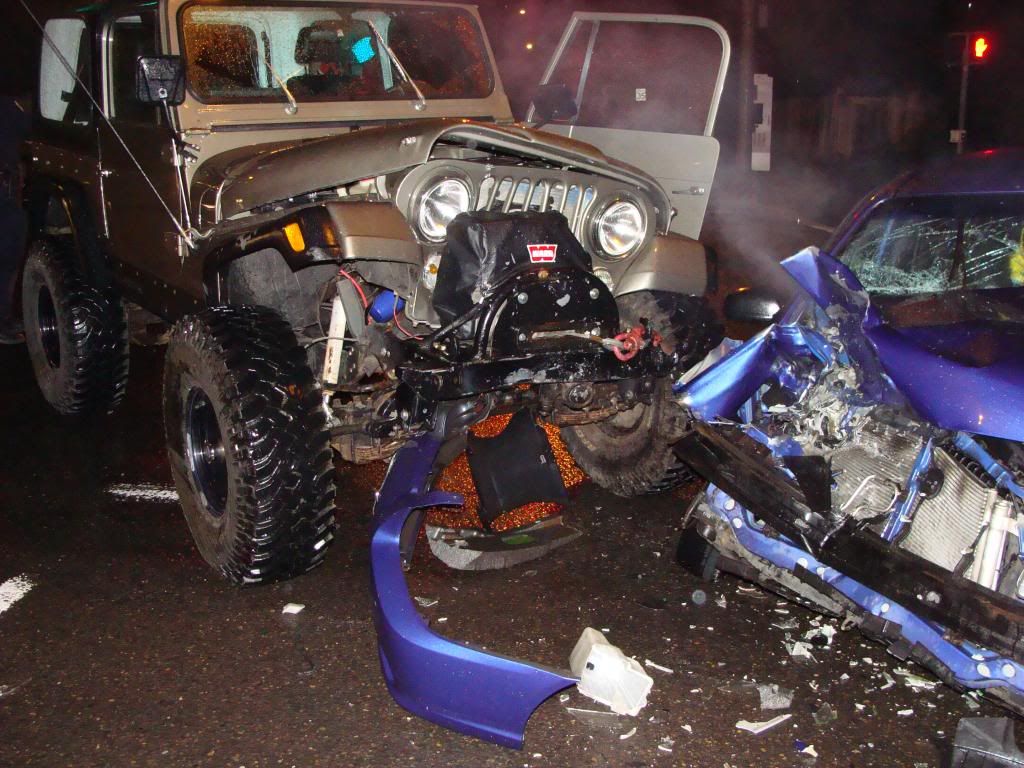 Then I found a solid '71 C101 from the drier desert climate of Prineville, Oregon.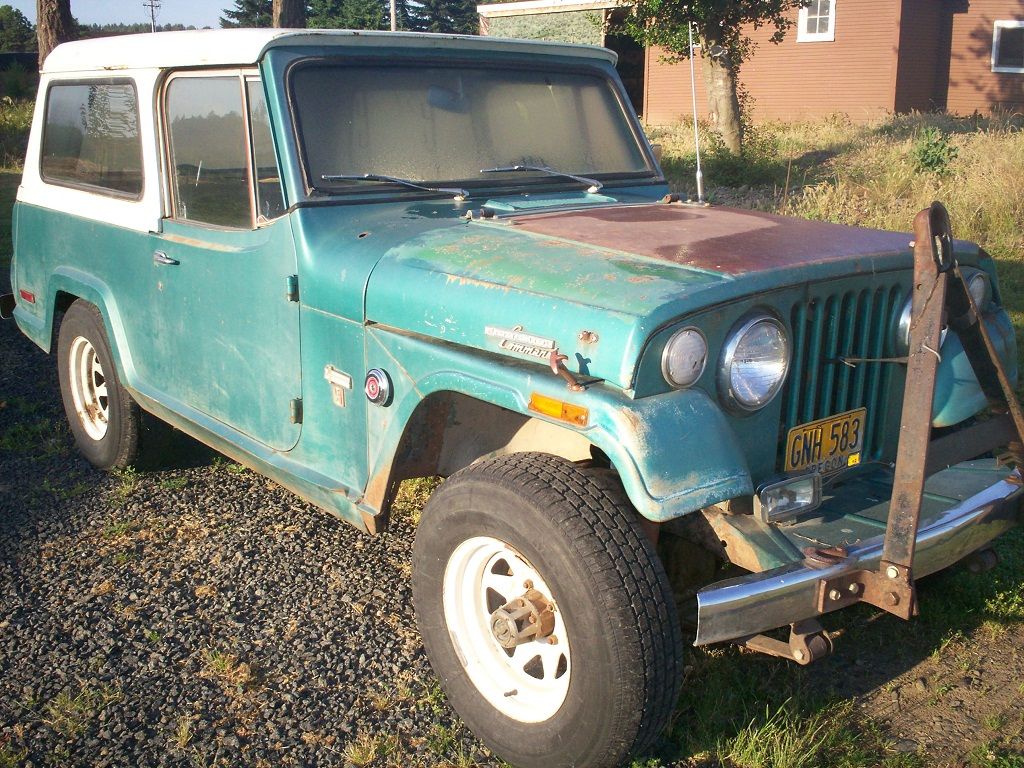 Here is the new Commando next to the old '78. Much of the old jeep is going to live on in the new (even older) jeep.
The new jeep will have the following:
- 101" wheel base, as factory
- D44 axles front and rear with 4.56 gears (front converted to 5 on 5.5 - both about 58" WMS), Detroit electrac in the front, and Eaton E-locker in the rear.
- SOA with YJ front springs and XJ rears
- Tom Woods shafts front and rear (CV rear, and standard longslip front, with 1310 joints)
- Tera-low kit for D20 case
- T18 behind Novak adapter
- Factory 225 for now
- Armor, rocker guards, crossmember, larger fuel tank, skid plates
- Smittybilt superseats, and bestop fold and tumble rear
- Power steering - mix of saginaw, factory and flaming river components
- Power brakes off Chev 1500
I'm going for a pretty agressive resto-mod; I'll keep the "Sprucetip Green", and am not going to cut it up more than is necessary for flares and armor. It'll retain a decidedly factory appearance and flavor.
I'm also considering a 5.3 swap. If it happens, it'll be a couple of years. A friend recently did this and the performance is really impressive. I'm not settled on this though and I like the pep the 225 has.
I have many more pictures to go through and I'll try to add them periodically if there is interest from the members. Thanks to you all for sharing your builds and offering your advice and encouragement. This is going to be fun.
Jeremy
Registered User
Join Date: Apr 2010
Location: Whetstone, Az
Posts: 1,131
sweet jeepster. Can't wait to see them joined.
---
Beauty is in the eye of the jeepowner.
Registered User
Join Date: Sep 2007
Location: Cannon AFB
Posts: 160
Subscribing, I love Commandos and am really thinking it will be the next project vehicle.
---
1978 J10 Honcho Truggy project 401/Tons/???
1983 J10 Honcho Stepside I-6 add a leaf/33"s
1988 Grand Wagoneer 401 4"/34"s
1998 ZJ 5.9 Limited 4.5" LA/33"s
1999 WJ 4.0 Limited
2003 Ram 1500 w/built 12v cummins
2004 Ram 2500 Cummins tow rig
Registered User
Join Date: Dec 2012
Location: Medford
Posts: 473
That's a nice C101. Makes me sad that you're going to change it so much - it offers so much, just as it is. '71 is likely the best year for these.

Why is this posted in the FSJ forum?

Those chrome bumpers are something special - they rarely escape the years in that good a shape.
---
1) '77 J10 LWB, 258/T15/D20/3.54 bone stock, low options (delete radio), PS, hubcaps. 2) '82 J20 360/T18/NP208/3.73, KOs, 7600 GVWR 3) '75 CJ-6, 304/T15, PS, BFG KM2s, soft top 4) '95 VW Golf Sport 2000cc 2D
Registered User
Join Date: Feb 2013
Location: Georgetown
Posts: 26
All right!
---
Cool Commando project. Been looking for one myself. Just haven't gotten ahold of the right one yet. Always liked the earlier "Jeepy" looking grill and the versatility of the covered cargo/seating area.
Good luck!
I'm glad there's some interest in this build! I think Commandos are a lot of fun. They have a lot of CJ character but are less common. Plus, they have more space for stuff now that I'll have two little rear passengers from now on.
Regarding the question of where this build belongs, I wasn't sure of where to put it. Technically, this page is for FSJ's and Commandos, according to the link. If the moderators think it'd be better suited for the CJ forum or the builds forum, they are welcome to move it.
I understand the mixed feelings about "cutting up" a C101, but this will be a quality build that will preserve the vehicle much longer than if it had been left in Prineville. It probably would have been parted out or sent to the recycler.
This was us towing it home from Bend.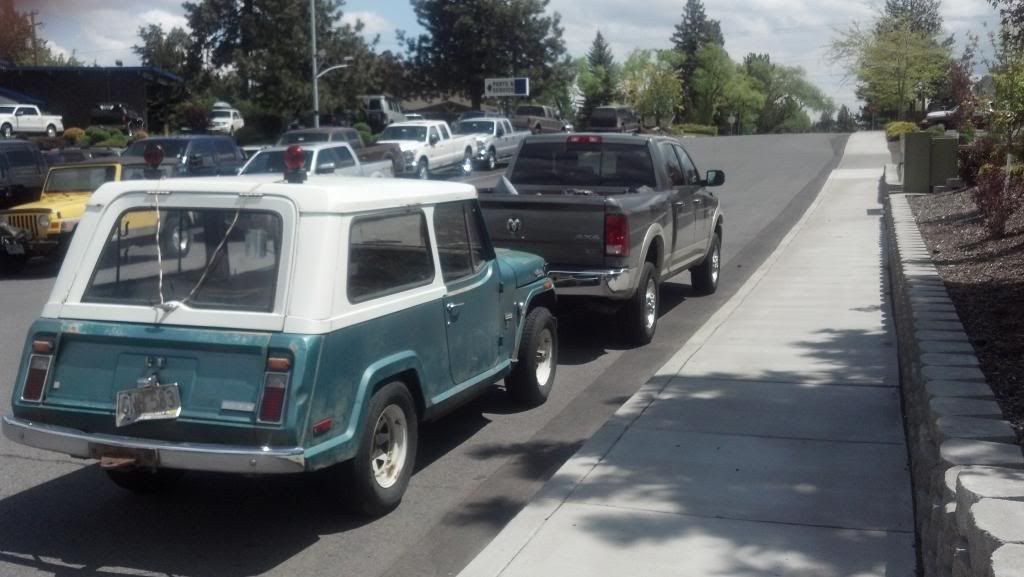 It's "new" tires were at least ten years old and weather checked. It barely idled and had so much extra wiring, it was almost comical.
I found a buyer for the remains of the CJ, which were only going to amount to the body and frame, and cage. So I started removing all the things I knew I wanted for the Jeepster.
The guy who bought the CJ was happy to get such a rust-free tub and didn't seem bothered by the frame damage. He was actually talking about repairing it and swapping his running gear into it. He ran an equipment rental business showed up to pick it up with one of his forklifts.
I started by tuning up the motor. I removed the Pertonix electronic ignition and went back to points.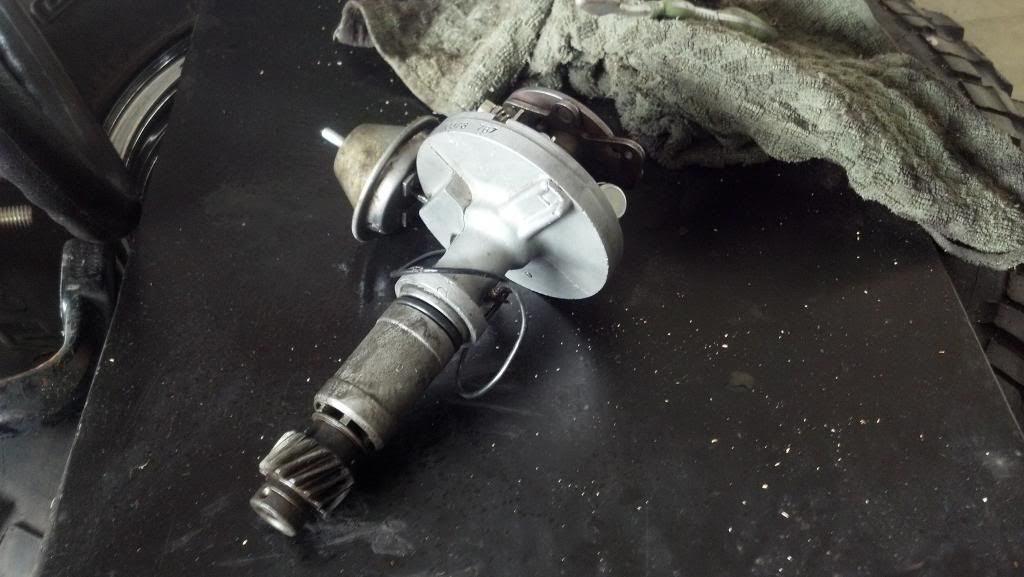 I addressed the leaky heater core next.
After Moab in 2009 I replaced my factory D30 with a waggy 44 and ran it "full-width". Full width on a waggy 44 is about 60 inches. When I converted it to 5 on 5.5, the components added another inch and a half, bringing my wheel mounting surface width to just shy of 62". We took a trip to the Rubicon in 2011 and I loved the extra stability. Unfortunately, I was torn and wasn't sure I liked the way it looked. After reading up many articles, including those found here
http://www.littlekeylime.com/MrN/index.htm
, I decided to narrow the housing four inches. Since the perch width on the waggys, and many full-size 4x4's, is around 31", and the CJ frames are about 27" in the front, this works great. You can remove 4" from the long side without having to cut the short side. This places the springs under the frame. It also narrows the axle four inches and removes the headache of outboarding the springs.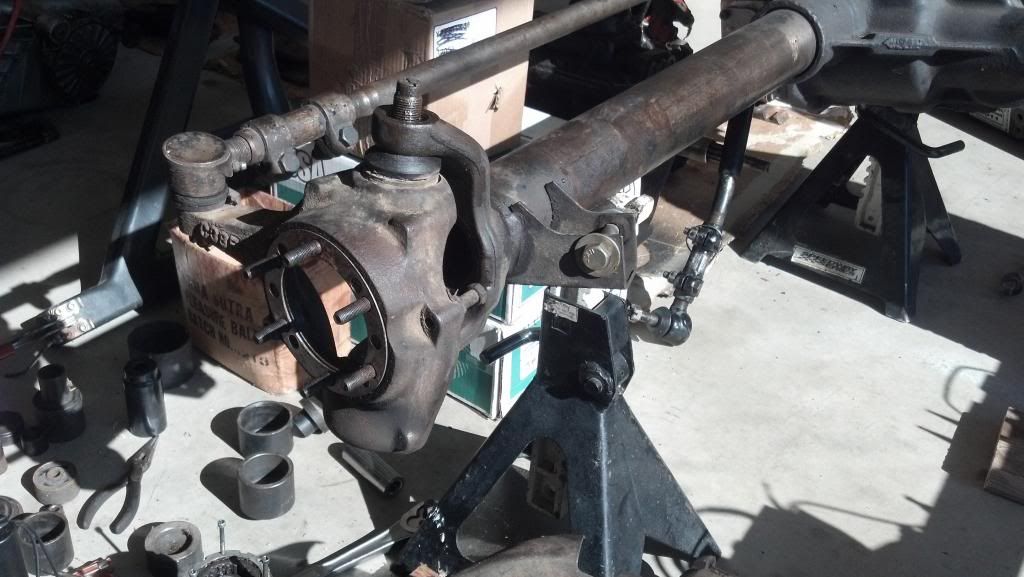 I started by trying to grind out the weld on the long side (driver) inner 'C'.
I found it difficult to completely get all the weld without grinding into either the 'C' or housing, so I eventually cut the 'C' off. Later, I made two or three relief cuts in the portion left inside the 'C' and knocked out the pieces with a hammer and chisel. Then I held up the piece of tube I'd removed and marked the tube with tape, four inches from the original edge.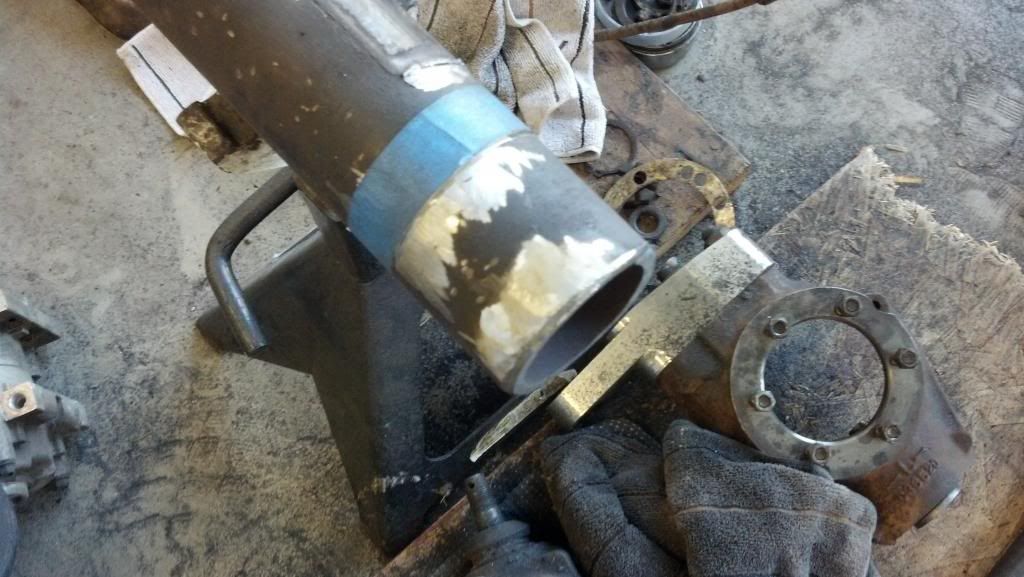 I made the cut using a 4" cutoff wheel and sawzall, going slowly.
Here are the two housings during the narrowing process. I gently tapped the 'C' back into place, carefully checking the caster several times along the way. Once I was satisfied, I welded it into place.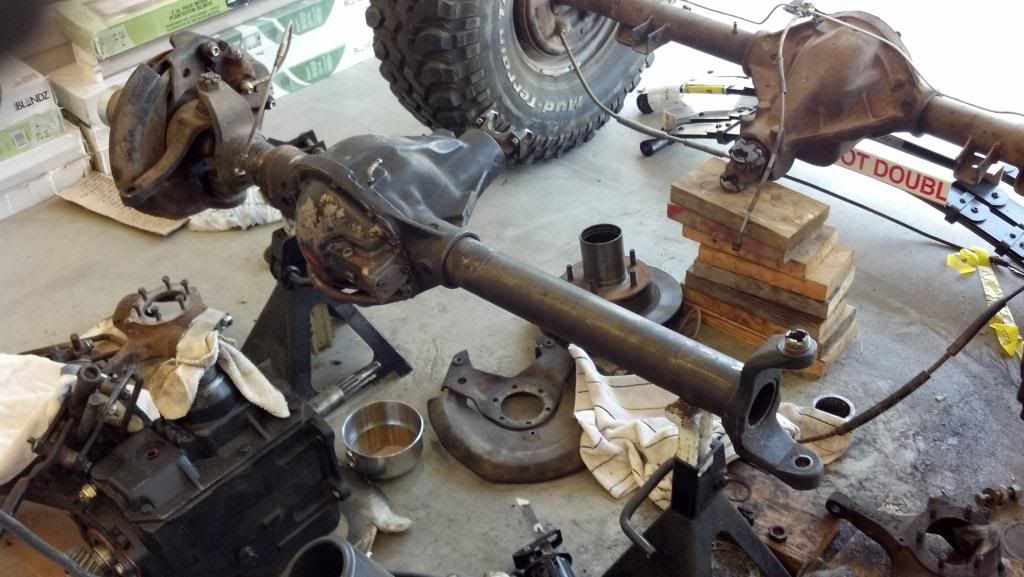 As some of you know, the Wagoneer front D44's are spring under, and have the passenger side perch cast into the center section. This makes going spring-over more difficult that starting with a housing that began as a SOA. Many Chevy front D44's are spring-over and have the passenger side offset I needed, but I started this build as a mild CJ with a SUA. I read quite a bit on the IFSJ website, which encouraged me to go ahead and do the spring-over on the Waggy axle. I started by building a new perch.
One of the great things about the waggy 44's is they have about 13* pinion angle, if you place the knuckles at 0*. I ground the top of the housing flat at an angle that would leave me about 7* pinion angle and 6* positive caster.
I carefully stick welded it but I didn't use special nickel rod and did'nt have a way of cooling it in slowly. Everything I read said that in this application, which doesn't see a lot of side forces (It's clamped in place by the spring pack and u-bolts), it'll be fine. We'll see.
I built another for the driver's side. It had to be taller than the factory perch because the new passenger side was sitting up on casting material.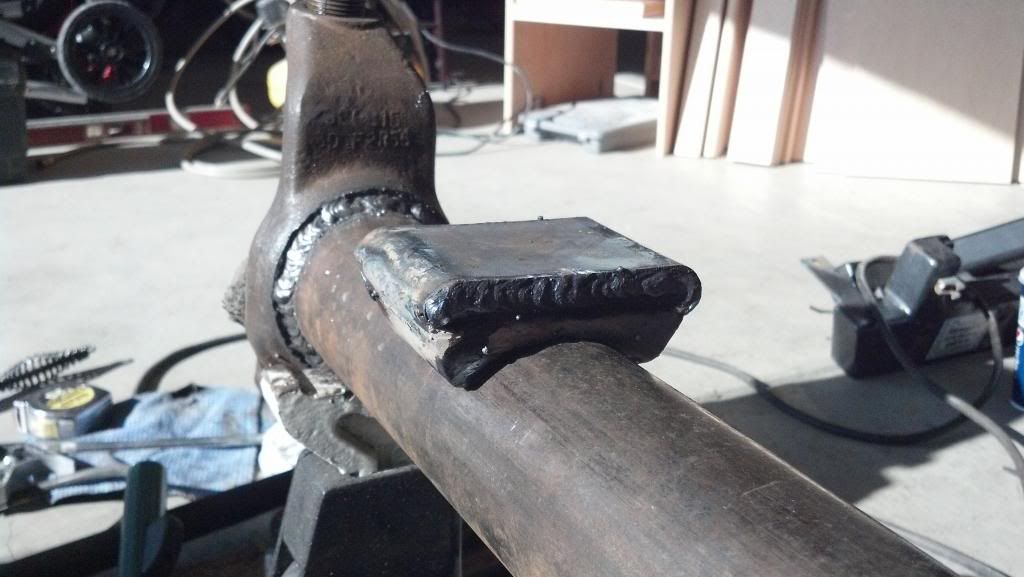 I set the new YJ springs on the housing for the fun of it. I didn't plan to post pictures of this build and didn't always clean up my work area prior to snapping photos.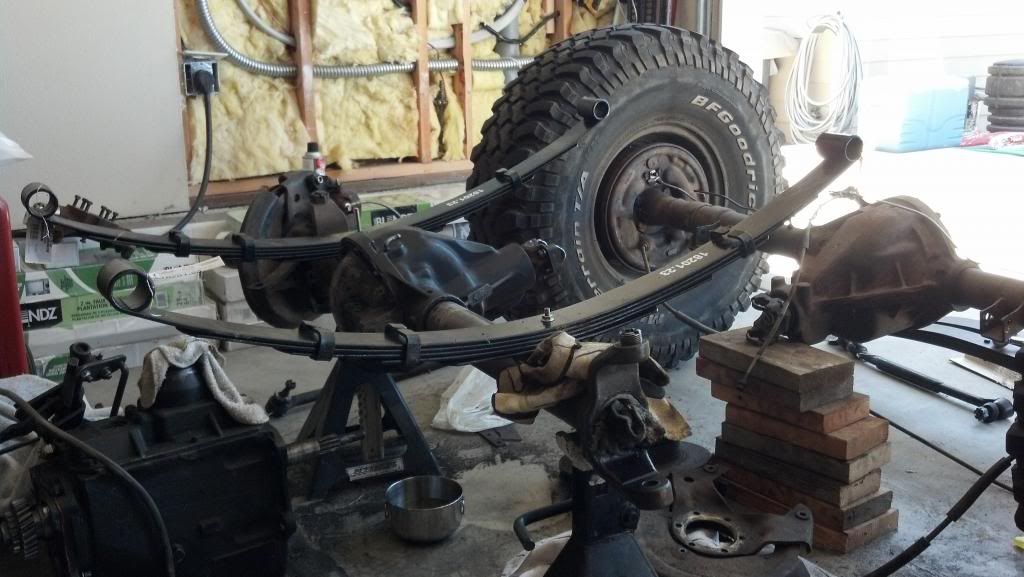 The finished driver's side perch. I built it using the original perch as a foundation and adding 3/16's plate as needed.
Once satisfied, I arc-welded it onto the housing.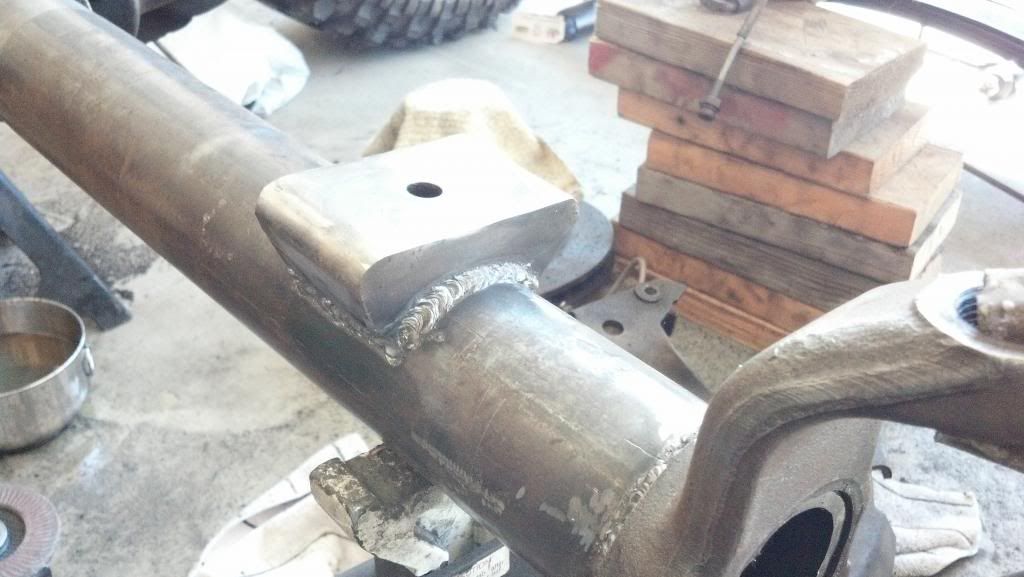 Removed 4" from the axle shaft itself and mailed it off to Dutchman Axle in Portland for re-splining.
I'll post more soon. - Jeremy
Registered User
Join Date: Jan 2002
Location: Eagle Point
Posts: 7,347
If you're going to keep the 225 ( would), go to an HEI for the ignition. If not, sell it to me for a spare...
Other mods:
Offy 360 4bbl intake. Hard to find but out there.
Melling high volume oil pump.
Split the exhaust/Headers.
Currently Active Users Viewing This Thread: 1

(0 members and 1 guests)
Posting Rules

You may post new threads

You may post replies

You may not post attachments

You may not edit your posts

---

HTML code is Off

---