Hi everyone. I've never done a build thread, and I can't guarantee the fastest progress updates, but I thought all my questions and posts could just be concentrated here.
I've been curious about the Jeepster Commando for almost as long as I've been a CJ guy. My first transportation was a cherry 1984 CB650SC Honda Nighthawk, in Wineberry Red. It was fun, but living in wet western Oregon made me realize I wanted something more comfortable. I went shopping for my first car when I was 18, in 1996. I don't remember ever thinking much of Jeeps but I saw a 1984 CJ-5 on a classic car lot and it really called my name. It was a four-banger soft top, but it was really clean. I ended up with an S10 Blazer instead, but I always missed the character of the old CJ's. I got the itch pretty bad and in 1999 I drove to Mesa, Arizona and bought a hardtop 1978 CJ-7 with the 258 six, t18 and D20. I spent the next thirteen years absorbed with building, repairing and enjoying that jeep. That CJ saw me through the Marines, college, girlfriends, countless 'wheeling trips with my brother and buddies, and finally marriage and two kids. Some of you have read about the crash which turned the CJ into a parts vehicle, so I won't rehash it. I was pretty unsure what to do next. After months of fighting the other guy's insurance company, I finally received a reasonable offer and wound up with 12k to build my next jeep. I was also able to buy back my CJ for $244. That gave me the money and parts to build a C101.
I had come pretty close to finishing the CJ before the wreck. Here's a picture of the engine bay.
This was me climbing up Hells Gate at Moab. I stalled once, which was pretty spooky with an idle circuit not quite adjusted right: It stumbled pretty badly off idle, which was interesting while heal-toe'ing the brake and gas and also managing the clutch! I got it fixed as soon as I got home and would have fixed it there if i'd known what the problem was.
Our group at a plateau at Moab. My brother is in the gold '82 CJ7 to the left of mine. His has a D60 rear and D44 front with a SBC and loc-rites. It is an excellent jeep. The jeep on the right laid over on its side while climbing HellsGate about half an hour after this picture.
This is what the crash looked like. May of 2012.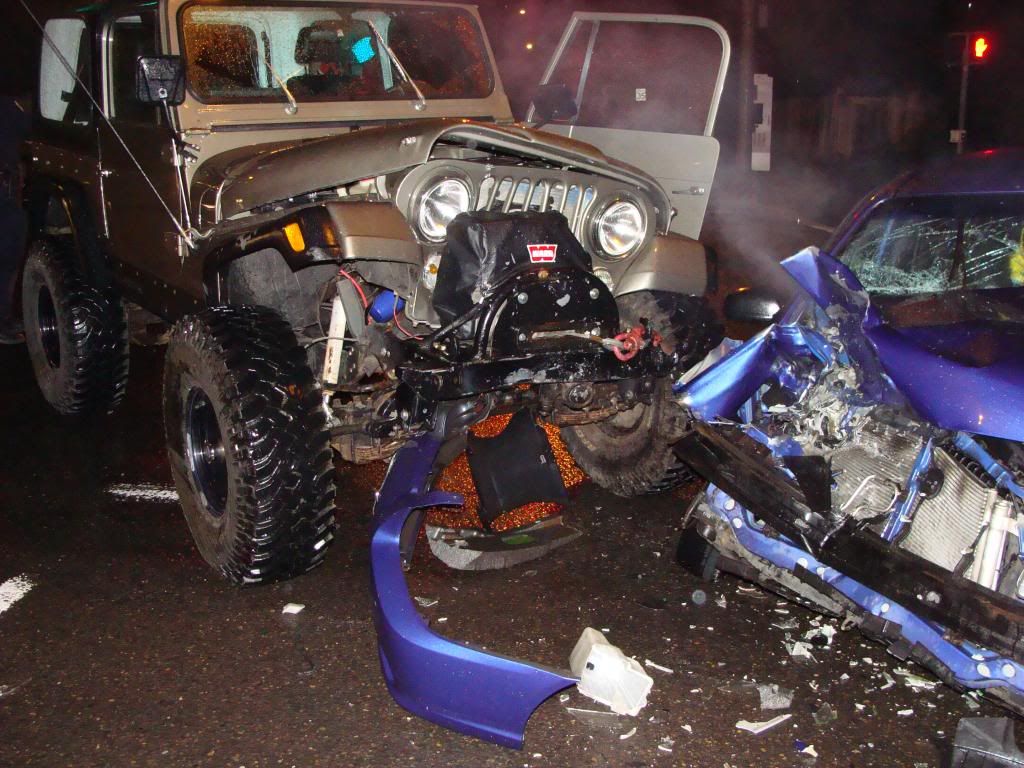 Then I found a solid '71 C101 from the drier desert climate of Prineville, Oregon.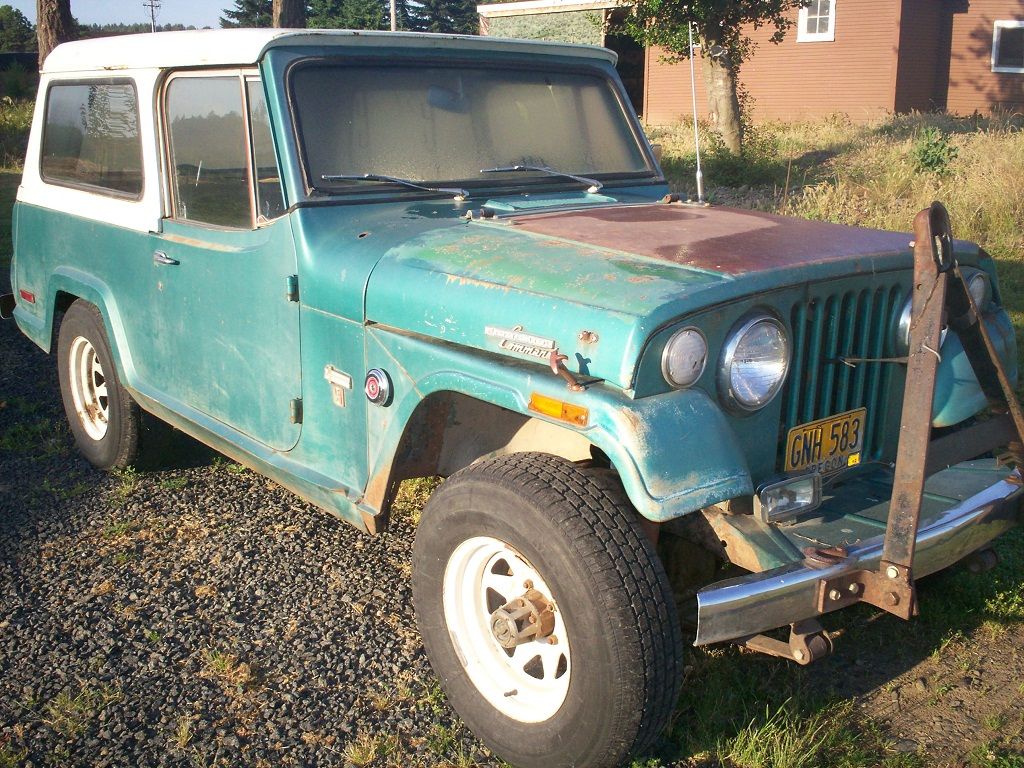 Here is the new Commando next to the old '78. Much of the old jeep is going to live on in the new (even older) jeep.
The new jeep will have the following:
- 101" wheel base, as factory
- D44 axles front and rear with 4.56 gears (front converted to 5 on 5.5 - both about 58" WMS), Detroit electrac in the front, and Eaton E-locker in the rear.
- SOA with YJ front springs and XJ rears
- Tom Woods shafts front and rear (CV rear, and standard longslip front, with 1310 joints)
- Tera-low kit for D20 case
- T18 behind Novak adapter
- Factory 225 for now
- Armor, rocker guards, crossmember, larger fuel tank, skid plates
- Smittybilt superseats, and bestop fold and tumble rear
- Power steering - mix of saginaw, factory and flaming river components
- Power brakes off Chev 1500
I'm going for a pretty agressive resto-mod; I'll keep the "Sprucetip Green", and am not going to cut it up more than is necessary for flares and armor. It'll retain a decidedly factory appearance and flavor.
I'm also considering a 5.3 swap. If it happens, it'll be a couple of years. A friend recently did this and the performance is really impressive. I'm not settled on this though and I like the pep the 225 has.
I have many more pictures to go through and I'll try to add them periodically if there is interest from the members. Thanks to you all for sharing your builds and offering your advice and encouragement. This is going to be fun.
Jeremy