Registered User
Join Date: Jun 2013
Location: Pueblo
Posts: 3
My "new" Jeep
---
I have acquired a '79 Cherokee. At least I think it's a Cherokee as it has the Cherokee emblems on the front quarter panels. A guy at the auto salvage argued with me that it was a Wagoneer altho it looks exactly like all the pics I've seen of a Cherokee.
Anyway as I am not much of a mechanic, how do I know if it's a base or a wide track? When looking for parts to restore it that is one of the questions I get asked.
Registered User
Join Date: Apr 2010
Location: Whetstone, Az
Posts: 1,131
Generally, cherokees are 2dr and wagoneers are 4dr.

Wide track will have fender flares (like a j-truck) and narrow track will have regular fenders (like a grand wagoneer)
---
Beauty is in the eye of the jeepowner.
Registered User
Join Date: Sep 2012
Location: mesa
Posts: 1,255
They did make 4 door cherokees. All 4 door cherokees were narrow track. All wagoneers have 4 doors, all are narrow track. (From the factory)
Wide tracks have fenders that look like this: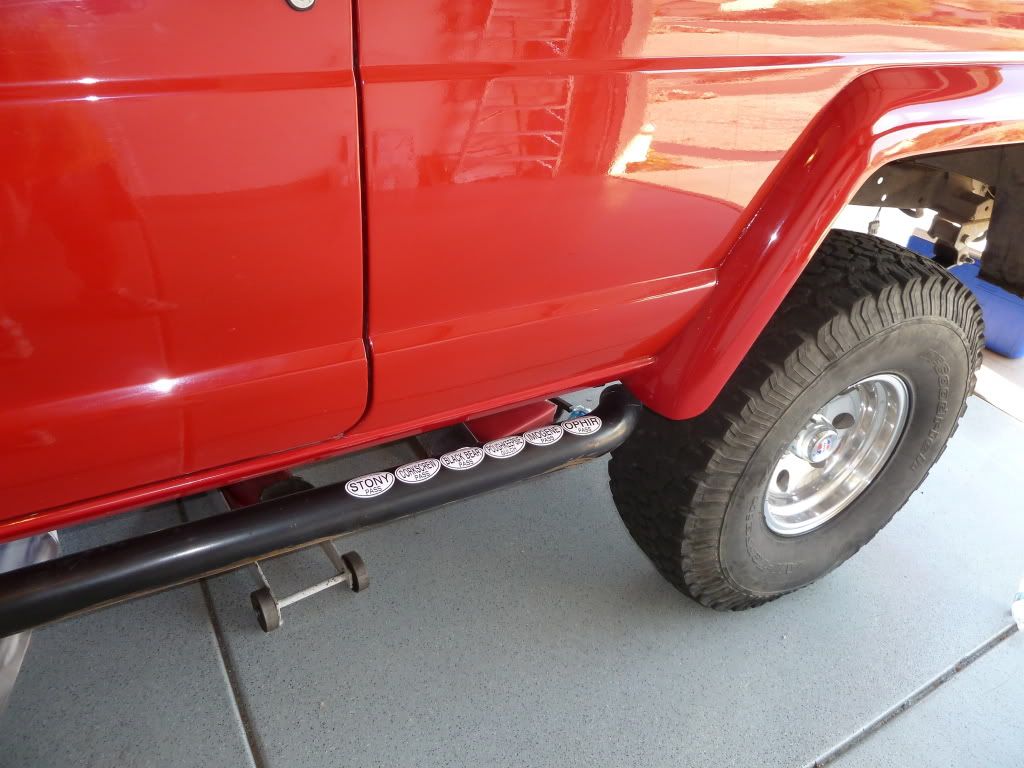 ---
82 Cherokee WT - SOA/SF/agr box/Borgeson ujoint steering shaft/401/performer/holley TA/HEI/BeCool/727/np208/d44(aussie)/amc20(ARB)/BFG 35X12.5/Corbeau Moab Seats/RCI 6point Harness,Hella Aux lights/tuffy console/killer32 slider bars/custom bumpers and roll bar/Alpine head unit/amps/speakers 2002 Liberty Limited Early edition - Basically stock
Registered User
Join Date: Jun 2013
Location: Pueblo
Posts: 3
Thanks guys, I figured as much after googling a Wagoneer and seeing nothing but 4 door models. Mine has two doors and fender flairs. In fact I am trying to figure out how to get the left front one off as it is really bent up. The Chilton manual I have says it is bolted on but it is attached by staples of some kind.
This old girl needs a lot of body work. The previous owner sunk a lot of money into her putting in a new engine and tranny but then lost interest. I was a little overwhelmed at first but have been encouraged by the comments from folks in the street. Apparently a lot of of people like these old Cherokees
Currently Active Users Viewing This Thread: 1

(0 members and 1 guests)
Posting Rules

You may post new threads

You may post replies

You may not post attachments

You may not edit your posts

---

HTML code is Off

---