Registered User
Join Date: Feb 2010
Location: Maine
Posts: 533
Looking at a J3000 project?
---
I found a 1966 J3000 with a 327 vigilante engine manual transmission. Frame is good body not so much. The price is pretty good at 500 bucks. I love the look of these old trucks. I am kind off on the fence with it being right in the middle of my TJ rebuild.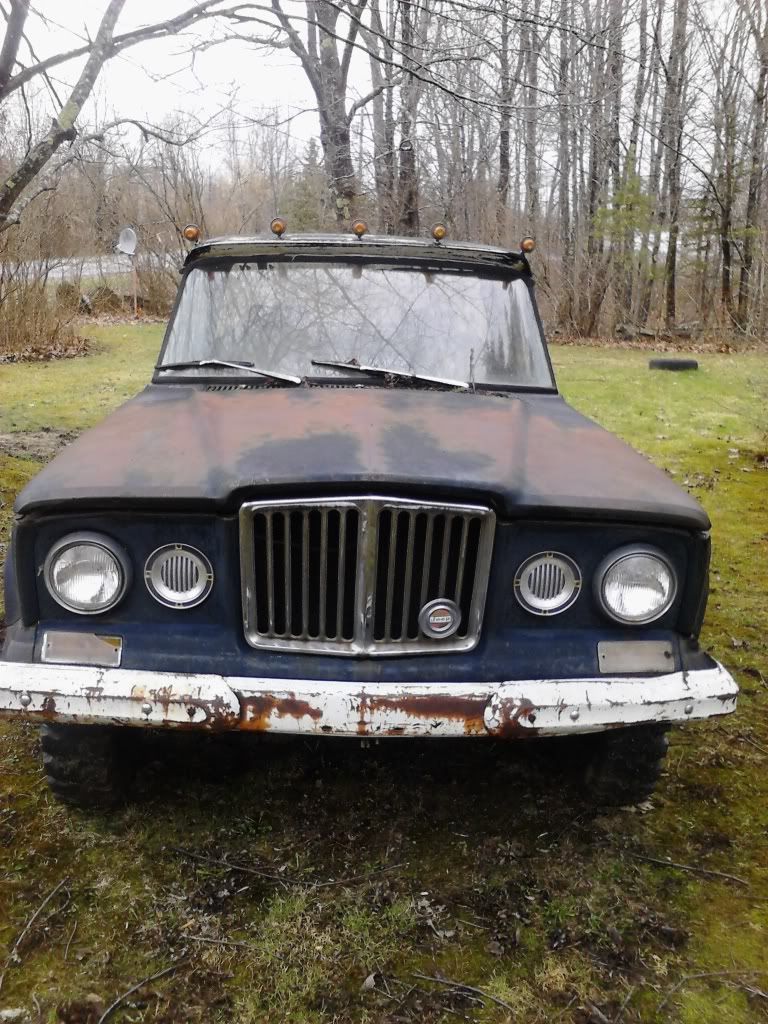 I know you all are going to say go for it cause its a Jeep and or a J series but what do you all think about the condition for a less than showroom more of a functional rebuild?
Oh yeah! Are those cab lights factory original?
Registered User
Join Date: Apr 2012
Location: Grand Haven Mi
Posts: 1,332
Those cab lights are reason enough for me to say go for it
I have no idea if there stock, but they look period correct. I don't see any rot on the body from the pics, how's the bed
---
"I like fun" Edd
Clawed: 90GW, TFI, Streetfire, 3"lift all spring, 31"BFG ATs, working RKE, Edel2131, Holly 1850, mild cam,
05 Renegade OME 927, 947, top plate, JBA 4.5s
"Just Jeepin it real"
Registered User
Join Date: Apr 2010
Location: Whetstone, Az
Posts: 1,131
i would so do it. 500 is a steal. Just check for rust. Usually by the time the frame rusts, the floorboards are rusted through.
---
Beauty is in the eye of the jeepowner.
Registered User
Join Date: Dec 2009
Location: Denver
Posts: 36
For that price, in that condition, go for it! I have 4 jeeps from JKUR to J20....you can't have too many can you?
Registered User
Join Date: Nov 2008
Location: Union
Posts: 282
Registered User
Join Date: Jun 2010
Location: WA
Posts: 115
Even if the floorboards are rusted through I would buy it. For 500 bucks you can tear it all apart and do things right with not that much money into it.
Just about all the body metal seems to be 16 gauge, so it's pretty darn easy to work on, even if you're new to the whole process like me.
http://www.ifsja.org/forums/vb/showthread.php?t=161426
---
2001 TJ 60th Anniversary Edition
1995 ZJ 4.0 w/ AW4 Swap
1966 Gladiator Pickup
1964 Gladiator Thriftside
I have not bought it yet. It is still there. The old man that owns it has had offers for 3 or 400 but he is 500 firm. My TJ build is is the stages of costing money so I am at a stand still. I want to buy it and sit on it till the TJ is done. If he still has it when I get the V8 in the TJ ill get it.

AL
Registered User
Join Date: Apr 2012
Location: morgantown
Posts: 150
Bump
---
http://i90.photobucket.com/albums/k251/wvrefugee_2006/chimneytops.jpg
Registered User
Join Date: May 2006
Location: Austin
Posts: 1,415
darn, the grill and lights are worth 500 bucks! Seriously cool rig. And body doesn't look bad.
---

To view links or images in signatures your post count must be 10 or greater. You currently have 0 posts.

06-Corvette z51-6spd,b&b,K&N low miles.
77-Corvette Stingray 496 BBC/TH400 built 667hp+
===================================
00 WJ 4x4, 4.7 stroker, turbocharged,..lots more..
01 WJ 4x2 4.7v8 Limited (needs valve job)
90 Grand Wagoneer 401 Edelbrock Heads, Lunati .510/.527 FT Cam, Edelbrock RPM Air Gap, Holley HP 750, Thorley Headers, HEI, Electric Fan w Digital controller,4" lift 31x10.50 Goodyear Duratrac's on Pro-Comp Wheels,new interior, seats,seals,Alpine and JL full system, Remote HEI, Clifford 2 way with remote start,windows,tailgate.
96 Cherokee Country 4dr/2x2 White/Tan 3" Lift Sahara 18" Wheels 32.5"'s 99up head and intake- for sale soon!
Registered User
Join Date: Jul 2011
Location: Las Vegas
Posts: 804
Buy it and park it for later!
the TJ can wait til you recover the $500.
I should just bite the bullet and buy it. I want the v8 swap done so bad in the TJ. I drove by it again today.
Currently Active Users Viewing This Thread: 1

(0 members and 1 guests)
Posting Rules

You may post new threads

You may post replies

You may not post attachments

You may not edit your posts

---

HTML code is Off

---