Chopped off the old shock brackets: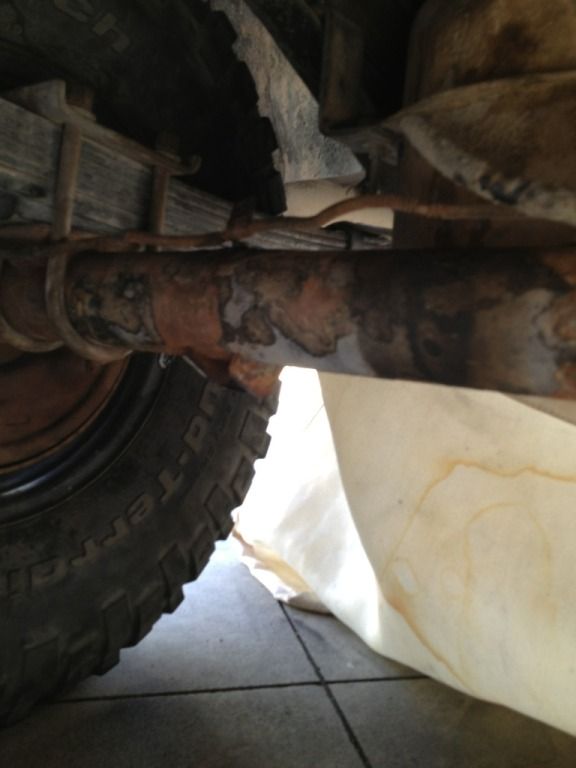 Made 2 of these lil things:
welded them up:
This gained me a few inches of clearance under the axle, which never hurt anybody. Except for me, because my shocks were way too long and didnt fit, so my buddy gave me a set of shorter skyjackers, but they are still too long and I only have about 1.5" of travel.
So, i'm ordering a short set of skyjacker Hydro's, with a 12" collapsed length which will give me a few extra inches of travel. My old shocks only had about 2.5" travel to begin wich, which was never an issue seeing as my tires hit my fenders after about 1" of movement haha.
Also, with the new narrow rims that have less back spacing, my tires are sucked way in, and i have at least another 1" between the tire and the fender now which is great. Tires look way more narrow in person, and the stance is more narrow as well. I'm diggin' it so far.
Ao i took her up on the highway and it seemed totally fine for a minute, then started vibrating at 65mph, not bad, but it was there. I also heard a crazy noise.
Turns out my exhaust shifted back over and was barely touching the driveshaft, which was the noise. I wasnt sure if that was causing the vibes though. I adjusted it by hand until i can re-weld it, and took her back on the highway. I was cruising at 65-70 with no noticeable vibes until i really got on the pedal, and it started to vibrate, but also started ringing which signified that the exhaust was hitting the shaft. Hopefully the vibes are a result of that, it seems to be that way.
So, to do list for the rear:
-Redo brake lines.
-Decide if I want to, or can, run my emergency brake lines.
-Pull the axles out and check bearings, possibly replace.
-new shocks
-move exhaust another 1/2" over.