Registered User
Join Date: Jan 2009
Location: Alabama
Posts: 5
best place to find old parts??
---
I have a 1968 wagoneer that needs alot of TLC, it has a pretty good body on it and it will run. The running gear I think I can find locally but I am having trouble with door panels as I didnt get those with it. No dash and no headliner either. Where is a good place to look for those pieces? And where can I go find inormation about it just by looking at the serial number.... how it was built from the factory.
Until I can post pics here this is a link to photos of it
http://s148.photobucket.com/albums/s...roject%202009/
---
Playing in the mud never gets old.
Registered User
Join Date: Jun 2008
Location: el paso, texas
Posts: 1,080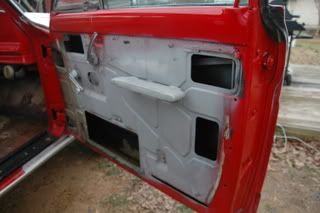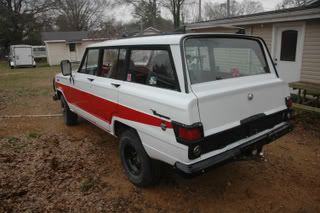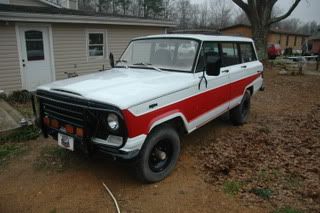 ---
Your not pushing the limits of your jeep until your on your side, then something breaks and it's time to go home.

'70 Camaro - Almost Done
'81 Cj-5 - SOLD
'06 MegaCab Cummins- Great White
Registered User
Join Date: Dec 2008
Location: Georgia
Posts: 34
I'm finding parts here, BJ's and craigslist. If you are looking for a donor vechicle this one is up here near Chattanooga and he's been trying to sell it for awhile it looks like so I would be willing to bet he would tak less than $500.
http://www.nwgeorgiaonline.com/Class...d.asp?id=14510
Registered User
Join Date: Nov 2004
Posts: 3,214
I made my own panels with poly vinyl carbonate
Registered User
Join Date: Oct 2008
Location: Seattle
Posts: 13
J&W Auto Wreckers in California. They've got a lot of Jeep stuff and they are pretty knowledgeable. Check out their web site and give 'em a call, not all their inventory is on the site. Nice paint scheme by the way. Good Luck.

Ed
Currently Active Users Viewing This Thread: 1

(0 members and 1 guests)
Posting Rules

You may post new threads

You may post replies

You may not post attachments

You may not edit your posts

---

HTML code is Off

---