I thought I would share my recent upgrade that I am super excited about!
I bought the Dakota Digital gauge cluster, senders and accessories made specifically for the 63-72 Gladiator from BJ's Off-Road. And it will work perfectly with my 6.0L engine and Howell Engine Development harness and computer.
I can't wait to get it. It should be here in a couple of days. I already have a full set of Auto Meter Gauges that work very well. But the speedometer is analog and I need a digital speedometer for this engine/transmission. And buying a digital Auto Meter speedometer costs about half as much as this Dakota Digital unit.
I talked with Dakota Digital and BJ's about all the technical aspects and options. But I purchased everything from BJ's Off-Road, because they are running a great sale right now. Everyone of these guys are so great to work with. Their customer service is exactly what customer service should be. A true pleasure.
The gauge cluster includes:
Speedometer
Tachometer
Voltmeter
Fuel Level
Oil Pressure
Water Temperature
Transmission Temperature
Odometer
Trip Meter
Turn Signals
High-Beam Indicator
4x4 Light
Brake Light
Gauges flash to warn user - For example: The oil pressure readout will flash indicating low oil pressure
Speedometer completely adjustable with any tire, wheel or gear combination
Fuel Gauge completely adjustable with ANY sending unit
And a lot more...
Here is the gauge cluster...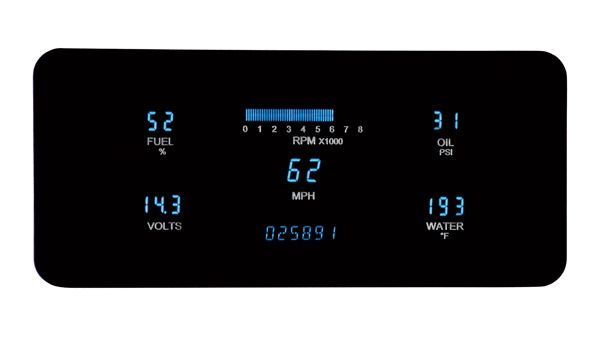 A sample photo of how it looks installed. These photos are from their site: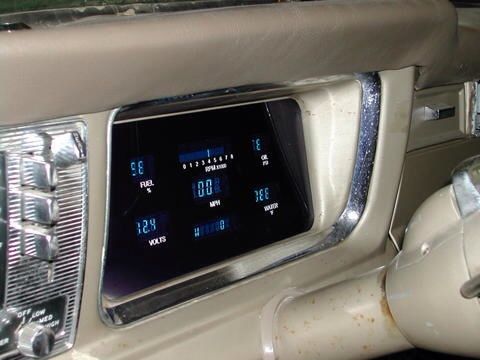 It looks so nice. I went with the blue indicator lights.
I will post up all the details of the installation soon. I only wish that I hadn't modified the dash for the Auto Meter gauges, because now I have to modify it back to accept this new gauge set up.