Registered User
Join Date: Apr 2008
Location: Washington DC
Posts: 2
It's Ugly, but it's a start!
---
Hi everybody!
picked up my new project the other day. It may not be the ugliest MJ you've ever seen, but it was parked right next to the ugliest!
It's got a leaky, noisy, barely running, 2.5l with a 4spd 4x4. My plan is to put in a VW diesel (happen to have one laying around). I was thinking about gear boxes and have done a bunch of reading. Looks like the AX15 is the animal for me since it'll let me keep the rest of the drive train.
Anyone happen to know if the AX15 has the starter mounted to it or is it mounted to the motor? If it is mounted to the motor, anyone know of a bell housing that would bolt to an AX15 that does have the starter mounted to it?
Thanks!
Will-
here's some pics-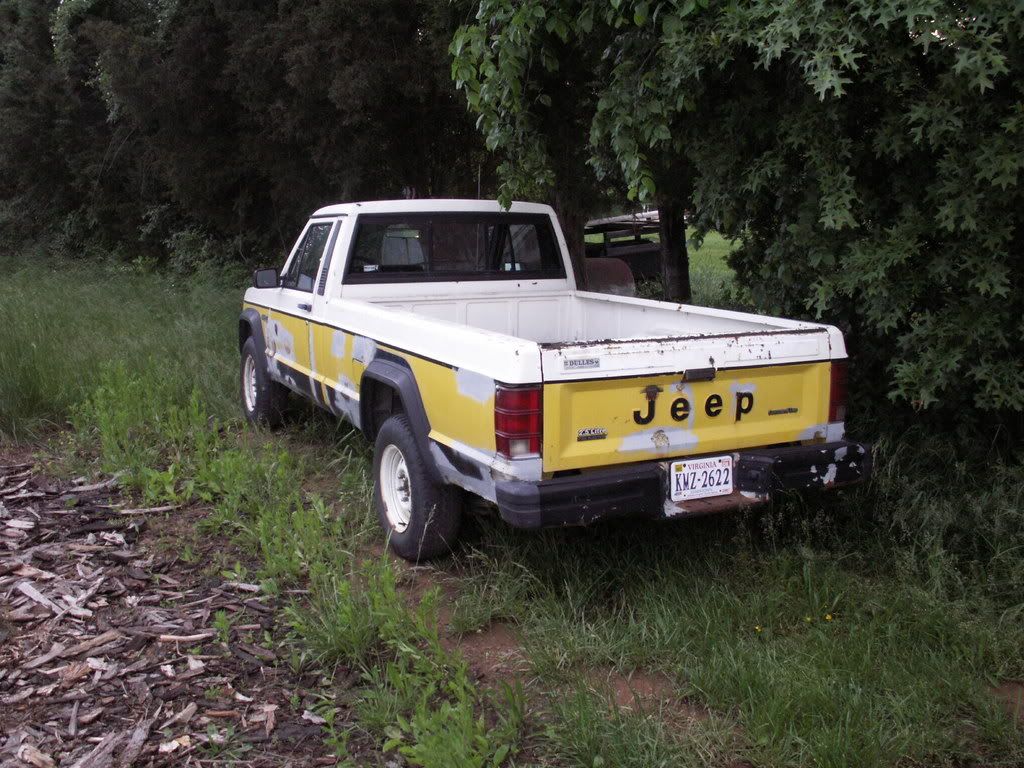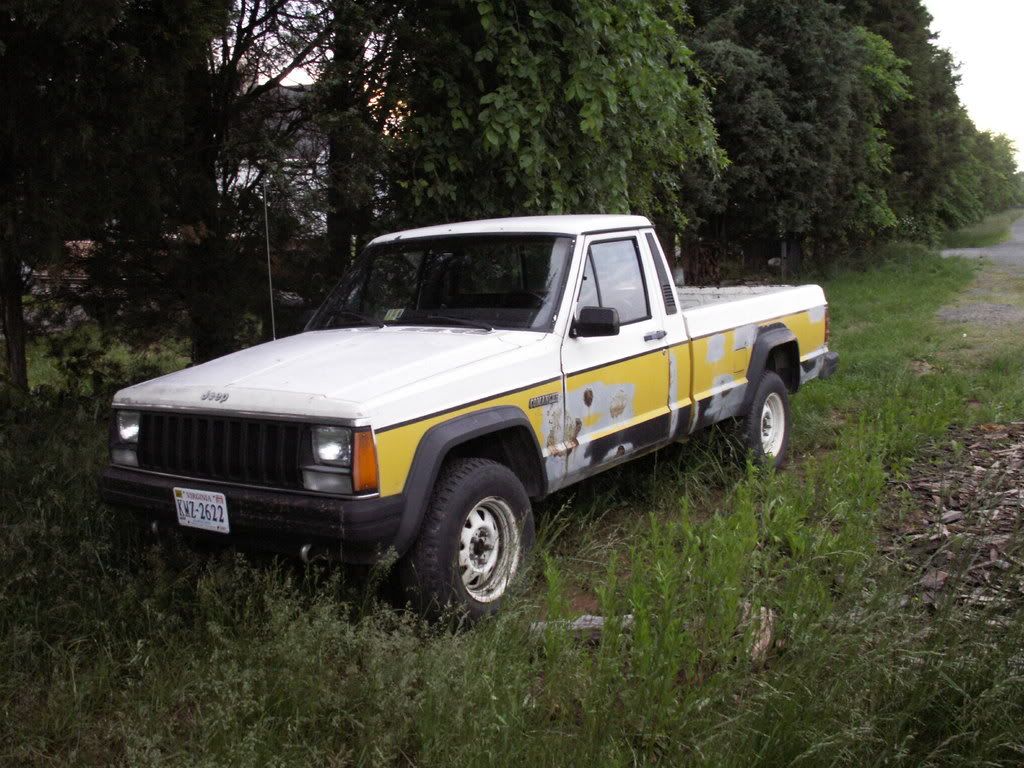 More Money than Brains
Join Date: Jun 2005
Location: Scotts Valley, CA
Posts: 4,060
Quote:
It may not be the ugliest MJ you've ever seen
It might be in the running... Just kidding, sorta... good luck with the build...Might want to checkout ComancheClub.com also for great MJ info...
Click Free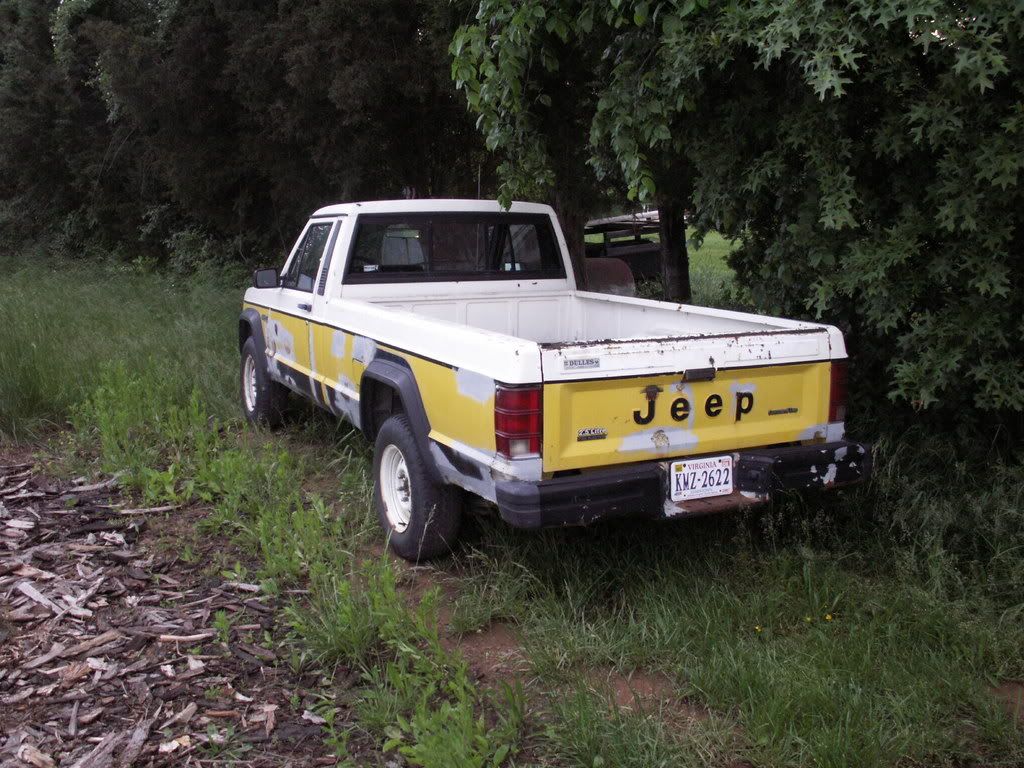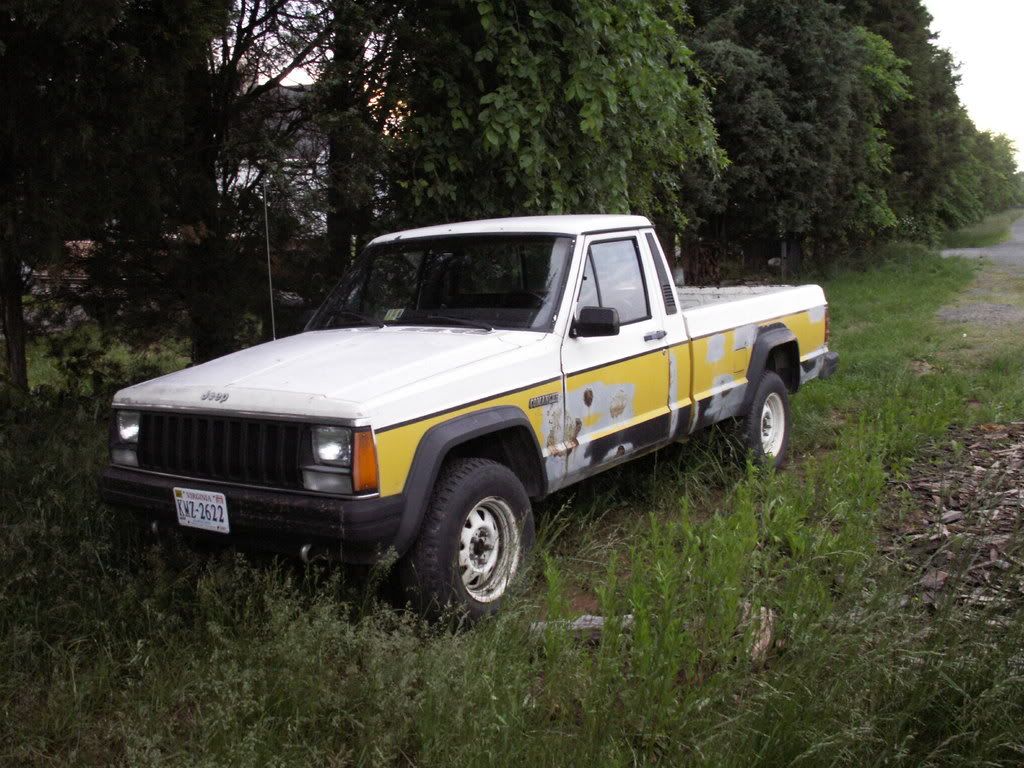 ---
To view links or images in signatures your post count must be 10 or greater. You currently have 0 posts.

To view links or images in signatures your post count must be 10 or greater. You currently have 0 posts.


To view links or images in signatures your post count must be 10 or greater. You currently have 0 posts.

2014 WK2 Overland 5.7L - LEASE TURN IN
2017 WK2 Overland

Registered User
Join Date: Aug 2005
Location: Western KY
Posts: 401
I vote rattle can olive drab paint job.
---
97ZJ
00WJ-Sold
90 Comanche Pioneer 4x4, 3inches, 31's SOLD
89 Comanche Pioneer 2wd
97 Wrangler Sport
Registered User
Join Date: Apr 2008
Location: Washington DC
Posts: 2
Quote:
I vote rattle can olive drab paint job.
Sorry I'm a flat black rattle can man
I'll post some pics as I get started!
W-
Registered User
Join Date: Nov 2007
Location: Rhode Island
Posts: 277
Does it have the metric ton package?
Registered User
Join Date: May 2008
Location: Nevada
Posts: 103
Hey everyone, my first post here. I've had the 86 4 cyl Comanche for about 4 years now, when I got it the thing was bone stock and pretty ugly. I've added a Rubicon Express 6" Lift Kit, 35" Mickey Thompson Baja Claw Tires and rims and had a local specialty shop regear it (I'm not a mechanic and don't remember the gear ratio).

I didn't like the idea of the 4 cyl at first and hunted around to try and find someone who would replace the motor for me within reason, had no luck, did have a place out of CA though that would build me a new blueprinted high performance Jeep 4cyl (carburated) that they said would outperform any V8 for $5K. Gas at $4 a gallon now and I'm glad I didn't. Its not the fastest vehicle on the road by any means, but when I put it in 4 low and take it off road its unstoppable (and gets great gas mileage).

I live less than 45 minutes from the Rubicon Trail and it does great out there, with plenty of room to carry camping gear and supplies. The paint is faded (body is in perfect shape, I live in the desert) and friends always say, that truck would look good if you got it painted. No way, I love it this way, I never have to worry about scratching the paint. I bought the thing because it was different and didn't want it to just be another off road poser vehicle, I wanted to take it off road and do.

I've never been in an off road situation where I felt the little 4 banger was leaving me under powered. Once that thing is in 4 low it climbs over anything I'm brave enough to throw at it. Since I live in an area heavy with large rocks and steep mountain climbs the majority of the way is at crawling speeds. So the smaller motor has less of an over heating problem and gets better gas mileage.

I use to own a TJ with a V8 in it, it was all off road as well, I always had problems with it drinking massive amounts of gas so I always had to carry an excess of cans. It also had limited cargo space. Haven't run into a single spot I could take the TJ and couldn't get my MJ in the same places. The real benefit is I now have almost unlimited cargo space for tons of extra gear, and a very unique vehicle.

The only downside is I still need to find someone to cut me wheel wells out (so it looks good). The 35" tires do rub at times when the wheel is turned on rough terrain with only the 6" lift kit, but I wanted to keep it as low as possible for maximum stability. It seems to of been a pretty good balance.

Could I put a lot more money into it to make it even better? You could dump endless piles of money into any vehicle. It was a great budget project that gets the job done just fine and with todays fuel prices its affordable to off road in still. I have a lot of friends with big crazy trucks they can't even afford to drive at all any more and spend their time now parked.

I spent $1200 for the truck
$1600 in tires and wheels
$1200 for the lift kit with pro shop installation
$1200 to have it regeared
$800 having the entire cooling system replaced... Radiator, hoses, heater core, pump (I 4by in the desert)

Didn't have to dump all the money in it at once so its been an affordable project vehicle. Not as smooth or comfortable as my WJ Grand Cherokee Limited on the road, but off road it goes where my WJ could only dream of.

Put a little love into your new to you MJ and I think you're going to get some good love back from it in return, I know I have. Don't worry about how ugly it is, ugly paint means you won't be afraid to scratch it when you take it off road. Its a Jeep, off road is what it lives for. If it was pretty you'd be afraid to enjoy that aspect of owning a Jeep vehicle in the first place.

I am thinking about selling mine though, I think I'm ready to go into a full blown rock crawler for my area I live in. Something I can roll over several times and just keep going. Gas mileage and camping/hunting/dirt bike recovery payload has me hesitant though. Unfortunately I can't afford multiple toys, but getting rid of my MJ has been a tough life decision I'm still not sure I'm ready to make.
Currently Active Users Viewing This Thread: 1

(0 members and 1 guests)
Posting Rules

You may post new threads

You may post replies

You may not post attachments

You may not edit your posts

---

HTML code is Off

---